FYI
Five Questions With...Twas Now
On new album Flesh and Bone, the Kitchener duo combines the oldest forms of folk and country music with modern lyrics and attitude. Here the pair discusses the new record, artistic evolution, a musical family, and a love of Brandi Carlile and Stan Rogers.
Jun 18, 2019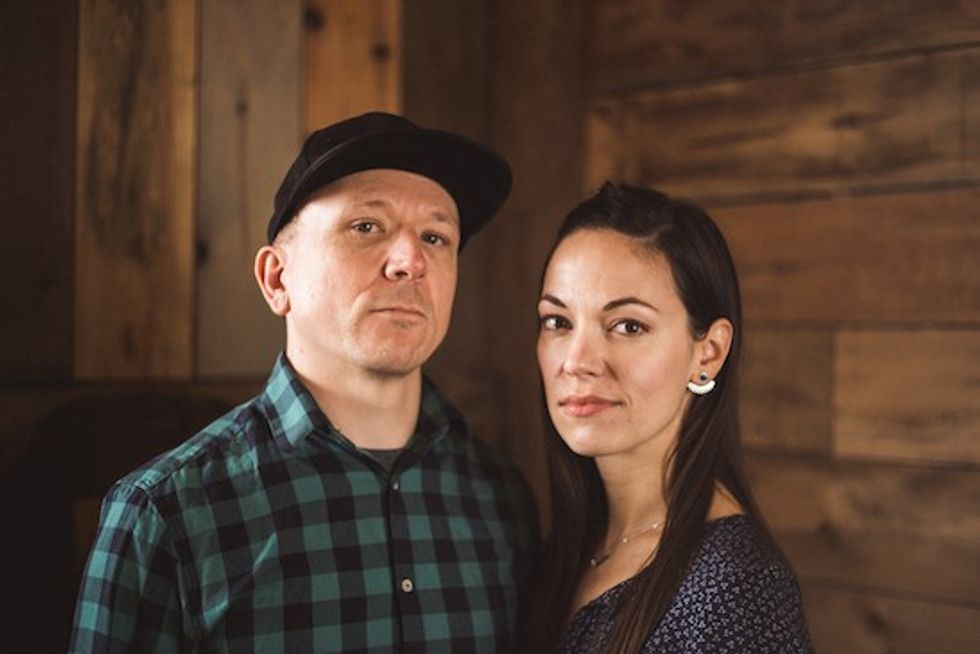 By Jason Schneider
With their new album Flesh and Bone, Kitchener, Ontario-based duo Twas Now boldly combines the oldest forms of folk and country music with modern lyrics and attitude. For Mike and Diana Erb, it was a natural progression to put their own songwriting on display after demonstrating on their 2018 Canadian Folk Music Award-nominated debut album, Old Fashioned Way, how well they could interpret songs by the Carter Family, the Louvin Brothers, Hank Williams and others.
---
Teaming again with producer John "Beetle" Bailey, whose résumé includes work with Serena Ryder, Alex Cuba, and Molly Johnson, the Erbs laid down the 11 songs on Flesh and Bone in the relaxed atmosphere of their family cottage, beginning with just their voices and acoustic guitars. Mike started the overdubbing process afterward, which was finished through the help of renowned local players such as fiddler Shane Guse, upright bassist Mark McIntyre, and pedal steel guitarist Steve Wood.
In adopting the name Twas Now, the Erbs wanted to pay tribute in a way to the well-known enigmatic graffiti adorning a prominent Kitchener railroad bridge. But they also interpret it as the ideal description of their musical approach in making the past relevant again in our present moment.
Twas Now officially launch Flesh and Bone with a show at Kitchener's Registry Theatre on Sunday, June 23. The album's first single, Family Roots, can be downloaded from twasnowmusic.bandcamp.com, and further info can be found at twasnowmusic.com.
What makes Flesh and Bone stand apart from your past work?
Mike Erb: First of all, this is our first album of, mostly, all original content. Our first album is a collection of traditional folk and country standards with only one original track.
Diana Erb: With these songs, we are drawing from those influences but demonstrating our abilities in the Americana genre. From a writing perspective, it is very rooted in personal life experiences.
What songs on the record are you most proud of and why?
Mike: I think I'm most proud of She's With Me. I had the opening chord sequence for years but no song structure or lyrical ideas. One day I was washing the dishes and all of a sudden it was "just there" in my head. I ran downstairs into our workshop, grabbed a pen and paper, and the song just poured out. I think it took less than an hour. I came upstairs and played it for Diana, she immediately came up with her beautiful harmony vocal, and that was it. Those moments leave you wondering what's all at play here.  
Diana: For me, it would be the song Black Coffee. This was the first song of ours that I wrote all the lyrics to. Mike had the music ready to go and an idea of the melody, but no real inspiration for the content of the song. I spent a morning with it recorded on my phone and wrote the lyrics in about two hours. It was very cathartic for me to write about my experience with miscarriage and grief during our struggles with infertility. This song for me is a reminder that even through the darkest times in life there can be hope because we can always heal.
How would you describe your artistic evolution so far?
Mike: I've been making a living in the music business for 24 years now, having started out playing in bars when I was in high school, and then releasing four of my own albums, and playing and touring with many other artists around North America. But of all the projects I've put time and energy into, Twas Now is by far the greatest achievement in my career. I finally feel like I am making the music and creating the art that I was supposed to be making. The rest was just practice—now this is it. In terms of musical evolution, I began playing in rock and roll environments, loud music with electric guitars. But over the years I've developed of love and appreciation of the traditional styles of the acoustic guitar. I've focused the last 15 years on fingerpicking and flatpicking styles, which in turn have influenced our songwriting.  
Diana: I always wanted to be a songwriter and a singer, but Twas Now is my first real music project.  I am also a visual artist and was working in that field for several years before I decided to focus all my creative energies on music. After releasing Old Fashioned Way and earning a Canadian Folk Music Award nomination for Traditional Singer, I decided it was time I finally pursued a career in music, and I am so glad I did.    
What are your fondest musical memories as you were growing up?
Diana: I grew up in a musical household. My mom was a professional voice teacher and soloist, and my father was a professor of music, pianist, and conductor. I fell in love with my dad's Beatles LP collection very early and learned all the words to all the songs. I also loved to flip through and listen to his 45s from the 1960s. Those were pretty much the only non-classical records in the house. I have always loved to sing and felt early on that it was my gift in life. I sang in choirs growing up and learned a lot about vocal harmonies and performance.   
Mike: I grew in a very non-musical family! My mother's family loved to sing at family gatherings, but no one has ever pursued it to great lengths. I'm not sure where I got my musical bug, but I had it right away. I had an adoptive brother who played guitar, and he was the first person to introduce me to rock and roll, vinyl records, and guitars.  
What song by another artist do you wish you had written?
Diana: The Joke by Brandi Carlile. Then again, pretty much anything by Brandi Carlile!  I'm a super-fan and have felt so inspired by her songs and performances over the last couple of years.   
Mike: 45 Years by Stan Rogers. I think this is the perfect song, or at least the perfect love song. It's also the first song I learned to fingerpick, so it holds a very special place in my musical memories folder.