FYI
Five Questions With… Frontperson
This new duo project teams synth-pop songstress and New Pornographers member Kathryn Calder with Woodpigeon's songwriter Mark Andrew Hamilton. A debut album marks their musical territory as altogether new, as they explain here.
Sep 28, 2018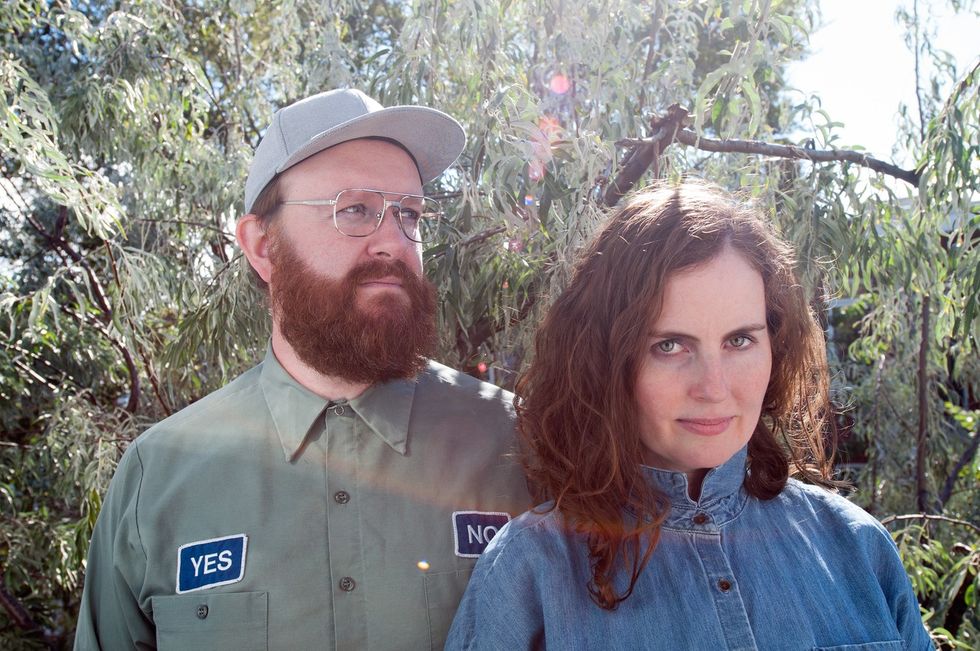 By Jason Schneider
Beloved synth-pop songstress and New Pornographers member Kathryn Calder and Woodpigeon's captivating songwriter Mark Andrew Hamilton have teamed up for a new collaboration called Frontperson. The duo's debut album entitled Frontrunner was released Sept. 21 through Calder's label Oscar St. Records, and preceded by the video for their lead single "Tick-Tock (Frontrunner)."
---
Produced by Colin Stewart (Dan Mangan, Black Mountain) and recorded at the National Music Centre in Calgary, AB, the songs of Frontrunner make for an auspicious debut, forging a union between two of Canada's finest songwriters. Be it Calder's fluttering vocals on "Young Love," the crashing percussion and crumbling instruments of "The City is Mine," the hushed and pulsing elegy of"Insight" or the layered queer epic "He Follows Me," Frontrunner marks Frontperson's musical territory as altogether new.
Joining Frontperson on their debut album are Melissa McWilliams (drums, drum machine), Jen Sévertson (bass), Clea Foofat (cello), Foon Yap (violin), Marek Tyler (percussion), and legendary synth guru John Leimseider. Find out more at frontperson.bandcamp.com.
What makes this project stand apart from your previous work?
Calder: First and foremost our previous working styles have been quite different, either working with large ensembles like The New Pornographers or Woodpigeon when it was an 8-14 member collective, so distilling things down to two songwriting voices was something new and exciting. It's also a fantastic exercise to come up with parts together and then go and play the majority of those parts ourselves versus handing it off to someone else. Also, there was lots of laughter making this record and very little stress.
What songs on the album are you particularly proud of and why?
Hamilton: Being so close to the record, it's hard to pick favourites, because we worked hard on making sure the nine songs are all pieces that we're particularly proud of. In a pinch, we would say we're rather fond of a couple of the non-singles: "Insight," which closes the record, is one of those songs that kind of reveals new things over time—and does it concisely. The other is "Postcards From a Posh Man," which features an amazing Oberheim keyboard solo by John Leimseider, who played with Iron Butterfly and Wilson Pickett and other classic artists, who sadly passed away this past week.
How would you describe what makes this collaboration work in terms of how you complement each other creatively?
Calder: We genuinely love to listen to one another, and we spend just as much time laughing as we do working.
What's been the most significant change in your life over the past year?
Hamilton: With Kathryn opening her label Oscar St. Records, that's been an exciting experience for both of us because we're both getting to learn very hands-on what it means to get a record out there.
If you could fix anything about the music industry, what would it be?
Calder: So many uncelebrated and unknown artists just pass under the radar, and there are some true gems that should be shouted about from the rooftops.