FYI
Five Questions With… The Dunlop Brothers
On the eve of the release of a new single, the musical siblings from Hamilton discuss the track, their recording process, family jam sessions, fave hometown venues, and songs they wish they'd written.
Feb 05, 2020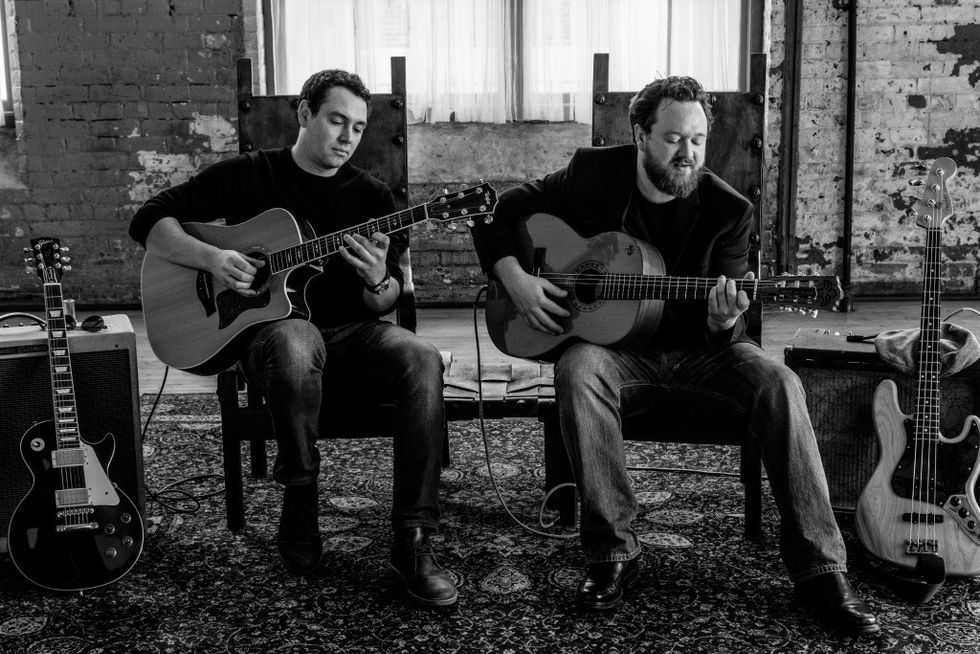 By Jason Schneider
Infused with a healthy dose of Steeltown grit, Hamilton's The Dunlop Brothers make music in the spirit of their hometown's raw strength and authenticity. Having been well schooled in a host of musical styles, Justin and Matt Dunlop are unafraid of bending genres in order to create memorable tracks.
---
The proof is on their independently released 2019 debut album Vol. 1, a melding of a wide range of rootsy sounds, held together by a humble group mentality reminiscent of The Band. The Dunlops are following it up with a new single on Feb. 7, You Knew The Cost, which shows their musical vision expanding further, indicating the beginnings of a substantial body of work.
Their natural link as siblings adds a special quality to the songs Justin and Matt write together. The pair has had their own musical experiences, but since they began pooling their talents, energy and time as The Dunlop Brothers, the results have begged the question, why has it taken them this long?
We caught up with the brothers to find out more about brought them here, and what lies ahead. You Knew The Cost and Vol. 1 are available on iTunes and Spotify, and their next show is Feb. 21 at Hamilton's Capitol Bar. Find out more at thedunlopbrothers.com.
You're releasing your new single You Knew The Cost this week. Is there a story behind the song?
Justin: It's a soul-searching song about chasing your passion and learning from love. It's about the joy and pain of loving someone, and about learning to love yourself. Consequently, it's also about what you decide to work on in your life and how you choose to spend your time off away from your work.
Matt: We recorded it with producer and recording engineer Amy King at Grant Avenue Studio in Hamilton, accompanied by some good friends and musicians who also played on our album—Caleb Moroz on drums, Joel Banks on bass, and Alan Zemaitis on piano and keys.
The single comes on the heels of your album Vol. 1. What was the process like making that?
Matt: The album came together for us naturally, really. We had a lot of these songs kicking around for a long time and we were excited to get into the studio to record. We've been writing songs together for years and had a huge repertoire to draw from.  We really felt comfortable in the studio and got to work with a group of talented musicians, who are also our friends. We recorded at Catherine North Studios in Hamilton, which was a very comfortable space to work in. It's an open concept studio in an old church, and it has great sounding acoustics and a really relaxed vibe.
Justin: The experience of fine-tuning everything was unbelievably inspiring, as we mostly spent time working together with the rest of the band and with Mike Monson, a talented recording engineer, in order to find the sounds we wanted to capture. We felt like we owed it to ourselves to work on, record, and finish this album, sifting through a lot of material to decide what songs would make the final cut. The entire undertaking was humbling and rewarding.
How long have you guys been playing music together, and what motivated you form a band?
Matt: We both started playing at a young age; I was eleven and Justin was nine. We were fortunate to grow up in a musical family and were introduced to music in an inviting environment. Our dad played drums and our uncle played guitar, so we always had jam sessions every weekend. Justin started on piano and I started on drums, then we moved to bass and guitar. For the most part, we were into a lot of the same music growing up. We loved watching and hearing music and wanted to be like our favourite bands. We started forming bands in high school, even younger probably.
Justin: Our family history of musicians has been inspirational from the beginning— as there was always live music at the house, it's something that motivated us to keep learning and to keep writing and playing together. We spent many years playing in different bands together, for projects that were never really our own, and we felt some years ago that the natural next step was to go about creating something that was from and for us both.
What are your favourite places in Hamilton?
Justin: We are glad to be part of the great community of live music in Hamilton, and have performed in different venues that hold a lot of musical history, such as This Ain't Hollywood and the Cat 'N' Fiddle on John Street. We love playing in some newer venues as well. We had our album release at Mills Hardware and have been playing at The Capitol Bar, both of which are great spaces.
What song by another artist do you wish you had written?
Justin: We like to work in covers whenever we can, and the ones that stand out for us are Words In The Fire by Patrick Watson, who's a great Canadian songwriter, and Run Of The Mill by George Harrison.
Matt: I'll add Leif Vollebekk's Elegy, which is another one of our favourites.