FYI
A Conversation With .. Alex Cuba
Before Alex Cuba arrived I recalled my first encounter nearly twenty years back with The Puentes Brothers. Adonis and Alexis played the Beaches Jazz Festival street scene.
Sep 27, 2019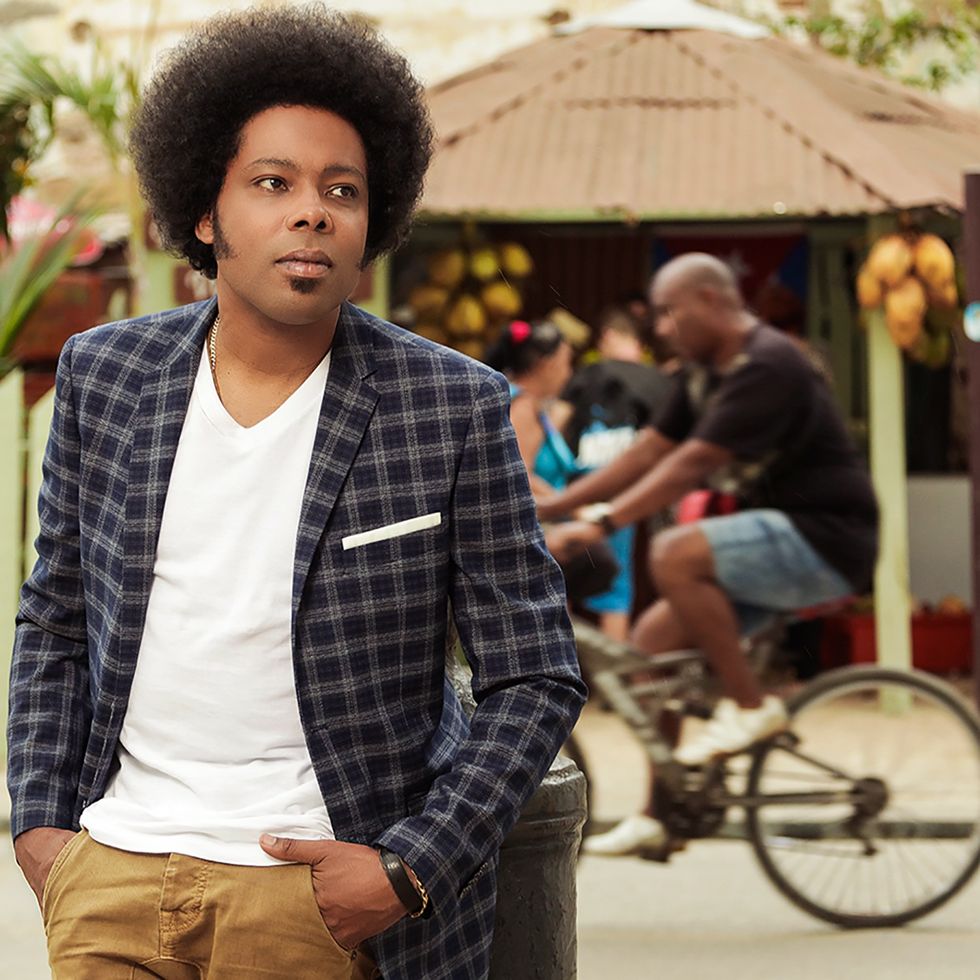 By Bill King
Before Alex Cuba arrived I recalled my first encounter nearly twenty years back with The Puentes Brothers. Adonis and Alexis played the Beaches Jazz Festival street scene. Producer Peter Cardinali made the pair a priority and produced a brilliant recording, Morumba Cubana - grounded in traditional Cuban dance. The years pass and I hear of this rising young Cuban star, Alex Cuba, and wonder if there was a connection. Four Latin Grammy Awards and two Grammy nominations for the Best Latin Pop Album and a growing universal following - this must be the same guy!
---
Alex dropped by the house early week, all part of a promo blitz, and we had that long-awaited conversation. I'm a man surrounded by acceptable clutter – keyboards, microphones, walls of CDs, dog toys and a basement studio rug that bulges in the middle for which I've found no remedy. Cuba found comfort in that.
Bill King: I was saying, you're in a room where Jorge 'Papiosco' Torres ( the remarkable Cuban conguero) rehearsed many times. And you said – "so loud."
Alex Cuba: I can't believe it. You know his conga playing is so amazing and so loud that he hardly needs any microphones and what a great guy. 
B.K: Other Cubans: Elizabeth Rodriguez, Magdelys Savigne, Alexander Brown, Alexis Baro, Roberto Riveron - Jane Bunnett and a basement room where the history of jazz resides on shelves.
A.C: These walls are very inspiring to look at.
B.K: Sublime? How does the title of the album address the new recording?
A.C: The music that came out of me arrived in a very sublime way. I didn't have the title up until when we were listening to the master at the mastering sessions and the word pops into my mind because I thought it was very sublime. I love doing more with less. I love it when you can say so many things with so little. And if you get it right it comes out sublime. I was listening to the mastering and the word crosses my mind and I'm like, wait a minute, this is sublime. I think it's a good title for what I just did. It got me excited when I looked for the extended meaning of the word. There is a beautiful quote: "Only art can make you feel sublime." That quote said it to me. I consider myself an artist. I find myself to be somebody who tries to remain loyal to his heart. I don't like copying other sounds or whatever is hot at the moment. I follow what my heart tells me to do and I like to think that that's my artistic persona. That word and that meaning of the word sold it to me and I thought it was a very appropriate title. It's also the same word in Spanish and French. 
B.K: On first listen it becomes apparent the instrumentation is pared down. Each track feels like you're in the room with us and we have a connection.
A.C: Yeah, this is a very personal album. It's been several years for me climbing up and finding the confidence to be so naked; so vulnerable. I felt on this album that I wanted to express this side of me. I don't know if you know it's me playing all of the instruments. It was a decision I made while making the demos. 
B.K: Were you fearful of that or feelingexposed?
You're talking to a Cuban musician here and you know all about us. Meaning that, in most cases Cuban musicians make music thinking about what other Cuban musicians are going to feel about it. And for me it's been a journey to move away from that mentality because at the end of the day the music's destination is not that music community, it's the public. This album marks a step in the development and the way I see music. I decided to do it this simple and personal. I think the timing for this album is so right because there is so much music out there and so much of what we see daily is impersonal. People are becoming more and more afraid to be personal or be that naked, and honest. 
B.K: It's expected. Especially those who write. When we share something of ourselves we get something in return. It's about the story. That's the magic. 
A.C: Absolutely. I've always been candid with my music. I've done whatever the heart has told me to do. But in this one because I'm playing all of the instruments myself and there is a lot of music that is simple and minimalistic, it shows more, a lot more. I am very proud to be singing with Cuban legends on this album: Omar Portuondo – Pablo Milanes, Kelvis Ocho and (Dominican) Alex Ferreira. This album feels like a return to my roots. I'm very proud of that. 
B.K: When I saw Pablo Milanes' name on the album, I thought about the time my wife Kristine and I were in Cuba and covering the Havana Jazz Festival. It's Chucho Valdes, Ivan Lins then Pablo Milanes. It was sweltering - the theatre stifling.  Late in the show Milanes arrives on stage rests in a high-back chair and waits until Valdes strikes the first chord. I am photographing from the left side – Kristine from the right. Then the voice opens up. My God, the tears flow uncontrollably down my face. I look over at Kristine and she's wiping her eyes. I look back at the crowd – eyes dripping in tears. I'm thinking about how important this man is to Cuban culture and what it means to have him in this venue.
 A.C:  He's one of my heroes. Pablo shaped my generation. His music played every day of my life. It's of interest you mentioned the tears - let me tell you something – the song Pablo and I sing together on this album is getting that reaction a lot of people say. And the beautiful thing is that I am surprised it happens to people that don't speak Spanish. They don't understand one word of what I'm saying or what we are saying on this album. It still brings those emotions up in people and I am completely fascinated with that. Its the magic of honesty I guess.
B.K:  It's hard to explain that some voices have an unusual characteristic to them. They wear the colours of life and the colors of the people that surround them. It's hard to get past – it goes straight through you. 
A.C: Singing with Paolo is nothing less than a dream come true. It's like for those of you that are reading this right now and don't know who Pablo Milanes is, he's like the Cuban Bill Withers or the Cuban Bob Dylan. He is a founder member of the Cuban movement that started in the '60s called Nueva Trova - an essential change for Cuban music. Cuba was in a critical moment with the revolution. The artists did a lot for the Cuban people and Pablo together with Silvio Rodriguez are the most important members of that. They're pretty much the creators of the Nueva Trova movement.
B.K: My early trips in the '90s to Havana allowed me an opportunity to familiarize myself with Milanes and others and the orchestral works of Cuban composers. The music was available in government-sanctioned kiosks - beyond the salsa and rhumba most seek out.
A.C: Thank you. Thank you. I'm so happy you mentioned that because that's been my story in Canada. People hear my name and not so much anymore but it's easy to assume that what I do is maybe that kind of music. I'm happy to be showing to Canada and the world a different side of Cuban music which is not necessarily salsa music. I have a lot of respect for that music but Cuba is way much more than that.
B.K: You traveled to various world locales to record Sublime with recording engineer John (Beetle) Bailey. How was this arranged?
A.C:  It was reasonably easy. I have many friends in Mexico. I'm quite connected there. I went to Mexico to record the voice of the fantastic singer - a young girl, Silvana Estrella. She's 21 years old and already sounds like an angel with a very promising career ahead of her. The majority of the album was done in Gibson, B.C. I flew John (Beetle) Bailey to B.C. and we had a fantastic time. We went to Garth Richardson's studio. It was an amazing time. Ten days we spent there. Let me tell you when it was time to leave and we were done, we felt sad we were going because his space is magical. We were recording in a place where you have ten acres around you and no one near you. You can see the ocean from the studio. It's just heaven out there. I think it shows in the music how much we enjoyed recording there. It was a fun time for me and John (Beetle) Bailey shaped my universe. What an engineer.
B.K: You've done a great job on your prior albums. They all sound spectacular. You've got an ear for production.
A.C: I give a lot of value to that and to making sure that the music sounds good everywhere. This is the very first time I worked with a different engineer. I did five albums with Joby Baker out of Victoria. I felt it was time to maybe make a little move just for creativity and inspiration. I went to John and I'm pleased we did it. John was able to capture the moment well. I'm in love with the sound of this album. 
B.K: You have four Grammys, two other nominations. What is the path to the Grammys? The percentage of those able to attract a committee's attention is minimal at best. 
A.C: That's an excellent question. I'm glad you asked me this. Let's start by saying that Latin music is very young in Canada in my opinion. I've been in Canada for 20 years now and I've seen a lot in my years here but I still feel that Latin music is very young and what I mean by that is - a lot of people in Canada are exposed to whatever they think Latin means but can't comment yet on whether something is from the Latin world is unique, creative, different or merely a cliché - which happens in every kind of music. I feel Canada has allowed me to create and move Latin music forward. That's what the Grammy sees when I send them my records. They see a fresh sound. 
B.K: That's always the first step - to get them to recognize you. And then listen.
A.C: They're not going to see the uniqueness of your music if it's not unique because they get a lot of music. I'm lucky that the Grammys recognized me and know that side. I'm incredibly proud to be making my music in Canada. It wouldn't be the same if I were in Miami or Havana. 
B.K: You would be expected to absorb and recreate a regional sound, I'm guessing.
A.C: This is the best way I can put it. When you have any immediate demographic in front of you, you'd have to reach further. You make music for those people and you know you get popular in that niche and it is wonderful. But in Canada I don't have an immediate Latin market in front of me. I was never scared of that. I took it as a beautiful challenge. What it has given me is a universal way of making music. In my opinion this is who I am. I found that strength inside of me in Canada and I'm so happy to be creative this way. I have fans everywhere in the world and Canada supports a lot of what I do. The music speaks to a lot of different people and I'm so happy about that.
B.K: The tour starts in Vancouver?
A.C: We begin in my hometown of Smithers, BC, November 1st then November 6th, Vancouver. Toronto, January 21st.