FYI
Christopher Ward On 'Black Velvet' and Songwriting In General
Today we get up close and personal with Christopher Ward, co-author of Black Velvet which became an enormous hit for Alannah Myles.
Jul 04, 2023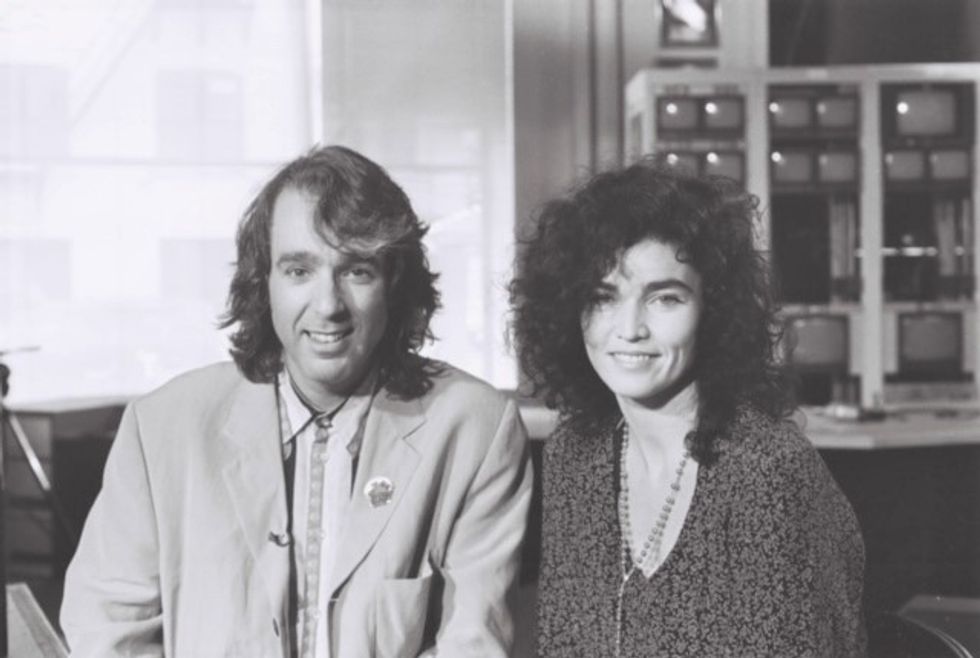 By Dave Charles
Today we get up close and personal with Christopher Ward, co-author of Black Velvet which became an enormous hit for Alannah Myles. On my global travels consulting radio around the world, I have heard Black Velvet many times.  The song was released in 1990 and 33 years later is still one of the top testing hits ever.  In fact, over the years that one song has had dozens of cover versions released by artists in all genres, including at least a half-dozen instrumental versions. Go figure! Anyhow, let's take a closer look at what influences make a great songwriter.
---
 DC:  You and David Tyson wrote this 'Black Velvet' in 1989.  How did the idea for this song about Elvis Presley come about?
CW: It started with the shuffle groove that anchors the song musically. It was a guitar feel that I'd been messing with for months and likely driving my downstairs neighbours crazy with. At the time, I was working at MuchMusic; I was sent to Memphis on a Greyhound bus with forty Elvis fanatics and a cameraman on assignment to cover the 10th anniversary of Elvis' death. As I habitually did, I made notes along the way, bits of which formed the foundation for the lyrics to "Black Velvet." The 'new religion' in the lyric is rock n' roll.
 DC:  What was it like to have a worldwide hit on your hands then?
CW: It changed my life. I'd been writing songs for almost twenty years, and suddenly, music publishers in New York and L.A. were calling and I was being asked to write with songwriters, artists and producers whose work I knew and admired. It was overwhelming, but truthfully, I felt ready.
DC:  How did Alannah Myles come to your attention?  Were there other singers that you had in mind for this song at the time?
CW: Alannah and I were a couple, and we'd been working on her music ever since we got together. It was written with her voice in mind, and she's always loved those bluesy feels.
DC:  Where did you record Black Velvet and who produced it?
CW: We recorded the song at various studios in Toronto; it was produced by my co-writer, David Tyson.
DC:  How many countries around the world played Black Velvet?  How many languages was this song recorded in?
CW: I should know these things, but I have no idea! I approved a number of translations, and some of them were pretty weird.
DC:  You mentioned to me that a number of other artists around the world recorded this song.  Can you name a few?
CW: Last year Kelly Clarkson did a powerful performance of Black Velvet on her TV show. Melissa Etheridge did a really cool version in her home studio and posted a video of it. Canadian country star Meghan Patrick covered it wonderfully as well.
DC:  As a MUCH Music VJ and songwriter, who were some of your musical influences growing up in the business?
CW: I grew up with the British Invasion, so the Stones, The Beatles and The Kinks figured prominently and made me want to play the guitar. I love Motown music, particularly the songwriting of Marvin Gaye, Smokey Robinson and the Holland, Dozier & Holland team. Once I started writing, Jesse Winchester, Lowell George from Little Feat, Joni Mitchell, Laura Nyro and Gordon Lightfoot inspired me.
DC:  What songs moved you to become a songwriter?
CW: You Don't Know Me by Ray Charles, You've Got To Hide Your Love Away, Like A Rolling Stone, Emmie by Laura Nyro, and Early Morning Rain by Gordon Lightfoot.
DC:  What are some of the other songs that you've written for artists that you're most proud of?
CW: One of my favourites is Beautiful Goodbye by Amanda Marshall. Dave Tyson gave me the track with the melody, and I was blown away by it. It took me months to get that lyric right, but I think it was worth it.
Alannah has always been insightful when it comes to my best songs. Her recordings of lesser-known songs like Irish Rain, What Am I Gonna Do With You? and Blow Wind Blow are some of my favourites. Diana Ross recorded a song that I wrote with her and Tim Tickner called Hope is an Open Window, and that's one I'm proud of.
DC:  What is your advice to aspiring songwriters in today's multi-layered media world?
CW: I've interviewed some of the greatest songwriters around, like Neil Young, Paul McCartney and Lamont Dozier, and their advice often sounds simple but consists of principles like "Write it down now because you won't remember it!" or "Write something, however brief, every day." I would add "Treat your writing like work and don't wait to be in the mood." Also, even though the first idea was your moment of inspiration, don't cling to it like it's etched in stone; remain open to new ideas from your co-writers.
DC:  Where can our readers contact you? Christopher? 
CW: The best way to reach me is through my website at christopherward.ca