FYI
Anatomy of Champagne Night's 3-Week No. 1 Success
Canadians Madeline Merlo, Patricia Conroy and Dave Thomson talk about the success of their co-written No. 1 U.S. smash, Champagne Night, recorded by Lady A.
Jan 17, 2021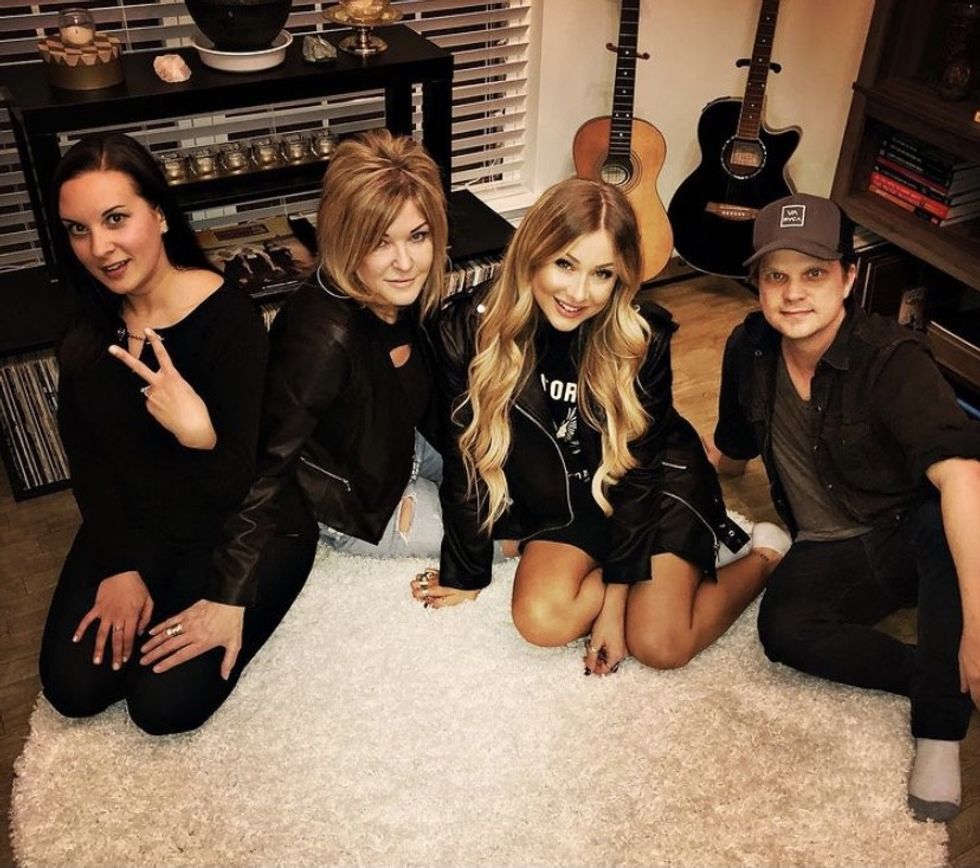 By Nick Krewen
Champagne Night has turned into a champagne dream for Madeline Merlo.
---
Initially known as I'll Drink To That and co-written by Merlo with fellow Canadians (and Slaight Music songwriter) Patricia Conroy and Dave Thomson, as well as American Tina Parol,  the country music smash has spent the past three weeks as the No. 1 song on Billboard's Country Airplay radio chart, courtesy of Nashville-based supergroup Lady A (formerly Lady Antebellum).
NBC's Songland series catalyzed its success.
"My head was just spinning," Merlo told FYIMusicNews regarding the experience that led to Champagne Night topping the charts nearly eight months after its release. "The way it went down was unexpected, and it snowballed into more amazing things. I've been blown away at every step and I feel very, very grateful."
The story began in November 2019, when the foursome gathered at the Nashville studio of Dave Thomson  - you may remember him as part of the Niagara Falls pop duo Wave, which had a chart-topping Canadian hit with California back in 2001 - to write a number.
Patricia Conroy remembers the I"ll Drink To That session well.
"I believe it was the second song we'd written together," recalls Conroy, a seven-time CCMA Award winner. "A four-way is difficult enough - and we're all Alpha writers, pushing our full strength. Madeline is a terrific talent - I believe she's about to break wide open down here.  The song was written fairly quickly and Dave has a little studio down here, so Madeline recorded the song shortly thereafter."
Dave Thomson says he offered a riff to get things going.
"I had a little guitar loop riff I presented to everybody in the room and everybody started gravitating towards that. The vibe and the feel were there kind of instantly. The song maybe took two to three hours, I think."
Maple Ridge, B.C. native Merlo picks up the story. 
"We were listening to a Luke Combs song and I thought, 'Let's write a song today about what 20,000 country fans would want to raise a drink to?' "Merlo recalls. " So that was I'll Drink To That. Let's celebrate - from getting paid on a Friday to praying for something and watching it happen - I'll drink to that. It was a pretty simple concept." 
Merlo recorded the song at Thomson's studio within minutes following the conclusion of the writing session.
Shortly thereafter, a TV casting director who had auditioned Merlo for a previous NBC program three years earlier that ended up dying in development reached out to her again. He was now working on NBC's Songland, a show where "music's biggest stars find their next hit,"  and asked her to submit a country song for the series' second season.
I'll Drink To That was her choice, since it was still fresh in her mind, and the producers liked it enough to invite her to L.A. in January 2020 to perform it in front of a panel of producers  - OneRepublic's Ryan Tedder, Ester Dean and Shane McAnally - and the stars - unbeknownst to Merlo at the time, but which happened to be Lady A: Hilary Scott, Charles Kelley and Dave Haywood.
"Literally, it was two weeks later that Madeline told us she was going to be on Songland and flying to L.A.  She said, 'here's the contract - it's up to you," Conroy recalls.
There was the catch: everyone had to sign an agreement to reduce their royalties prior to Merlo appearing on Songland.
"We had to agree to reduced percentages," Merlo concedes. "It was a little complicated because, although I think Tina is self-published, the rest of us had publishers who also had to agree to the reduction. Everyone had to agree to take a lower percentage and give some to the show, but I would say it's fair."
Conroy said it was a no-brainer.
"We were all for Madeline, to give her the opportunity to be on a major network - and perform and be seen and heard. We figured it was just a song. If it amounts to something, great. If not, at least we helped Madeline."
After the contracts were signed and she was in Los Angeles, Merlo discovered the Nashville stars for whom she was going to perform her song.
"We didn't know Lady A was going to be the artist we were pitching to until the day of shooting," she admits. 
After Merlo performed the song, Lady A members were extremely receptive and began riffing on the song on camera to improve it, with Kelley coming up with the tag line "Champagne Night" within a few minutes. 
"That was all in real time," Merlo confirms. "You only see a few minutes of them dissecting it on the episode, but actually it was quite long. That was the first time they heard the song. They had some great ideas and seemed really excited about it. It was a really collaborative process."
After her performance, Merlo discovered that she had bested three other song hopefuls during the program and won a coaching session with McAnally, whose credits include Kenny Chesney's Somewhere With You and Keith Urban's John Cougar, John Deere, John 3:16.
"I was over the moon when I found out Shane was my coach," says Merlo. "He is seriously the King of Nashville - he's written some of my favourite songs of all-time, so I was so excited."
"When we got into the studio together to rewrite it, they basically gave us the episode to watch, so we were able to hear back all of Lady A's ideas.. We really got to craft them a song based on their ideas for it."
Although the song underwent radical surgery as it was overhauled by McAnally and Merlo - the majority of the lyrics were rewritten - Merlo was thankful the original spirit in I'll Drink To That was kept intact in Champagne Night. 
"I knew the minute I agreed to that show that the song wasn't going to be mine anymore," Merlo admits. "People ask if I was sad when they were picking it apart, but I didn't really feel like that. I was just ready to make it as best as I could for them to want to make it their own."
The number of writers on Champagne Night ballooned from four to 11 (co-writers now include all three members of Lady A and all three Songland coaches/producers.)
Returning to Nashville and bound by a non-disclosure agreement, Merlo couldn't disclose her victory to her Nashville-based collaborators as the Songland episode wasn't going to air until April. 
"I was basically avoiding them," Merlo admits. "I told them that the song was really, really different and I was nervous that they were going to feel sad about that.
"But once they saw the episode, they were really excited and just said, 'thank you for bringing us along.'"
Once the episode aired on NBC to more than 5.7 million viewers, Lady A loved the song so much that they pulled their next intended radio single in favour of servicing country radio with Champagne Night - and tacked it onto the deluxe edition of their 2019 album Ocean. 
Due to the pandemic, they filmed a quarantine-style video and invited Merlo to appear on it.
"Lady A really went out of their way to involve me in the process," Merlo says. "They told me they were going to send it to radio during a Zoom call, and have made me so much a part of everything. They didn't have to do that and I really appreciate it and feel grateful."
The song began its slow climb to the top on both sides of the border, with the Canadian chart-topping stature happening around Christmas and the U.S. plateau - played by a minimum of 126 U.S. Country stations, according to MediaBase - happening a week or two later.
It's spent more than 40 weeks on radio and rained dividends on its Canadian co-writers, including performances of Champagne Night by Lady A on The Macy's Thanksgiving Day Parade and the Grand Ole Opry - and stands as the TV series' only chart success thus far.
For example, Merlo's Songland performance captured the eyes and ears of one music executive and as a result, she's now signed to a U.S. label in a deal that will be announced later this week.
The executive who saw the show went to the label and said, "'I saw the show and she's amazing. Can I sign her? '" she recalls.
It's also opened doors for Merlo as a writer and given her a big boost of self-confidence.
"I realize that now when I'm in a room with big writers, I deserve to be there," Merlo declares. "I've worked really hard and sacrificed a lot to get here."
For Patricia Conroy, this success was particularly sweet: 
"They say that timing and stars aligning are everything. I'm working with Slaight Music, which is an awesome team, and we're coupled here with a team called Reservoir. Between all of us, it's opened a lot of doors. I'm now writing with a guy from Rascal Flatts and many other U.S. writers that I never did before, and this is all happening because of this song. I'm ready for it - I've been ready for a while."
One of the Music Row traditions for publishing companies is hanging a banner outside the building once they've achieved chart-topping success. Merlo, Conroy and Thomson all enjoyed seeing their names hanging outside Shane McAnally's Mac Songs office.
For Thomson - who had previously produced a track on Lady A's 747 album - seeing the banner was a full-circle moment.
"When you hop into your car and stroll into Nashville, that's the goal," Thomson admits. "I'd heard Keith Urban's Golden Road and after writing pop,  I followed down that country path. I love the art of songwriting - the craft, the lyric and the storytelling - and the linear quality of it. Usually, you start with the title and work backwards - and I love that! That's a journey I started that's occupied the last 15 years of my life."
For Conroy, a banner was personally delivered to her by a Reservoir rep.
"Last week, there was a knock at my door," Conroy recalls. "I was in my pyjamas - I looked like a clown - I had just gotten out of bed. It was one of the guys from Reservoir - with the banner and a bottle of champagne. He could barely hold it because it was so big. So we did celebrate at that moment.  It's huge. The banner in the West End at the Reservoir office - like 40,000 people drive by it every day.  To be honest, it's a little overwhelming."
As for Madeline Merlo, while she's still pinching herself at her good fortune, she's also happy to be sharing it with her three good friends.
"All three of those people are very special to me and I love them dearly, so to be able to share this with them and give them this gift is amazing,"