FYI
Walk Off The Earth Walks Off the CN Tower Tonight
The Ontario pop hitmakers have a performance atop the famed Toronto landmark live-streamed on Amazon's Twitch channel this evening.
Aug 08, 2021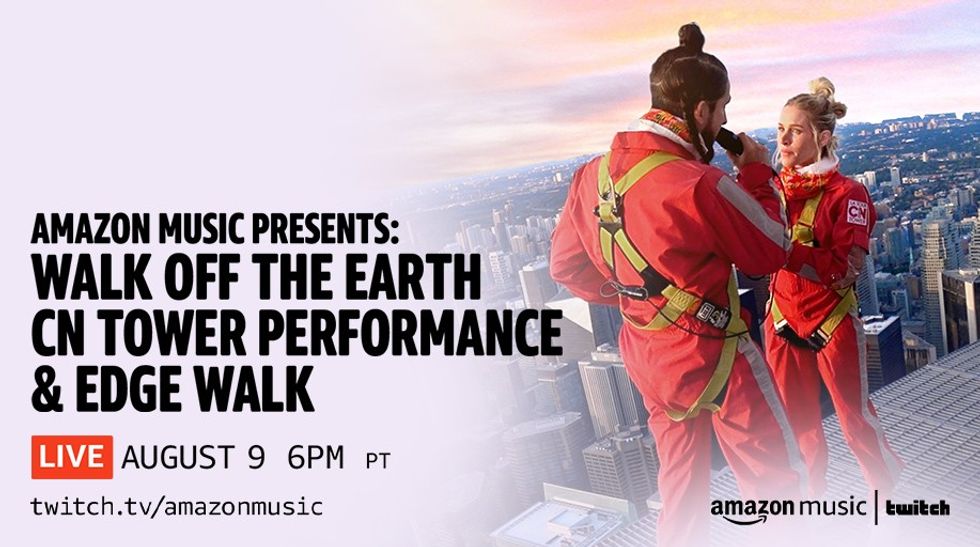 By FYI Staff
Tonight (August 9) at 6 pm PT/9 pm EDT, hit-making Ontario pop band Walk Off the Earth will live up to its name.
---
The group has partnered with Amazon Music for a performance from atop Toronto's CN Tower to be live-streamed on Amazon's Twitch channel. The show will include singing in suits and harnesses from on the EdgeWalk that sits 365m in the sky.
The stunt serves as the launch point for the release of the band's new Columbia album, Meet You There.
In a press release, WOTE's members stated that "getting the chance to do our thing nearly 1200 feet in the sky with the entire city of Toronto as our backdrop is something that we'll never forget, and being able to sing out on the EdgeWalk still doesn't feel like it actually happened! We're thrilled to introduce Meet You There to the world and to share this exclusive 7-song performance in partnership with Twitch and Amazon Music."
The live-streamed event marks the first performance of the band's just released sixth studio album that includes the new radio single, Love You Right, featuring Grammy-nominated, multi-platinum-selling Danish pop group Lukas Graham, as well as Nicknames with gnash, which spent 20+ weeks at the top of Canadian radio charts, and previously released tracks Oh What A Feeling, Anthem, How It Is, This Is Love, and Farther We Go. 
The Burlington, ON group has over 1 billion cumulative YouTube views, 8 million social subscribers, and has sold more than 1 million records worldwide.
WOTE plays three shows in California, Sept. 3-5, followed by its Sept. 18 Hometown Hullabaloo concert at Toronto's Budweiser Stage. Scott Helman and Carys are the support acts for that show. 
The CN Tower is no stranger to live performances. Back in 1997, British psychedelic band Spiritualized made headlines with its performance on the observation deck. Other artists to have played there include Tony Bennett, Natalie Cole, Barenaked Ladies, Jason McCoy, and Ronnie Hawkins. In 1977, Toronto punk band The Poles paid homage with its single CN Tower.