FYI
UMC's B.L.A.C.K. Label Coalition Launches $250K Scholarship Fund
Universal Music Canada's internal committee of Black employees committed to racial diversity partners with a Toronto sports hero and role model for a new initiative committing $50K per year for five years to support the education of post-secondary Black students.
Sep 07, 2020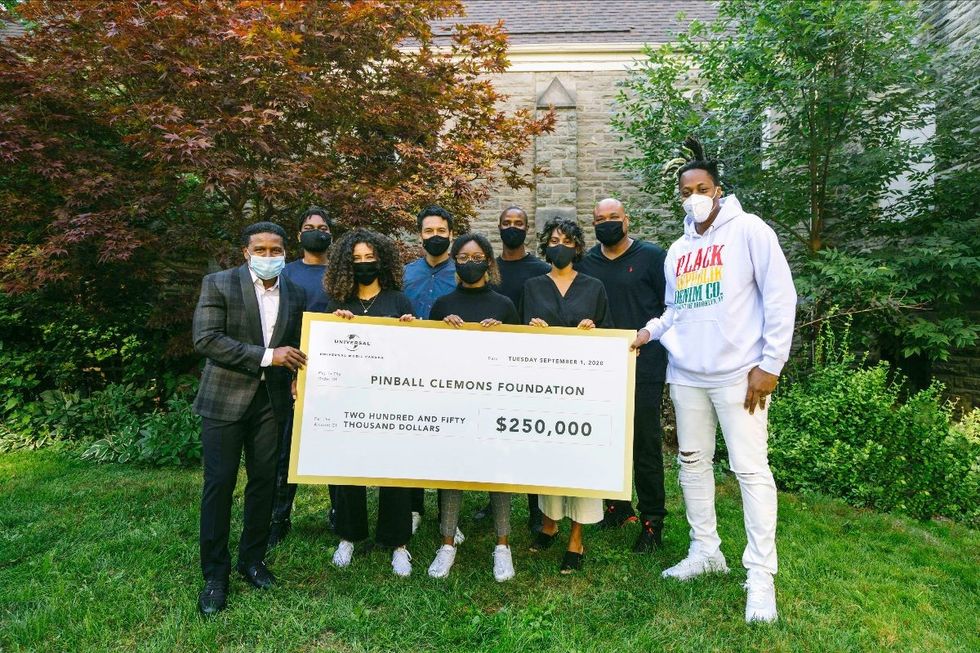 By FYI Staff
Universal Music Canada's B.L.A.C.K. (Businesses Levelling Access to Change and Knowledge) Label Coalition and the Pinball Clemons Foundation have announced a new, multi-year scholarship program for Black high school student leaders who have demonstrated volunteerism and involvement in their communities. The B.L.A.C.K. Label Scholarship is the result of a proposal put forward by the B.L.A.C.K. Label Coalition, an internal committee of Black employees with a mission to increase racial diversity, equity and representation within UMC. Through this scholarship, UMC will provide five students with up to $10,000 each to put towards their first year of post-secondary education of their choice. Effective immediately for the upcoming 2020/2021 school year, this $50,000 annual grant will be renewed for at least the next four years totalling a $250,000 commitment.

"On behalf of all Universal Music Canada employees and specifically those on our B.L.A.C.K. Label Coalition, we are honoured to be partnering on a new scholarship program with the Pinball Clemons Foundation," said Jeffrey Remedios, Chairman and CEO of Universal Music Canada. "While the B.L.A.C.K. Label Scholarship is not specifically tied to the music industry, this announcement today further reflects our company's commitment to bring about impactful, meaningful change. I hope that some of these recipients may choose to pursue a career in the music industry, resulting in empowered Black voices and leaders of the future."  

"The quest for equality is universal but today Universal Music Canada has made it more local. Everyone, no matter their present condition, has needed help at some point. Racism has accentuated this reality for Black youth making it infinitely more difficult for them to experience success," stated Michael "Pinball" Clemons, Co-Founder of the Pinball Clemons Foundation. "A humble thank you to UMC for providing hope and vision of a new day, a bigger, better and brighter one͟. This contribution will empower Black youth to be self- sustaining… not just survive, but thrive, elevating them from the margins to the mainstream."

"Each of us is born with the innate ability to see beyond our current reality," continued Clemons. "We possess the inherent gift to envision change, create progress and positive development. However, none of us can do it alone. It has been aptly noted that it takes a village to raise a child. Universal Music Canada, thank you again and welcome to the village."

"In the midst of a social uprising and the complexities of a global pandemic, the Black employees at UMC rallied together to form a coalition of people who desperately saw the need to act immediately," said Kardinal Offishall, Founder and Co-Chair of the B.L.A.C.K. Label Coalition. "We found it imperative to combat the systemic inequalities that existed around us, in all parts of our lives – professional, social and personal. We are extremely happy to have worked swiftly and strategically with the Pinball Clemons Foundation, to create a scholarship supporting underserved youth in our communities."

The B.L.A.C.K. Label Scholarship is awarded to five, first-year post-secondary Black students each academic calendar year from the present until 2024 (with the first five students having already been selected for the upcoming 2020 academic year). Qualifying students must be enrolled in the Pinball Clemons Foundation Margins to Mainstream Bursary Program, reside in Canada, identify as Black, achieved a minimum GPA of 2.5 in high school, and have demonstrated community involvement through various means such as volunteer experience. The purpose of this bursary is to reward young Black leaders and assist in the academic costs for the first year by covering the costs of tuition, books and mentorship up to $10,000 each. The Foundation will cover the cost for the balance of their academic journey of tuition, books and mentorship.

Following the industry pause of Black Out Tuesday that took place on June 2, 2020, in response to the murders of George Floyd, Ahmaud Arbery and Breonna Taylor, the B.L.A.C.K. Label Coalition (BLC) was formed by a group of UMC employees and interns who put forward a detailed proposal highlighting education, mentorship and developing a progressive equitable infrastructure to increase Black representation within the company. 

About Pinball Clemons Foundation
The Pinball Clemons Foundation provides marginalized youth with educational resources and options to integrate into the mainstream of society. With the implementation of a customized mentorship program and financial support, the Foundation is removing the barriers that often hinder success. The ultimate goal is not a diploma or degree – the Foundation wants to see youth successfully enter the workforce, sustainably employed in careers they desire. The Margins to Mainstream Partnership model is working to change the narrative for marginalized youth.
---