FYI
Tributes To Neil Peart Flood In From Around The Globe
His imaginative lyrics and symphony of sound created on the drum stand captured audiences the world over. We have sifted through the 11M-plus references turned up in a Google News search to bring you links to a noteworthy ten.
Jan 13, 2020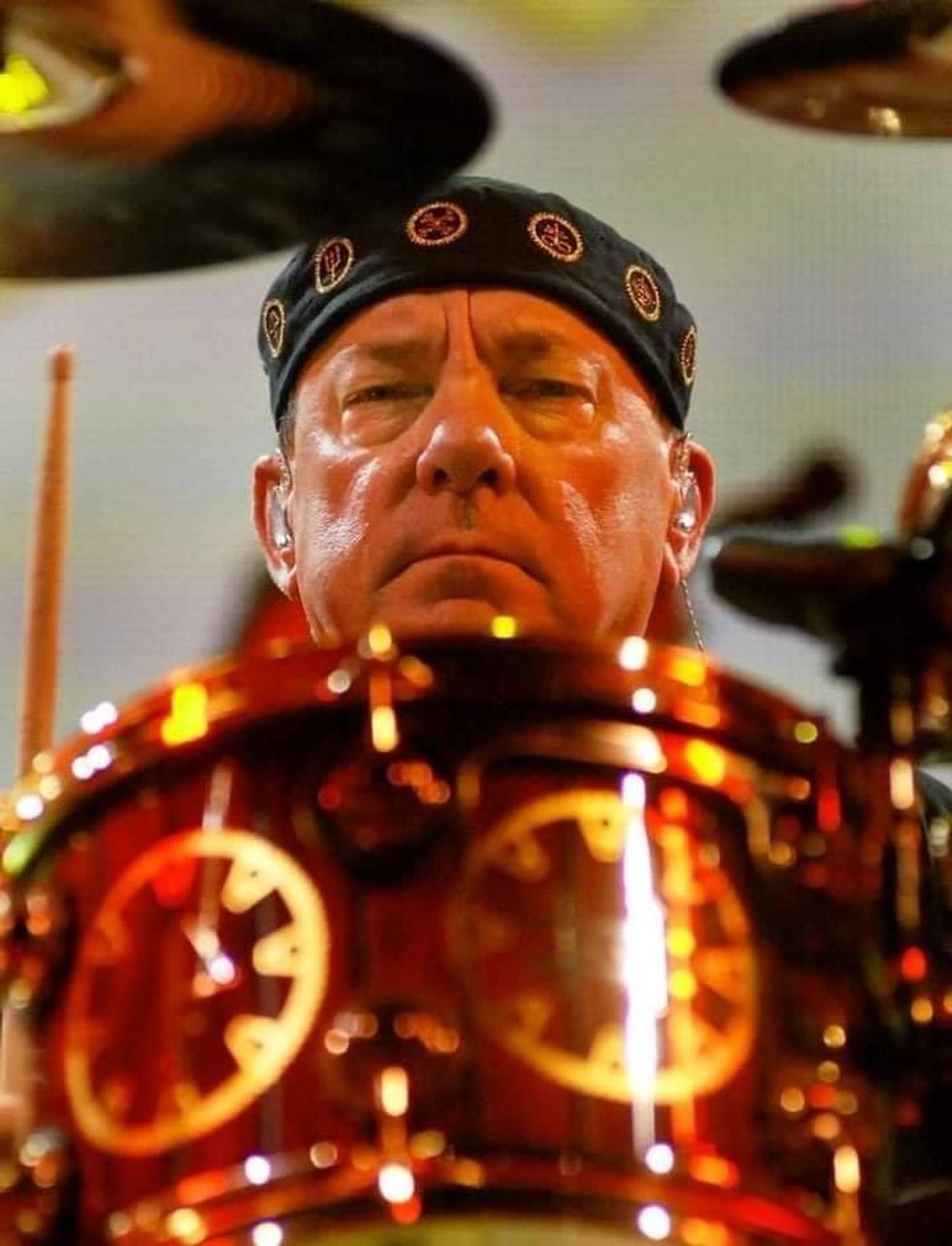 By FYI Staff
Neil Ellwood Peart, OC, drummer and chief lyricist in Rush, died Jan. 7 after having been diagnosed with brain cancer, according to a statement issued Friday by family spokesperson Elliot Mintz. He was 67.
---
His death was confirmed by Meg Symsyk, a media spokesperson for the progressive rock trio that also included Geddy Lee and Alex Lifeson.
"It is with broken hearts and the deepest sadness that we must share the terrible news that on Tuesday our friend, soul brother and bandmate of over 45 years, Neil, has lost his incredibly brave three-and-a-half-year battle with brain cancer," his bandmates said in a statement.
His death has generated astronomical coverage in mainstream media and on social networks. In fact, a weekend Google News search turned up over 11M results.
What follows here is a synopsis from the coverage highlighting the man, his music and his life. Elsewhere, we have reflections offered by two fellow Canadian rock drummers who offer their own intimate observations about his extraordinarily dexterous life in the cage as a knight of the road.
The Guardian - Joel McIver
In 2016 Rolling Stone magazine put Peart at No 4 in its list of 100 Greatest Drummers of All Time, after John Bonham, Keith Moon and Ginger Baker. As the Nirvana drummer and FooFighters frontman, Dave Grohl, said: "Neil Peart – that's a whole other animal, another species of drummer".
The New York Times - Jon Pareles
"His drumming was songwriting," Foo Fighters' drummer, Taylor Hawkins, said during Rush's induction into the Rock & Roll Hall of Fame in 2013. "It was just as musical, just as melodic, as any other instrument in the band." He also noted that Mr. Peart had "spawned a generation of air drummers for decades to come."
The Toronto Star - Nick Krewen
Arguably the greatest and most influential drummer of his generation, the Hamilton-born icon — one third of progressive power trio Rush (affectionately known as The Holy Triumvirate Of Rock) — is a cultural loss on par to that of a Jimi Hendrix or a Kurt Cobain.
The Globe and Mail - Marsha Lederman
His death was mourned online by everyone from the Trailer Park Boys to the Foo Fighters' Dave Grohl and Taylor Hawkins, who inducted Rush into the Rock and Roll Hall of Fame in 2013. "Neil Peart had the hands of God," wrote Mr. Hawkins, the Foo Fighters' drummer. "End of story."
New Yorker - Amanda Petrusich
Trying to make sense of its maze of components is nearly impossible for anyone not intimately acquainted with drum gear, yet the kit nonetheless communicates, in a glorious and unambiguous way, Peart's vigor. It must have felt so excellent, ensconcing himself in that golden tower, an ever-expanding assemblage of surfaces to whack! Until his death, Peart was considered by many to be the greatest living rock drummer….
Rolling Stone - Brian Hiatt
"Neil is the most air-drummed-to drummer of all time," former Police drummer Stewart Copeland told Rolling Stone in 2015. "Neil pushes that band, which has a lot of musicality, a lot of ideas crammed into every eight bars — but he keeps the throb, which is the important thing. And he can do that while doing all kinds of cool shit."
Billboard  - Kenny Aronoff
His style of drumming influenced the kind of music Rush did. He was so musical -- odd meters, drum fills that were very technical. But it was not showing off. Anything he did, it had a purpose in the song and related to the lyrics and the music. Nothing was by mistake. Everything had a purpose, every single drum fill
Billboard - Patrick Lyons
Peart's playing always looked forward, guiding songs along from movement to movement. And while he may have had at least a dozen toms and cymbals, he uses each purposefully, picking specifically-tuned ones at specific moments during specific sequences. It's not out of convenience, as it is for so many drummers who'll reach for the cymbal closest to the tom they just hit -- it's out of sheer melodic will. 
Live For Live Music - Michael Broerman