FYI
Sound Royalties Offers Cash To Copyright Earners
Vannessa Thomas is now heading up Sound Royalties' Canadian operation. The U.S. royalties finance firm offers advances to a wide array of copyright earners, including record producers and publishers, plus short-stop financing to entities seeking to sell catalogues. Pictured: Sound Royalties CEO Alex Heiche.
Oct 05, 2022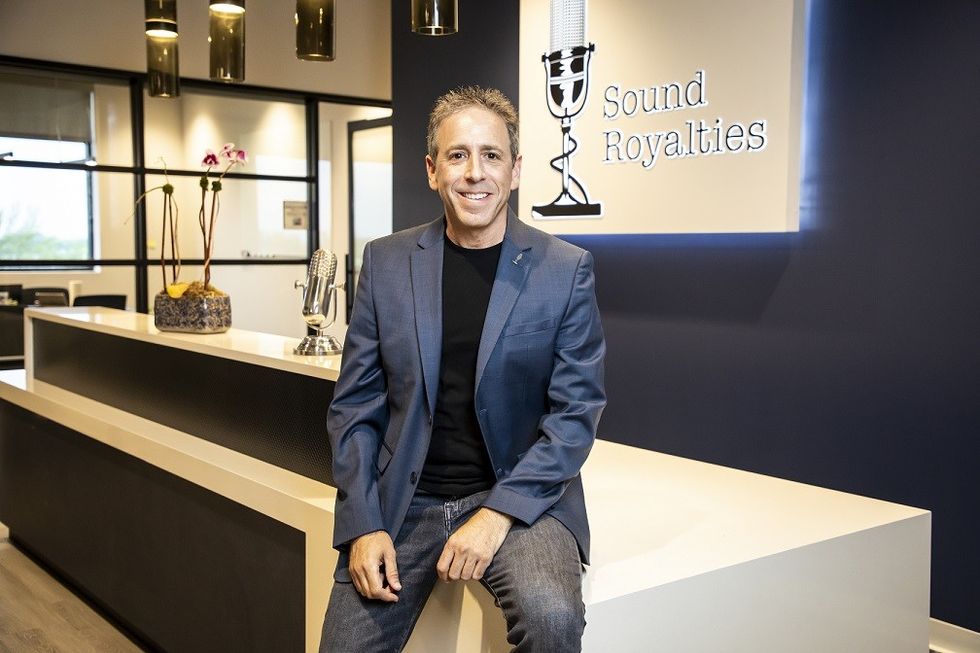 By David Farrell
If you have income streams from music copyrights and want to borrow against future income, the options can be limited unless you are a superstar.
---
The banks aren't always the best option for loan applications; private money lenders can sometimes be sharks, and family is the last resort.
But, hey, there's a new kid on the block here in Canada called Sound Royalties.
It's an American outfit being led by a well-known, well-respected, well-loved industry veteran we've all had reason to deal with in the past-or know of her through the Nielsen Company, the Canadian Songwriters Hall of Fame/SOCAN and Songza.
Yes, you guessed it right.
Vanessa Thomas is leading the launch of Sound Royalties expansion into Canada and the plan is to provide advances against royalty streams to music copyright owners that include songwriters, composers, record producers, and even independent music publishers and distributors. Sound Royalties will also provide tour advances and bridge financing for those looking to negotiate the sale of music catalogues.
Heading the operation is Sound Royalties founder and CEO Alex Heiche, an American who became enamoured with Canada having earlier worked with a software company that had its initial success here.. Sound Royalties' head office is in Florida, but in 2014 he moved to Nashville and made friends with the local SOCAN chapter that included Eddie Schwartz­–the Toronto-born, Nashville songwriter who has become a global advocate for songwriters' rights.
The litmus test for getting approval for advances against income is relatively simple, and the recoupment for Sound Royalties is simpler still. The royalties finance firm doesn't advance funds using a floating interest rate but rather uses a fixed dollar amount over a fixed term. As Heiche explained in a phone interview earlier this week… "Someone might come to us for eight and a half dollars and we'll say that's two dollars a year for the next five years. That's ten dollars.
"If they get more (income) in the year it's still two dollars per. We're not doing 100-percent recoupment. If it comes up short (after the term period) there's no penalty and we're taking the risk.
"If in the five years we don't recoup there's still no penalty, but we extend the term of the agreement."
And from the company's press release announcing the expansion into Canada and Vanessa Thomas's role:
"Vanessa joins other international representatives in London and South America. These new affiliates will follow the same artist-friendly approach designed to maximize musicians', songwriters', labels', and other music businesses' ability to thrive financially. In addition, they will help Sound Royalties forge new partnerships and relationships to further boost the music business in their regions.
"We strive to build long-term relationships with our customers so that we can provide them with the best funding solutions that match their needs, and that means finding experts in their markets who know exactly what music creators need. Vanessa fits that bill perfectly," says Alex Heiche. "We also want to continue our work with strong partners in these regions to grow the overall industry and create a stable, prosperous ecosystem of music creators, labels, distributors, and other music professionals, so that every creator can do better."
Canada is a unique market that regularly produces many hit songs relative to market size and is shaped by notable arts funding. The relationship between Sound Royalties and Vanessa Thomas is an opportunity to enhance the country's funding models and align more closely with artists', songwriters', and labels' rapidly changing financial needs. Thomas sees Sound Royalties as providing a much-needed additional approach to expand on existing institutions and funding opportunities.
"I've spent my career working with creators and know where the gaps in supporting them are," Thomas says. "The Canadian market is wide open for this kind of model. It doesn't exist here, and it can be challenging for creators to find advances for their next projects. Few institutions provide this support. Advances are limited and capped for many Canadian creators. We need quicker and more nimble complements to existing solutions. Providing options, without taking ownership of copyright while allowing royalties to keep flowing, is a model that's focused on the creator, not the institution. Whether it's funding for your next project, bridge funding, tour support, or grant matching, Sound Royalties is nimble, flexible and efficient."
Canadian artists, songwriters, and labels can reach out to Thomas at vthomas@soundroyalties.com or (416) 346-1887. For further information, the company's website is here.