FYI
Rosalie Trombley: "Everybody's Favorite Little Record Girl"
Last week we reported on the death of Rosalie, but she was such an extraordinary woman that we felt it necessary to include a follow-up story about the famed CKLW personality fleshed out with p
Nov 28, 2021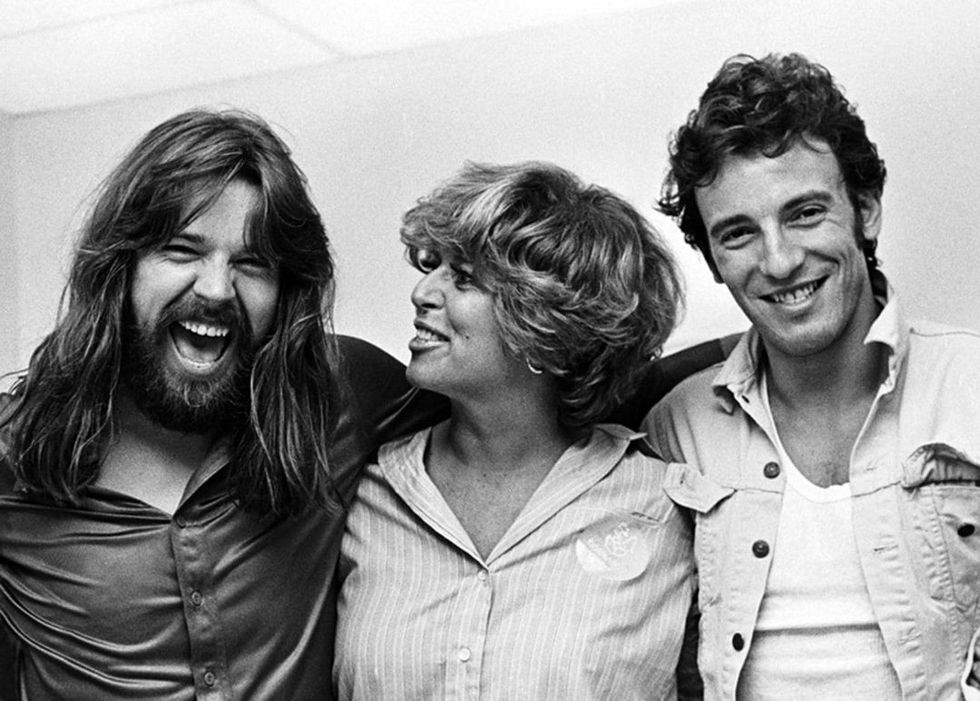 By Doug Thompson
Last week we reported on the death of Rosalie, but she was such an extraordinary woman that we felt it necessary to include a follow-up story about the famed CKLW personality fleshed out with personal touches. She was an exceptional person who not only broke the glass ceiling for women in broadcasting but also the glass ceiling for a number of Canadian acts-and American acts too. Such was the power of the Windsor AM's signal that her music selections influenced countless broadcasters in the U.S. to add records based on her adds. She was loud, boisterous, energetic and oozed charisma. Doug Thompson is kind enough to file the following story.
---
There are very few individuals in radio, especially in Canada, that had a song written about them.
Rosalie Trombley did.
The song, appropriately titled Rosalie, was written and sung by Detroit's own Bob Seger.
"She's got the power, she's got the tower, Rosalie, Rosalie,
"Rosalie.  Knows music, knows music, knows music.                                                                                        
"Rosalie, Rosalie."
While many Bob Seger songs were played and charted on CKLW over the years, Rosalie wasn't one of them.  In fact, Rosalie threatened to quit if the station ever played 'that' song.
They never did.
Pat Bergin was a jock at CKLW before becoming Scott Carpenter at CHUM Toronto.  He remembers that Rosalie was a champion of Bob Seger's music very early on.
"Rosalie was playing Seger in the mid-sixties before anyone in Michigan or Ohio ever heard of him.  Thanks to airplay on CKLW, Bob could put 20,000 people into Cobo Hall long before he became an international superstar."
Seger himself paid tribute to the woman who helped launch his career.
"Rosalie was an icon, a trailblazer, and our friend. Through her hard work and incredible instincts, she achieved a rare level of influence and power in music. When she got behind your record other stations would follow suit. She was literally a gatekeeper to national success and we were so fortunate to have her support, especially on many of our early records. She was an integral part of our journey and we are eternally grateful. We will miss her."
The Guess Who was so grateful to Rosalie for adding These Eyes to the CKLW playlist that the band members drove all night from Winnipeg to Windsor to thank her and take her to lunch.  I'm assuming The Guess Who picked up the tab.
Rosalie Trombley passed away on Tuesday, November 23rd, 2021 at the age of 82.  To everyone in the radio industry in North America, Rosalie was a legend.  To her colleagues at CKLW, like production guru Bob Lusk, she was so much more. 
"In her time, she was a giant walking on the land. Today, the land is quiet. The footfalls silenced. Rosalie has passed. Rosalie and I have been friends for 54 years. It doesn't take exceptionalism to be Rosalie's friend. It takes authenticism. Anyone not absorbed in themselves can be Rosalie's friend. And, there are many. Rosalie taught me about family, responsibility and truth. When you have Rosalie for a friend, you have a corner man. She is an enduring part of my life. I will always feel her presence. Today, I'm thinking about Tim, Todd and Diane. I can't imagine their devastation. They were everything to Rosalie as she was to them. If they can be still a moment, they will hear their mother's voice say, as she always did, "I love you" as she always will.
Rosalie was a single mother who raised three children all the while dealing with some of the biggest names in music.  Once in the '70s, writer/producer and Motown legend Norman Whitfield popped over from Detroit to play Rosalie his latest production hoping for an add at CKLW.  Rosalie did not think the song was a hit and told Norman so.  Most people didn't say 'no' to Norman Whitfield.  Rosalie did.  In a huff, Norman grabbed his acetate and left the building.  
Rosalie's ears were always highly tuned to what was going on in the industry.  When she heard WJLB, a Detroit R&B station playing Elton John's Benny and the Jets, a song from Elton's 1973 album, Goodbye Yellow Brick Road which was not a single, she added the song to the CKLW playlist and the station's request lines went crazy for the song.  That prompted a phone call from Sir Elton himself.  He had intended to release Candle In The Wind as a single first.  Rosalie told him he could still do that, but should release Bennie and the Jets immediately.  He did and Elton had another number one hit in Canada and the U.S.
Kevin Shea is a longtime veteran of the Canadian radio/record industry, having launched his career in Windsor radio.  He has the highest praise for Rosalie.  "I loved this woman.  She was the most powerful woman in the music industry, yet she had time to teach, tell stories and laugh with a young colleague who loved every moment."   
Pat Holiday, the former General Manager for Standard Radio Toronto worked closely with Rosalie at CKLW, initially as a DJ, and later as Program Director.  Pat says Rosalie was much more than just a colleague.     
"I knew this day would come at some point yet still I'm pretty much at a loss for words. Been trying to figure out what to write all day. There's only a few people that really, really, make an impact on your life. Definitely your parents, sometimes a friend teacher or mentor, and if you're lucky….very lucky, someone who I became lifelong friends with that passed away yesterday. Rosalie Trombley.
"There's been and will be a huge amount written and said about her and her career over the coming days and weeks. ALL OF IT, immensely deserved. Flat out, she had no peers. And I doubt, as time keeps ticking, she ever will.
"But I think, I hope, that for that small bunch of us who worked, laughed, cried, competed, aged, grew up, and simply tried to be as good as we all could be in that crazy station that was the Big 8, Rosalie's accomplishments that everyone else will deservedly praise will pale in comparison to how great it was to have her as a friend.
"She was a tough as nails, fun cheerful and outgoing as a room full of drunk comedians, and as compassionate, loyal and protective of her friends like a momma bear with her cubs. Get in between those at your peril.
"I choose to remember the amazing mentoring and fun times she afforded a young kid that she didn't know at first and certainly didn't need to take under her wing….but she did.
"I learned more from her about radio and music and people's listening and buying musical tastes than any 40 Harvard professors could teach another about physics or law or whatever.
"When I returned to Canada from NYC and needed someone to sponsor me back in for immigration. She's the one who signed the papers and vouched for me. She's the reason I'm here. Literally. She's basically the reason that whatever you know or think of me the radio guy….it pretty much starts with her.
"Like I said. Impact.
"I've been reading the news stories and revisiting much of the online videos about her. It's easy to get the impression that she was sort of like an aloof super powerful radio mogul and everything one would envision that goes with that phrase. Except…she was anything but that.
"I would hate for you to think that. she would hate for you to think that.
"Despite all that power, recognition, and accolades, she didn't pull the power chain. She lived a very simple life with her kids and dog Fritz, (Actually there were many Fritz's) yet was as comfortable as could be in the company of millionaires, movie and mega recording stars, record label Presidents, or Chrysler factory line workers. Didn't matter. Zero hierarchy. That's a rare quality.
"But then, Rosie was a rare individual.
"For those of us who grew up daily with her, or interacted with her, or simply met her along the way and felt how nice a person she was…..consider yourself lucky. I do.
There are just not many people around that fill all those boxes like she instinctively did.
"Luckily it's easy to remember her loud boisterous laugh, wild waiving of her hands when she got excited about anything, and the best part….the angry truck driver the spilled out on more than a few occasions when someone or some thing pissed her off. Yet even the appearance of the "truck driver" ultimately ends up as big laughs.
"Such was a day in the music library of Rosalie Trombley.
"I miss those days.
"I'll miss her even more." 
Irek Kusmierczyk, the Liberal Member of Parliament for Windsor/Tecumseh, rose in the House of Commons on November 26th to pay tribute to Rosalie Trombley.  In part, he said:
"In a business dominated by men, she was a trailblazer.  In 2016, Rosalie's lifetime contribution to Canadian music was recognized with a Juno Award and each year, a female Canadian broadcaster is presented with the Rosalie Award…Mr. Speaker, Rosalie Trombley was a pioneer who moved millions of people, broke barriers and changed music forever."    
You couldn't leave a better legacy than that!
"The best Music Director in radio history.  She could pick a hit out of a 20-foot pile of stiffs." (PAT BERGIN)