FYI
RIP: Dallas Good of The Sadies
Friends, peers and associates share stories and personal grief on the loss of Dallas Good who died Feb. 17, at age 48.
Feb 20, 2022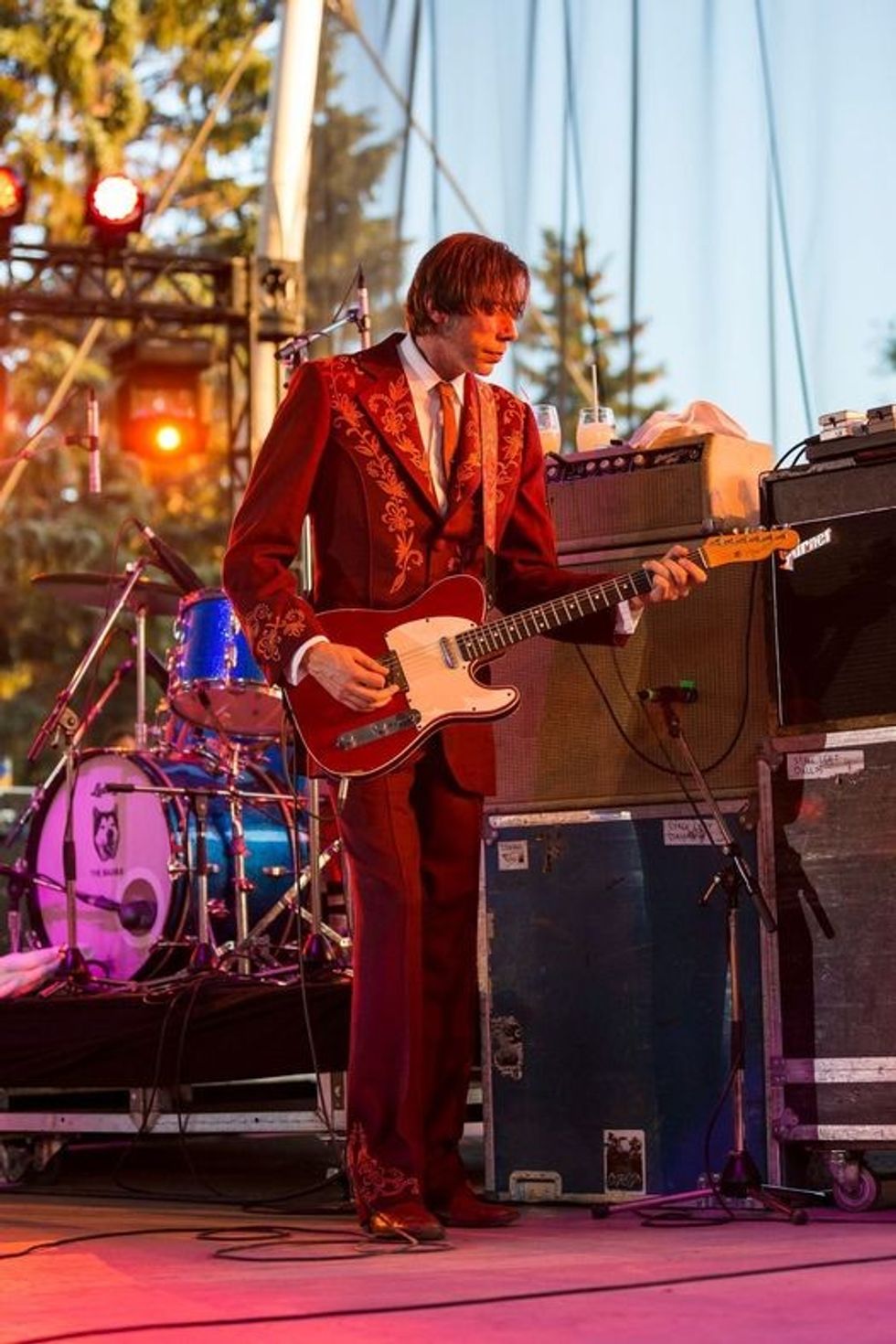 By Kerry Doole
Dallas Good, guitarist, singer and songwriter in Toronto-based roots-rock band The Sadies, died on Feb. 17, age 48.
---
His passing was confirmed in this post on the Facebook pages of the group and its management, Starfish Entertainment: "It's with unfathomable sadness that we announce the sudden passing of Dallas on Thursday, February 17th. Forty-eight years old, he died of natural causes while under doctor's care for a coronary illness discovered earlier this week.  A son, a brother, a husband, a friend, a bandmate, a leader, a force to be reckoned with, we have no words for the shock we are all feeling. We join the rest of our music community and fans in grief. The stage is dark today with the all too soon passing of one of music's brightest lights. We love you Dallas."
The Canadian music community (and beyond) quickly united in grief at the news of the passing of a much-loved artist and a shining musical talent. Good's death, and his impressive musical achievements, were acknowledged in extensive coverage in major Canadian media outlets, as well as in features in such notable international publications as Rolling Stone and NME.
The current Sadies lineup of Dallas, his older brother, guitarist, singer and songwriter Travis Good, bassist Sean Dean and drummer Mike Belitsky, coalesced in Toronto in the mid-'90s. Dallas' close friend and sometime bandmate Don Pyle (Shadowy Men On A Shadowy Planet, Phono-Comb) informs FYI that "The Sadies were first a more aggressive trio founded by Dallas, Sean and Ted Robinson. Following Ted, Andrew Scott from Sloan was the drummer. It was about two years in that Dallas brought Travis in, and Mike joined not long after. That was when the shift to a more country-informed sound happened, with Sean switching from electric to upright bass too."
Since 1998's debut, Precious Moments, the group has released 10 albums, and shared the billing on seven other album collaborations, with such diverse artists as Andre Williams, Jon Langford (The Mekons), John Doe (X), Neko Case, Gord Downie, and The Good Brothers. Their most recent album was 2017's Northern Passages, and a new full-length release was/is expected this spring.
The Sadies have also recorded and/or performed with Neil Young, Buffy Sainte-Marie, Randy Bachman, Robyn Hitchcock, Kurt Vile, Mike Nesmith (The Monkees), Roger Knox, and many more. 
In 2008, The Sadies album New Seasons earned a Juno nomination for Roots & Traditional Album of the Year, and Darker Circles was shortlisted for the 2010 Polaris Music Prize. In 2012 the band's song Rumbleseat received the Juno Award for Video of the Year. The group's impact, however, has far transcended this rather cursory list of award nods, as the tributes we have compiled here dramatically testify.
Dallas Good is the son of Bruce Good, of the famed Canadian bluegrass/country group The Good Brothers. Bruce and his wife Margaret (mother of Dallas and Travis) would sometimes guest at Sadies shows, and the acclaimed 2013 bluegrass-accented release The Good Family Album featured the two generations of this highly musical family - Bruce, Margaret, and Larry Good (elder) and Dallas, Travis and cousin D'arcy Good (younger). Read more about the making of that album here. 
Country music may have been in his genes, but Dallas Good cut his musical teeth in the early '90s, playing in punk and hardcore bands in Toronto, including The Satanatras. His stint in that group was relatively short-lived, and he exited before their full-length album, Eight Ate Hate, was released in 1994.
In a Facebook post, the authors of the book Tomorrow Is Too Late - Toronto Hardcore Punk in the 1980s noted that "Dallas Good possessed a true passion for the sounds of his youth - hardcore. He connected with us during the early stages of the book, eager to take part in any way he could to help us tell the complete story of Toronto's hardcore scene of the '80s which he so loved." Remaining true to those roots, in 2015 Good joined local hardcore heroes Career Suicide and recorded with them.
Another short-lived project for Good that coincided with the early days of the Sadies was Phono-Comb. Dubbed an indie super-group, this combo comprised Dallas Good, Don Pyle and Reid Diamond of the popular instrumental combo Shadowy Men On A Shadowy Planet, and American singer/songwriter Jad Fair. This lineup (billed as Jad Fair & Phono-Comb) released the 1996 album Monsters, Lullabies -- and the Occasional Flying Saucer. After Fair's exit, they continued briefly, releasing the 1996 album Fresh Gasoline, as Phono-Comb.
Good would intersect with Shadowy Men many years later, enlisting as bassist in a revamped lineup in 2012, replacing original member Reid Diamond, who died in 2001 (21 years to the day prior to Good's death). Good continued to play occasional shows with the group until now.
In a 2013 Words & Music interview with Nicholas Jennings, Good recalled his upbringing in a musical family - "It wasn't like we grew up Partridge Family-style at all, but we were surrounded by good records and lots of instruments. I initially rejected bluegrass for punk – until I found out that bluegrass is a lot faster and harder to play than most hardcore and aggressive music."
An early pivotal moment in the evolution of The Sadies came in 1996. Gordon Lightfoot biographer Jennings recalled in a Words & Music feature "a night in 1996 when The Sadies were getting started, and their father, Bruce Good, was celebrating his 50th birthday at Toronto's Horseshoe Tavern. Into the club walks Gordon Lightfoot, who'd had the senior Goods open for him during the '70s. Afterwards, Travis recalls, 'Lightfoot turns to us and says, 'The only advice I'll give you is do your own songs.' We took heed and started getting rid of all those traditional bluegrass murder ballads and tried to write our own.'"
The legendary Horseshoe Tavern figures prominently in the history of Dallas Good and The Sadies. As Dallas noted on a FB post in Sept. 2020, "The Sadies have performed at the Horseshoe Tavern more than any other venue. We released our first record there. 20 New Year's Eve shows. I'm excited about playing our first digital simulcast on this particular stage this month." 
To FYI, Horseshoe owner Jeff Cohen confirmed the 20 NYE shows. "The Sadies were supposed to play both 2020 and 2021 NYE Eve shows, the latter with Jon Langford and Sally Timms [The Mekons], but Covid cancelled those. The last Sadies gig for the 'Shoe was the benefit drive in last summer with Skydiggers, and previous to that the live stream. In the last 25 years, Dallas appeared on our stage likely more than any other local Toronto musician, be it with The Sadies, or backing up countless other artists. He was royalty in the venue, right up there with Stompin' Tom, Blue Rodeo, Colin Linden, and Gord Downie."
Over the course of a prolific career, The Sadies developed a coherent signature sound, even though they drew freely from a staggeringly diverse collection of musical styles. Their compositions ranged from bluegrass to cosmic country and folk noir to surf rock, psychedelia, and punk, all delivered with both technical skill and a creative flair. It was this freewheeling eclecticism that made Dallas Good and The Sadies such effective collaborators with radically different artists. That characteristic also paid off in their performances, ensuring highly entertaining shows that have earned the band a well-deserved reputation as one of the very best live acts around.
All of The Sadies' album projects with other artists received critical acclaim, especially their projects with Neko Case and Gord Downie. The Tragically Hip frontman and The Sadies joined forces in 2014 for the album Gord Downie, The Sadies And The Conquering Sun, and, as FYI contributor Jason Schneider astutely observes in his Single Servings feature here, "this meeting of CanRock titans easily lived up its billing, with Downie, in particular, sounding more energized than he had in years. The Sadies seemed to have that magic touch with everyone they worked with."
The Sadies were still actively performing at the time of Good's death and had released two new tracks, Stop and Start and Message to Belial, in Nov. 2021 and Jan. 2022 respectively. They are out in advance of a new album expected in the spring, with Arcade Fire's Richard Reed Parry serving as co-producer. 
According to Parry's posts on his Instagram over the weekend, he and Dallas Good have simultaneously been working on a duo album. Says Parry, "Myself and Pietro Amato spent a whole lot of joyful time with Dallas and The Sadies over the last year and a half, recording and producing their last record - which is coming out this spring.
"Dallas and I have also been slowly writing and recording a record together ever since meeting in Dawson City, Yukon at the music festival there in 2008.  It has been the slowest moving musical endeavour of my entire life. We didn't plan to do it this way, it's just been how it happened. Tiny, joyous flourishes of activity a couple of times a year for over a decade. We'd work for a weekend and then not see each other for six months, work for a couple more days then take another six-month break, repeat. The working title of the album was The Watchtower - a nod to the fact that both of our life partners had been raised Jehovah's Witness. It's not finished but I'm going to go finish it now."
The Sadies were among the performers at a virtual edition of Guelph, Ont.'s Hillside Inside festival earlier this month and had planned three Western dates, from March 31, followed by April Ontario shows, with European dates scheduled for July and November.
Over their career, The Sadies have always exhibited an admirable work ethic. Dallas once told this writer that "We get those tags of hardest working band blah blah. That's not true. We are the band that has been given the most opportunities lately and that's about all."
The group (and Dallas Good individually) frequently found the time to participate in outside projects too. In 2004, the full lineup joined close comrades Greg Keelor of Blue Rodeo and Rick White of Eric's Trip and Elevator to form The Unintended in 2003. This indie supergroup played folk-inflected psychedelic rock and released a self-titled album in 2004. In 2006, that band released four Gordon Lightfoot covers on the split album Constantines Play Young/Unintended Play Lightfoot.
Dallas Good and The Sadies had long had a close relationship with Keelor and Blue Rodeo. The two bands share management, Starfish Entertainment, and frequently toured together.
Recently, Dallas Good took on the role of producer for Saskatchewan band The Garrys, helming their album Get Thee To A Nunnery. That release helped The Garrys win a Saskatchewan Music Award for Best Rock/Pop Artist of the Year last month.
Here is a collection of tributes to and anecdotes about Dallas Good collected from social media posts or directly conveyed to FYI. 
Lloyd Nishimura (owner of Toronto record label Outside Music, home to many Sadies releases) to FYI: "The Sadies  Stories Often Told [2002] was the album that launched the Outside Music label.  But years before,  Dallas was our first musician employee, helping paint and build our warehouse in east Toronto. Hired by co-owner and Fifth Column bassist Beverly Breckenridge, Dallas was already making his mark on the Toronto music scene.
"At the same time, he created the archetype of an Outsider, late sleeper, hard worker and great musician. He helped many of his friends get employment here that allowed them to pay the rent and pursue their real careers. Dallas brought the energy of the Toronto music community to Outside Music and we are forever grateful. As a label artist, Dallas was the model collaborator with people around him but was also uncompromising. He knew what was best and did things his way. And he wasn't wrong. He was easy-going, quick with a knowing and real smile, for everyone he met, musicians, industry and fans. And it will always be our honour to be one of the many homes of The Sadies."
Steve Kane (former head of Warner Music Canada) on FB: "Like so many in our community I'm stunned and saddened by the passing of Dallas Good. Our worlds intersected at so many points. His smile was infectious, his passion palpable, his knowledge immense, and his was a talent that knew no bounds."
Greg Keelor (on FB): "He was destined for the stage, a show biz kid in a show biz family. He inspired me and many others to go deeper. A  punk rocker in a Tommy Hunter suit. Some of the best times I've had in the life were in his company. Love and sympathy for dear Amanda and Margaret, Travis and Bruce, Sean and Mike, and all the family and friends that love him so much."
Robyn Hitchcock (on FB): - "There's something numbing and anodyne about tributes - perhaps this helps to mute the pain we feel when a really great person goes. Dallas Good from The Sadies was such a person, and he passed on suddenly this week. He and his brother Travis were the 6'4" rangy multi-instrumentalists that bookended the stage when The Sadies unleashed their dazzling psychedelic twang on audiences around the world. The Sadies are the true Canadian heirs to The Band - inhaling life and exhaling music wherever they go. They live to play and play to live like no other band I know.
"I first met them in 2002 at the Calgary Folk Festival. Dallas taped a message to the door of my hotel room inviting me to join them for some Syd Barrett songs onstage the next day, and we went on from there; I've joined them in Winnipeg, Oslo, San Francisco, London and Switzerland to name just a few… Dallas was a kindly man - he had high musical standards but he liked to welcome strayfarers into the warm embrace of Sadie, as he always called the band. My heart goes out to his family, bandmates and friends - to all who loved him - but I also harbour a terrible selfish grief that I'll never get to play music with him again in this lifetime. I'm sure many of us feel that way. It's just an awful shock, for which words are no consolation."
Jeff Cohen (owner of Horseshoe Tavern) to FYI:  "Dallas was a significant player in the cultural makeup of the terrific Toronto indie music scene, as a gifted songwriter, vocalist, and superb guitarist, but most importantly one of the nicest, sincere, grounded, beautiful people in our scene. Dallas oozed integrity, he was a gifted artist, but also just a wonderful geeky muzoid you eagerly wanted to hang with and talk about music with. He remains one of the coolest and most interesting musicians I've ever met. Tara, Craig, and I are just heartbroken."
Ron Mann (the noted documentary filmmaker who recruited The Sadies to write and record the soundtracks to such docs as Tales Of The Ratfink and Carmine Street Guitars) - to FYI . "The first thing that comes to mind is running into Dallas in an airport lounge. By coincidence, we were on the same plane. We made pretty good use of the hospitality bar. It came time to board. I gathered my stuff and Dallas said he would catch up. I"m settled in. The plane is about to take off. And there's no Dallas. I'm about to flag an attendant to say something — then without a beat, seconds before the doors close — Dallas boards the plane. Now there's a seasoned flyer. It comes from decades of touring and recording with a diverse network of gifted musicians around the world.
"I saw The Sadies open for Blue Rodeo at Massey Hall in 2003. I was so impressed they covered the Carole King song I wasn't Born to Follow. I asked them to score my film about Ed "Big Daddy" Roth [Ratfink] and many films after that. For Carmine Street Guitars I asked them to score the film and appear as themselves.… You know, I was just talking with [noted US filmmaker] Jim Jarmusch about how much we loved Dallas.  We imagined him as someone out of time — like Zelig - appearing on stage with Merle Haggard, Dick Dale, or the 13 Floor Elevators ….  He would be comfortable in any time or musical style. 'Live life. See it through. Carry on. It's all you can do.' — Ray Davies."
Glenn Milchem (Blue Rodeo) on FB:  "Dallas Good was the kind of person who made the world seem more magical just by his very existence. I saw The Sadies more than any other band and they never failed to be anything short of stupendous. They raised the bar for an entire generation of Canadian musicians. Dallas was unfailingly honest and forthright but also kind, funny and big-hearted. He was incredibly well-loved and there are so many people everywhere with a Dallas-sized hole in their hearts right now. Sometimes life just isn't fair and this is one of those times. There's no getting around it, we've been robbed."
Patti Smith (FB): "Dallas Good. 1973-2022. Aptly named. None compared."
Randy Bachman (FB): "We've lost someone very special today, far too young. Dallas Good was a phenomenal musician & friend. Everything I could play on guitar he could play better. He will be sorely missed. Sending love to his family who are also amazing, talented people."
Julien Paquin (Paquin Entertainment) on FB: "For 2 decades we have represented The Sadies. Imagine the pride. Dallas Good was as passionate behind the scenes as he was onstage. "What does Dallas think?" was the most important question and the answer always shed new light. He made us better at our jobs and I will miss him dearly."
Arts & Crafts (Toronto record label) on FB: ·"Dallas Good was a neighbour and a friend. A giant, and kind-hearted presence. We had the indelible experience of seeing him work up close with brothers @gorddownieofficial and @thesadiesofficial and countless better-than-the-last live performances, under the conquering sun. His impact was massive and understated, and there, in that balance, will always be his brilliance. Sending love to the Good, Sadies, and Starfish families, and anyone feeling loss at this time."
Richard Reed Parry (Arcade Fire member and producer of the upcoming Sadies album) on Instagram: "I truly cannot believe the news. Dallas Good was one of my dearest friends in the entire universe. An utterly unique soul without parallel, timeless musical powerhouse, style icon, consummate gentleman, the perfect house guest and a brilliant musician who spread his talents and abilities as far and wide as his long arms could reach."
Steve Albini (noted US record producer/engineer) -as quoted in Rolling Stone: "Dallas was a beautiful guy and naturally gifted musician. Opened every conversation laughing, a warm, unpretentious soul. Everybody who knew him feels like they lost a brother. Requiescat."
Glenn Dicker (co-owner of Yep Roc Records, The Sadies' US label) - as quoted in NME: ".Dallas was such a special individual who is in one of my favourite bands of all time. We've lost a cornerstone of the label. The Sadies have always been the band to watch and hear out there for me. I am grateful to you, Dallas, for so many great shows, spine-shaking music and good times. I'll never stop listening."
Stephen Pitkin (Elliott Brood) on FB: "I just wanna say that the world will be a different place without Dallas Good. He was such an utterly influential voice in music, a literal beacon of inspiration. Any time we crossed paths, from the early '90s at Songbird Music, right to the present day, he would extend a certain comradery, to which I sometimes questioned if I was worthy. Conversation was always driven by his supreme enthusiasm for music. How could I not love this guy? I loved the way he played guitar with such great fluency, hosted Sadies performances with an unmistakenly low country drawl, and engaged every note with piercing commitment alongside the beloved Sadies."
Peter J. Moore (the Grammy-winning record producer/engineer who once helmed a session with Neil Young, Garth Hudson, and The Sadies) - on FB:  "The winds of fate have torn my wing from my side. I'm now tumbling into the raging sea with no land in sight. We called each other Bud."
Rick White (The Unintended, Eric's Trip) on FB: "Dallas and I knew we were soul family from the moment we met and in a short period of time, we really taught each other a lot and created some wonderful art. I'm sure everyone who knew Dallas well had a powerful relationship with him. He was a magical being of great skill, wisdom, compassion, and charm. I love you so much brother and will always miss you."
Michael Hollett (publisher NEXT) on Twitter: "Heartbroken about the sudden passing of Dallas Good. A great friend to so many in the Canadian music world including me. We were excitedly remembering our adventure with Michael Nesmith just a few weeks ago [Hollett arranged for Nesmith to fly to Toronto to record/jam with The Sadies in 2010]. A great man, a great musician, a great friend. RIP dear Dallas."
Kurt Vile on Instagram: "Dallas is our brother and the Sadies' our family. We've toured the states and Canada together multiple times. Watching Dallas and his brother Travis play gtr and harmonize with each other onstage was like getting true religion every time, night after night."
Tom Wilson (FB): "Rave On Friend. We now must be wildly fierce and work so much harder in your absence."
Lindy Vopnfjörð (FB): "RIP Dallas Good. Pure gold. Original. Tall. The example of cool. I got starstruck talking with him. Gone way too soon."
Whitehorse (FB): "Dallas was two people to us. The one many of you recognize as the dapper, august psych-rock baritone, around which the legendary Sadies coalesced in inimitable fashion; cool, assured and impossible—towering over you in his perfect Nudie Suit—Candy Apple red Telecaster at the ready. The second iteration of this man was our warm and self-effacing neighbour. The neighbourhood is solemn today. We've lost a titan."
Yvonne Matsell (veteran Toronto club booker) to FYI: "So loved by so many. And such a lovely lovely feller. I think my first show with the very early Sadies was at Ultrasound. I did book them at The Wrecking Yard and in fact, that's where they began doing the first of the Toronto New Years' Eve shows. the first one was supposed to have Neko Case as the guest, but my recollection was that she couldn't make it ( because of the weather?). They got picked up by the Horseshoe after that and continued with a wonderful long run there. Last one they played there Mary Margaret O'Hara joined them on stage. 
"A funny story about Dallas regarding the NYE show was him telling me that he'd get advance tix made up and they would be sold at Rotate This on Queen W. ( Dallas lived above the store ) so I advertised in our NOW ad where they'd be available. But Dallas forgot to do that so I had irate calls from Brian at the store because he was bombarded with calls about tickets that he didn't have. I remember picking Dallas up & him sitting in my car while he pulled pages out of a novel & numbered them and THAT was what we ended up selling for advance tickets! So funny. The Sadies also played at the El Mocambo when I was booking that room and yesterday Jameson (one of my sound techs there) mentioned on FB how he'd mixed the show when they backed up Randy Bachman. That was quite a blast!"
Alejandro Escovedo (to FYI):  He was a gifted musician and left a positive mark on this crazy world. I remember him playing with us. This is a devastating loss."
Gary Louris (The Jayhawks and a producer of many Sadies albums) on FB:  "With a heavy heart I acknowledge the passing of my good friend and brother-in-arms, Dallas Good. As is often the case, the best of us are taken all too soon. I had the honour of sharing the stage and the studio with Dallas, and although I will miss his incredible musicianship, I will miss him more as a friend and a true presence in the world. Love you Dallas!"
Stuart Cameron (Matthew Good Band, Crash Test Dummies) on FB: "Shocked to hear the news of the passing of Dallas Good. My father [John Allan Cameron] used to tour with the Good Brothers back in the 70', and 80's. That's when I first met Dallas. We were the same age, and we were both obsessed with the guitar. Even though we didn't hang out a lot, every time we would see one another, he would always put on that gigantic beautiful smile that would light up the room. Our music community sure lost one of the greats. You will be missed.."
William Schwendiman (owner/booker of Hamilton venue The Casbah) on FB: "I booked The Sadies 22 times. This April would've been 23. There are a handful of promoters across Canada that had this sort of loyal relationship with the band. There wasn't an artist I enjoyed talking to after the show more than you, Dallas. R.I.P. friend."
Al Nolan (Toronto rocker and indie label head) on FB: "Absolutely tragic. Dallas was an excellent Musician. Always nice to me. Tough, sympathetic & a sharp dresser. I'll miss running into him...The lights are dimmer on Queen Street. Condolences to Career Suicide."
On a personal note, over the past two decades plus, this scribe interviewed Dallas Good multiple times and reviewed many of The Sadies' albums and concerts. They have long been my favourite Canadian band for that period, and I have often been vocal in my belief that they are the best we have. As the above tributes have testified, Dallas Good was an authentic, hardworking and totally professional musician onstage, and a genuinely lovely man offstage. The fact that we have now been robbed of his presence and, potentially, another three decades of fine music is incredibly sad. My sincere condolences to Amanda, The Good family, his bandmates, Jude and Susan at Starfish, and all who have known and loved him.
Sources: Rolling Stone, Exclaim!, Toronto Star (here and here), SOCAN Words & Music, Canadian Music Encyclopedia, NME