FYI
RIP: Canadian Country Singer, Dallas Harms
Canadian Country Music Hall of Fame Inductee Dallas (Leon) Harms passed away, Saturday, October 12, in Hamilton. He was 84.
Oct 15, 2019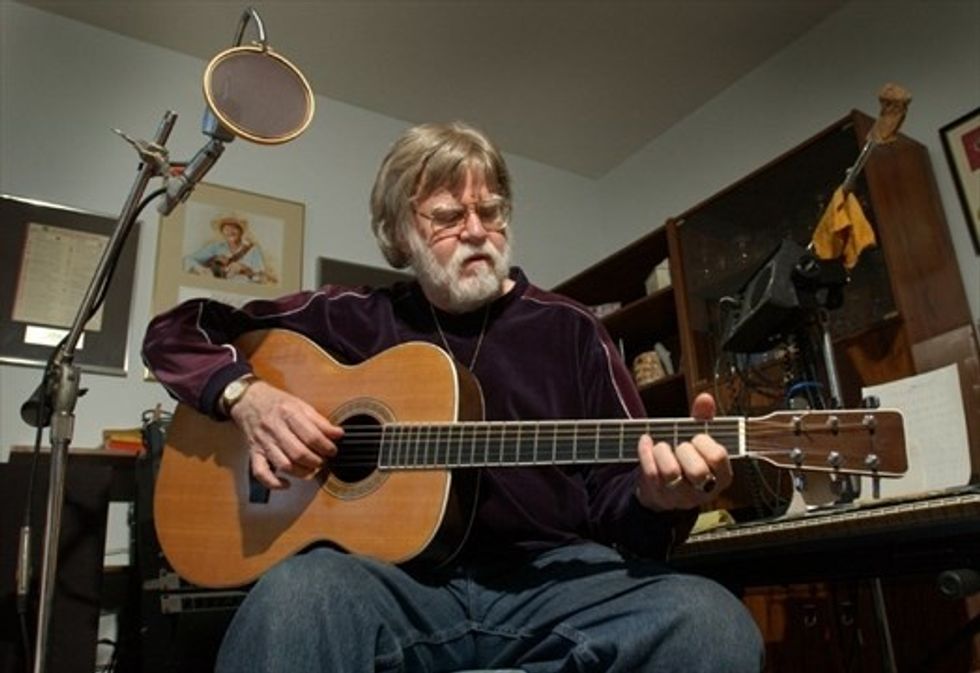 By David Farrell
Canadian Country Music Hall of Fame Inductee Dallas (Leon) Harms passed away, Saturday, October 12, in Hamilton. He was 84.
---
Born in Jansen, SK, Harms moved to Hamilton as a two-year-old with his family and started playing bars in the '50s, ascending to The Flamingo Club in Steel Town where he performed with Harold Jenkins who would become better known as Conway Twitty, and where he first met imported rockabilly star Ronnie Hawkins who would stay in Ontario and assemble his Hawks that eventually became The Band.
Harms' gift as a storybook singer made him a natural choice as a regular on CHML's influential radio series Main Street Jamboree, one that helped launch artists such as Gordie Tapp and Family Brown patriarch Joe Brown, as well as providing a platform for a long list of headliners that included Canadians Lucille Starr and Myrna Lorrie,
He began his recording career on Reo, in 1959. Harms went on to have country hits in 1972-73 for Columbia with In the Loving Arms of My Marie and Old Ira Gray, and 1975-79 for Broadland with Paper Rosie, Georgia I'm Cheating On You Tonight, It's Crying Time for Me, The Fastest Gun, I Picked a Daisy, The Ballad of the Duke, and Get Along Little Doggie and Honky Tonkin' (All Night Long) for RCA.
Between 1972 and 1984, Harms charted 20 songs on Canada's Country chart, 10 of which placed in the top 10.
In 1975, Harms released the first of his five career albums – a package produced by Gary Buck, which was highlighted by the album's title track, Paper Rosie, that became a Canadian classic. Through Buck, Paper Rosie was pitched to Frank Jones, a fellow Canadian who, at the time, was heading up the A&R Department for Capitol Records in Nashville. Jones brought the song to Gene Watson, who had a No. 3 hit with it on the Billboard Country Chart in 1977. Watson was to record six more of Harms' songs, including the Top 10 hits, Cowboys Don't Get Lucky All the Time and The Old Man and His Horn.
The song Paper Rosie has also been recorded by Nashville artists George Hamilton IV, The Osborne Brothers, and Don Walser, and by numerous Canadian artists. Watson's version can be heard on the soundtrack of the Eddie Murphy / Nick Nolte movie Another 48 Hours, and Watson's version of Cowboys Don't Get Lucky All the Time is featured on the movie soundtrack to Convoy. In 1978, Nashville recording star Billy Walker scored a Billboard chart hit with the Dallas Harms song, A Violin That Has Never Been Played.
His songs were recorded by Canadian hit-makers, including Orval Prophet, Johnny Burke, Honey West, The Post Family, Winston James, Wayne Mack, Chef Adams, and Brett Kissel.
According to the Canadian Encyclopedia, Harms received Big Country Awards as top composer (1975 and annually 1977-79) and top producer (1978, 1979 and 1985, the last shared with Mike 'Pepe' Francis) and for best single (Paper Rosie, 1975; Georgia I'm Cheating on You Tonight, 1976) and best album (The Fastest Gun, 1978). He also won the CCMA awards as producer of the year in 1983 and 1984 (the second again shared with Mike Francis). Harms has produced singles or/or albums by Terry Carisse, Larry Mattson, Wayne Rostad, Roni Sommers, Paul Weber, and others. Though mostly inactive as a performer after the mid-1980s, he continued to write songs. 
Again, from the Canadian Encyclopedia, Harms made several tours at this time across Canada, including one in 1976 with Ian Tyson. He also performed in New Zealand and, in 1980 and 1981, in England. His LP Out of Harms Way (RCA), issued in 1982, included the popular Honky Tonkin' (All Night Long), Country Fever, and Fooling with Fire.
He won Single of The Year in 1975 (Paper Rosie) and 1976 (Georgia, I'm Cheatin' On You) and 1978 Album of The Year (The Fastest Gun) in the RPM Big Country Awards. He was named CCMA's Producer of The Year in 1983 and 1984, and Record Industry Person of The Year in 1984. Harms was presented with a Lifetime Achievement Award at the Hamilton Music Awards in 2016 and, in 2018, his classic song Paper Rosie was inducted into the Canadian Songwriter's Hall of Fame.
Harms was inducted into the Canadian Country Music Hall of Fame in 1989.
Former RCA Canada president Ed Preston counted him as a good friend and a funny man with an ability to tell tall stories in the vein of Ronnie Hawkins, who became a lifelong friend to Harms. Country writer Larry Delaney, who served as Editor/Publisher of Country Music News between 1980 and 2012, also counted Harms as a close friend. So close in fact that he and his wife Joanne named a dog after him.
"My wife Joanne and I have a 9-year-old Yellow Lab (our 5th dog during our 55 years of marriage), and we named him 'Dallas', after Dallas Harms, of course," Delaney explained in an email over the weekend. "When Dallas learned of his four-legged namesake, he began sending him birthday cards...and even sending him dog bones through Canada Post.
"Dallas thought that having a dog named after him was the greatest honour ever. The real irony of all this is that Dallas (the dog) celebrated his 9th birthday on October 12th, the same day that Dallas Harms passed on."
Ancillary reading:
Graham Rockingham writes the back-story to Harms' Paper Rosie in The Hamilton Spectator: Paper Rosie headed to the Hall of Fame
Dallas Harms, Memory Maker by Larry Delaney, Country Music News
Sources: CMA Ontario, Discogs, The Canadian Encyclopedia, CCMA,