FYI
Radio & Records Party/ Summer of Love
The wonderful Radio & Records reunion party last week and the bustling scene on Ossington Ave show that the Toronto summer is in full bloom. Pictured: CHUM alumni at the party.
Jul 27, 2022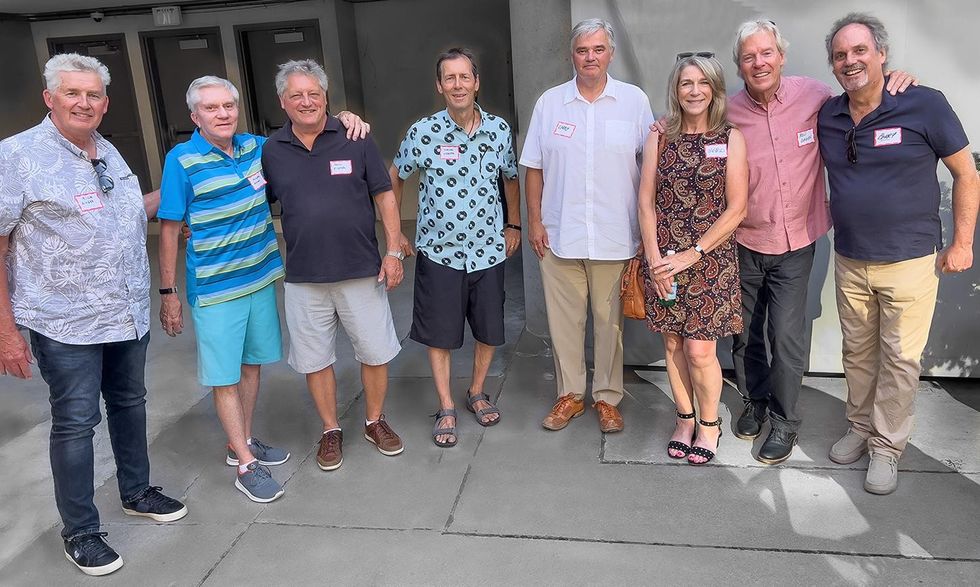 By Bill King
Oh, how times have changed. I don't know if promo folks still line up on Fridays to play the next unproven miracle outside the programmer's doors. I remember doing so as an artist for Nevin Grant, who was a sweetheart. This got me thinking about Thursday's Radio & Records gathering. The last of the old-school vinyl gang. I so love this gathering, in that I depended on this posse to promote and play my records. On the other side, I enjoy interviewing and documenting their passions and accomplishments. Hey, we're not talking Trump here!
---
This occasion was, to figure out who is who. We are of an age when the eyes remain the same; the rest is guesswork. Dave Charles and Gary Muth have created a homecoming of sorts. That high school reunion was within reach. Dave greeted with a handshake and grip the pressure of The Rock and smile the length of an airport mural. That's when you know the party has dropped.
Then there was Richard Flohil, at 88 spinning yarns of past encounters with folk and blues legends and festivals on the horizon. Friends a plane flight or two away and singing the praises of Americana artist Allison Russell. Ed Preston at 91, planning a visit with great, great grandkids. Don Oates living the dream of a retired CBS/Sony national salesman. Prakash John and Tim Notter are locked to a couch deep in club talk. Goddo and Pat Little decked out in technicolour. The old CHUM gang – count them, Wayne Webster, Ross Davies, Rick Ringer, Roger Ashby, Larry McGinnis, Paul Fisher, Barry Stewart, Roger Ashby, Ingrid Schumacher. Ace photographer John Rowlands, camera in hand alongside Marg Topping - Gloria Martin and Jane Hawtin, Ken Stowar and publicist Jane Harbury, Kris King and Brenda Hoffert, Geoff Kulawick, Dave Tollington, Steve Kane, Graham Thorpe, Bob Johnston, John Murphy, Shawne Jackson-Troiano, Karen Gordon, Jamie Vernon, Kerry Doole, Barnaby Marshall, Paul Hoffert, Vicki Walters, John Harris, Liz Janik, Al Mair, Gene Lew, Nick Panaseiko, Todd Miller, Chris Ward, Jack Manning, Debbie Fleming, Alvin Munch, Joe Cee, Johnny Driscoll, Wayne Thompson – these are just those from memory. More than a few remarked this was an occasion few will forget. Roar, my friends!
I predicted the far side of Covid-19 would bring change. The panic button was pushed in 2019 when performance venues died like old soldiers in some foreign land. Covid struck. Within months, the places I played folded. Yet, Mr. Bike has been touring 'Dog Town,' no longer tethered to that Hog fat slam on our beloved city, and honestly, I've never seen it as exciting and nightlife as robust. I'm not talking about the entertainment district with its flow of juvenile wankers and dress-up bunch, but the smaller venues with a wide range of music possibilities.
I remarked to my wife Kristine more than a few times, walking lower Ossington Ave—Argyle southward, fifty years back, that this area has great potential. Furthermore, I thought this region between Dundas and Queen Street had that Greenwich Village vibe. It wasn't then. It was auto body shops, muffler repairs, grungy, rundown, and failed businesses. I could see, by the facades and slight curves in the road, a place that could be transformed and rival Yorkville. Which, if you haven't seen recently, only interests those with an annual income above $2,000,000. There are no shops called Humility!
Ossington Avenue is the new centre of activity. Thousands of young folks with fat incomes, oblivious to the 'wealth set,' flock nightly to the outdoor cafés and bars with names, Crooked Star featuring Jamaican jerk and tandoori – BQM, craft beers and an assortment of bourbons, the popular Painted Lady, which bills itself "The Original Rock 'n' Roll, Funk, Glam'n' Soul Music, Burlesque Bar. La Saucisserie, Reposado – Mexican tapas and a wicked selection of tequilas, Bellwoods Brewery pub, Hawker Bar, The Ossington, The Dakota Tavern, Sweaty Betty's and street thumpin' EDM hub, Paris, Paris. This is a short list.
The young set socializes, listens to the music they care about, and party. No gunshots, no drive-bys. Just sane young folks reshaping the city in their image. I had a jazz booker tell me the other day. I say jazz in that—most venues were long dead—to his surprise, there are now several dozen booking and showcasing young artists. Think of this. Jazz is for the 1% crowd. That is saying something. Yes, this has been, so far, the summer of lost love, a return to a different normal, and I, for one, love it. I have photos of barren streets, stores abandoned, a country waiting to die. No more. We've learned to live with the unknown, fight back and listen to science—mostly the smart ones among us.
Photo: CHUM alumni at Radio & Records Party (l-r) Rick Ringer, Roger Ashby, Paul Fisher, Wayne Webster, Larry McGinnis, Ingrid Schumacher, Ross Davies, and Barry Stewart.