FYI
Music News Digest, Sept. 27, 2021
The countdown for the Polaris Music Prize (pictured) is on, WCMA Awards details are announced, and the SOCAN Foundation names five award winners. Also in the news are Julie Title, FMO Awards, Canada's Walk of Fame, Sultans of String, The Washboard Union, Lou Molinaro, Rainbow Bistro, The Weather Station, Michael Kaeshammer, and farewell Commander Cody, Pee Wee Ellis, Alan Lancaster, and Steve Strange.
Sep 26, 2021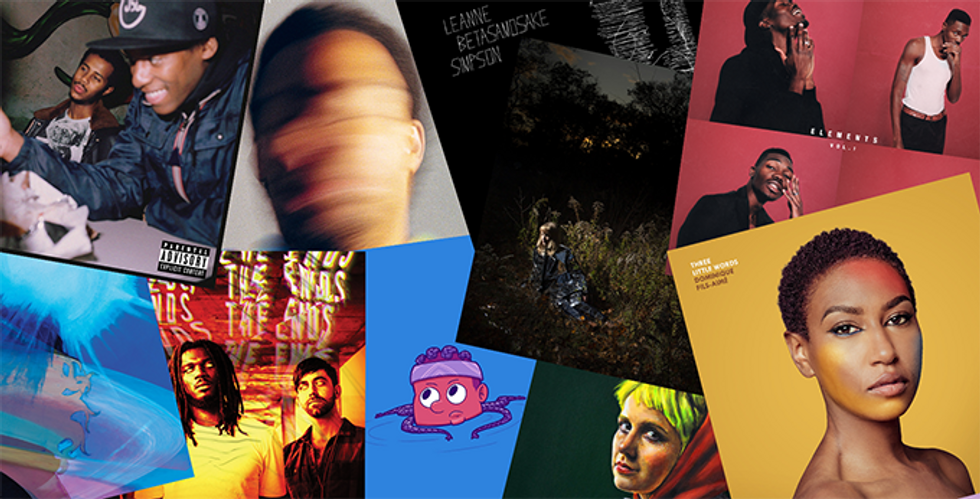 By Kerry Doole
The 2021 Polaris Music Prize Winner will be named tonight (Sept. 27) at 8 pm ET. Viewers can watch the announcement on CBC Gem, CBC Music's Facebook, Twitter, TikTok and YouTube pages. More info on how to watch can be found here. Check the 10 albums short-listed for the $50K prize here. The nine runners-up from the shortlist each receive $3K, provided by Slaight Music.
---
– On Oct. 15, the Western Canadian Music Alliance celebrates artists and music industry professionals from across the region with a live-streamed event honouring the winners of the 2021 WCMAwards. BreakOut West's Facebook page has the broadcast, starting at 6 pm CT, revealing the winners of the 24 Artistic Award categories and six Industry Award categories. An in-person watch party at Winnipeg's West End Cultural Centre has a performance by 2021 double-nominee, Slow Leaves. A pre-awards show program will air on CBC Radio One's Up To Speed (89.3 FM or CBC Listen), from 3-6 pm CT. See the complete list of artistic nominees here and the list of industry nominees here. The 19th annual BreakOut West conference and fest takes place in Winnipeg, Feb. 2-6, 2022. 
– The five winners of the SOCAN Foundation Awards for Young Canadian Songwriters, sponsored by SiriusXM, have been announced. They are Maggie Andrew, Two Tiime, Angel Baribeau, Leah Marlene, and Jessica Spurrell. Of note: Marlene is the daughter of Honeymoon Suite guitarist Derry Grehan. The Awards offer five cash prizes of $5K each to young creators from across the country in recognition of their work and potential. 
– Toronto-based folk singer/songwriter Julie Title is this year's recipient of the Ontario Arts Council (OAC)'s Colleen Peterson Songwriting Award for her song Ghost. The award was presented on Sept. 25 during Folk Music Ontario (FMO)'s virtual Awards Weekend. Singer/songwriter Eve Goldberg won the 2021 Estelle Klein Award, and other FMO Awards winners included Dione Taylor, G.R. Gritt, The Relative Minors, Graham Lindsey, Jessica Pearson and the East Wind, and Mattie Leon.
The 2021 FMO Conference is being held virtually this week, Sept. 27-Oct. 1. Registration is open here. It is PWYC, with a suggested rate of $50.
– Canada's Walk of Fame has opened nominations for a deserving young Canadian for its 2021 Community Hero Program, presented by Maple Leaf Sports & Entertainment and Scotiabank. The Grand Prize Winner will receive a $10K donation to a charity or cause of their choice, a profile page on CommunityHero.ca, and a mentorship program. Submissions have a final deadline of Friday, Oct. 29. Details at CommunityHero.ca.
– On Oct 16, at 7 pm, Toronto world music favourites Sultans of String perform on Flato Markham Theatre's live stream with a show entitled Women of Song & Story. A strong lineup of female guests includes Kellylee Evans, Mandy Harvey, Tamar Ilana Page, Yasmin Levy, and co-host Amanda Martinez. Tix here 
– Following its sixth nomination for Group of the Year at the CCMA Awards, the 3x-reigning winner in that category, The Washboard Union, is heading back on the road for the "Everbound For Your Town Tour," with stops in 24 Canadian cities and towns. Divided into three legs, the trek begins in Prince Albert, SK, on Nov. 4, closing out in Terrace, BC, on March 15. Itinerary and tickets here.
– A crucial figure on the Hamilton music scene for the past two decades as a club co-owner (This Ain't Hollywood) and music promoter, Lou Molinaro is relocating back to his birthplace of Oshawa. He insists he'll still book shows in The Hammer regularly and will continue hosting his fine CFMU radio show, Lou's Control, so his Sat. night party on The Casbah patio can just be termed a semi-sendoff. Plenty of local comrades showed, including Spectator scribe Graham Rockingham, Chris Houston, Mike Renaud (Hidden Pony), Sam Squid, Greg Brisco, Sherry Sinclaire, and Glen Turner, while Lou and co-host Rachel Jones spun tasty rock 'n roll tunes. Our very best to Molinaro.
– Here's some good news for the Ottawa music scene - renewed life for the Rainbow Bistro. A key music venue, it was all set to close its doors this month but has been rescued by a white knight in the form of tech CEO and music fan Kevin Ford.  The Ottawa Citizen reports that Ford has extended a lifeline to the Rainbow that will allow it to stay open, at least until the end of the year. 
– The Weather Station (aka Toronto singer/songwriter Tamara Lindeman) has announced upcoming shows at Club Saw, Ottawa (Nov. 27), and Toronto's Danforth Music Hall (Dec. 4).
– BC pianist and singer/songwriter Michael Kaeshammer is set to perform a concert with the KW Symphony Orchestra and guest conductor Lucas Waldin. Taking place at Kitchener's Centre In The Square, it can be streamed here from Oct. 15  (8 pm ET) to Oct. 17. 
RIP
Commander Cody (George Frayne), visual artist and lead singer and frontman of the country-rock band Commander Cody and His Lost Planet Airmen, has died, age 77. News of his death came via his Facebook page yesterday (Sept. 26).
Encyclopedia.com writes that " Commander Cody helped invent a whole new style of music during the early 1970s, a period regarded as the height of rock innovation. Commander Cody and His Lost Planet Airmen were one of the original groups to fuse divergent strains of American roots music—stripped-down basic rock and roll, rhythm and blues, jazz, bop, country, western swing, and rockabilly—and create an innovative, yet familiar and convincing sound. Along with retro-revisionist bands like the Byrds, the Eagles, and Poco, for whom the Airmen laid the groundwork, Cody and his crew played country rock. However, they usually rocked harder, making them the quintessential "bar band," much in the same vein as British pub rockers Brinsley Schwartz and Ducks Deluxe."
Commander Cody and His Lost Planet Airmen formed in 1967 in Ann Arbor, Michigan, with Frayne taking the stage name Commander Cody. The band's name was inspired by 1950s film serials featuring the character Commando Cody and from a feature version of an earlier serial, King of the Rocket Men, released under the title Lost Planet Airmen.
After playing for several years in local bars, in 1969 the core members migrated to Berkeley, California, and soon got a recording contract with Paramount Records. About a year later, Commander Cody invited western swing revival group Asleep at the Wheel to relocate to the Bay Area, and the two bands often shared bills.
The group released their first album in  1971, Lost in the Ozone, which yielded its best-known hit, a cover version of the 1955 song Hot Rod Lincoln, which reached the top ten on the Billboard singles chart in early 1972. Shortly thereafter the band set up a studio at a ranch in Kenwood California and practiced for upcoming tours.  The band released several moderately successful albums through the first half of the 1970s, including a 1974 live recording, Live from Deep in the Heart of Texas, and a 1975 album Tales From The Ozone was produced by Hoyt Axton.
After appearing in the Roger Corman movie Hollywood Boulevard, Frayne disbanded the group in 1976. In recent years he concentrated on painting. Sources: Official website, USdaynews, Wikipedia
Pee Wee (Alfred) Ellis, an influential jazz, R&B  saxophonist best known for his work with James Brown, Van Morrison, and Ginger Baker, died on Sept. 23, of heart trouble, at age 80.
Throughout his career, Ellis worked with and played on records by everyone from George Benson and Parliament to Marianne Faithfull and Ali Farka Touré. "A silent genius and brilliant arrangements," Bootsy Collins wrote on Twitter after Ellis' passing. "We just lost another bandmate & legend."
Born in Florida, Ellis' life was forever changed in 1957 after a chance encounter with Sonny Rollins in New York City led to a lesson with the jazz great.
He turned from jazz to R&B his work with Brown and Morrison. Within months of joining James Brown's Revue in 1965, Ellis had become Brown's bandleader, and would go on to earn a co-writing credit on several of Brown's signature songs: Cold Sweat and Say It Loud — I'm Black and I'm Proud.
Rolling Stone reports that by 1969, Ellis had quit working for Brown, returning to his first love, jazz, for the majority of the Seventies. In 1979, Ellis joined the sessions for Van Morrison's 1979 album Into the Music. Morrison would end up becoming perhaps one of Ellis' most enduring collaborators; Ellis was an integral part of Morrison's musical vision for the next 20 years., as his arranger and music director." Ellis stopped performing with Morrison in 2000. 
In 1991 he recorded an album with The Fabulous King All Stars, alongside Fred Wesley, Hank Ballard, Bobby Byrd, Bubba Brooks, Bootsy Collins, and others. Source:Rolling Stone
– Alan Lancaster, the bassist in the English rock band Status Quo, has died, aged 72. No cause of death has been reported.
He achieved international success with the group during the 1960s and 70s with hits including Rockin' All Over the World and Whatever You Want. The Status Quo singer Francis Rossi said Lancaster was an "integral" part of their sound as he paid tribute to him.
Lancaster last toured with the band in 2014. The musician, who had reportedly been living in Australia, also performed with the Bombers and the Party Boys.
Rossi and Lancaster first began performing together in the 60s under a number of different band names before settling on Status Quo. The group went on to have four UK No 1 albums, according to the Official Charts Company. Sources: The Guardian
–Steve Strange, a widely respected live agent and co-founder of X-ray Touring, has died following a short illness. He was 53.
A statement from X-ray issued last night reads: "We have lost a legendary figure in our personal and professional lives that we will all deeply miss. Steve was a unique individual within our industry, his overwhelming love of music lead to a 30 year plus career guiding the touring of an eclectic mix of artists from all genres of music that he adored.  A universally known, hugely respected and loved character – if you hadn't already seen him at a gig or festival, you'd most certainly hear his infectious and infamous laugh."
Industry peers soon paid tribute. Emma Banks of CAA wrote on social media: "Steve Strange – a truly good and loving person without a bad bone in his body. The life and soul of every occasion, a music man to the core and dedicated to his clients, friends and family."
Neil Warnock, MBE, Head of Worldwide Touring for UTA: "I can't believe we have lost Steve Strange. He was an absolute icon in the world of music. He was a fan of all music genres who was at the top of his game. I've lost a true friend and the industry has lost a larger-than-life character." 
Last month, X-ray, founded in 2005, extended its partnership with investment firm The Yucaipa Companies and formed a new strategic alliance with Artist Group International (AGI), part of Yucaipa's Y Entertainment Group.
Among a roster of over 400 acts, X-ray also represents artists such as Robbie Williams, Gorillaz, Linkin Park, Pixies, Stereophonics, Bombay Bicycle Club, Phoebe Bridgers, The Internet, The Offspring, Enter Shikari and Fever 333. Source: MBW, NME