FYI
Music News Digest, Oct. 8, 2020
Popular music industry veteran Kim Cooke receives a special Juno from Allan Reid (pictured), a Finger Eleven hit reaches a milestone, and rumours of a Justin and Shawn collaboration. Also in the news are TBS, Juno judges, Monowhales, Indie Week, MusicNL, William Prince, Karl Wolf, Polaris Music Prize, David Vertesi, Play MPE, Jazz Bistro, Interactive Ontario , Audrey Ochoa, Henriette Sennenvaldt, and farewell to Eddie Van Halen, Johnny Nash, Bunny Lee, and John Valentyn.
Oct 08, 2020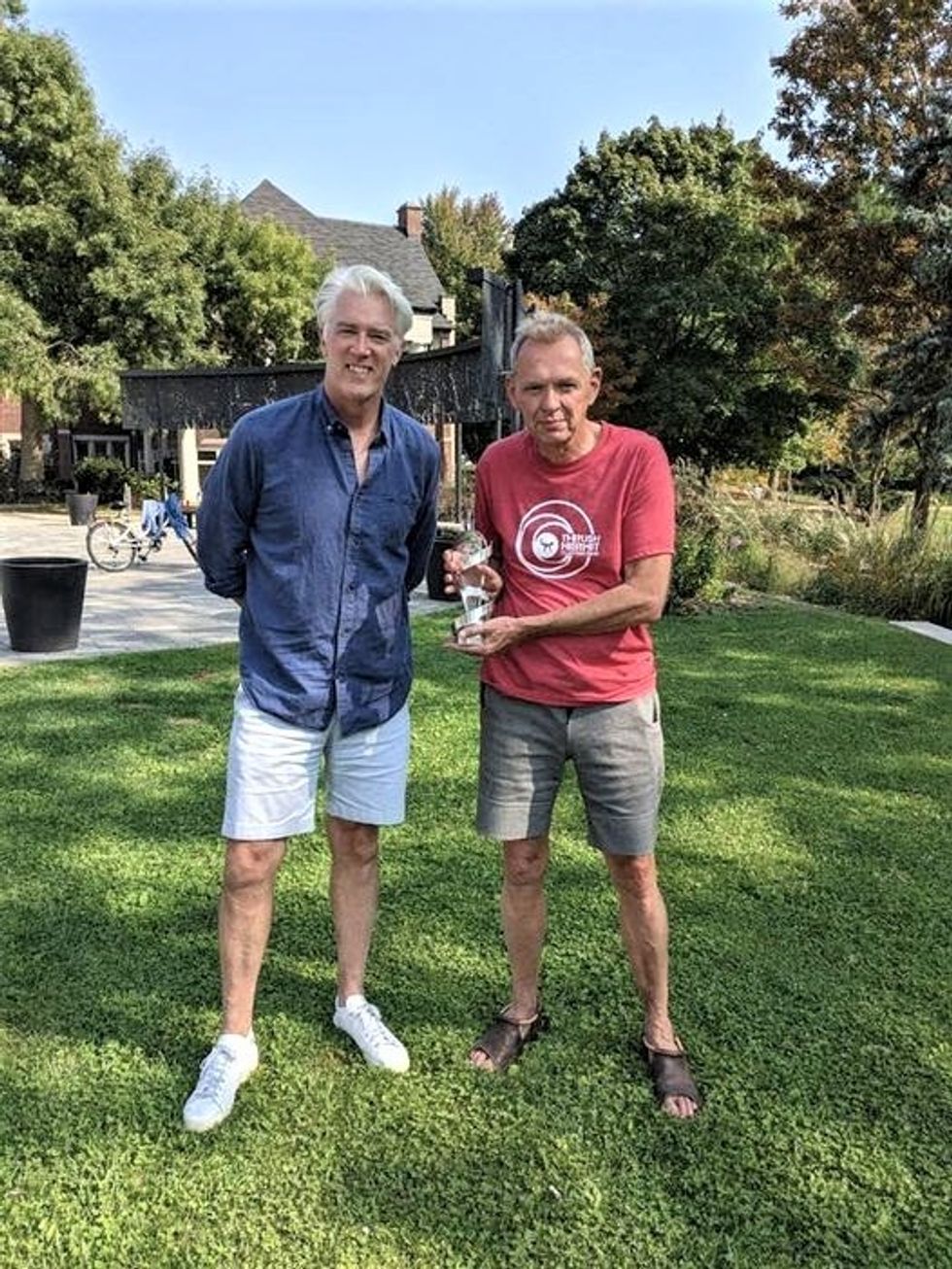 By FYI Staff
After 20 years of chairing the Nominating and Voting Committee for CARAS and the Juno Awards, Kim Cooke received his own Juno as a thank you for all his service.
---
"Kim's dedication to the integrity of the Academy and our processes is one of the reasons receiving a Juno is the highest honour in the Canadian music industry," Academy President and CEO Allan Reid said in making the presentation, adding: "Can't thank him enough for the years he provided his thoughtful advice to our team.
"You're a good man Kim!"
We second that. He's a good bloke, has great ears, an eye for detail, a sense of history, and a passion for baseball that has won him many friends and a few headaches. Pictured here at an outdoor park in the east Beaches with the trophy in hand.
–In a career milestone worth celebrating, Canadian hard-rock band Finger Eleven has just reached over 100 million streams on Spotify for the smash single Paralyzer. To celebrate the landmark, the band has recorded an acoustic version of Paralyzer available to stream as of Oct. 16. Check it out below and view a special 'thank you fans' video filmed by the lads here.
Paralyzer was the first single from Finger Eleven's multi-platinum selling, Them vs. You vs. Me, which garnered the quartet a Juno for Rock Album of the Year in 2008. The song spent 52 weeks on the Billboard Hot 100 chart, a rare feat for a rock track. The band was due to celebrate the 20th anniversary of its sophomore album The Greyest of Blue Skies this year with a North American tour, now on hold for 2021. 
– Could a collaboration between Canadian pop stars Shawn Mendes and Justin Bieber be in the works? UK website Music News recently noted that "the Canadian singers first sparked speculation that they'd teamed up on a new track when they were seen at a recording studio together back in August. During an interview on Britain's Capital Breakfast with Roman Kemp, Mendes faced numerous questions about the potential single - including whether or not he turned a collaboration down." Mendes reportedly played coy, insisting he cannot "confirm or deny" the speculation while declaring he has long been a major fan of the Biebs.
– The Juno Awards are looking for 350 judges; 10 judges for each of the 35 of the craft and technical award categories. To qualify as a judge you must be a Canadian citizen or Permanent Resident actively working in the Canadian music industry. The ten selected judges for each category are balanced evenly across age, province, gender, ethnicity, language, and occupation. Apply to become a Judge here before Nov. 20. 
– Toronto pop-rock outfit Monowhales have announced two worldwide live-stream shows, live from the El Mocambo on Nov. 26 (8 pm ET), and Nov. 27 (9 pm ET). Tickets are on sale now at $10 each, here and here. Here's the band's current single, produced by Juno nominee Ryan Worsley (Dear Rouge, Brave Shores).
– Toronto's Indie Week has announced Tracy Maddux (CD Baby CEO) as its keynote speaker for the upcoming 2020 Online edition. His speech will be live-streamed on Nov. 10 at 1 pm EST. More info here.
– Nominations are now open for the MusicNL Awards & Showcases.  During the 2020-21 MusicNL Awards & Conference, MusicNL will present awards in approximately 30 categories. These will feature Genre Based Awards, General Awards, and Industry Awards There will also be showcase performances from artists from across Newfoundland and Labrador. To apply for Awards & Showcases, click here. Apply for Industry Awards here.
– SOCAN and Folk Music Ontario are presenting Masterclass, an interactive workshop on the process of songwriting, on Oct. 13  (11 am - 12.30 pm PDT). Join Juno-winning artist William Prince and SOCAN A&R Rep Aidan D'Aoust for an open and engaging discussion on the process of songwriting. You'll hear best practices, tips for motivation, and first-hand experience from one of Canada's most well-respected songwriters. RSVP required - contact office@folkmusicontario.ca
– Karl Wolf has now put out a video to accompany his current single Wolf in the Night feat. Kardinal Offishall. Check it out here.
– The Polaris Music Prize has released the video for its second SiriusXM Polaris Cover Session for 2020 featuring Kaia Kater covering Anthems For A Seventeen Year Old Girl from Broken Social Scene's Slaight Family Polaris Heritage Prize-winning album, You Forgot It In People. An audio stream of it can be found on the Polaris Soundcloud channel here
– Mike Nagoda and The Spectrum Blues Band is Toronto Blues Society's 2020 Talent Search winner. The 25th edition of the contest featured six finalists performing at a local venue last weekend. Josh Ritchie placed as the first runner-up and Madison Galloway as the second runner-up. The winner takes home a professional development package that includes mentorship, performance opportunities, and a photoshoot with FYI's Bill King.
– In other TBS news, the org presents Corona Blues: A Mental Health and Wellness Workshop on Oct. 19, 7 -8:30 pm. The free online event will cover a variety of strategies to help musicians, industry professionals, and music supporters manage their mental health during the time of Covid. Led by moderator Pam Beatson (M.Ed in Counselling Psychology), the workshop will cover topics including mindfulness practices, establishing a daily wellness routine, and addictions. The speaker list includes artists Dawn Tyler Watson, Sean Pinchin, and Dan McKinnon,  Dr. John Chong of the Musician's Clinics of Canada, and Sarah Hagerman of the Unison Benevolent Fund. The event will be live-streamed on the TBS Facebook page as well as on Zoom (link to be shared later). RSVP here.
– David Vertesi (of Hey! Ocean fame) released his third solo album, Life Ghouls, on Sept. 18 via Vertesi's own Sad Dad Cruise Ship Music. He has just announced the Life Ghouls Experience, a Covid-compliant, carefully curated pop up art and live show, happening on Oct. 17 at Slice Of Life (1638 Venables Street) in Vancouver from 11 am - 8:00 pm. It features merch and artwork and a performance by Vertesi for a limited live (40 person max) audience, plus a live-stream. Get all the ticket details and more here. Vertesi's current single, Waste, is No. 3 on CBC R3's chart.
– On Oct. 12 (4:30 pm PT / 7:30 pm ET),  Play MPE is hosting a live-streamed panel discussion entitled Promoting and Discovering Artists in Australia & New Zealand. Register here.
– Premier Toronto jazz venue Jazz Bistro has made a valiant effort to bring live music back, but as of this week, it has been forced to curtail its regular Wed. to Sat. schedule. It promises to present a concert series featuring a 'Big Night Out,' with details to follow. One confirmed show, on Oct. 24, features award-winning musician/composer Lou Pomanti who is expected to bring in a few name guests. More info at jazzbistro.com
– Ontario Creates has announced that Interactive Ontario (IO) has launched the Interactive Digital Media (IDM) Industry Directory. Never before has it been possible to discover talented Ontario IDM companies in one easily searchable online location. This initiative is supported by Ontario Creates and Telefilm Canada. It was created in response to the pandemic and is meant to stimulate cross-sectoral collaboration and business opportunities. It is an online tool that will facilitate searching for potential partners and service providers with expertise in video games, virtual and augmented reality, eLearning, transmedia, and more.
– There has been a change to the winners' list from the recent Western Canadian Music Awards. Audrey Ochoa (AB) has been declared the trophy winner in the Jazz Artist of the Year category (replacing the Regina Jazz Society).
– Ever New is a recent fundraising compilation of new music and covers by Canadian artists that has raised just over $6.5K for three Black, Indigenous, and LGBTQ2S charities (Black Health Alliance, Indspire, and The 519). The release is named after the 1986 Beverly Glenn-Copeland compilation, and is now up on Bandcamp, for a limited time.
– Henriette Sennenvaldt, the former frontwoman of the acclaimed Danish band Under Byen, releases a debut solo LP, Something Wonderful, on Nov. 13. It has just been announced that she has signed to Toronto indie label Paper Bag Records, who had previously worked with Under Byen.
Obits
Edward Lodewijk (Eddie) Van Halen, co-founder and guitarist of US rock band Van Halen, died on Oct. 6, age 65, of cancer.
The guitar virtuoso's blinding speed, control and innovation propelled his band, Van Halen, into one of hard rock's biggest groups.
With his distinct solos, Eddie Van Halen fuelled the ultimate California party band and helped knock disco off the charts starting in the late 1970s with his band's self-titled debut album and then with the blockbuster record 1984, which contains the classics Jump, Panama and Hot for Teacher.
Van Halen is among the top 20 bestselling artists of all time, and the band was inducted into the Rock and Roll Hall of Fame in 2007. Rolling Stone put Eddie Van Halen at No. 8 in its list of the 100 greatest guitarists.
The unmistakable fiery solo in Michael Jackson's hit Beat It helped elevate Eddie Van Halen to the status of a rock god.
 Van Halen was something of a musical contradiction. He was an autodidact who could play almost any instrument, but he couldn't read music. He was a classically trained pianist who also created some of the most distinctive guitar riffs in rock history. He was a Dutch immigrant who was considered one of the greatest American guitarists of his ration.
"You changed our world. You were the Mozart of rock guitar. Travel safe rockstar," Motley Crue's Nikki Sixx said on Twitter.
The members of Van Halen – the two Van Halen brothers, Eddie and Alex; vocalist David Lee Roth; and bassist Michael Anthony – formed in 1974 in Pasadena, California. They were members of rival high school bands and then attended Pasadena City College together. They combined to form the band Mammoth but then changed to Van Halen after discovering there was another band called Mammoth.
Their 1978 release Van Halen opened with a blistering Runnin' With the Devil and then Eddie Van Halen showed off his astonishing skills in the next song, Eruption, a furious 1:42 minute guitar solo that swoops and soars like a deranged bird. The album also contained a cover of the Kinks' You Really Got Me and Ain't Talkin' 'Bout Love.
Mike McCready of Pearl Jam told Rolling Stone that listening to Van Halen's Eruption was like hearing Mozart for the first time. "He gets sounds that aren't necessarily guitar sounds – a lot of harmonics, textures that happen just because of how he picks."
Van Halen released albums on a yearly timetable – Van Halen II (1979), Women and Children First (1980), Fair Warning (1981) and Diver Down (1982) – until the monumental 1984, which hit No. 2 on the Billboard 200 album charts (only behind Michael Jackson's Thriller). 
Singer David Lee Roth then left and was replaced by Sammy Hagar. The move didn't slow the band's momentum, and in March 1986, when a new album, 5150, hit shelves, it became their first Number One album. That run at the top of the charts continued with 1988's 0U812, 1991's For Unlawful Carnal Knowledge, and 1995's Balance. Even though many hardcore fans preferred the Roth era, Hagar made the band even more popular and brought them huge hits like Dreams, Why Can't This Be Love, and Poundcake.
Canadian guitar heroes were amongst those quick to pay tribute on Facebook. Moe Berg (The Pursuit Of Happiness) posted: "Dude, you blew my mind. Definitely in the conversation for the best rock guitarist of all time. Absolute legend." Luke Doucet of Whitehorse noted "When I think of him and the sound of his guitar, I always imagine a boy laughing at the audacity of it all. That's what Eddie was for me: Hey guys, check out how ridiculous this is ... That spirit of joy and exploration permeated every note." Sources: Rolling Stone, Variety, AP
Johnny (John Lester) Nash, an American reggae and pop singer-songwriter, died on Oct, 6, age 80.
Nash was best known in the US for his 1972 hit, I Can See Clearly Now. He was one of the first non-Jamaican singers to record reggae music in Kingston, Jamaica.
Born in Houston, Nash started singing as a child at Progressive New Hope Baptist Church. He made his major label debut in 1957 with the single, A Teenager Sings the Blues.
His first chart hit was a cover of Doris Day's A Very Special Love, in early 1958, but his claim to fame was the 1972 reggae-influenced single I Can See Clearly Now. The single sold over one million copies, reached No. 1 on the Billboard Hot 100 and remained atop the chart for four weeks.
Nash is credited with boosting the career of a young Bob Marley, whom he first met on a 1967 trip to Jamaica. That year, Nash co-founded the JAD Records label, which signed Bob Marley, Peter Tosh, Bunny Wailer and Rita Marley to an exclusive long-term contract as recording artists from 1968 to 1972. Nash covered Marley's tune Stir It Up in 1972, and it was a Top 20 hit in the US and UK, the first international success for a Marley song.
After covering Sam Cooke's Wonderful World in 1976 and Let's Go Dancing in 1979, Nash took a step back from the spotlight before releasing the 1986 album Here Again. Sources: Wikipedia, CBS, Songfacts
Edward "Bunny" Lee, the producer who expanded reggae's sound and helped push the genre to a worldwide audience, has died at the age of 79.
Trojan Records, which licensed Lee's Jamaican productions in the U.K., confirmed the producer's death. While Lee's exact cause of death is unknown, he battled health issues in recent years. "Bunny was massively influential in shaping Jamaican music, starting as a record plugger in the Sixties, then, as a pioneering producer, from the rock steady era through to the dancehall years of the Eighties."
Over the course of his decades-long career, Bunny "Striker" Lee worked alongside many of those who moulded the reggae genre: He first served as a "record plugger" — someone who pushed songs on radio stations — for label heads like Duke Reid and Leslie Kong before entering the studio as an engineer and then producer.
In the Seventies, Lee worked with dub explorers like Lee "Scratch" Perry and fellow former record plugger King Tubby, helping to foment that emerging subgenre's iconic sound; Lee is credited with creating the "flying cymbal sound" that punctuated dub singles at the time.
Lee served as producer on the landmark King Tubby-mixed 1974 LP Dub From the Roots and its follow-up 1975 album The Roots of Dub; on both albums, Lee recruited the session musicians that would form the Aggrovators, the legendary outfit that boasted members like Robbie Shakespeare, Aston "Family Man" Barrett, Carlton "Santa" Davis, Tony Chin, and other reggae mainstays.
While he still pushed the boundaries of dub with later collaborations with Prince Jammy, Lee also helped expand reggae's audience with licensing deals including a partnership with Trojan Records, which promoted the genre to the U.K. audience; Max Romeo's 1968 controversial single Wet Dream, produced by Lee, was one of the first reggae hits to reach the U.K. charts, ushering the genre's arrival overseas before Bob Marley exploded onto the scene soon after.
Eric Donaldson's 1971 song Cherry Oh Baby, another Lee production, was later covered by the Rolling Stones for their 1976 LP Black and Blue. Lee, who described his own discography as "the biggest reggae catalogue in the world," also produced tracks for John Holt, Delroy Wilson, Beenie Man, Johnny Clarke, Jackie Edwards, I-Roy, U-Roy, Linval Thompson, Horace Andy, and hundreds more reggae artists.
In his later years, Lee was one of the key contributors to the famed re-issue label Blood & Fire, contributing songs from his own catalogue of recordings to the esteemed imprint. He continued to produce music throughout his life, independently releasing his work with partners Jet Star, Greensleeves, Super Power and VP Records among others. 
In 2008, the Jamaican government gave Lee the Order of Distinction to honour his contributions to reggae music.
UB40, which also covered Cherry Oh Baby, as well as the Lee-produced John Holt hit Stick by Me, tweeted Wednesday: "RIP Bunny Lee.  One of the most prolific and successful producers, of reggae, dub, and dancehall, your music lives on." Sources: Rolling Stone, VP Records
John Valentyn, a stalwart of the Canadian blues community, died on Oct. 4, after a difficult fight with a rare blood disorder HLH, age 73.
Valentyn was a co-founder of the Toronto Blues Society in 1985, and his fellow co-founder and close comrade Derek Andrews posted this obituary:
"John was a pillar of the Canadian blues community broadcasting at CIUT for fourteen years following a twenty-year run with The Blues Hour at CJRT.
According to life long Port Colborne friend Doug McVicar, John's first taste of broadcasting in university flipped him from a path of studying engineering at Queens University to the Ryerson Radio and Television Arts program and his stint as a producer, leading to years on the air.
He had a stint working the jazz and blues section on the second floor of the flagship Toronto Sam the Record Man store.
An avid collector, John travelled yearly to the Chicago Blues Festival trolling the aisles at Bob Koester's Blues and Jazz Mart while catching live shows at the Petrillo Band Shell.  His enormous collection made him a natural member of the Maple Blues Award Steering Committee and monthly Maple Blues newsletter reviewer in John's Blues Picks.
His knowledge and passion for blues recordings and artists made him the leading figure in Canada's blues history.  He will be missed."