FYI
Music News Digest, Oct. 6, 2022
SOCAN Special Achievement Awards are announced, Sultans of String (pictured) head the CFMAs nominations list, and a tribute for Four The Moment. Also in the news are the Music PEI Awards, Her Music Awards, Markham Jazz Festival, Entrepreneur Accelerator, OHSOTO'KINO Recording Bursary, MPC, Manitoba Showcase, TSO, Willie P. Bennett, London Locals, Dave Gunning, Adrian Sutherland, Reid Jamieson, Adam Baldwin, Kid Koala, Lily Frost, Melissa Stylianou, Suzie Ungerleider, Royal Wood, and Whiskey Jack.
Oct 05, 2022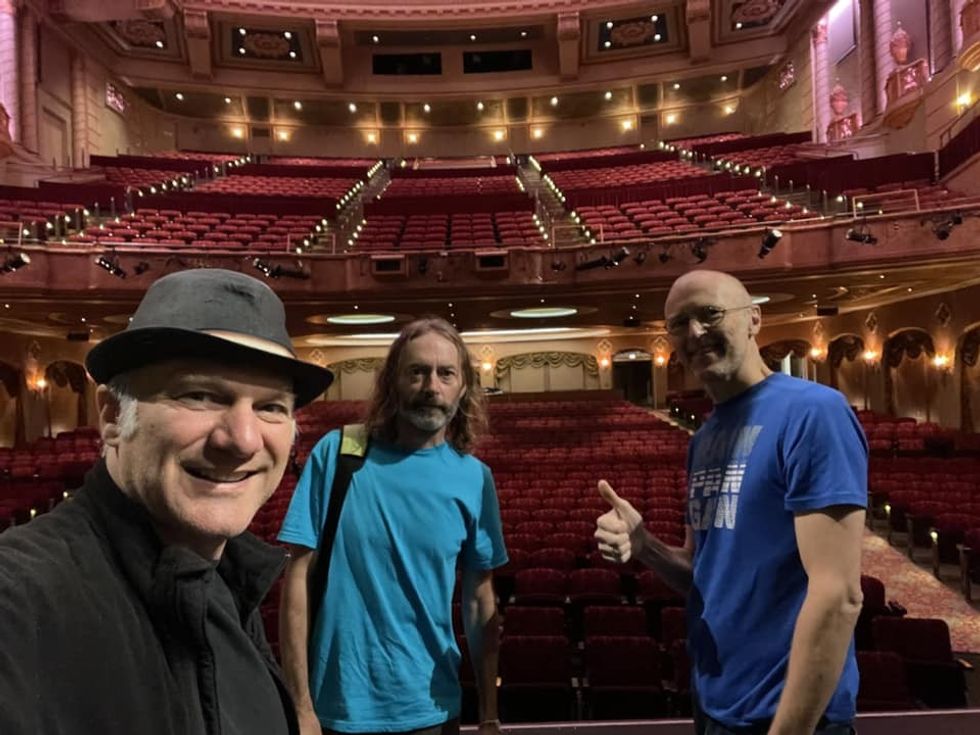 By Kerry Doole
Awards news
---
 On Oct. 17, the 33rd annual SOCAN Awards will honour the outstanding achievements of Canada's top songwriters, composers and music publishers, and some of the recipients have been announced in advance of the Gala evening. This year marks the inaugural Vince Fontaine Indigenous Song Award, named in honour of the late Indigenous singer-songwriter, SOCAN member, and co-founder of the Juno-winning duo Eagle & Hawk. The debut award will be received by Indigenous hip-hop duo Snotty Nose Rez Kids and rapper Drezus.
Tom Cochrane is honoured with the SOCAN Cultural Impact Award, based on the international success of mega-hit Life Is A Highway, while OZ (Ozan Yildirim)  will be receiving the SOCAN International Achievement Award. Drake earns the SOCAN Songwriter of The Year - Performer Award, Koz (Stephen Kozmeniuk) receives the SOCAN Songwriter of The Year - Producer Award, and Keith Power wins his fifth SOCAN Screen Composer of the Year Award. The SOCAN Breakout Songwriter Award goes to bbno$ and La Zarra (the francophone award), and Evan MacDonald has earned this year's SOCAN Breakout Composer Award.
The 2022 SOCAN Awards will feature live performances by Nonso Amadi, Alicia Creti, Drezus, High Valley, La Zarra, Lifehouse, Snotty Nose Rez Kids, a tribute to OZ by DJ TLO and special performance of Tom Cochrane's Life is a Highway by Bill Bell, Dala, Davide Direnzo, Molly Johnson, Jeff Jones, Alex Lifeson, Sam Roberts, and Julian Taylor. The full list of this year's SOCAN Award winners will be released on Oct. 17. More info here.
– The Canadian Folk Music Awards (CFMAs) have announced 104 nominees in 19 categories for its 2023 edition. Sanctuary (Sultans of String) leads the noms list, with four. Zhawenim (Digging Roots), Long Haul (John Wort Hannam), Down-Home (Kyle McKearney) eleven (Madison Violet), and The Empress (The McDades) are honoured with 3 nominations each. Chiming in with two nods apiece are albums by Allison de Groot & Tatiana Hargreaves, Barney Bentall, Ken Yates, Le Vent Du Nord, Lenka Lichtenberg, Li'l Andy, Oktoécho, Quote the Raven, Shannon Quinn & Tony Quinn, Tanya Tagaq, The Fretless, The Oot n' Oots, The Slocan Ramblers, and Yael Wand are all honoured with two nominations each. See a full noms list here. The CFMA 2023 Awards Weekend takes place March 31 - April 2, 2023, in Vancouver. More info here.
– Acclaimed Halifax a cappella group Four The Moment will be honoured at the annual NSMW Awards, part of Nova Scotia Music Week in Sydney, Nov. 3-6. This year is the quartet's 40th anniversary, and the tribute performance will feature Amariah Bernard-Washington, Zamani Miller, Haliey Smith, and Micah Smith at the awards show and brunch, Nov. 6 at 11 am at the Membertou Trade and Convention Centre. Source: The Coast
– The 2023 Music PEI Week will take place from March 1-5, and major changes have been announced for the Music PEI Awards. A artists can now submit up to two genre-specific categories for each recording, and all general and genre awards will be juried by industry professionals. A number of awards categories were eliminated, changed, and combined to create new awards categories. Last year Music PEI offered 36 award categories, this year there are 26. The submission period is open to November 12. More info here. In other Music PEI news, the second round of Music PEI's Investment Program is open for submissions until Oct. 31. Info here.
– The Mississauga Music Awards were handed out last month. Check the winners list here.
– The Her Music Awards (Sponsored by Bandzoogle) are designed to celebrate and support female-identified Canadian mid-career music creators who are on the verge of taking their creative careers to the next level. Applicants must submit an application through SOCAN Foundation's application portal (here) by the Oct. 31 deadline. Award Recipient(s) will be selected to receive a grant prize of up to $5K each. 
Festivals news
– The TD Markham Jazz Festival has named long-time musician, composer, bandleader, recording artist and publicist Ernesto Cervini as its new Artistic Director, effective immediately. Cervini is a multi-award-winning drummer who leads Turboprop and the Ernesto Cervini Quartet as well as frequently playing and touring with other groups. He has taught music at the University of Toronto and Humber College, runs Orange Grove Publicity, the top jazz publicity firm in Canada, and heads the indie label TPR. He has just released a new album, Joy.
Industry news
– Women In Music Canada is launching the third annual Entrepreneur Accelerator program, focused on supporting the next wave of female and gender diverse Canadian music industry leaders. Ten participants will be chosen to attend the free 6-week program. The initiative is supported by FACTOR and Canada's Music Incubator. Send any questions to info@womeninmusic.ca
– The National Music Centre (NMC) is calling for submissions for the 2023 OHSOTO'KINO Recording Bursary. Indigenous musicians of all genres from Indigenous communities across Canada are encouraged to apply here by Oct. 27. Earlier this year, Joel Wood and Twin Flames were selected as the very first recipients of the Bursary, enabling them to record in NMC's world-class facility. 
– Following the success of Music Publishing 101, developed and presented by Music Publishers Canada, Music Managers Forum (MMF) and MPC are back with an updated 2-day online series. MPC has created a new  series which examines various aspects of the publishing industry. Level Up: Music Publishing will be a combination of webinar-style presentations, panels, Q+A and breakout room discussion. Sessions will be recorded and made available to registrants. This series runs Oct. 19 and 20 (1-5 pm daily), and is suitable for music managers, self-managed artists, and other music industry professionals with beginner to intermediate knowledge of international music publishing. Free for MMF Canada Members, and $125 for non-members. Info and registration here. 
– Registration is now open for the Manitoba Showcase Conference 2022, which runs Oct. 27-30 in Portage la Prairie, MB. The 4-day event features 34 artists, 150 delegates, and some top Canadian visual and performing artists, including professional development sessions, group discussions, showcases, pitches, meetings with experts, and more. Manitoba Showcase is a place to discover innovative ideas, opportunities for leadership development, and skill-building workshops, along with networking events and one-on-one business meetings between artists/agents and presenters/buyers. Info and registration here. 
– The late folk music great Willie P. Bennett is being remembered by a celebratory two-part series produced by Hugh's Room Live. This features a collection of his songs together with stories shared by artists that knew him and were impacted by his ambitious career as a musician and songwriter. Hosted by Colin Linden, it includes interviews with Bennett fans Tom Wilson, Serena Ryder, Russell De Carle, Stephen Fearing and more. Viewing is available by donation through Canada Helps by clicking here.
– The Toronto Symphony Orchestra (TSO) is currently celebrating its centennial season, and it recently announced the good news that it hads eliminated its accumulated deficit, which it has carried for more than four decades. CEO Mark Williams and board treasurer Peter Hinman reported a surplus of $901K for the 2022 fiscal year, resulting in an overall accumulated surplus of $781K. Read more in a Toronto Star report here.
– Indie Week is continuing to present its London Locals shows at Rum Runners in London, ON. The Oct. 7 show features Lost In Japan, Excuses Excuses, and Mind Riot, with the Oct. 14 evening grouping Hartlet, The Hedge Hoppers, Polluter, and Scram. On Oct. 28, Growers, Junko Daydream, Weekend Goodbye, and Dime perform.
Artists news
– Crystal Shawanda released her new studio album, Midnight Blues, on Sept. 30 on True North Records. It is the Juno winner's eighth studio album, and fifth since switching from a chart-topping career as a country artist. 
– East Coast folk/roots favourite Dave Gunning releases a new album, The Same Storm, on Oct. 28, preceded by its first single, Fisher of These Waters. Check it out here.
– Now thriving as a solo artist, Midnight Shine leader Adrian Sutherland has long been an eloquent advocate for his Indigenous community. That was noted recently by an elementary school in Beachburg, Ontario, one whose grades 6/7 and 7/8 classes recently sought ways to continue with ideas from the National Day for Truth and Reconciliation. After hearing Sutherland's tune Walk With Me, the students and teacher Steve Pritchard reached out to him, mentioning they wanted to create a video around the song. The project forged ahead, and the video fittingly recently premiered on YouTube at a school gathering.
–  Acclaimed Vancouver-based singer/songwriter Reid Jamieson has long been vocal in his love of the work of Buffy Sainte-Marie. Next Feb., he'll release a tribute album devoted to the Indigenous icon, preceded by this fresh version of 1967 BSM tune Summer Boy.
– East Coast rock troubadour Adam Baldwin (Matt Mays) has announced a national tour that takes him from Ottawa to Vancouver, from Oct. 25 to Nov. 8. Dates here. He's out supporting a compelling new album, Concertos & Serenades. Here's his current video.
– World-renowned Canadian DJ, composer, filmmaker, theatre producer, animator, and lifelong visual storyteller Kid Koala a.k.a. Eric San is bringing his theatrical and cinematic Storyville Mosquito multimedia show to Toronto in October. It features 14 performers, miniature sets, live puppetry, cinematography, and live music by Kid Koala with a string trio, and runs at the Bluma Appel Theatre, Oct. 20-23.
– Prolific and versatile Toronto singer/songwriter Lily Frost has just released a new album, Decompression. It will be launched with a hometown concert at The Paradise Theatre tonight (Oct. 6). Tix here for the Hugh's Room Live Presents show.
– Formerly a popular regular on the Toronto club scene, jazz vocalist Melissa Stylianou is now based in NYC. To promote her new album Dream Dancing (awarded 5 stars by Downbeat), she returns north for shows at The Jazz Bistro in Toronto on Oct. 8, and The Jazz Room, Waterloo, on Oct. 9 (a 4 pm show). She'll be accompanied by Ike Sturm and guitar ace Reg Schwager. 
– Suzie Ungerleider, the acclaimed roots music songsmith formerly known as Oh Susanna, has announced a series of Ontario dates for later this month. The trek opens in Burlington on Oct. 26, closing out in Perth, on Nov. 5. The first four shows are part of The Way We Feel: The Songs of Gordon Lightfoot tribute series. See the full itinerary here.
– Noted singer/songwriter Royal Wood releases his new album, What Tomorrow Brings, on Nov. 4, and he recently announced tour dates to support it. His fall tour of Ontario (plus one Montreal show) begins on Oct. 18 in Meaford, concluding with a Massey Hall show in Toronto on Oct. 29. Itinerary here. Here's his current single.
– Fans of classic Canadian country will be pleased to hear that veterans Whiskey Jack have put together a new show, Canadian Country Music Legends. It will debut at Toronto's Redwood Theatre on Nov. 4 (presented by HRL), followed by shows in Parry Sound (Nov. 5), and Alliston (Nov. 6). Whiskey Jack's Duncan Fremlin and Douglas John Cameron will be joined by guests including Marie Bottrell and Brian Good. Tix and info here