FYI
Music News Digest, Oct. 21, 2019
Canadian musicians weigh in on today's election (pictured Jesse Reyez, Shad and Steve Sladowski), three notable artists are chasing seats, and farewell Guess Who manager Don Hunter. Others in the news include Noah '40' Shebib, Maple Blues Awards, Altameda, Taylor Swift, Stephen Fearing, Anthony Gomes, Sina Bathaie, and Nick Tosches. With video.
Oct 21, 2019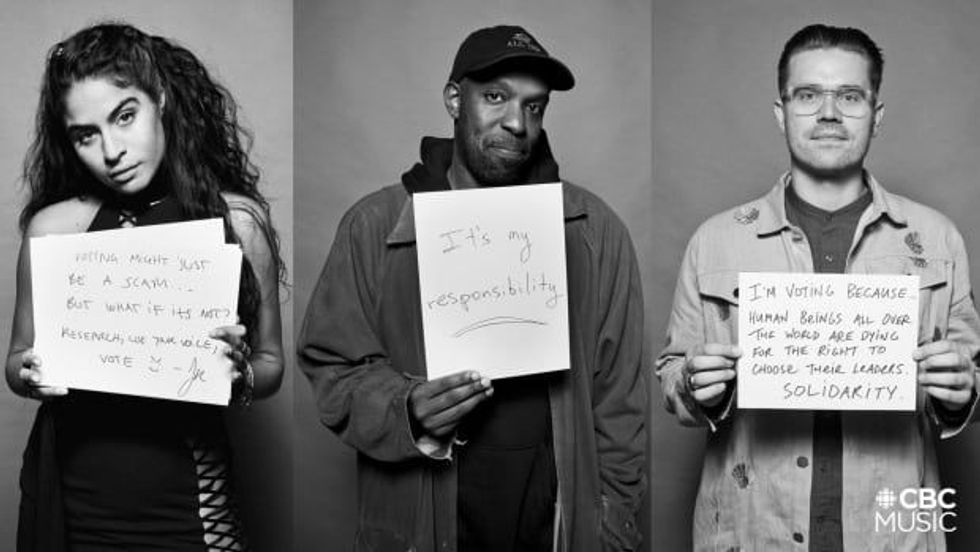 By Kerry Doole
Before today's election, CBC Music approached 25 prominent Canadian musicians, seeking answers to three questions: Why are you voting in this year's federal election? What issues matter to you most this election? Why should others vote? Those responding included Jessie Reyez, Shad, Fred Penner, Steve Sladowski (PUP), Bif Naked, Rae Spoon, Dan Mangan, and Donovan Woods, and we felt their thoughtful responses worthy of exposure here. 
---
– Three notable Canadian musicians are amongst the candidates seeking votes in today's federal election. In a campaign that has grabbed plenty of press attention, country star George Canyon is running for the Tories in the Nova Scotia riding of Central Nova.
Former Toronto recording artist Andrew Cash is seeking to return to Ottawa after one earlier term as an NDP MP. He is competing in the Toronto riding of Davenport, one he repped as MP from 2011 to 2015. Cash played in noted early '80s punk band L'Etranger alongside Charlie (Chuck) Angus, who also got into politics and has become one of the NDP's most prominent figures. Still active in the folk band Grievous Angels, Angus is seeking re-election as MP for Timmins -James Bay, ON. He has served that constituency since 2004. 
– During an election stop in Brampton, ON, last Thursday, NDP leader Jagmeet Singh was given a public endorsement by top Canadian hip-hop producer Noah '40' Shebib (Drake). Helping introduce Singh, Shebib called him "an especially inspirational leader ... straight up."
– The Maple Blues Awards has announced the inaugural Sapphire Video Award, and artists are encouraged to submit their blues music videos for consideration. For a full list of criteria and to submit, visit here. The 23rd annual Maple Blues Awards are on Feb. 3 at Koerner Hall in Toronto.
– Edmonton rock band Altameda is back on tour soon, in support of its critically-acclaimed sophomore album Time Hasn't Changed You. The eight-city trek begins Oct. 24 at Vancouver's Wise Hall, closing out at Rangleine Tavern, Cadillac, SK, on Nov. 30. Dates here
– Four of today's top female stars, Taylor Swift, Billie Eilish, Lizzo, and Camila Cabello, joined together at a benefit concert at LA's Hollywood Bowl on Saturday night. The We Can Survive event—which supports the American Cancer Society—also featured performances from Jonas Brothers, Marshmello and Becky G, as well as a surprise set from Halsey. Over US$135K was raised from ticket sales and Twitter activations from fans with additional donations raised by the performers who "bowled for a cause" backstage at We Can Survive. Eilish, who had never bowled before, earned a strike raising $10,000 for the American Cancer Society. Source: Rolling Stone 
– Folk-rocker Stephen Fearing will preview material from his upcoming album The Unconquerable Past  (out Nov. 15) on Western Canada dates, beginning at Calgary's Ironwood Stage on Oct. 28. The Nov. 7 show at Winnipeg's Times Change(d) High & Lonesome Club will feature the record's co-producer Scott Nolan and album session players. Tour dates here
– Hard-working Canadian blues-rocker Anthony Gomes has signed a record contract with BFD/Orchard, a wholly-owned division of SME (Sony Music Entertainment). The label will distribute Gomes' most recent album, Peace, Love & Loud Guitars, as well as his entire back catalogue.
– Fresh from a month-long stay as a musician in residence at the Banff Centre for the Arts, composer, Santur player, and world music artist Sina Bathaie has a hometown performance set for Toronto's Oct. 26. Expect to hear five new compositions from this sojourn in addition to his latest release, Sahara.
RIP
Donald (Don) Hunter, former manager of the Guess Who, died on Oct. 16, age 78, of cancer.
A former lounge singer, Hunter started Winnipeg booking firm Quasimodo Agency, named for his nickname, in 1967 and soon signed The Guess Who to management.
In a Facebook posting, author and Guess Who biographer John Einarson writes that "with the phenomenal success of the Guess Who, Don found himself moving in the highest music business circles and managed to maintain a steady hand on the throttle. He added other acts to his roster, including Minneapolis band Gypsy and later Scrubbaloe Caine, though none of his artists rose anywhere near the level of the Guess Who."
An obituary in the Winnipeg Free Press noted that Hunter "toured the world with the guys, partied with celebrities, amassed a wall of awards including RCA's Manager of the Year and even visited the White House when the Guess Who played for the Prince of Wales and Princess Anne."
Einarson reports that "after the Guess Who folded, there was a lawsuit launched against the band's financial advisers and management that was eventually settled out of court. Don retired from management."
After leaving the music business, Hunter worked in various sales and marketing roles in the pet supply industry. The WFP obituary noted, "he often said that rock 'n roll prepared him for a life of working with animals."
A private Celebration of Life will be held later this year. Sources: Winnipeg Free Press, John Einarson
Nick Tosches, a US music writer and biographer, died on Oct. 20 at his home in Manhattan, age 69. No cause has been determined.
Alongside Lester Bangs and Richard Meltzer, Tosches was part of a group of music writers labelled "the Noise Boys" for their wild, energetic prose. A critic once wrote, "Reading Tosches is like being mugged."
Tosches started in the late 1960s as a  music journalist with a taste for the fringes of rock and country, then bent his eclectic style to biographies of figures like Dean Martin and Sonny Liston and hard-to-classify novels.
In 1977 he published his first book, Country, a well-researched look at some of country music's lesser-known and often roguish figures. Unsung Heroes of Rock 'n' Roll followed in 1984.
His first biography, the acclaimed Hellfire: The Jerry Lee Lewis Story, came out in 1982. His 1992 book about Dean Martin, Dino: Living High in the Dirty Business of Dreams, also grabbed attention. Source: New York Times