FYI
Music News Digest, Nov. 26, 2020
The Dream Serenade Benefit Concert goes virtual (pictured), the NSMW Sessions are launched, and Ring Music closes. Also in the news are Songs For Food And Shelter, Indie Week, The Dill, Melanie Peterson, Tallinn Music Week, Fortunate Ones,  Ken Tizzard and Music For Goats, MIDEM, and farewell Hal Ketchum and i_o.
Nov 25, 2020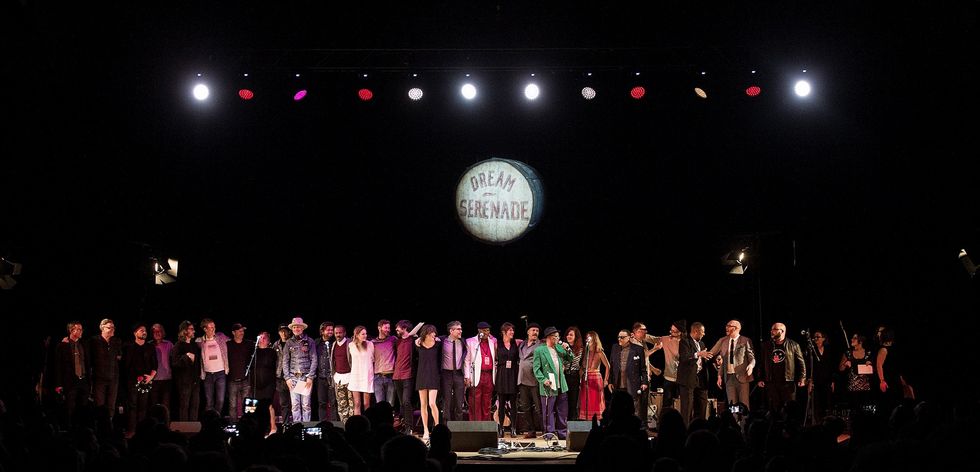 By Kerry Doole
The annual Dream Serenade Benefit Concert, a real favourite on the Toronto calendar for the last six years, is going virtual this year. Check this out for an A-list cast of Canadian stars to be featured on Nov. 28 (from 8 pm EST): Feist, Kathleen Edwards, Dan Mangan, Kevin Drew & Brendan Canning, William Prince, Kevin Hearn & Hugh Marsh, Lou Canon, Hayden Desser and special guests.
---
Dream Serenade Benefit Concert was created in 2014 by Toronto parents Christie Greyerbiehl and musician/songwriter Hayden Desser to thank and raise funds for their daughter's school, Beverley Street School and to support and celebrate the community of children in Toronto with developmental and/or physical disabilities and their families and caregivers. Earlier this year, Dream Serenade created the Covid Family Relief Bursary to meet the community's urgent needs during this challenging time. The new Bursary received over 450 applications in its first week and provided support to 144 families at 55 schools across the Greater Toronto Area. Proceeds from this year's fundraising will go towards this program. Tickets to watch the live-stream are on sale now for $15. Tickets for interactive Zoom access are sold out. For tix, a market and more, go here
– Music Nova Scotia has launched a series it calls the NSMW (Nova Scotia Music Week) Sessions. These will consist of 5 shows in 5 different markets across the province in early Feb. The shows will each feature 3 different artists, with a total of 15 artist performances. Audiences will be invited to NSMW Sessions where Covid regulations are able to be in place based on venue capacity and readiness. Applications are now open until Nov. 30 (5 pm ADT deadline). Apply here
– The second Songs For Food And Shelter fundraising broadcast is set for Dec. 7, at 7:30 pm, (via Facebook Premier). It supports the registered Toronto charity Fred Victor who help feed and shelter people that have nowhere else to go. Spearheaded by Alec Fraser Jr, its stellar lineup includes Tom Lavin (The Powder Blues Band), Steve Strongman, Gordie Johnson's Texan trio  Grady, Suzie Vinnick, Lonesome Ace Stringband with John Showman & Chris Coole, Toney Springer, Al Lerman (Fathead), Michelle Rumball, Clela Errington, Fergus Hambleton, and Bill Heffernan. The first benefit raised an impressive $4,666. More info here 
– On Dec. 1, from 1-2 pm PST,  Indie Week hosts a free webinar entitled Music Live-Streaming: What You Really Need To Know. The session is led by Karen Allen (author of Twitch for Musicians. Tickets here  
– Another blow to the Toronto music community is the news that Ring Music on Harbord St. has officially closed. Posting on Facebook, Kurt Swinghammer says it was "another victim of the vanishing music scene during Covid. It wasn't the most well-known music store in town, nor considered the coolest by the cool kids, but after serving guitarists for over 50 years it was a reliable institution with a solid reputation. Owner John LaRocque built up a clientele that included a who's who of Canadian acoustic players. Gordon Lightfoot wouldn't let anyone else touch his Martins. Master pickers Bruce Cockburn, Don Ross, and Stephen Fearing were faithful customers. Even Bruce Springsteen popped by one day to have John to fix his axe, and apparently kept coming back." More on the store here.
– The Dill is the solo project of indie-rock veteran Dylan Hudecki (By Divine Right, Junior Blue), and he released a compelling new album, Beside, last week. It is the follow-up to his 2018 debut album Greetings From, a vinyl 'best of' collection of his 52 song magnus opus, 52. Featured on the new disc are members of Broken Social Scene, The Weakerthans, Rheostatics, Monster Truck), Chalk Circle), Holy Fuck, and Twin Within, confirming the peer respect Hudecki enjoys. Here is one of the tracks from Beside.
– Toronto singer/songwriter Melanie Peterson releases her new Mitch Girio-produced six-song album We Got This, tomorrow (Nov. 27), followed by her live-stream record release show on Nov. 30. Here's the new video for its lead track, Back To You.
– CIMA informs that artist applications for the Tallinn Music Week 2021 festival are open until 10 Jan. Held in Estonia, the event features a music fest (May 6-8) and a conference (May 7-8). Apply here.
– Popular Newfoundland folk duo Fortunate Ones have released a timely and original new holiday offering, Hold On To Christmas Day, produced by Alan Doyle.  
– On Dec. 1,  Ken Tizzard and Music For Goats release a seasonal folk/country album Sketches Of Christmas, comprising five classic and one new original Xmas-themed songs. Best known as the bassist in The Watchmen, Tizzard is also a prolific roots singer/songwriter. A very limited edition of physical CDs (signed by the band) will be available for order through Tizzard's website.
– Midem Music Networking Week (30 Nov-4 Dec) allows participants to connect with leading execs from all sectors of the music industry through speed-meetings, Q&As and innovative networking formats. Free and open to all. Register here.
RIP
Hal Ketchum, a country singer/songwriter, died on Nov. 23, age 67 as a result of complications from dementia. His wife Andrea confirmed the news on Facebook Tuesday
Born in Greenwich, New York, his music took him all over the United States as well as overseas to his ancestral homeland of Ireland. Hal eventually settled in the area of Austin, Texas, and once said, "We paid our dues and played every beer joint and honky-tonk in a 50-mile radius of Austin, where we cut our first record in a horse barn."
Although he never had a #1 country hit, Ketchum came close with such songs as Small Town Saturday Night (his debut hit in 1991) and Past the Point of Rescue, which both peaked at #2.
His 1991 debut album for Curb Records, Past the Point of Rescue, produced four country Top 20 singles. It would be his highest-selling album, eventually going gold for sales in excess of 500,000. Between 1991 and 2006 Ketchum had seventeen entries on the Billboard Hot Country Songs
Ketchum became a Grand Ole Opry member in 1994. He influenced many of today's stars and musicians who were inspired by the country music of the 1990s.
Peers paying online tribute included Randy Owen, Exile, David Ball, Jeannie Seely, John Berry, The Oak Ridge Boys, and Johnny Lee.
i_o, (Garrett Falls Lockhart), a US producer best known for collaborating with Grimes, died on Nov. 23, age 30. No cause of death has been reported.
Lockart lived in Washington, DC and moved to Los Angeles, where he became a staple of the local electronic music scene. Over the past two years, he released three EPs that comprised an album called 444. In 2019, Lockhart appeared on Grimes' new song Violence, from Miss Anthropocene.
His first release arrived in 2017. He put out music on Deadmau5' Mau5trap label Sources: Pitchfork, Twitter