FYI
Music News Digest, Nov. 16, 2020
The Weeknd (pictured) is set to play the Super Bowl halftime show next year, Johnny Orlando wins a  MTV Europe Music Award, and Justin Bieber gets festive for Amazon Music. Others in the news include Kathleen Edwards, CIMA, Crown Lands, FACTOR, &C Record Club, Grimes, Dan Fortin, Tami Neilson, Sheenah Ko, and farewell Des O'Connor and Doug Supernaw.
Nov 15, 2020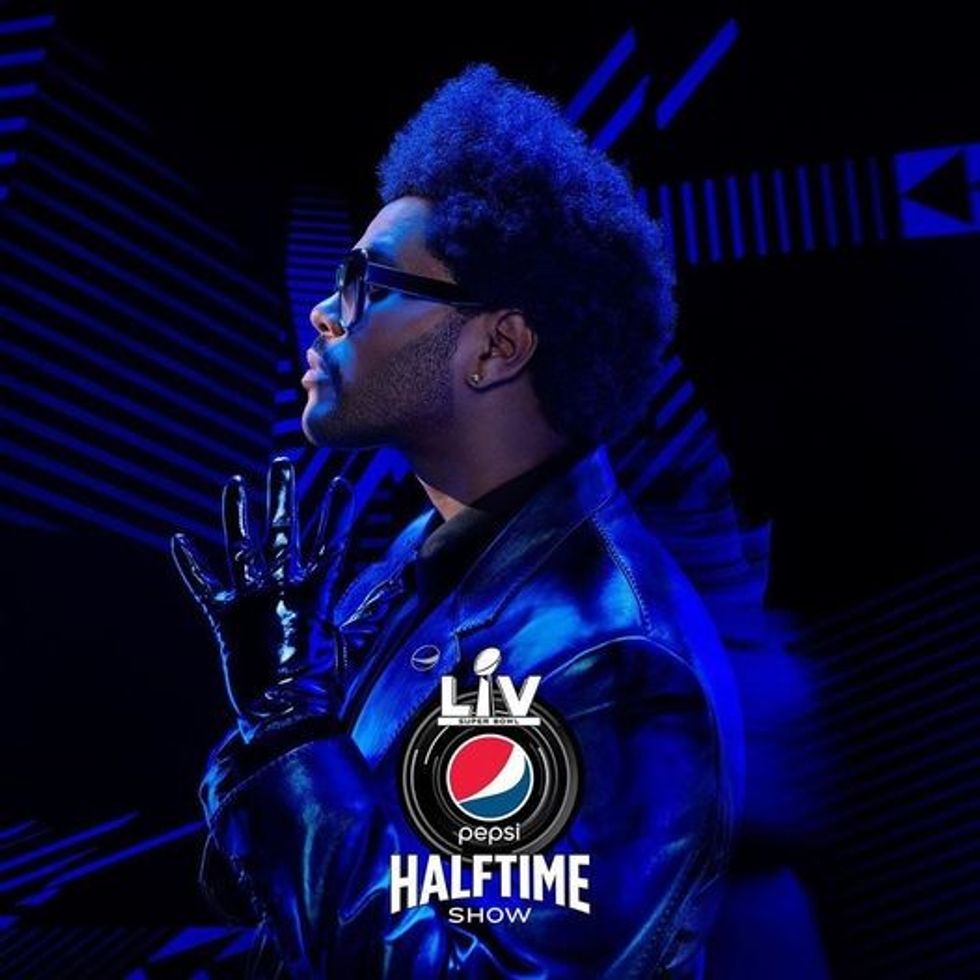 By Kerry Doole
Getting chosen as the headline halftime act at the Super Bowl, America's biggest sporting event, remains a very big deal. Next year, The Weeknd will be able to add that to his dazzling career resume, as he has just been named for the 2021 show. The Super Bowl is planned to take place at the Raymond James Stadium in Florida on Feb. 7, though covid restrictions will likely mean a restricted in-person audience.
---
In a statement, The Weeknd noted that "We all grow up watching the world's biggest acts playing the Super Bowl and one can only dream of being in that position. I am humbled, honoured and ecstatic to be the center of that infamous stage." Source: The Guardian
– Last week, young Canadian pop star Johnny Orlando took home a 2020 MTV Europe Music Award (EMA) for Best Canadian Act, marking the second year in a row that he has earned the title. Fellow nominees in the category this year included Justin Bieber, The Weeknd, Jessie Reyez and Alessia Cara, and previous recipients of the award include Shawn Mendes and Bieber. Orlando's current single Everybody Wants You has now cracked the top 20 at Canadian AC radio and top 25 on the Top 40 chart, and Orlando remains iHeartRadio's Future Star for Nov.
– Amazon Music has kicked off its holiday season with a slate of brand-new holiday content for listeners. Amazon Original seasonal songs from major artists include Justin Bieber's rendition of Brenda Lee's classic Rockin' Around the Christmas Tree. "That has always been one of my favourite songs to celebrate the holidays, and I'm excited to team up with Amazon Music to share my own version, with my fans," Bieber noted. Other artists featured include Mary J. Blige, Carrie Underwood, and José Feliciano.
– In other Bieber news, he made a splash last week by appearing on the CMA Awards show, performing the global hit  10,000 Hours with his collaborators Dan + Shay, who won an award as Duo of the Year. The Biebs was also a winner at least night's People's Choice Awards in the Male Singer category.
– Kathleen Edwards is currently riding high on the success of her new album, Total Freedom. On Nov. 19 (4 pm EST), she premieres a Live At Massey Hall concert film at liveatmasseyhall.com. It was filmed on May 4, 2018, just months before Massey Hall temporarily closed its red doors for the Massey Hall Revitalization, and features Edwards performing fan-favourites and new material. She encourages fans to consider donating or supporting live music presenters such as Save Our Stages in the U.S. and the Massey Hall Revitalization project.
– On Nov. 19 (1 pm EST), CIMA presents another Lunch and Learn 2020 webinar. This one is entitled Understanding Neighbouring Rights and is an introduction session (moderated by David Basskin) that covers the basics of copyrights, neighbouring rights and how they are distinguished from other rights. Register here.
– On Nov. 27 (from 6.30 pm EST), FACTOR is holding a virtual information session for women and gender minority artists. This event is open to women and gender minorities, including but not limited to trans individuals (AMAB and AFAB), agender and non-binary people. Learn more about what kind of music funding you can access through FACTOR, how the application process works, and general advice and tips on applying. Register here.
– Fast-rising Canadian hard rock duo Crown Lands is getting a major international career boost thanks to Peleton. The leading interactive fitness platform released its latest holiday campaign for the UK and Germany featuring two new versions of Nina Simone's classic track Feeling Good, one by Crown Lands and a hip-hop interpretation by LA rapper, Duckwrth, plus the original version. In a label press release, Crown Lands explain that "when Peloton asked us to work on an iconic Nina Simone song, we knew we had to honour Nina and do our spin on it. Nina is such a powerful and incredible woman, and the world needs her message now more than ever." The Peleton campaign is now live across TV, digital and the web. Alongside premiering in the advert, Crown Lands released their cover in full (below) and it will be integrated into future Peloton classes.
– Noted Canadian label Arts & Crafts recently launched the A&C Record Club and the last call to get its first package is the end of the day today (Nov. 16).  Purchasers of a 12 or 6-month membership by then receive two of the year's most talked-about Canadian albums: Away Is Mine from Gord Downie, and All That Emotion, from Hannah Georgas' fourth studio album. More info here
– A heated controversy has been brewing online over word that FACTOR granted the sum of $90,525 to Grimes' Canadian record company, Crystal Math Music. A check of the FACTOR website confirmed that this amount was awarded to the label on March 18, 2020, as a Comprehensive Music Company grant. The fact that Grimes is married to uber-rich entrepreneur Elon Musk is doubtless a contributing factor to the furore, one fuelled by a rather misleading headline on a recent MTL Blog post.
– Juno-nominated Toronto bassist/composer Dan Fortin (Myriad3) has just released a new solo-bass album, The Latest Tech, on Elastic Recordings, the label he runs with Michael Davidson. Fortin has worked in a variety of genres, while this record showcases his instrumental virtuosity. You can find it on Bandcamp, and here's a teaser video.
– Acclaimed Canadian roots singer/songwriter Tami Neilson is now based in New Zealand and has made a major mark there. The single Hey Bus Driver from her latest album, Chickaboom!, recently won Country Song of the Year at the New Zealand Country Music Awards and the record is up for Album of the Year at the Aotearoa Music Awards, NZ's Juno equivalent. The current covid-free status of NZ meant that this month Neilson was able to complete a full-production tour (including a brass band) of the country. Last Friday, she released a special Christmas single, a cover of Willie Nelson's Pretty Paper, recorded last Dec. as a SiriusXM Canada live session at the Dine Alone Records Store in Toronto. 
– Montreal-based electro-pop artist Sheenah Ko, choreographer Brittney Canda, and filmmaker Vincent René-Lortie of Telescope Films are celebrating a recent win at the 2020 UK Music Video awards. Ko's video for Wrap Me Up, from her recent EP release Nowhere In Time, won the award for Best Choreography. The clip had a budget of $21K, funded from a grant received from the Canada Council, and it beat out big-budget videos from the likes of Beyonce, Major Lazer, and Christine and the Queens. The video was also nominated for Best Alternative Music Video.
RIP
Des (Desmond Bernard) O'Connor, an English comedian, singer and TV host, died on Nov. 14, at age 88, after a recent fall.
He was known for hosting his own chat show, as well as Take Your Pick and Countdown. The London-born O'Connor presented his own prime-time TV shows for more than 45 years but also had success as a singer. He appeared on stages around the world including over 1,000 shows at the London Palladium.
His friendship with comedy duo Morecambe and Wise saw him mocked for his singing ability in sketches despite a successful career which included four Top 10 hits and 36 albums. 
O'Connor had a hit with his first single, Careless Hands, and in 1969 his song I Pretend went to No 1 in the UK and sold 16m records worldwide.
His fame soared when he was hired to host The Des O'Connor Show, which ran on ITV from 1963 to 1971.
In 1977 he began hosting Des O'Connor Tonight, which started on BBC Two before moving to ITV, where it stayed until it ended in 2002.
He later hosted the Channel 4 quiz show Countdown alongside Carol Vorderman, with the pair bowing out together in 2008, and was made a CBE for his services to entertainment and broadcasting in that year's birthday honours. Source: BBC, The Guardian
Doug (Douglas Anderson) Supernaw, a hit country singer, died on Nov. 13, age 60, of cancer.
Born in Bryan, Texas, Supernaw moved to Nashville in 1987, where he found work as a session songwriter. After four years in Nashville, he moved back to Texas, where he founded a band called Texas Steel. In 1993, Supernaw signed with BNA Entertainment. After releasing his debut album, Red And Rio Grande, Supernaw broke through with the 1993 single I Don't Call Him Daddy, which became his signature song and a gold record.
Supernaw charted eleven singles on the Billboard Hot Country Singles and Track charts with three number one singles, Reno, I Don't Call Him Daddy, and Not Enough Hours In The Night. In total, Supernaw recorded four studio albums in total with two additional greatest hit projects showcasing his career.

Fellow artists quick to mourn the loss of their friend and peer included Charley Pride, Joe Bonsall of The Oak Ridge Boys, David Ball, Lee Greenwood, B.J. Thomas, T. Graham Brown, Johnny Lee, and T.G. Sheppard. Sources: Bev Moser, 2911 Media