FYI
Music News Digest, May 15, 2019
The Northern Pikes (pictured) to release new music, Sawdust City fest returns, and RIP The Matador and The Borderline. Others in the news include Alexisonfire, Lights, Pink, CHAOS AB, Ralph Murphy, Music Nova Scotia, and farewell Doris Day.
May 15, 2019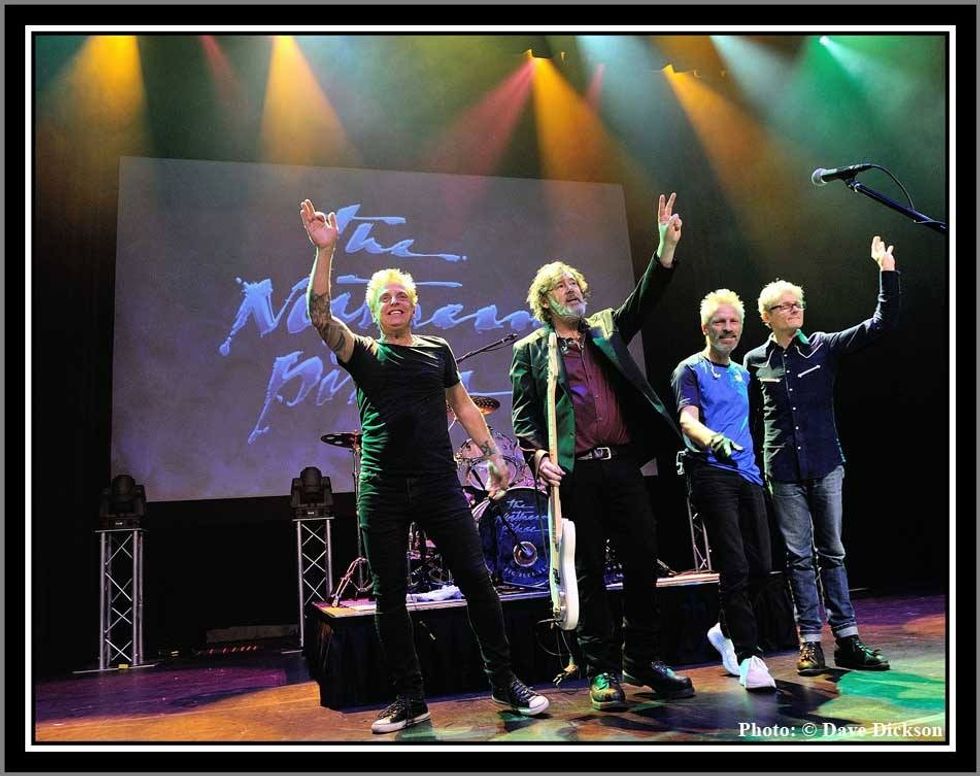 By Kerry Doole
Prairie rockers The Northern Pikes have announced the release of their ninth studio album, Forest of Love, on June 7 via Universal Music Canada. Their first new album in 16 years, it features new member Kevin Kane (Grapes of Wrath). Upcoming dates in the West and Ontario have been announced. Check the sked here 
---
– Sawdust City Music Festival, presented by TD, has announced a return to Gravenhurst, ON, Aug. 2-4. The third annual 3-day multi-venue fest will feature headliners Bill & Joel Plaskett, with other performers including musician/actress Maria Doyle Kennedy (Downton Abbey, The Commitments), The Sadies, Emm Gryner, and Shakura S'Aida. The weekend includes two evenings at the Opera House, a Songwriters' Circle, Music on the Barge, Sunday Kids Zone, and a vendor village. Limited Weekend & VIP Packages on sale now. Full details here
– Hardcore heroes Alexisonfire have returned with new music and recently appeared on The House of Strombo show to talk about it and deliver a typically searing set. Check it out here.
– The Toronto music community is mourning the impending loss of another historic venue, TheMatador. Long shuttered, it was given a new lease of life by owner Paul McCaughey, but he has been forced to sell to a real estate developer, with condos likely in its future. McCaughey blamed the City's tangle of red tape for his problems, and there has been anger expressed on social media at the apparent impotence of the City's Music Office in addressing the situation. Over a century old, The Matador hosted performances by Johnny Cash, Stompin' Tom Connors, Joni Mitchell, and Leonard Cohen. 
– Historic London venue The Borderline has announced it is shutting its doors after losing the battle against escalating rent in the capital. Since opening in the early 1980s, the Soho club hosted intimate performances from the likes of R.E.M., Oasis, Amy Winehouse, Pearl Jam and Rage Against The Machine at the beginning of their careers. Many Canadian acts played there. NME
– Toronto pop artist Lights releases a new album, Skin&Earth Acoustic, on UMC on July 12. An advance track, Lost Girls, is out now, and an acoustic tour begins July 24 at Chicago's House of Blues. The trek includes performances at Toronto Danforth Music Hall and the London Music Hall before wrapping up on Aug. 16 at The Vogue in Vancouver. Lights partners with PLUS1 on the tour, with one dollar from every US ticket sold going to Grid Alternatives, while Équiterre is the designated Canadian non-profit.
– Illness has forced Pink to postpone two Toronto shows that had been planned for May 13 and 14. They've been moved to Aug. 18 and 19 at Scotiabank Arena. Her Montreal dates, May 17 and 18, are unaffected.
– CHAOS AB, Alberta's newest rock festival, has announced single day tix go on sale May 16 at 10 am MT here. The fest runs July 26-27, with acts including Disturbed, Slayer, GWAR, Marilyn Manson, Headstones, One Bad Son, Royal Tusk, and The Dirty Nil.
– Popular Canadian songwriting guru Ralph Murphy was honoured with a tribute night held at the Jeanne Gordon Theatre in his hometown of Wallaceburg, ON, last Sunday. His comrade Richard Flohil participated, with music by John N' Michele Law (The Laws), Jamie Warren and Thomas Wade.
– Music Nova Scotia's Annual General Meeting will be held June 25 at the MNS office at 2169 Gottingen Street. MNS is holding its annual election for its board of directors. There are seven incumbents re-offering and nine positions in total to fill. Nominations close on May 27.
RIP
Doris Day, a singer and actor who was one of the biggest Hollywood stars of the 20th century, died at her home in Carmel Valley, Calif., May 13, after recently contracting pneumonia. She was 97.
Day was a huge box-office draw in the 1950s and '60s, performing in many films alongside Rock Hudson, including Pillow Talk, one of three romantic comedies of the duo. She also starred in Alfred Hitchcock's The Man Who Knew Too Much and That Touch of Mink.
She began her singing career at the age of 15 with her first hit, "Sentimental Journey," becoming a signature tune. Her last release, the compilation My Heart, went to No. 1 in the UK in 2011.
Day received the Presidential Medal of Freedom in 2004 and a lifetime achievement Grammy in 2008.
Her television show The Doris Day Show ran for five seasons on CBS, from 1968 to 1973, and was known for its signature tune, Que Sera, Sera. It was a lead-in to The Carol Burnett Show."She hosted a talk show, Doris Day's Best Friends, on CBN 1985-86. She retired from television after her image became passe and focused on her animal foundation.
The foundation said Day wished to have no funeral, memorial service or grave marker. Sources: Celebrity Access