FYI
Music News Digest, March 29, 2021
A classic by 54-40 (pictured) enters The Canadian Songwriters Hall of Fame, Music PEI Awards winners are named, and the ECMAs head to Sydney in May. Also making news are the TSO, METZ. The Horseshoe Tavern, Julianna Jones, TBS,  Ford Pier, Owen Barney, and farewell Malcolm Cecil and Don Heffington.
Mar 29, 2021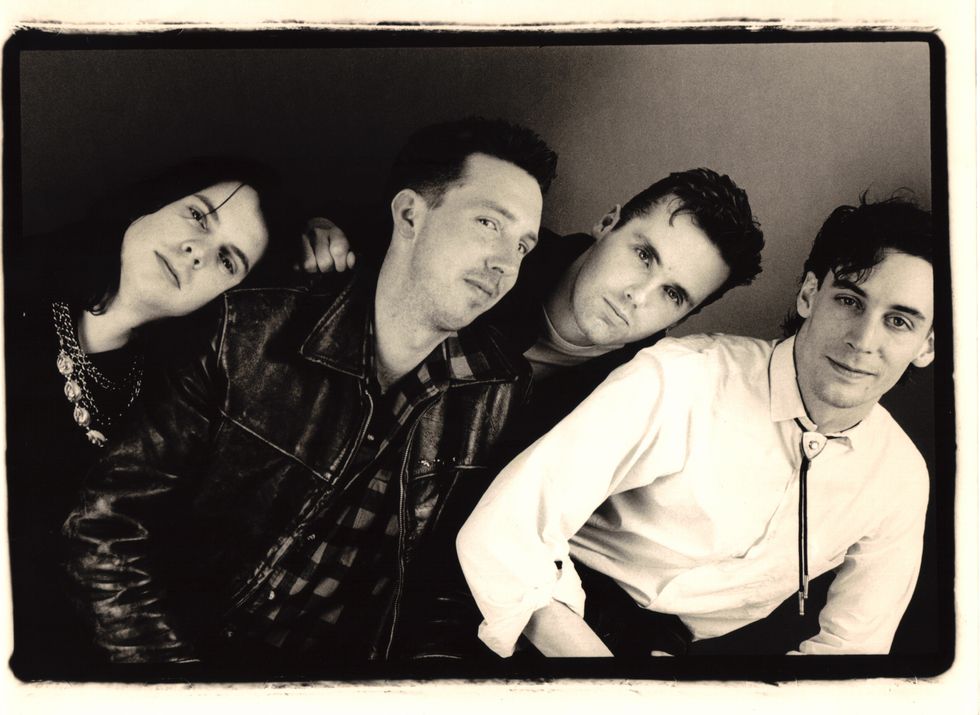 By Kerry Doole
The latest classic Canadian song to be inducted into The Canadian Songwriters Hall of Fame (CSHF) is I Go Blind, by popular Vancouver rockers 54-40. The CSHF will induct the hit into its permanent and interactive exhibition at the National Music Centre in Calgary, following a live virtual presentation joined by lead singer Neil Osborne, airing on Breakfast Television, April 1. The SOCAN Classic song enjoyed success twice: the first time as recorded and released by the band in 1986, and the second time a decade later when a cover by Hootie & The Blowfish unexpectedly became a Billboard Top 5 hit. 
---
"Although the song's meaning has taken on different significance for each generation, its anti-apathy message and challenge to seek truth and purpose continues to resonate in 2021," said Vanessa Thomas, CSHF Executive Director.  "I Go Blind was embraced by Canadians when it was released in 1986, but the global popularity that Hootie & The Blowfish gave to the song helped to shine a deserving spotlight on its lyrics and great songwriting." I Go Blind, written by 54-40 members Neil Osborne, Philip Comparelli, Brad Merritt, and Darryl Neudorf, continues to enjoy success, with a roots remake appearing on the band's 2016 unplugged album La Difference.
– Last night (March 28), Music PEI held its annual Awards Party and handed out 31 awards at the PEI Convention Centre. Topping the winners list were Catherine MacLellan and Dylan Menzie, with three awards each. Highlights in non-recording awards included Scott Parsons receiving the Upstreet Lifetime Achievement Award, Frances McBurnie named the ABCE Community Contributor of the Year, and Nancy White cited for the Deep Roots Distillery Rooted To The Island Award. After being rescheduled from earlier in March, the Credit Union Music PEI Week closed out with the awards and the Festival Finale. See a full list of winners here.
– The East Coast Music Awards Show returns as a live event on Thursday, May 6 at Sydney's Centre 200, with a broad lineup of Atlantic Canadian artists set to perform. Those on the bill include top nominees Classified, Catherine MacLellan, and Rose Cousins, Rich Aucoin, Zamani, Keonte Beals, Like a Motorcycle  Beolach, Hauler, Sorrey, Wolf Castle, Les Hay Babies, Rube & Rake and Silver Wolf Band. The ECMAs will be hosted by comedians Justine Williamson and Jay Malone.
Socially distanced arena seating is now on sale via Ticketmaster.ca at $40 plus fees. Details about Centre 200's Covid-19 seating plan can be found on the arena website. "Our host community is very excited to have us back in Sydney for the 33rd ECMAs, where live music is recognized to be a vital part of the community," said ECMA CEO Andy McLean in the award show announcement. The ECMA Festival & Conference runs May 5-9, with a virtual Music & Industry Awards event taking place on May 9. Further details are to come. Source: Journal Pioneer
– The Toronto Symphony Orchestra (TSO) will begin live-streaming concerts for the first time from Roy Thomson Hall, beginning March 31, with an All Mozart program. TSO Live Streams are planned through June, with one or two concerts per month. Concerts will be announced closer to the dates, to provide the TSO with the flexibility to plan in accordance with up-to-date health regulations. The All Mozart program will be led by TSO RBC Resident Conductor Simon Rivard. Tickets (here) will be available until the start of the live-stream. Virtual concertgoers may watch the archived concert for 7 days following. Patrons can pay what they wish for access, with pre-set pricing options set at $50, $20, and $10. 
– Toronto hard rock favourite METZ has announced a live-stream show, as part of the Horseshoe Hootenanny Live-Stream series. Appearing at Toronto's Lee's Palace, the band will perform tracks from its latest album Atlas Vending,as well as hits from an extensive back catalogue. The show airs on April 24th at 8 pm ET, with the stream available for 30 days post performance for ticket-holders. Tix available here ahead of the band's UK and EU dates in the fall. Other shows in the Horseshoe Hootenanny series include The Trews on April 3 and Danny Michel, April 24.
– Hamilton-based pop/R&B artist Julianna Jones has just released a new single, Bad For Me. Check it out here.
– Vancouver-based singer/songwriter/composer Ford Pier has had a varied career that includes releasing six solo albums, two more with his rock band The Vengeance Trio, and another with his string quartet Strength Of Materials. He has lectured at Berlin's U of Applied Sciences Europe, composed electronic soundscapes for fashion shows, and recorded or toured with acts as varied as D.O.A., The Rheostatics, and Neko Case. His most recent album, Gormful In Maya, drew acclaim, and here's a new single and video.
– Toronto Blues Society is offering online (Zoom) a free workshop series, Grants, Gigs & Getting It Done: Keys To Success, on April Sundays (4, 11, 18, and 25 at 2 pm EST, hosted by Rudi Quammie Williams  Each week will focus on a different general topic including: Putting It Out There - Disseminating the music, Building a Community of Support - Navigate The Artists' Ecosystem, Revenue Generation, and Artists as Entrepreneur. Click here to register on Zoom for free or RSVP on Facebook event page here.
– Following up on the success of his sophomore EP, pop singer/songwriter Owen Barney is back with the release of a new 3 track EP, Tough Times. Here's his new single, You Make Me Wanna (Brown Eyed Girl).
RIP
Malcolm Cecil, a British jazz bassist, Grammy Award-winning record producer and synthesizer pioneer, died on March 28, at age 84.
Born in London, Cecil was a founding member of the UK's leading jazz quintet of the late 1950s, The Jazz Couriers, before going on to join a number of British jazz combos led by Dick Morrissey, Tony Crombie and Ronnie Scott in the late 1950s and early 1960s. He later joined Cyril Davies and Alexis Korner to form the original line-up of Blues Incorporated.
Cecil later teamed with Robert Margouleff to form the duo TONTO's Expanding Head Band, a project based on a unique combination of synthesizers which led to them collaborating on and co-producing several of Stevie Wonder's Grammy-winning albums of the early 1970s.
Cecil was the co-designer of the Original New Timbral Orchestra (TONTO), a massive analog synthesizer that brought new sounds to popular music. He began the project with  Margouleff, taking over ownership of TONTO in 1975 and maintaining it for nearly four more decades. The success of Cecil's and Margouleff's work with TONTO opened up possibilities for synthesizers in the pop world and beyond. TONTO has also been used on recordings by Weather Report, Joan Baez, the Isley Brothers and Gil Scott-Heron.
The National Music Centre  in Calgary acquired TONTO in 2013, and Cecil has worked on new recordings there, beginning with a Tribe Called Red. Sources: Pitchfork, Wikipedia, NMC, Calgary Herald
Don Heffington, a prolific drummer and session musician who played in the Los Angeles roots-rock band Lone Justice in the 1980s and later recorded and performed with stars including Bob Dylan and Dwight Yoakam, died March 24 at age 70, of complications from leukemia.
Before he joined Lone Justice, Heffington played as a member of Emmylou Harris' Hot Band and performed on her albums Blue Kentucky Girl in 1979 and White Shoes in 1983.
The L.A. Times writes that "Lone Justice played rowdy but tuneful country-inflected rock built around singer Maria McKee's high, swooping vocals. The band quickly established itself on L.A.'s club scene, which led to a self-titled 1985 debut produced by Jimmy Iovine and a high-profile gig as the opening act on U2's arena tour behind The Unforgettable Fire.
Yet the lineup that made the Lone Justice debut album — McKee, drummer Heffington, guitarists Ryan Hedgecock and Tony Gilkyson and bassist Marvin Etzioni — broke up by the time of the group's next LP, 1986's Shelter."
Heffington went on to work in different settings with his old bandmates; McKee called him "the coolest and lovingest cat I ever did know" in an Instagram post on Wednesday and wrote that he was "the only original member of Lone Justice I never had any drama with."
Post-Lone Justice, Heffington began collaborating widely with other musicians, including some of the biggest names in roots music. He played on Dylan's Empire Burlesque and Knocked OutLoaded albums, on Yoakam's Population Me, and on records by Jackson Browne, Victoria Williams, Shelby Lynne, Dave Alvin, Sam Phillips, the Jayhawks, Buddy Miller, the Wallflowers, Amy Rigby and Jimmie Dale Gilmore, among many others.
In recent years, Heffington released a pair of solo albums, including 2014's Gloryland, and performed regularly as part of the "Watkins Family Hour," a variety show started by Sean and Sara Watkins of the bluegrass trio Nickel Creek at L.A.'s Largo nightclub. Sources: Variety, The LA Times