FYI
Music News Digest, March 25, 2020
CanadaPerforms attracts big names, Silverstein (pictured) has rush-released a COVID-19-themed T-shirt, and Sick Festivals lets you track postponed or cancelled gatherings. Also in the news are Crystal Shawanda, APAC, Beatport, Jon Bon Jovi, and farewell Manu Dibango and Eric Weissberg.
Mar 25, 2020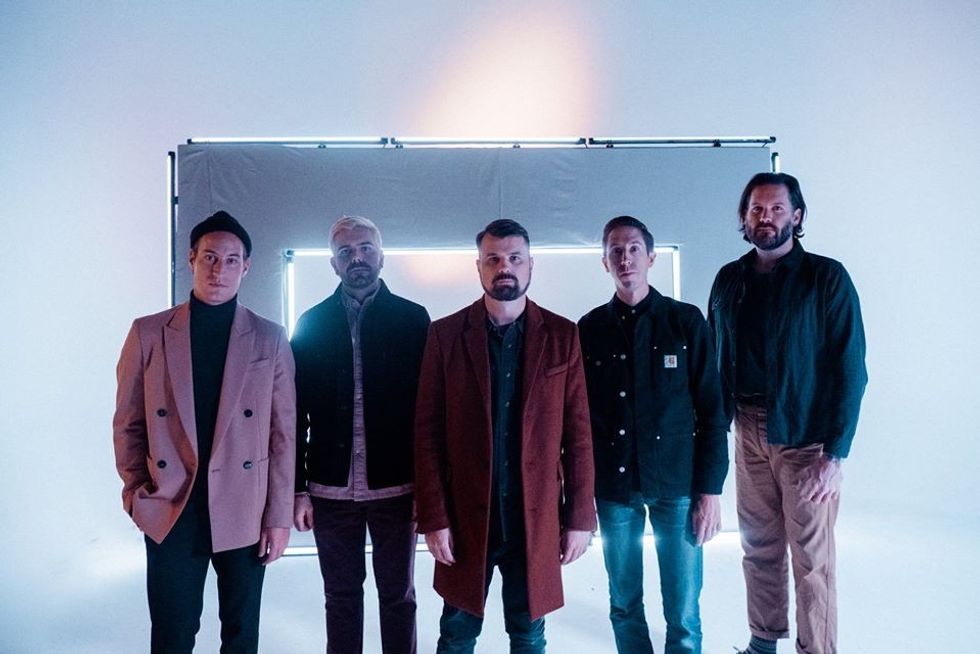 By Kerry Doole
The #CanadaPerforms online performances series/short-term relief fund launched by Facebook Canada and the National Arts Centre and supported by Slaight Music is in full swing. Artists featured in the next few days include Jenn Grant, Catherine McLellan, Alex Cuba, Julianne Chapple, Jully Black, and Rayannah. More info here 
---
– Veteran Canadian punk band Silverstein has rush-released a timely merch item, a COVID-19-themed T-shirt telling fans to "stay the f### home." 100% of the profits from sales will go to the band's crew, laid off because of the forced postponement of a planned Silverstein tour. Go to silversteinstore.com to order. The group's latest album, A Beautiful Place to Drown, came out March 6.
–  Music data company Viberate has introduced a new tool called Sick Festivals, which tracks around 5,000 festivals worldwide and lets you know if they're cancelled or postponed (updated daily). The tool also allows fans to express their disappointment According to Sick Festivals, over 300 festivals have already announced cancellations or postponement. Check it out here 
– Now Nashville-based, Ontario roots artist Crystal Shawanda releases a new album, Church House Blues, on True North Records, on April 17. This is her second release for the label, and her fourth blues album, after making a mark in the country field. Recorded at several Nashville area studios, it features session stars Dave Roe  (Johnny Cash, Cee-lo Green), the McCrary Sisters, Dana Robbins (Delbert McClinton), and Peter Keys (Lynyrd Skynyrd), and is produced by her husband, collaborator and co-writer Dewayne Strobel. 
– On Friday, March 27 (1 pm-2 pm ET), the APAC (Alliance of Performing Arts Conferences) hosts a free webinar - Ask an Expert: Contracts, insurance, visas, employment, and legislation in the COVID-19 Era. This presentation will gather a group of legal experts to discuss and answer questions about the current business, legal, and financial realities facing the performing arts sector. Guest speakers include Heather Noonan (League of American Orchestras), Matthew Covey (Tamizdat), and more. Register here
– Beginning on March 27 at 8 pm GMT, Beatport will broadcast a live, 24-hour global DJ marathon in partnership with Twitch. 24 artists including Carl Cox, Bonobo, Nina Kraviz, GRiZ, RÜFÜS DU SOL (DJ set), A-Trak, Nicole Moudaber, Chris Liebing and Nora En Pure, will perform from their homes or studios around the globe. 
During the live stream on Twitch, viewers can make donations, with the money going directly to benefit those most impacted by the crisis. The funds will be administered by the AFEM (Association For Electronic Music) and will be distributed to the COVID-19 Solidarity Response Fund for WHO looking after frontline health concerns, and the AFEM Members COVID - 19 Hardship fund. 
– Tonight (May 25) at 4 PM Pacific (7PM Eastern), Stephen Fearing continues his live stream series with an hour of songs and conversation with his Rodeo King bandmates Tom Wilson and Colin Linden. Joining as guest host is Terry David Mulligan. Here's the link for the show:  
– Jon Bon Jovi is enlisting music fans on the internet to help him finish a song he's writing about the coronavirus pandemic. In the Instagram video posted Sunday, he is seen perched on a stool in his studio with his guitar in hand, encouraging fans to share their deepest feelings about this time by adding lyrics to a song he's writing called Do What You Can. 
"These are trying times we're going through, uncharted territory, the great unknown," he said in the clip. "But one thing is for sure, we're going to make it through. Now, I did what I do best, which is sit down with my guitar and try to put something to words for you, maybe brighten up your day." Watch the video here  Source: The Wrap 
Obits
Manu Dibango, the Cameroonian world music star celebrated for his blend of jazz, funk and traditional west African styles, has died aged 86 in a Paris hospital after contracting Covid-19. A message on his Facebook page announced that "a tribute to his memory will be organized when possible."
Dibango was born in Douala, Cameroon. He attended high school in France and began learning instruments: first the piano, then saxophone – for which he became best known – and vibraphone. He moved to Brussels and toured Europe with Africa Jazz under bandleader Joseph Kabasele, and spent time in Congo and Cameroon before returning to Paris in 1965.
He blended cosmopolitan styles from Africa and Europe into his own fusion, resulting in his biggest hit, Soul Makossa, with a blazing saxophone line over a breakbeat and Dibango's spoken vocals, originally written for the 1972 African Cup of Nations football tournament.
The line "mama-say, mama-sa, ma-makossa" from Michael Jackson's Wanna Be Startin' Somethin' was lifted from Dibango's chorus on Soul Makossa. Dibango sued Jackson over the uncredited interpolation, winning an out of court settlement. 
Dibango went on to tour widely off the back of the track's success and collaborated with Hugh Masekela, Fela Kuti, Herbie Hancock and more. His tracks were also sampled by artists including Busta Rhymes and the Chemical Brothers.
Dibango's 1992 album Wakafrika featured Youssou Ndour, Angelique Kidjo,  Salif Keita, Papa Wemba and King Sunny Ade.
Musicians paying tribute include Kidjo, who said on Twitter: "You're the original Giant of African Music and a beautiful human being." Sources: The Guardian, BBC News
Eric Weissberg, a US folk musician and half of the duo that recorded hit single Dueling Banjos for the film Deliverance in 1973,  has died at age 80. Family members and friends said Weissberg had been suffering from Alzheimer's for years.
Weissberg was a fixture on the New York folk scene before being enlisted to bring his banjo cover the traditional but largely unfamiliar instrumental with Steve Mandell for the John Boorman adventure-thriller in 1972.
When it was released as a single, it rose to No. 2 on the Billboard pop chart and stayed there for four weeks in 1973, blocked from the top spot only by Roberta Flack's Killing Me Softly With His Song. An album of Weissberg's roots music that was rush-released as a soundtrack to Deliverance topped the album sales chart for three weeks.
Mandell, who shared a Grammy Award for Dueling Banjos for best country instrumental performance, died two years ago at age 76.
The success of the track led to Weissberg getting a recording contract with Warner Bros. that produced one album, Rural Free Delivery. In later years, he recorded as a session musician with Talking Heads, Aztec Two-Step, Nanci Griffith, Bette Midler, Herbie Mann, and Richard Thompson.
 Weissberg was, by the early 1970s, a well-regarded session player on multiple instruments as well as a member of the folk group the Tarriers. He is also famous among Bob Dylan buffs for his contributions as guitarist on the Blood on the Tracks album
After growing up on New York's Lower East Side, Weissberg attended the Juilliard School of Music for three years.  He was a member of Greenwich Village-based folk groups like the Greenbriar Boys as well as The Tarriers in the late '50s and early '60s.
As a session player, he also appeared albums by Judy Collins. Doc Watson, Jim Croce, John Denver, Loudon Wainwright III, Melanie, Sha Na Na, and Barbra Streisand.
The Tarriers had a real impact on legendary Toronto music promoter Gary Topp. On FB, Topp posts that  "Eric and The Tarriers were the first musicians I ever had a hand in promoting. At age 15, my parents took me to see them at the Bitter End in NYC, Woody Allen was the opener. I met them after the show, got his phone and arranged with The Fifth Peg club to bring them to Toronto. They eventually played there twice and once at Maple Leaf Gardens.  RIP, you got me rolling." Sources: Variety, Gary Topp