FYI
Music News Digest, March 18, 2021
Ottawa's The Long Road Back concert features a covid test requirement, The Slaight Music Residency announces its new class, and Triumph is named Record Store Day Ambassador (pictured). Also in the news are Drake, CIMA, Scott B. Sympathy, Bandzoogle, Pan-Am Indie Summit, Sauga City Music Conference, Oshawa Music Awards, Laila Biali, Eve Egoyan, WOTE, and Bobby Bazini.
Mar 18, 2021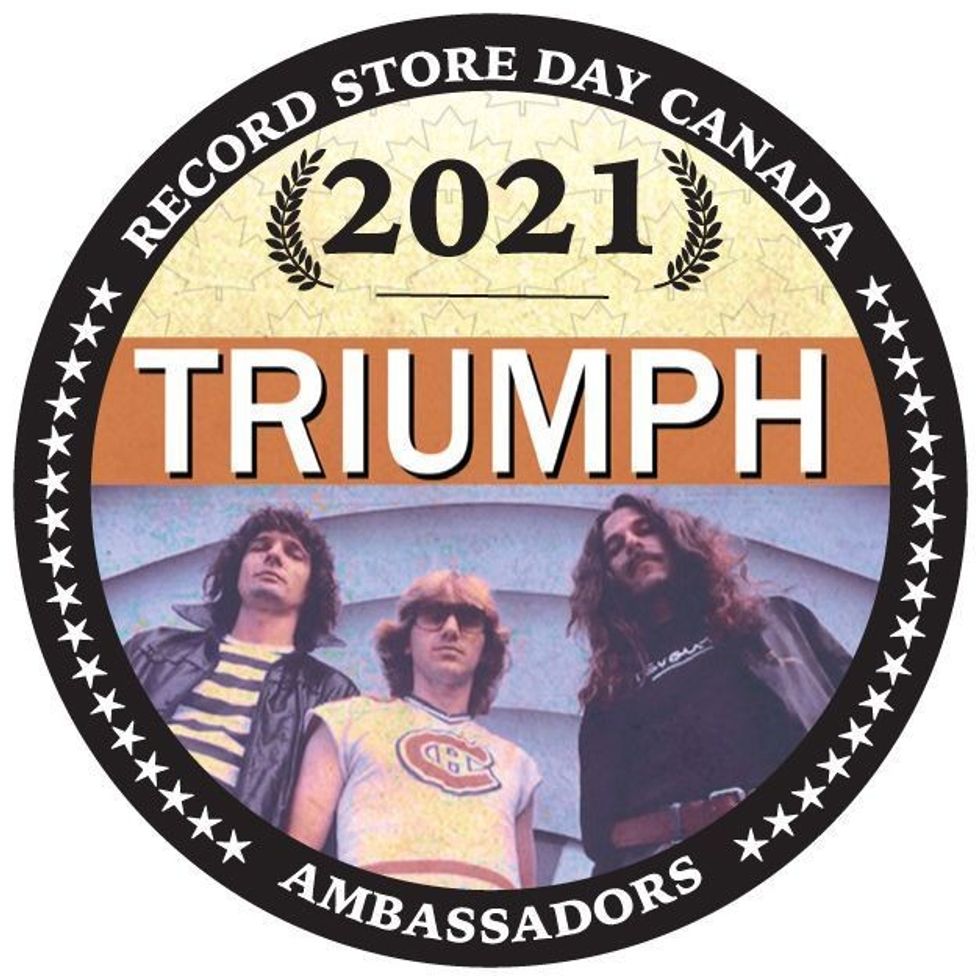 By Kerry Doole
In what may be a test case for the return of live concerts in Canada, an Ottawa show entitled The Long Road Back is set to take place at Lansdowne Park on March 27. It features soul band The Commotions, and both a ticket and a negative Covid-19 test are required for entrance. The concert-goers will be asked to undergo rapid Covid-19 antigen screening at some Shoppers Drug Mart locations within 48 hours of showtime. The audience will be capped at 100 people, who will be required to wear masks and physically distance, say organizers.
---
CPreports that "The Ontario Festival Industry Taskforce is billing The Long Road Back the first event of its kind in Canada, saying screening the audience provides an added layer of precaution that could help usher in the return of concert season." The chair of the Taskforce, Mark Monahan (Ottawa Bluesfest), told CP that "Rapid testing is not a foolproof solution. It's another level of security and safety." The show sold out within hours of its recent announcement.
– The Canadian Film Centre (CFC) has selected six new music creators to participate in the 2021 Slaight Music Residency: Kalaisan Kalaichelvan, Kaïa Kater, Scott Harwood, Alexandra Petkovski, Deanna Choi, and Aubrey McGhee. At the Residency (now in its 9th year), these accomplished musicians will deepen their knowledge and experience working in film and TV through a unique creative and business experience that will fully integrate them into the onscreen narrative storytelling process.
"This program has expanded the access, the skills and the options for many talented musicians to do what they do best – create great music and take us into a great story." says Slaight Family Foundation CEO Gary Slaight. The Residency, chaired by Juno-winning singer/songwriter Marc Jordan and internationally acclaimed composer/musician Lesley Barber, officially began on March 15 – when this year's residents began the program virtually. You can read the full announcement here.
– Record Store Day, the global celebration of the culture of the independent record store, takes place this year on June 12 and July 17. Canadian rock band Triumph has been named RSD's Canadian Ambassadors 2021, and to mark the occasion the power trio will release a RSD exclusive 40th anniversary box set of their classic 1981 album, Allied Forces, fully loaded with rare archival content and assorted unearthed gems.
– One of the most popular and innovative bands on the '90s Toronto scene was Scott B. Sympathy, fronted by singer/songwriter Scott Bradshaw. The group's first two albums, 1990's Neil Yonge Street and 1992's Drinking With The Poet, will be reissued (including digitally, for the first time) on May 7 by Brian Hetherman's Curve Music label. Stellar local musicians featured on the albums include Gord Cumming (The Lawn), Ian Blurton (Change of Heart), and John Borra. Hetherman boldly declares that "Scott B Sympathy's Neil Yonge Street is the birth of Americana/roots music in Canada, the same way that Uncle Tupelo was in the US." We concur, and highly recommend the reissues.
– Drake continues to smash chart records. In his latest feat, he becomes the first artist to enter the chart at Nos. 1, 2 and 3 simultaneously, as the song What's Next is joined by his Wants and Needs, featuring Lil Baby, new at No. 2, and Lemon Pepper Freestyle, featuring Rick Ross, new at No. 3. The tracks were released March 5 on OVO Sound/Republic Records (packaged under the title Scary Hours 2). With What's Next, Drake adds his eighth Hot 100 No. 1, while the three songs up his total to a record-extending 45 top 10s. Drake also joins The Beatles and Ariana Grande as the only acts ever to rank at Nos. 1, 2 and 3 on the Hot 100 simultaneously. Source: Billboard
– Website and direct-to-fan platform Bandzoogle has launched several new options to its built-in EPK feature, including downloadable and printable versions, and four new EPK templates.
– Set for April 15, the inaugural Pan-Am Indie Summit will be held virtually, designed to connect the independent music communities from Alaska to Tierra Del Fuego. CIMA is one of the organizers, alongside A2IM (USA) and trade orgs from Brazil, Argentina, and Chile. Participants can expect to engage with various trade organizations in the western hemisphere, meet other business owners through one-on-one networking meetings, and gain deep insight into the various markets across the Americas. This full-day event will include panels, presentations, and one-on-one networking meetings. The full lineup is forthcoming. CIMA members interested in participating should e-mail Jenia Schukov (jenia@cimamusic.ca) for the registration link.
–  The second annual Sauga City Music Conference is taking place virtually on Zoom over two weeks from March 17-26. The Mississauga-based conference is free with registration on Eventbrite. Featuring two keynote speakers, a webinar and three music panels, the conference will provide tools and advice for emerging and veteran musicians adapting to life during the pandemic. The conference will include panel discussions on: Digital Strategies to Reach a Diverse Audience; Overcoming Challenges Faced by BIPOC Artists in the Music Industry; and Funding Support for Culturally Diverse Artists. Representatives from various funding agencies will share their insights on funding programs, and there is a  webinar titled Recording at Home…Like A Pro. More info here.
– Submissions for the Oshawa Music Awards (The OMAs) are now open. Entering its fourth year, The OMAs continue to showcase local talent and acknowledge those who contribute to the growth of music and culture in the Oshawa/Durham region. Awards in 10 categories will be handed out in three live stream events in Sept. Apply here by May 15. 
– Acclaimed world music combo Sultans of String play an interactive ZOOM concert on March 21 at 7 pm. This show celebrates the group's Refuge CD, and is a fundraiser for the Burlington Food Bank, which receives 100% of the gate. Tickets here and a Facebook link here.
– A forty hour music marathon is happening in Niagara Falls, ON, March 17-20.  Streaming from various locations, the marathon will include musicians Rod Standish, Road Waves, The Mandevilles, Roger Marin, The Cocktails, the Outlaws of Sherwood, Phil Bosley, and more. The event aims to put a "Jam In Perpetuity" into motion by inviting musicians to continue the marathon from wherever they are in the world. It can be streamed here and can be financially supported here.
– Juno-winning jazz-pop vocalist/songwriter, Laila Biali was nominated for another Juno last week, for Jazz Vocal Album of the Year. She is now sharing a video for previously released award-winning single, Satellite. She reportedly decided to release this special "quarantine" live action, stop-animation lyric video for the track as a way to mark a year of dealing with the impacts of the Covid-19 pandemic. 
– Duet For Solo Piano is a documentary portrait of acclaimed Canadian pianist Eve Egoyan that is now getting a world premiere at the 39th International Festival of Films on Art - Le FIFA 2021. It is available to screen online now unril March 28 here. Directed by Su Rynard, the film also features renowned collaborators and composers Nicole Lizée, John Oswald, David Rokeby, Linda Catlin Smith and Michael Snow. Of note: Eve is the sister of ace film director Atom Egoyan.
– Burlington, ON hitmakers Walk Off the Earth returns to Toronto's Danforth Music Hall with two virtual performances to live-stream on  April 23. The show is presented by Jim Beam Bourbon -  Live From Inside. Tix on sale here, with a portion of ticket sales benefiting the Unison Benevolent Fund.
– A reminder that on March 25 (8 pm ET) Quebec hitmaker Bobby Bazini live-streams from an historic locale, the John and Yoko Suite at The Fairmont Queen Elizabeth Hotel in Montreal. Tix here
– Hamilton Arts Council (HAC) is seeking artists for the BIPOC hART Music Series. This music series will feature during Hamilton Arts Week (June 3-12) as a platform for emerging BIPOC musicians. Artist applications will be accepted via HAC's website until April 11. HAC has named DeShaun Jones as the music series host and curator.