FYI
Music News Digest, June 8, 2020
Neil Peart (pictured) is to be honoured by a hometown pavilion, Amplify BC returns to boost the province's music industry, and Dean Brody rides high with a new single. Also in the news are Alex Lifeson, Festival of Fathers, Bandcamp, Mint Records, Half Moon Run, Michael Kaeshammer, Hamilton Arts Week, TBS, Q107, and farewell Eddie Colero, Claude Heater, Rupert Hine, and Steve Priest.
Jun 08, 2020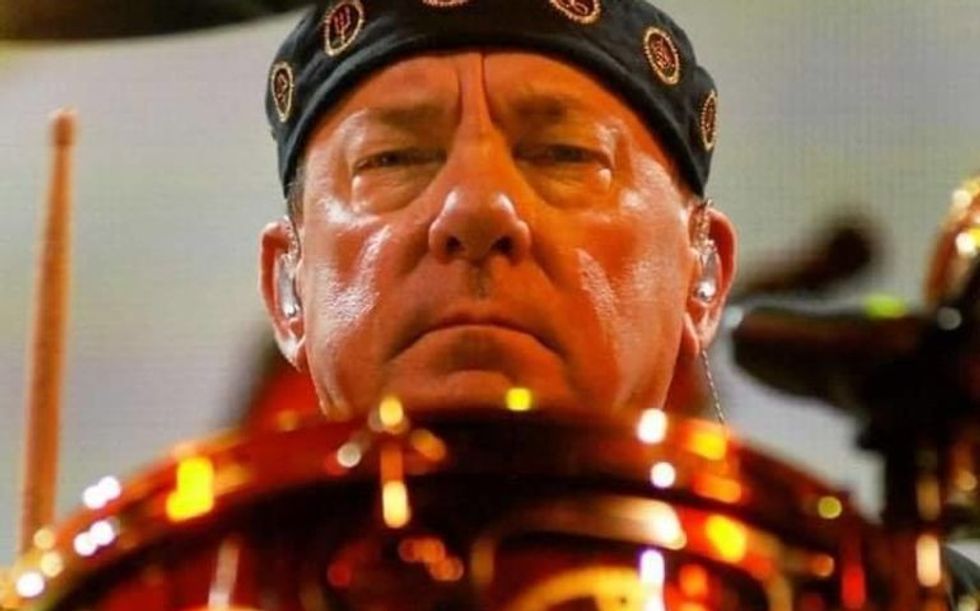 By FYI Staff
Neil Peart's name will now appear on a pavilion in Lakeside Park in Port Dalhousie, the Ontario town in which the Rush drummer and lyricist grew up. St. Catharines city council made the name Neil Peart Pavilion at Lakeside Park official last Wednesday in a unanimous vote following public engagement earlier this year. More than 81 percent of residents who voted online chose Neil Peart Pavilion over the name Lakeside Park Pavilion. Peart died of brain cancer in January. Source: The St. Catharines Standard
---
A recent Rolling Stone feature states that Rush guitarist Alex Lifeson has not been interested in music since the death of his bandmate Neil Peart. The Globe and Mail's music scribe Brad Wheeler, however, recently tweeted that Lifeson is currently working with Andy Curran and Seattle singer Maiah Wynne on a project.
–  On June 1, the BC government announced a renewed investment of $7.5M for Amplify BC to stabilize, support, and sustain the province's music industry for another year. Amplify BC programs will deliver funding through four streams serving BC artists, live music presenters, music companies and the development of the music industry. Creative BC also has established partnerships with Music BC and the First Peoples' Cultural Council to support music industry development. Read more about the program's impact here.
– The latest single from Juno-winning songwriter and performer Dean Brody, Can't Help Myself (featuring The Reklaws), picked up the #1 position on the Nielsen BDS Country Airplay chart on June 1. The single is officially the most played song ever at country radio in a single week with 1782 spins on Nielsen BDS charts (dating back to 1995). This is the first single Brody has released since joining up with Starseed Entertainment, his new management company headed by Shannon McNevan, Don Green, and Adam Skuse, and was worked at radio by Anya Wilson. It's also the first song Brody has released through his new indie imprint, Scurvy Dog Music.
– The Indigenous Music Development Program at Manitoba Music is celebrating Father's Day with a virtual concert on June 21. Festival of Fathers will feature local artists who are fathers and identify as First Nation, Metis, or Inuit performing from their homes. Performers include Chuck Copenace, Dark Messiah, Don Amero, Gator Beaulieu, Hellnback, Jason Burnstick,  JC Campbell, Kris Paul, Lucien Spence, Martin Desjarlais, Nelson Little, Stun, and Winston Wuttunee. It will stream live via Facebook. More info here  
– On Friday (June 5), online music retailer Bandcamp waived its cut of the proceeds from all purchases made on the platform for that day. That is the third such day this year, and the move has proven very popular amongst artists and labels, many of whom have put out Bandcamp-exclusive digital tracks, physical releases, and merch. Brooklyn Vegan noted over 80 such releases on Friday, including some from indie Vancouver label Mint, who offered rare test pressings from Wares, The Pack A.D., lié, and Tough Age.
– Montreal modern rock outfit Half Moon Run has released another new track,  All At Once, out now on Crystal Math /Glassnote Records. The group's third album, A Blemish in the Light, came out at the end of 2019 and was produced by Joe Chiccarelli (The White Stripes, My Morning Jacket, The Strokes).
– BC-based singer, songwriter, and pianist and producer Michael Kaeshammer has just released Live In Concert, on Linus. Joining the six-time Juno nominee are big-name guests Colin James, Curtis Salgado, and Randy Bachman. First aired as the hour-long live special Boogie On The Blues Highway on American Public Television in March 2020, Live In Concert captures the engaging performer in full flight during a pair of shows at the Charlie White Theatre in his hometown of Sidney on Vancouver Island.
– The Hamilton Arts Council is proceeding with its planned Hamilton Arts Week, from June 11-20, but in an online form. The multi-media events include musical performances from Tom Wilson, Ellis, Logan Staats, and Michelle Titian. The juried Hamilton Arts Awards will be presented throughout Arts Week in  A full schedule here. Source: Hamilton Spectator
– On June 15, at noon, the Toronto Blues Society presents Meghan Parnell & Dave Barnes (of Bywater Call) as part of the City Hall Live Series. Funds will be raised for Unison. Live on @ CityHallLiveOnline & @TorontoBluesSociety Facebook page. 
– Toronto radio station Q107's Canada Day celebration at Woodbine Park on July 1 is going virtual in this, its 18th year. Beginning at 8 pm, the live-streamed musical entertainment includes tributes to The Tragically Hip, Rush and AC/DC. It will be streamed online on the Q107 website, YouTube and Facebook. More here
Obits
Eddie Colero, one of the finest and kindest and part of the old-school Maltese connection ––along with Joey "Cee" Camilleri and (no relation) Charlie Camilleri) that once populated Canada's music biz, died peaceably at his home in Toronto on Saturday, June 6 surrounded by his wife Winnie and son Kevin. He was 84 and had been battling Parkinson's disease.
He spent almost two decades at CBS Records, serving as Ontario sales manager and later as product manager for the Columbia Records roster. At Capitol, Colero held various positions including serving as director of Strategic Marketing. Among the many Canadian acts he helped champion were Crowbar, Edward Bear, Bob and Doug McKenzie, Stompin' Tom Connors, Frank Mills, Rita MacNeil, and Corey Hart.
News of his passing was first circulated by former CBS colleague Don Oates who wrote on his Facebook page: "It appears as if I'm always being the bearer of sad news to my CBS family...a man who was very influential in showing me the ropes in my early years at Columbia Records passed away today...Eddie Colero was a highly respected and well-loved executive who served multi-year tenures at two music companies in Canada, CBS and Capitol...those who had the opportunity to work with Eddie and call him a friend will be truly saddened by his passing...our condolences go out to Winnie, his wife/partner/best friend and family...RIP Eddie."
–– Claude Heater, the famed opera singer who appeared as Jesus Christ in William Wyler's epic 1959 production of Ben-Hur, died on May 28, at age 92, after a long illness.
British law at the time forbid Jesus to speak or his face to be seen if he were a "secondary character," so Heater, as Jesus in Ben-Hur, appears only from behind.
Heater started as a baritone, performing in Europe before being engaged at the renowned Vienna Staatsoper for three years under conductor Herbert Von Karajan. His final performances as a baritone came in 1961 with the San Francisco Opera.
Heater retrained his voice as a tenor, serving as the leading dramatic tenor at the Bavarian State Opera from 1964-68. He would perform often as Tristan in Wagner's Tristan und Isolde, including on Belgium television in 1967-68.
After retiring from the stage in the '70s, Heater taught opera for 30 years out of his San Francisco studio, served as general director of the Oakland Opera of California, and ran for Congress.
In 2018, he co-founded the Claude Heater Foundation to "nurture, encourage and support dramatic operatic voices, classical musicians and artists through developmental, educational programs and professional level performance opportunities." Source: The Hollywood Reporter
–– Rupert Hine,  an English producer, songwriter, musician, and recording artist, died June 4, at age 72, of cancer.
As a producer, Hine achieved great success and prominence in the 1980s, working with such acts as The Fixx, Rush, The Thompson Twins, Tina Turner, Stevie Nicks, Howard Jones, Bob Geldof, Camel, Chris De Burgh, Underworld, Duncan Sheik, and many more.
He was also a prolific solo artist, recording under his own name and as Thinkman.
Hine's very extensive discography as a producer (over 130 recordings)  includes some notable Canadian recordings. He was at the helm for two albums by Rush, 1989's Presto and 1991's Roll The Bones, two Saga albums, Worlds Apart  (1981) and Heads or Tales  (1983), and Eight Seconds' 1986 full-length, Almacantar.
In a statement, Geddy Lee and Alex Lifeson of Rush paid tribute to Hine: "Roop was always such an upbeat, unflappable and all-around lovely 'chap' to work with and to be around. His influence on our music and on our attitude towards enjoying life was profound and he shall be sorely missed by so many."
His last solo album, Fighting Apathy With Shock, came out in 2019. Sources: Brian Hetherman, UCR, Noise11, LouderSound
–– Stephen (Norman) Priest, bassist and vocalist with UK glam rock band The Sweet, has died, age 72. The cause of death is not yet known.
The Sweet were key figures in the glam rock era, scoring 13 Top 20 hits in the 1970s. Priest joined the fledgling group, then known as the Sweetshop, in the late 60s. After a false start on Parlophone at the turn of the 70s, they signed to RCA worldwide and had their first hit with Funny Funny in 1971.
It would take them a year to repeat that kind of impact, finally igniting a run of chart success with the singles Little Willy and Wig-Wam Bam. They soon left behind their early bubblegum aesthetic to embrace the outre stylings of the budding glam movement, and Priest soon became known and beloved by fans for his playful demeanour.
Towards the middle of the decade, they embraced a harder sound. Their 1974 album Desolation Boulevard is viewed as a classic of the genre.
After singer Brian Connolly departed the group in 1978, Priest took over lead vocal duties for the remainder of the group's first incarnation. They disbanded in 1981.
Over subsequent decades, the group would reunite regularly in a number of conflicting formations: Priest had the right to use the band's name in the US and Canada, whereas guitarist Andy Scott toured a version of the group in the UK. The pair were estranged for decades but resumed contact in the 2010s. Scott said the pair mooted a reunion for the band's 50th anniversary, although this never came to pass. Sources: The Guardian, The Mirror