FYI
Music News Digest, June 14, 2021
The 2021 Forest City London Music Awards (pictured) are handed out, Drake teases his new album, and Hugh Dillon films his star-studded new series. Also making news are The Polaris Music Prize Long List, Tami Neilson, Ontario Creates, Indie Weekly,  Mike 'Parkside' Renaud, the Halifax Folklore Centre, Wesli, David Bowie's painting, and farewell Al Stanwyck and Juan Nelson.
Jun 14, 2021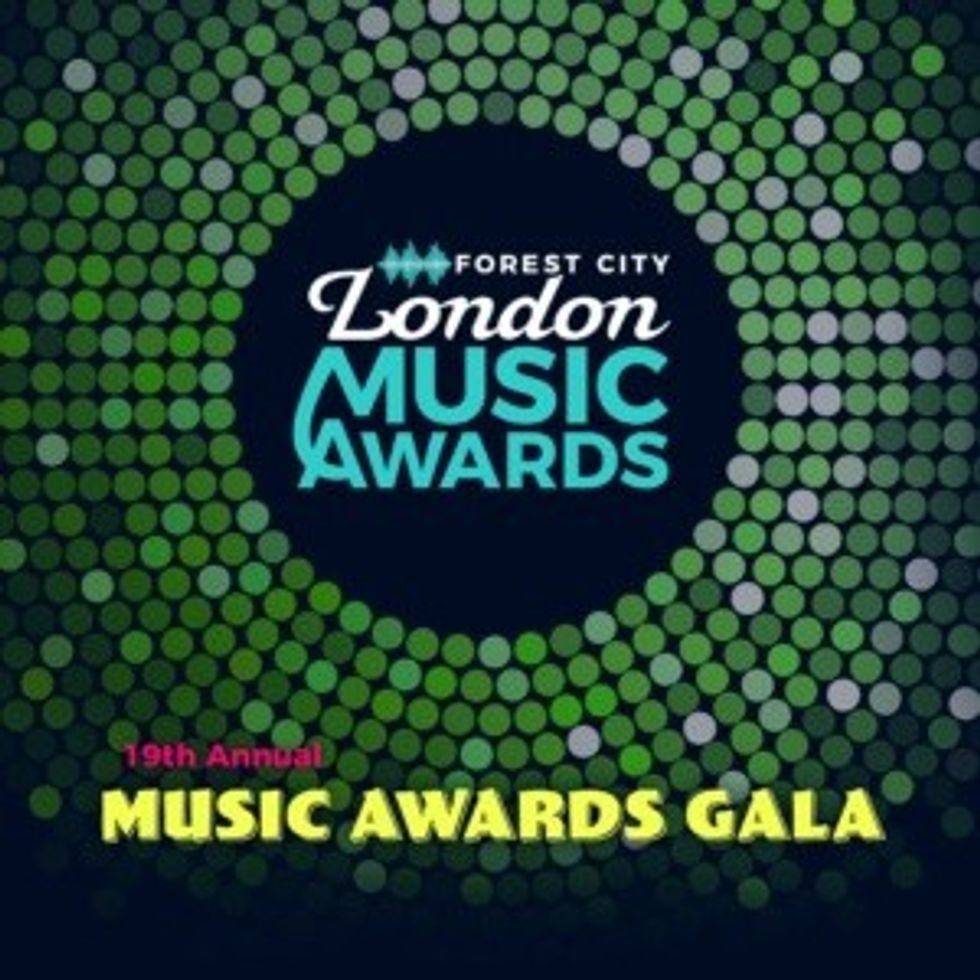 By Kerry Doole
The 2021 Forest City London Music Awards were held as a virtual gala on Saturday, live-streamed on the awards' Facebook page. The London Free Press reports that "The winners in all musical categories were first-time winners with no artist dominating on the night of celebration." Saturday's gala included performances from Leanne Mayer, Lost In Japan, King Cruff and Typo, Thunder Queens, James Patrick Clark, and C.J. Lee. Presenters included Brett Kissel and new Juno winner J..J. Wilde. Two familiar names honoured alongside the first time winners were Emm Gryner (Ontario independent recording artist) and Justin Bieber (Ontario major recording artist). See the list of winners here..
---
– Drake's long-awaited next album, Certified Lover Boy, is getting closer. In a livestreamed interview during battle rap event NOME XI on Saturday, Drizzy shared that CLB will arrive by the end of summer, though he didn't specify a date. That season officially ends Sept. 22. Source: Rap-Up
– A reminder that the Polaris Music Prize Long List will be announced tomorrow (June 15) at 12 pm ET / 9 am PT at the Polaris Facebook page and YouTube channel. The list comprises 40 top Canadian albums that will later be whittled down to a Short List of 10 contenders for the prestigious Prize.
– The pandemic may have kept Headstones frontman Hugh Dillon off the stage, but he's super busy with his other gig, as an actor/producer. He just dropped us a line to inform that he's currently working 7 days a week in Hamilton, Toronto, and his Kingston hometown, shooting much-buzzed-about new TV series Mayor of Kingstown. The crime drama finds Dillon not just starring alongside star US actors Jeremy Renner and Dianne Wiest, but serving as an Executive Producer on the series he co-created with Taylor Sheridan (Yellowstone).
– Canadian roots music dynamo Tami Neilson has lived in New Zealand for over a decade, and she remains eligible for music awards in both countries. Her latest album, Chickaboom!, was nominated for a Juno in the Roots category, but didn't take home the trophy, losing out to Rose Cousins. She fared better at the New Zealand Country Music Awards on June 4, winning the APRA Best Country Song (for Queenie, Queenie) and Best Country Music Artist. APRA AMCOS Head of New Zealand Operations Ant Healey said: "It's a delight to present Tami with the 2021 Best Country Song award. As one of the greats in the genre, she continues to define the landscape of New Zealand country music." Congrats to Neilson from a fellow Kiwi-Canadian.
– As the pandemic lockdown of Toronto and Ontario eases, the likelihood of live music soon increases. Toronto's patios have finally opened up, and it seems like more live music won't be too far behind. A motion to allow for live music on patios was passed by Toronto city council last week, but as a pilot scheme in three city wards (9, 14 and 19) only. "This pilot will allow private businesses such as restaurants, bars, and music venues within the three wards to book musicians to play on their patios within the limitations (to be established) that the program sets out," a representative for the City of Toronto told BlogTO. After the exact rules are established, the plan is to give live patio performances the official go ahead some time early this summer.
– Ontario Creates is seeking applications from qualified industry professionals to be considered as jurors for the Ontario Music Investment Fund – Music Creation program stream. Jurors will play an integral role in the application review process, and are valued for their experience, knowledge and expertise in the music sector. For more info and to apply to be a juror, visit here
– The next Indie Weekly session is entitled Artist Development: Find your Authentic Voice and Community. It is set for June 14, at 4 pm EST, and features Mike 'Parkside' Renaud (Hidden Pony Records & Management) and Indie Week head Darryl Hurs discussing what indie labels and managers look for when signing an artist. Free with registration here.
– A much-loved Halifax institution, the Halifax Folklore Centre is now celebrating the notable milestone of 50 years as a business. The store specializes in buying, selling, rehabilitating and building stringed instruments, and regular customers have included such East Coast music stars as Joe Murphy, Garrett Mason, Joel Plaskett and Old Man Luedecke. A-list movie stars Pierce Brosnan, Jessica Lange, Joseph Fiennes and Helen Mirren have also dropped by.. Source: CBC
– A native of Haiti now living in Montreal, Wesli already has a Juno Award on his resume. Noted US global music label Cumbancha took notice, and has just released a new track of his.
 -- In a story that quickly has gone viral, a shopper at a thrift store near North Bay, ON, picked up a painting that has been authenticated as a work by David Bowie. It is now being offered by the auction house Cowley Abbott as part of its Online Auction of International Art, June 15 - 24, and is sure to generate a huge profit for the lucky shopper.
RIP
Al Stanwyck, an internationally-acclaimed lead trumpeter who played for many years with Canada's leading jazz big band, Rob McConnell and The Boss Brass, died on June 10, at the age of 81, due to complications from brain cancer.
Along with his position with Rob McConnell and The Boss Brass, Stanwyck worked with dozens of jazz legends including Buddy Rich, Charles Mingus, Bill Evans, Dizzy Gillespie, Quincy Jones, Nelson Riddle, Don Costa and Maynard Ferguson. He played first trumpet with Paul Anka for four years and was invited on numerous occasions to tour with Woody Herman, Count Basie and Quincy Jones, but declined because of his commitments to studio projects in Toronto.
Born in Toronto, Stanwyck went to school in Barrie, Ont. There, he was taught by the prominent bandleader and music historian W. A. Fisher, prior to continuing his later studies in Toronto.
Stanwyck was just 18 when he went on the road with the great Lionel Hampton. He went on to have stints with the Glenn Miller Band (led by Ray McKinley) and Ralph Marterie before returning to Toronto to lead his own "Band With Impact" in concert and several radio and TV appearances. Stanwyck became one of the city's busiest studio musicians, playing on thousands of recordings, commercials, and radio and TV shows.
His friend and musical peer, trombonist Russ Little offered this tribute on JazzFM: "It was impossible to not be affected by Al's tremendous gifts: a powerful personality, an enormous talent for lead trumpet, and a personal drive that was infectious.
"He and I travelled together with many bands, on many stages for many years. To play lead trombone directly in front of his stellar, infectious and powerful lead trumpet playing was, quite literally, a hair-raising experience. His strength. His drive. His power and endurance. His dedication to the music was beyond description. He sometimes seemed a walking encyclopedia of the big band era — the serious, big time, big band era. Swing on, Al, and take it on home with one more shout chorus, please."
Stanwyck's daughter, Leslie Stanwyck, followed her father into a prominent musical career that his included a stint in The Pursuit Of Happiness, co-leading Universal Honey with Johnny Sinclair, and now fronting Tucker Lane. She told FYI that her father "was a giant. Larger than life. He has so many great stories from one of the most explosive and creative times in musical history. I have his trumpet here beside me which saw so many incredible performances with so many great musicians."
"He was proud of everything I did and came to see us play in TPOH and Universal Honey many times. He was one of our biggest fans and videotaped a ton of performances. We have some posted on our Universal Honey YouTube page." Sources: Jazz FM Boss Brass website, Leslie Stanwyck
International
– Juan Nelson, bassist with Ben Harper and the Innocent Criminals for nearly 3 decades, died on June 9, age 62. Nelson was also a record producer, composer, and songwriter.  
Born in Ohio, he moved to California in the late 1960s. Nelson's first show with Ben Harper and the band that became the Innocent Criminals was on April 30, 1994 when they performed at Nick's Caffé Trevi in Claremont, California. 
The musicians went on to have a 27-year-long friendship and musical partnership, starting with Harper's 1995 album Fight for Your Mind and the Grammy-winning There Will Be A Light with the Blind Boys of Alabama. 
In addition to his work with Harper, Nelson toured, performed and recorded with many other artists including Big Advice,  Vesta Williams, All For One, Brenda Russell, Al Wilson, Freddy Jackson, Tower of Power, Yanni, Eric McFadden, Charles Wright, Victor Rocha, and many more.