FYI
Music News Digest, July 19, 2021
The Canadian music industry salutes Skinny Tenn (pictured), SOCAN Foundation reinstates its Travel Assistance Grant, and Music Canada awards new certifications. Also in the news are Leonard Cohen, the 2021 NewFound Talent Contest, TD Markham Jazz Festival, 21and9, MacKenzie Porter, James Baley, The Drake Devonshire, Theo Tams, and farewell Dolores Claman and Biz Markie.
Jul 19, 2021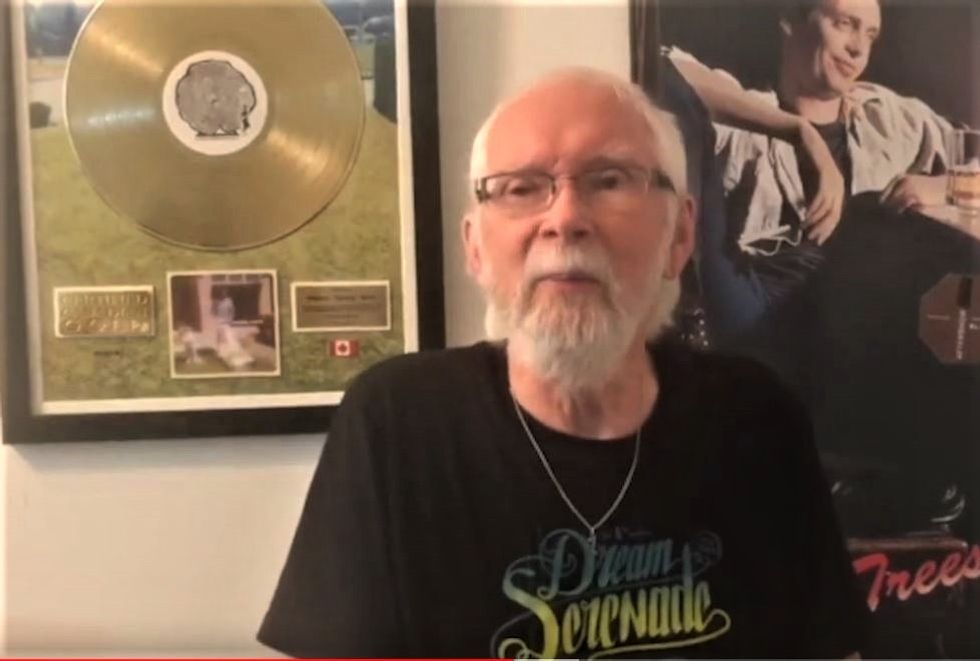 By Kerry Doole
The SOCAN Foundation has announced it is accepting applications for its Travel Assistance Grant, after the widely-used program was put on hold in March 2020. The plan offers those eligible up to $1K for travel per calendar year to attend significant events in Canada and abroad, such as award presentations, showcases, and workshops. The deadline for applications is ongoing. More info here
---
– Over the past month, Music Canada has awarded certifications to a range of Canadian artists. Among them:  Aaron Pritchett scored a gold single for Worth A Shot, Jessia earned a platinum single with I'm Not Pretty, DVBBS earned gold for its single West Coast, Justin Bieber went double platinum for Anyone, and USS has a certified gold single for Work Shoes.
– This autumn, just ahead of the five-year anniversary of Leonard Cohen's death, Drawn & Quarterly will release a graphic novel about the life and times of the bard of Montreal written by Philippe Girard, The original French version of the book (titled Leonard Cohen sur un fil, published in April) and an English translation have earned positive notices. Leonard Cohen On a Wire begins in LA, with the singer on his deathbed then revisits crucial moments in his life. Speaking to CBC Montreal, Girard explains: "It's Leonard Cohen at the end of his work day, probably at night, heading home like any other working Montrealer, not in a limousine or a helicopter, but on foot, walking the streets of his city."  Source: Cult MTL
– MusicNL is presenting the 2021 NewFound Talent Contest, sponsored by Equinor, as part of the 45th Annual Newfoundland and Labrador Folk Festival. The event is to be pre-recorded on Aug. 15 at the Canadian AV Sound Stage and will premiere on Sept. 9 on MusicNL's social media channels.
– The TD Markham Jazz Festival announced it will proceed in virtual form, Aug. 20-22, and will comprise over 15 hours of programming with 17 concerts by top regional jazz artists. Performers announced to date include Tak Arikushi, Jenie Thai, Elmer Ferrer, and Turboprop, with more TBA here.
– Kincardine, ON- based alt-rock band 21and9 has just released its debut EP, So.. Of note: The group has partnered with Tenfed.com and is donating 10 meals for every digital album sold.
– Last week, fast-rising Canadian country hitmaker MacKenzie Porter teamed up with famed UK radio host Bob Harris to premiere her cover of Harry Styles' worldwide hit Watermelon Sugar, on BBC Radio 2. Check it out here.
– Toronto-based singer/songwriter/producer James Baley has worked with a diverse group of artists, including July Talk, Zaki Ibrahim, U.S. Girls, Badge Epoque Ensemble, and Azari, with whom he collaborated on the Juno-nominated dance track. Gotasoul. He's now focused on a solo album, A Story, coming in the fall, and new single Banishment is an impressive advance taste.
– The Drake Devonshire in Prince Edward County has begun presenting music on its lakeside patio every Thursday. Performers named for July 22 are LTTheMonk and Liza, with Theo Tams and Ammoye holding court on July 29. 
RIP
Dolores Claman, the composer of the tune used to introduce CBC's Hockey Night in Canada broadcasts, died last week, at age 94. Claman's daughter Madeleine Morris said Saturday her mother died in Spain, about two years after she was diagnosed with dementia.
Born in Vancouver, she grew up with an opera singer for a mother and studied at the U of Southern California, before being accepted to the Juilliard School in New York to train as a performing concert pianist.
 In the 1950s, Claman composed music for ITV while living in Britain and also wrote songs for West End musical revues. She and her writing partner and husband, lyricist Richard Morris, composed over 3000 commercial jingles in a 30-year period and won more than 40 awards internationally for their work.
After moving to Toronto, she and Morris continued to write jingles, including A Place To Stand with its popular "Ontari-ari-ari-o" lyric for the 1967 Expo.
Claman was working for Maclaren Advertising in 1968 when she was hired to write the theme song that opened CBC's Hockey Night in Canada broadcasts.
She never expected the song, often called Canada's second anthem, to become as successful as it did. She eventually negotiated the credit before licensing rights for the beloved track were sold to CTV in 2008, when Claman and the music agency representing her were unable to negotiate a deal with CBC's sports division.
The song landed her a spot in the Hockey Hall of Fame in 2010. In 2016, she was awarded the Cultural Impact Award for The Hockey Theme at the SOCAN Awards in Toronto. Sources: CBC, CP, Wikipedia
William 'Skinny' Tenn (born Leslie William Tennant), a Canadian music industry veteran who worked as a radio DJ, A&R executive, booker, artist manager, publishing executive and podcaster, died on July 18, at age 77, of cancer. 
As his death notice stated, "Skinny Tenn's impact on the musical fabric of this country is paramount. He fulfilled so many impactful roles in the industry, and throughout it all he always kept his focus on the artist."
He began his music career in the mid-sixties as a radio announcer/music director at CKOM in Saskatoon, later holding the same position at CKCK in Regina. All of this would lead to a lifetime career promoting the careers of contemporary musicians.
Tenn left radio and Western Canada to move to Toronto with Saskatoon group Kenny Shields and Witness Inc. as their manager in 1969. Throughout the seventies, he was a founding partner in Toronto booking agencies Music Factory and Music Shoppe, representing acts such as Rush, McKenna Mendelson Mainline, Lighthouse and Fludd. He signed Fludd to an international deal with Warner Bros. in 1971 and managed the group for seven years, seeing them through 13 charted singles.
In 1988, he held the position of A&R at Island Records Canada, which led him to become Creative Director in 1990 for Frank Davies' MCA co-venture firm TMP (The Music Publisher) that represented the likes of Jane Siberry, Murray McLauchlan and Ian Thomas.
Tenn continued to manage artists including Pukka Orchestra, Mendelson Joe, Andrew Cash, and Brian Plummer.
1991 saw the beginning of his partnership with Sandy Pandya and the formation of Pandyamonium/William Tenn Artist Management, whose clients included the gold-selling Lowest of The Low, The Waltons, and By Divine Right. Over the next decade, Tenn and Pandya's roster included double Juno-nominee Hayden and his label Hardwood, double-Juno winner Hawksley Workman, Luther Wright & the Wrongs, and soon-to-be star Serena Ryder.
Together, the management team secured world-wide/U.S.-based recording and publishing deals with Geffen Records and EMI Music for Hayden, which were unprecedented agreements for a developing artist at that time, and brought management clients Tegan and Sara to the attention of Elliot Roberts who immediately signed the Calgary twins to Neil Young's Vapor Records.
Hayden's debut Everything I Long For went Gold in Canada via Sonic Unyon/Hardwood and in turn Universal Records. Hayden went on to successfully tour North America, Europe, Japan and Australia as well as record and develop his career to this day.
In 2005, Tenn further developed Hardwood Records, where management client Cuff the Duke became the second artist (after Hayden) to appear on Hardwood since its inception in 1995. Primarily concentrating on a total of seven Hayden albums internationally, Hardwood would go on to release records by Basia Bulat and Lou Canon.
In 2014, Skinny formed licensing company Songplugger representing a roster of primarily indie singer/songwriters, where much to his liking, and with no less than 60 years of teaming up with some of Canada's finest talent under his belt, he was able to begin the process of semi-retiring.
Looking back on his life and influences, he recently created a nine-episode podcast titled, Skinny Spinner Presents: The Birth of Rock n' Roll. You can check it out here.
In June 2021, Skinny Tenn was awarded CIMA's Builder Award for being a tireless advocate for creators over many decades.
As news of Tenn's passing spread, social media tributes from colleagues, clients and friends quickly poured in. We have included some here, along with other tributes provided to FYI.
Frank Davies (to FYI:)  "Skinny Tenn was one of the best artist managers I've worked with over the past 50 years I've worked in Canada. Dedicated, loyal, honest and empathetic to artists and their music. He was a classic 'street manager'. Always at his artists' beck and call, at all their gigs overseeing their sound and performances and fully invested in their careers and personal lives. He was most adept at getting blood (read, 'dollars/commitment') out of any stone (read, 'labels/publishers/investors') that could advance their careers. I know I was often a willing victim!
Bonus - he had great taste in music. I knew that if Skinny wanted me to hear something it would always be good and more often than not it would be great and I would end up signing the artist/songwriter to my label or publishing company. Such was the case with Fludd in 1972, when Skinny and I first met, then GUS in the late 70s and again with the Pukka Orchestra in the '80s.
Later on Skinny worked as my Creative Director at TMP-The Music Publisher for a couple of years in the early 90s. He helped turn on Doug Chappell to our artist/writer The Mozz (Gerry Mosby). Doug ended up signing him to Virgin. I think Skinny's time at TMP really opened his eyes to the creative role a publisher could play in an artist and songwriter's career and for all the years since he became increasingly active himself in that area too alongside his management mantle.
"I was particularly happy to see CIMA recognise Skinny recently with their 2021 Builder Award. Very appropriate for a person like Skinny, always working behind the scenes, in the shadows, out of the public (and often industry's) eyes without the kudos and acclaim for those working front and centre."
Yvonne Matsell (Toronto club booker) on Facebook: "I've known some really lovely people in my days of working in music and now we've lost one of the nicest people. We had a long friendship, from the days when I first started Ultrasound in the early '90s. He was one of those people who if you didn't see for a while, conversation & laughs always fell easily back into place when you saw him again. He had great ears and taste in music too."
Hayden Desser (on Twitter): "We lost our William "Skinny" Tenn earlier this week. He was my manager for 18 years, my father- in-law, my greatest cheerleader, but mostly my dear friend. Who will I play my new songs for now? Love you Skin."
Alexander Mair (on Facebook): "I was in Saskatoon in February in the mid '60s and Skinny was doing the evening shift. There was so much snow I had to climb in a window to join him. He gave me a tape to listen to by an act he was managing...Witness Inc., featuring Kenny Shields. I signed them to Apex and we had two regional hits. He subsequently moved to Toronto and we worked together when Tom Williams and I started Attic and we signed Fludd. I always enjoyed his company whenever we met. I'll miss him and will continue to listen to his podcasts to keep him in my memories."
Hawksley Workman (to FYI):  "Skinny was a big part of my early years in the Canadian music business. If he commented on a demo or a new song, it was always from a place of pure love of music, not ego. A champion of great music, he listened as a fan and passionately celebrated the elemental roots of music making:  great songs, great performances, great musicianship.  I feel like Skinny was, in many ways, a pop music historian who was knowingly walking into the future of music history as a tastemaker and truth teller. He will be missed."
Doug Caldwell (on Facebook): "Skinny was one of the dearest and most intimate friends I've ever had. Ever since day 1 of my employment at Island Records in Oct. 1989, Skinny set out to make my transition from radio to the music business as memorable as could be. From going to countless shows together to just hanging out playing video games and smoking a joint together, he was the best buddy anyone could ask for. Everywhere I went with Skinny I marvelled at how many people he knew and how loved he was by everyone. That fact was unquestionable."
Ron Hawkins (on Facebook): "Our good friend and stalwart music warrior William "Skinny" Tenn died this week. I was fortunate to have a long wonderful chat with him over the phone a few weeks ago when I heard he had been struggling with cancer, and it was like picking up where we had left off - laughing, gossiping, disagreeing about the finer points of some of my songs and others' as well, hearing him excitedly explain the nature of his recently completed Skinny Spinner podcast, and all in that loveable, earnest yet carefree Skinny style.
I use the word stalwart to describe him partially because he had the challenge of managing the unmanageable Lowest of the Low in our very early incarnation. He and Sandy Pandya suffered us, lived through us and always kept our best interests front and centre. We parted ways and then crossed paths over a couple decades and got a second chance at it as he became the Do Good Assassins manager and then against all odds The Low's manager once again.
He ranks up there with the Toronto indie music titans - Elliott Lefko, Dave Bookman, Yvonne Matsell and Skinny - holding up the four corners of the Toronto indie music firmament. Joe Strummer said "without people you're nuthin.'" It's so true. And without people like Skinny - the local and national music scene would've been less than zero. So here's to you Skinny - you lived life on your own terms and followed your reckless, defiant, inspiring dream till the very end.. You are a beautiful blueprint and we love you."
Wayne Petti (Cuff The Duke): "A few weeks ago I got to see Skinny one more time, at his house. At one stage, he took out his portable speaker and started playing me music and he told me how excited he was about some new songs Hayden was working on, which he played me parts of, like usual. It was like old times. In fact, the first time we met at his office, when I was 21 and he had just started managing Cuff the Duke, he did the same thing … talked music, and played me a bit of a new Hayden song, because he knew I was a huge fan.
I'm going to miss Skinny so much. He was a passionate music fan and truly one of the good guys. I have never, not once, met anybody in the biz that had something negative to say about him. He was a hard-working, dedicated artist manager. I often use to kid with him, that most days he believed in me more than I did, because that's the kind of relentless believer and supporter he was. The music business can be an overwhelming thing to navigate, and I will always be eternally grateful for his guidance, love and support, not only during our artist/manager relationship but also as my friend and mentor in the years that followed. I love you Skinny."
Andy Maize (Skydiggers) - to FYI : "I met Skinny in 1987/88 when I was part of Andrew Cash's band, recording and touring Andrew's first album on Island Records, Time and Place. Manager Skinny was more rock n' roll than anyone in the band, with great stories and an attitude to match.
My favourite story involved his time as a DJ in Saskatchewan, getting fired for refusing to play the jingoistic propaganda of Ballad of the Green Berets. A true believer in the power of rock n' roll, I'm fortunate to have known the "SlimmerThinnerSkinnySpinner."
Sandy Pandya (on socials): "If memories are the markers of time then I have had lifetimes with this beautiful, hilarious and truly one of a kind, original soul. The deepest gratitude for your mentorship, our business partnership and our rich friendship. From our early beginnings with the Walton , to Lowest of the Low, Hayden, Hawksley Workman and Tegan & Sara you taught me the art of commitment, respect & dedication to our artists and to fight with passion for their rights & careers.  
Gratitude for bringing your sweet, beautiful Bonnie into our lives.  Thru her you have also given me this remarkable group of humans that are now family.   Gratitude for making your excellent podcast The Birth Of Rock and Roll and leaving us all amazing thinner slimmer stories and music.  Bravo my friend for a life well lived.  Beyond humbled by your courage, bravery and humour to the end of this journey."
Expressions of sympathy, donations to dreamserenade.ca or Residential Hospice Grey Bruce – Chapman House Hospice, Owen Sound may be made through Ferguson Funeral Home, 48 Boucher St. E., Meaford, ON  N4L 1B9. 
A celebration of Skinny Tenn's life will be announced at a later date. Sources: Ferguson Funeral Homes, CIMA, Facebook
International
Biz Markie (Marcel Theo Hall), the rapper, singer and actor behind the 1989 hit Just a Friend, died on July 16, age 57. He had been suffering from complications due to diabetes, according to TMZ. In December 2020 he suffered a stroke after going into a diabetic coma.
Markie is best-known for the hip-hop hit Just A Friend, a single taken from his second album, The Biz Never Sleeps. It reached No. 9 on the Billboard Hot 100 chart, and the track and video became an eventual oldies favourite.
Born in Harlem and raised on Long Island, Markie began his music career performing in night clubs and colleges, prior to becoming a member of Marley Marl's Juice Crew, where he performed as a beatboxer alongside the likes of Roxanne Shanté and MC Shan.
He released his debut album, Goin' Off, on the Cold Chillin' imprint in 1988. The Biz Never Sleeps followed in 1989, quickly going Gold on the success of Just a Friend.
With his third album, 1991's I Need a Haircut, Markie found himself at the centre of one of the most consequential battles over copyright law and sampling in hip-hop, when '70s singer-songwriter Gilbert O'Sullivan successfully sed the rapper for sampling his song Alone Again (Naturally) without permission. The matter wrought huge changes to the way hip-hop producers approached sampling going forward, as well as substantial setbacks for Markie's career.
His recording output dropped off after that, although he frequently collaborated with longtime fans the Beastie Boys, who featured him on several albums and often brought him out during concerts. He finally released another album, Weekend Warrior, in 2003.
In addition to his music career, Markie made numerous appearances in television and film, most notably as a rapping alien in Men in Black II in 2002, and on the children's TV  show Yo Gabba Gabba. Markie also appeared on In Living Color in 1994, and in the animated series Crank Yankers and voiced roles on SpongeBob SquarePants and Adventure Time. More recently, he appeared in the popular TV series Empire and Black-ish as himself. He was currently in production on the film Chaaw, set for release in May 2022. Sources: Variety, Noise11