FYI
Music News Digest, Feb. 26, 2020
Justin Bieber (pictured) breaks an Elvis record, The CFMAs announce programming, and Neil Young & Crazy Horse will tour. Also in the news are New Order and Pet Shop Boys, Six Shooter, CIMA, Leonard Cohen, The Shuffle Demons, Rocks the Park, Bloodshot Bill, We Are The Stronghold, Land of Talk, Festival of Beer, and 5X Festival.
Feb 26, 2020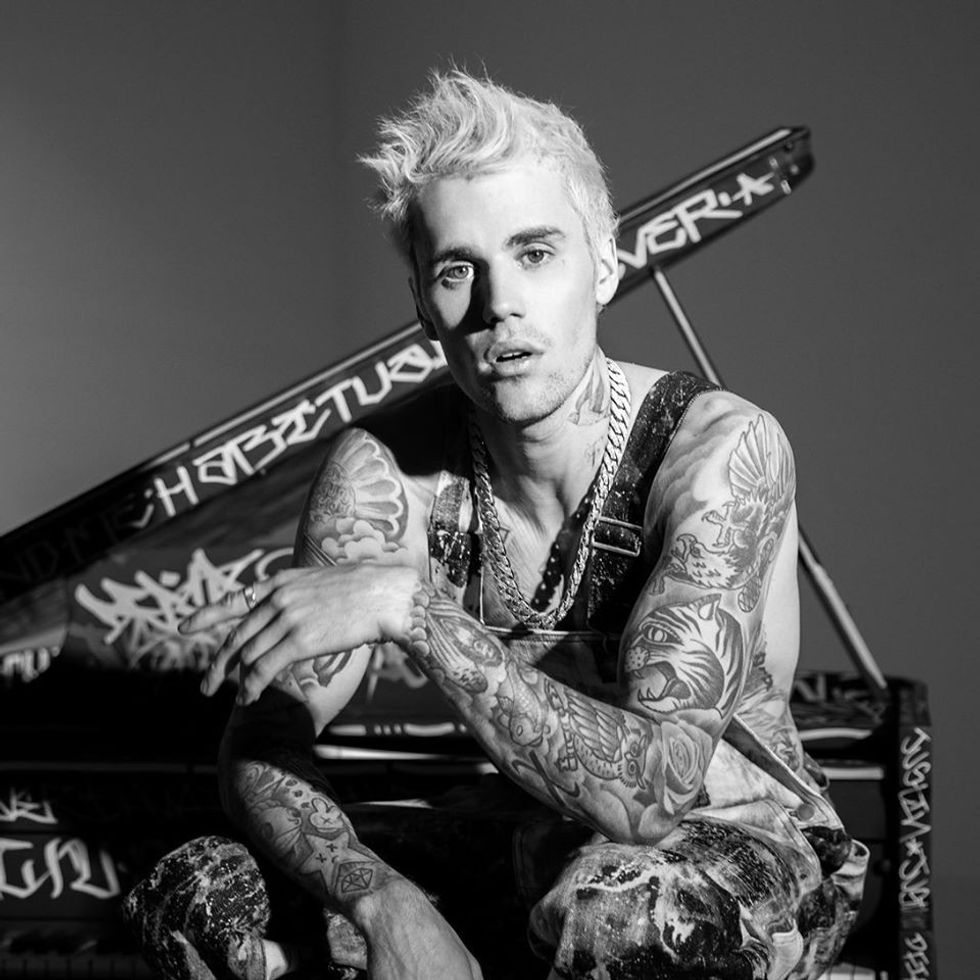 By Kerry Doole
Any day you can break a record set by The King is a good day. Justin Bieber can celebrate the fact that he's now the youngest solo artist to have seven chart-topping albums, beating out Elvis Presley for that title, by a year. The Biebs' new album, Changes, has debuted at No. 1 on the Billboard US album chart. He has just released a music video for the title track, exclusively on Apple Music. Watch the full video on Apple Music. This is the second release in the four-part visual series directed by Michael D. Ratner and produced by OBB Pictures. Additional videos will be released on Apple Music in the coming weeks.
---
– The Canadian Folk Music Awards, in partnership with Music PEI, has announced  its daytime programming and awards presentation sked for the 15th Annual CFMAs Weekend, in Charlottetown, PE, Apr 3-4. Two nightly awards hows will hand out a total of 20 Awards, 10 per night, including the Slaight Unsung Hero Award, along with live performances from CFMA nominees. On April 4, the public can attend a trio of CFMA live music events: a Children and Family Music Showcase, the CFMA Songwriters Showcase Presented by SiriusXM Canada, and featuring Dave Gunning, Old Man Luedecke, Jenn Grant, and Geneviève Racette, and a Traditional Music Showcase featuring nominees including Còig, Pierre Schryer & Adam Dobres, Al Qahwa, Sabin Jaques & Rachel Aucoin, CONWAY, and Graham Lindsey. Tix available here
– English post-punk/electro-pop veterans New Order and Pet Shop Boys are teaming up for a co-headlining tour of North America this fall. The 11-date Unity Tour has each act playing full sets and rotating who closes the show each night. The tour starts Sept. 5 at Toronto's Budweiser Stage and includes a Vancouver show, Sept. 24. Tix on sale Feb. 28
– Dates are TBA, but Neil Young & Crazy Horse will set out on a Barn tour of North America this year. On his Neil Young Archives website, Young posted that "we have decided to play old arenas – not the new sports facilities put up by corporations for their sports teams." Stay tuned. The latest NYCH lineup features Neil Young, longtime members Billy Talbot and Ralph Molina along with more recent addition Nils Lofgren.
– Multi-faceted Toronto-based music company Six Shooter turns 20 this year. In celebration, SS launches Know & Tell, a mentorship program open to emerging artists and professionals who would benefit from a free consultation with members of the 17-person team and other participating colleagues. 45-minute appointments will be available either in person or via video conference. Sign up here.
– CIMA has issued a call for submissions for its third mission to Mexico surrounding the FIMPRO festival and conference. CIMA will organize a showcase and business initiative to Guadalajara from May 25-29, with six to eight Canadian delegates and their artists. The org may also host a pre-event in Mexico City focusing on showcasing and networking for select mission participants. Export-ready Canadian independent companies with international experience can apply here. The deadline is March 13.
–  The title track from Leonard Cohen's acclaimed posthumous release Thanks For The Dance, premiered on NOWNESS on Monday. London-based photographer Harley Weir is the latest contemporary artist invited by NOWNESS to share her artistic interpretation of the track in the video. Released last year, and nominated for a 2020 Juno Award for Adult Alternative Album of the Year, Thanks For The Dance was produced by son Adam Cohen.
– Veteran T.O, jazzniks The Shuffle Demons launch their new album Crazy Time at Lula Lounge, Toronto, tomorrow (Feb. 27). The group turns 35 this year, and this is the first studio album in seven years. Two sets of music starting at 8pm. Tix here 
– Recently renamed Start.ca Rocks the Park with the addition of the corporate sponsor, the London, ON, fest has announced the line-up to take to the stage at Harris Park July 15-18. Acts include TLC, Nelly, Arrested Development, 2 Live Crew, Jack Johnson, Vance Joy, Blink 182, Simple Plan, Dallas Smith, Billy Currington, and Travis Tritt. Tix and info here  Source: London Free Press
– Montrealer Bloodshot Bill won the Best Rockabilly Male Award at the 2020 Ameripolitan Awards, held Monday night in Memphis. Another Canadian, honkytonker Whitney Rose performed on the show. Major acts involved in related events included Dale Watson, Tanya Tucker, Junior Brown, The Reverend Horton Heat, Big Sandy and His Fly-Rite Boys, and Wayne "The Train" Hancock. Source: Saving Country Music
– On Monday we reported on We Are The Stronghold, a fundraising concert and ceremony in solidarity with the Wet'suwet'en, set for The Great Hall in Tkaronto (Toronto) on Feb. 27. An impressive performance lineup has since been announced,  including Digging Roots, Amanda Rheaume, Chantal Kreviazuk, Bear Witness (A Tribe Called Red), Julian Taylor, Cris Derksen, Charging Horse Singers, Witch Prophet, and Sarain Fox. Tix here 
– Land of Talk, the Montreal-based band led by Elizabeth Powell, releases a new album, Indistinct Conversations on May 15, via Dine Alone Records. Check out the first single, Weight of That Weekend, below. To promote the album, Land of Talk has an 11-city North American tour set, from May 16 to June 13. There are shows in Montreal, Toronto and Vancouver. Dates here
– TLC will close out Toronto's Festival of Beer on Sunday, July 26 at Bandshell Park, Exhibition Place. The fest runs July 24-26, with other performers to include Sam Roberts Band, Bedouin Soundclash, Five Alarm Funk, and more TBA. Tix here 
– 5X Festival has appointed Ravi Krishnan as Chairman (Non-Executive), effective immediately. The fest is the largest South Asian youth event in Canada, and showcases music, art, film and fashion.