FYI
Music News Digest, Feb. 22, 2019
 Lindsay Ell (pictured) gets a career boost with her ACM Awards nomination, Drake wins at The Brits, and Erin Costelo launches her record label. Also making the news are the Polaris Music Prize, Queen, William Prince, Six Shooter, Saskatoon Blues Festival, Carl Schilde, Donovan Woods, Precision Record Pressing, Play For The Cat, IBMA, and farewell Peter Tork. Videos added for your enjoyment.
Feb 22, 2019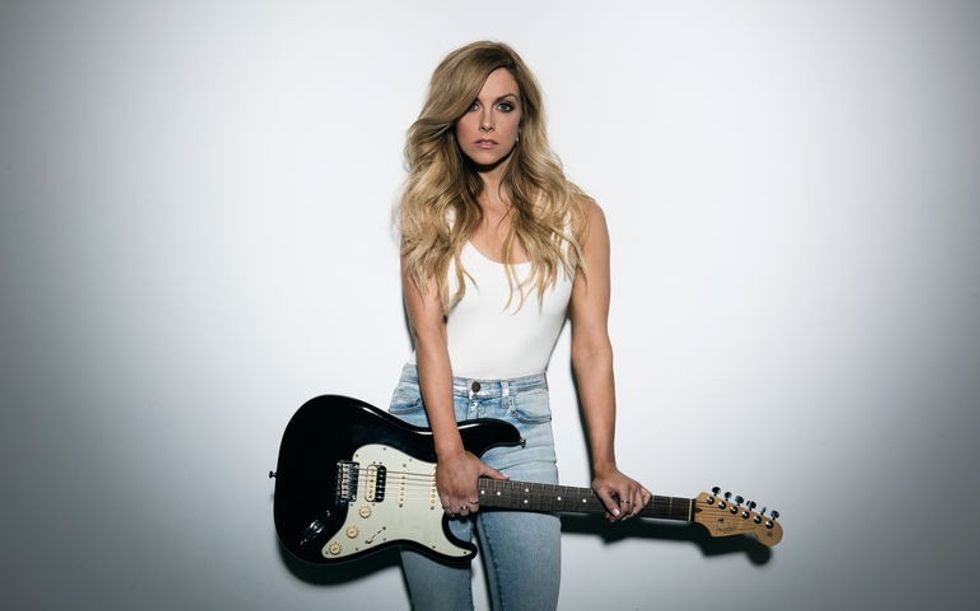 By Kerry Doole
TheAcademy of Country Music has announced the nominees for the Academy Of Country Music Awards. This was big news for fast-rising Canadian Lindsay Ell, as she is nominated in the New Female Artist of the Year category. Chris Stapleton and Dan + Shay lead the pack with six noms each, while recent Grammy star Kacey Musgraves earns five. A full list here. Hosted by Reba McEntire, the show takes place at the MGM Grand Garden Arena in Las Vegas, April 7.
---
–  The 2019 Brit awards winners were announced earlier this week. Big winners include The 1975, Calvin Harris, Jorja Smith and George Ezra, while Drake won the International Male category, edging fellow Canuck Shawn Mendes, Eminem, Kamasi Washington, and Travis Scott. A full list of winners here
– Singer-songwriter and award-winning producer Erin Costelo has been basking in the glowing reviews of her recent album Sweet Marie, yet has found time to make the first official signing to her record label, Venue Records (distributed by Pheromone Recordings). It is Halifax singer/songwriter Leanne Hoffman, whose new album is being produced by Costelo. The label is launched with an April 12 show at The Marquee in Halifax, featuring performances by Hoffman, Costelo with full band, and special guests. Costelo plays Toronto's Dakota Tavern tonight (Feb. 22), and Ottawa's NAC with Blue Rodeo (Feb. 23-24), followed by extensive touring in North America and Europe. Dates here
– The Polaris Music Prize has announced its key dates for 2019. The 40 album Long List will be named June 20, followed by the 10 album Short List July 16. This year's Polaris Gala is Sept. 16 at The Carlu in Toronto.
– Expect the ratings for Sunday night's Oscars telecast to be boosted by the recent announcement that Queen will perform live at the ceremony, following the blockbuster success of best picture nominee Bohemian Rhapsody.
Six Shooter Management has added acclaimed Indigenous singer/songwriter William Prince to its artist roster. "We have been fans of William for several years, and it feels like the perfect fit to finally be working together," says Helen Britton, president of the management company. Prince is working on a follow-up to 2015's Juno-winning debut album Earthly Days. Tour dates here
– The 17th annual Saskatoon Blues Festival features headline performers taking the stage at The Bassment on March 1 and 2. This year, that list includes Morgan Davis, Crystal Shawanda, Mama B & Freight Train, Amos Garrett, and Harpdog Brown.
– Born and raised in West Berlin, singer/songwriter Carl Schilde toured Europe before settling in Toronto in 2016. Earlier this week he released "Top 40," a single and video (shot on 8 mm film) worthy of attention. He describes the track as being "inspired by a disappointing experience in LA, feeling out of place and out of time in the music world." Musically, he compares it to "a Nico-fronted Lambchop." Schilde is also one half of Playdate, whose improvised debut album Manitoulin Tapes will be released shortly.
– Prize-winning roots singer/songwriter Donovan Woods begins his Canadian tour at the Gravenhurst Opera House on Feb. 27, closing out at Yukon Arts Centre in Whitehorse on March 29. Most dates are already sold out. Itinerary here.
– Ontario vinyl manufacturer Precision Record Pressing has won the Burlington Chamber of Commerce 2018 Award for "Excellence in Innovation & Technology." Company head Gerard McGhee promises "operations will be expanding in Q2 of 2019."
– Play For The Cat is a Toronto-based band of established musicians dedicated to infusing pop with funky sounds in an '80s-influenced hybrid. A recently-released album, Decade, includes the track "Decisions," now entered in CBC Radio's Searchlight Contest 2019.
– Selected acts will be invited to showcase at the annual Bluegrass Ramble and IBMA Business Conference during the 2019 World of Bluegrass week in September in Raleigh, NC.  Applications are open until Feb. 28.
– Canadian country music veterans Larry Mercey and Marie Bottrell will perform as the Forest City London Music Hall of Fame opens its new Juno-themed exhibit on Saturday. The event takes place at the hall as part of the Woodshed Concert Series.Both singers are multiple Juno Award nominees and members of the Canadian Country Music Hall of Fame. Source: London Free Press
RIP
Peter Tork (born PeterThorkelson), a blues and folk musician who became a teeny-bopper sensation as a member of the Monkees, the wisecracking, made-for-TV pop group that imitated and briefly outsold the Beatles, died Feb. 21. He was 77. In 2009, Tork was diagnosed with adenoid cystic carcinoma, a cancer affecting his tongue.
Born in Washington DC, Tork joined the Monkees when he was 24 after the quartet were brought together by US TV executives aiming to create a teenage guitar-pop sensation to match the Beatles. Tork was recommended to audition by Stephen Stills, and was already an accomplished musician in his own right, having played on the Greenwich Village folk scene in the early 1960s. He said he was "mortified" when he turned up to an early Monkees studio date to be told that session musicians had already recorded the band's album.
Tork's role in the band's TV adventures was as a goofy, dopey comic foil. He was with the band for six albums, the first four of which all went to No 1 in the US and Top Five in the UK. From their third album, Headquarters, onwards, he and his bandmates performed themselves – a shift often credited to Tork's influence – but he quit the band in 1968 following their flop psychedelic opus Head.
Less successful solo projects and bands followed, along with a short jail term for hashish possession in 1972. 
The Monkees officially broke up in 1970. But after MTV reruns made the band newly hip, Tork regularly participated in reunion tours that began in 1986 and included all of the original members except for Michael Nesmith. After Davey Jones died in 2012, Nesmith warmed up more to participating in reunion events. Tork, Nesmith and Micky Dolenz made their last appearance together as the Monkees at a farewell show at the Pantages Theatre in Hollywood on Sept. 26, 2016.
He recorded his own solo blues albums, the last of which, Relax Your Mind, came out in early 2018.
Sources: Washington Post, Variety, The Guardian