FYI
Music News Digest, Dec. 20, 2021
A stellar cast will salute Joni Mitchell (pictured), omicron sinks Bryan Adams' NYE show, and Samantha Martin and Delta Sugar head back on the road. Also in the news are Jaymz Bee, Unison, Anne Murray, Yukon Blonde, Canzona Chamber Players, and farewell Renée Martel, Ian Worang, Phil Chen, Leonard Hubbard, and Wanda Young.
Dec 20, 2021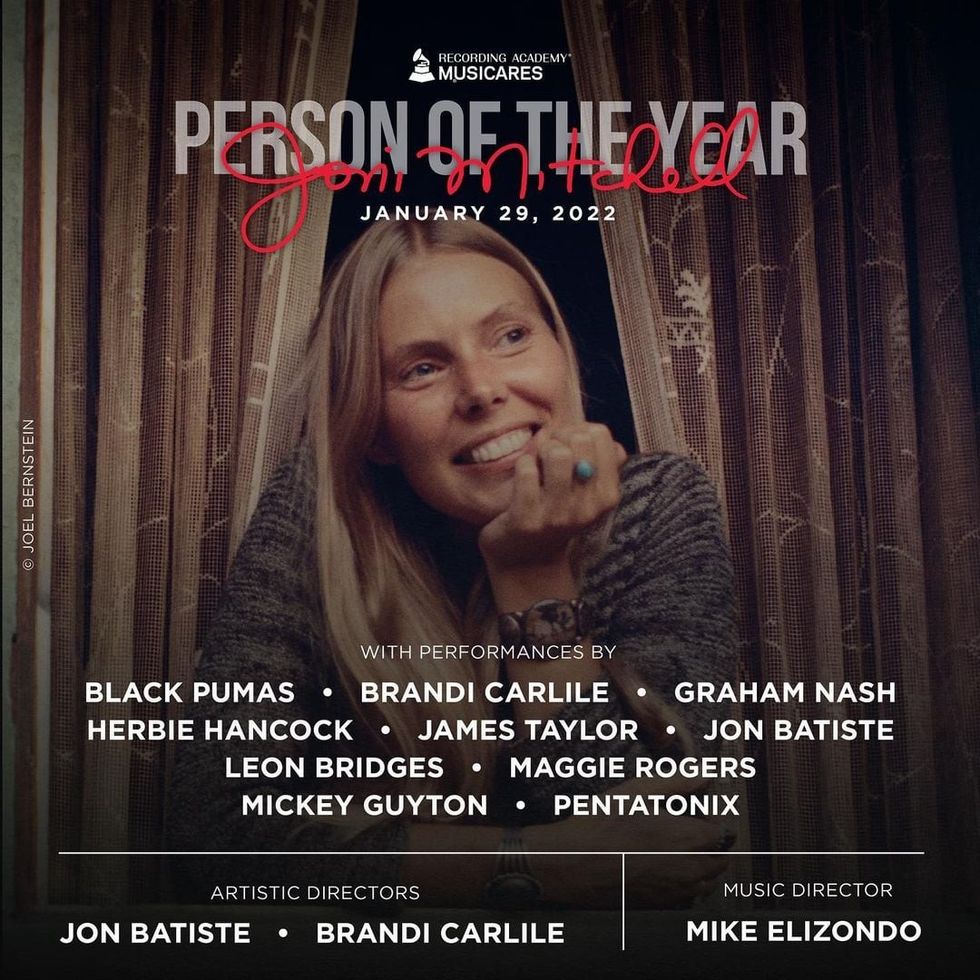 By Kerry Doole
Back in August Joni Mitchell was named as the 2022 MusiCares Person of the Year, and details have now emerged about the tribute coming next month. It will feature a diverse lineup of performers including Graham Nash, Brandi Carlile, Herbie Hancock, Pentatonix, Mickey Guyton, James Taylor, Leon Bridges, Black Pumas, Maggie Rogers, and leading Grammy nominee Jon Batiste, who, with Carlile, will serve as artistic director for the show. The annual event will be held two nights before the Grammy Awards on Jan. 29 at the Los Angeles Convention Center. 
---
– New Covid-19 Omicron restrictions in BC have forced the cancellation of a Bryan Adams concert and New Year's Eve parties in the province. Adams tweeted that his concert at Rogers Arena in Vancouver has been cancelled due to the new restrictions limiting the capacity of venues holding 1,000 people or more to 50 percent. Tix will be refunded. All sports tournaments and related travel have been suspended for all ages. Source: Vancouver Sun
– Toronto-based soul/blues powerhouse Samantha Martin and her 10-piece band Delta Sugar have announced a Feel Good Tour across western Canada, beginning Jan. 26, in support of Juno-nominated album The Reckless One. The group recently completed a successful if challenging 50-date European tour. Check Canadian dates here.
– The irrepressible Jaymz Bee has organized an online silent auction to benefit the music industry charity, Unison Fund. Bee asked local celebrities to autograph hand-coloured LP covers, some of which contain download cards or limited edition vinyl. You will receive a full tax receipt and your LP cover will be sent to you. Those participating include Murray McLauchlan, Jackie Richardson, John Finley, Joe Sealy, Lou Pomanti, Queen Pepper, George Koller, Jeanne Beker, Hir Yoshida, David Clayton Thomas, June Garber and Mary Berg. The auction ends here tonight (Dec. 20) at 8 pm (ET).
– Already receiving praise, the new documentary biography of a Canadian sweetheart, Anne Murray: Full Circle is now streaming free on CBC Gem here. 
– Yukon Blonde has announced Ontario tour dates, beginning in March.Tix now on sale. Check the itinerary here.
– On Boxing Day (Dec. 26), Toronto's Canzona Chamber Players presents The Ninth Annual Memorial Concert for Elizabeth Krehm. a fundraiser that has raised over $175K to date for St. Michael's Hospital.  The concert features Gustav Mahler's Lieder eines fahrenden Gesellen and Beethoven's Symphony 7 and was filmed at the Arts & Letters Club. The virtual broadcast is free to view on YouTube, with donations suggested to the St. Michael's Hospital Foundation in Krehm's name. More info here
RIP
Renée Martel, termed Quebec's Queen of country music, died on Dec. 18, of severe pneumonia unrelated to Covid-19, age 74.  
Premier François Legault posted on Twitter: "My condolences to the loved ones of a great star of our youth. I have a love that doesn't want to die …"
The daughter of singers Noëlla Therrien and Marcel Martel, she was introduced to music at a young age and had hits in the late 1960s with such songs as Liverpool, Je vais à Londres and Johnny Angel.
She received an honourary Félix Award at the ADISQ gala awards ceremony in Montreal on Oct. 28, 2012.
In 2019, she launched what she said would be her final tour, which she had to interrupt because of breast cancer. The following year, she announced she was in remission.
This past October, Martel released the album Contre vents et marées with fellow country singer Paul Daraîche. Sources: Montreal Gazette, CTV News
– Ian Worang, a guitarist and bassist who played in noted Toronto indie rock bands Uncut, The Diableros, Bishop Morocco, controller.controller, and The Two Koreas, died last week, age 47. No cause of death has been reported.
Worang co-founded and played guitar in post-punk band Uncut with Jake Fairley back in 2001, turning it into a full band after Fairley's departure. Uncut released their first two albums, 2004's Those Who Were Hung Hang Here and 2006's Modern Currencies, through Paper Bag Records. In 2013, the band released a third full-length titled Infinite Repeats.
In addition to Uncut, Worang played in other Toronto rock bands, including the Two Koreas, controller.controller, and The Diableros. He contributed guitar on Old Boys, the six-track EP from Bishop Morocco, released by Arts & Crafts in 2012.
Worang's early work as a recording engineer included the first releases by The Deadly Snakes and Danko Jones. 
In an eloquent Facebook post, Two Koreas frontman Stuart Berman noted that "when Ian and I wound up in the same band together, I got a front-row seat to experiencing what a brilliant, intuitively talented, and fucking hilarious guy he was. Ian was my favourite bass player, pugilistic and playful in equal measure; it's no understatement to say 98% of Two Koreas songs began with some awesome bassline he came up with on-the-spot while warming up at practice.
"I was always humbled and honoured that he stuck with us even when the other great bands he was playing with (Uncut, The Diableros, Bishop Morocco) had a lot more going on. Seeing Ian playing next to me with his eyes closed and a big smile on his face has been one of my life's great joys." Berman compiled this Spotify playlist featuring tracks Worang played on plus others he loved. 
A GoFundMe campaign to help Worang's mother cover funeral costs quickly surpassed its goal. Sources: Exclaim!,Pitchfork, Necro Canada, Stuart Berman
International
– Phil (Phillip) Chen, a veteran session bassist who played with Rod Stewart, Jeff Beck and the Doors' Ray Manzarek and Robby Krieger, died on Dec. 14, of cancer, at age  75.
Born in Kingston, Jamaica, Chen moved to England in the late '60s and worked with many high-profile musicians over the next decade. He played on Beck's classic 1975 album Blow by Blow,, Donovan's Cosmic Wheels and several Stewart albums, including Blondes Have More Fun, which included the smash hit Da Ya Think I'm Sexy?
Chen also joined the Butts Band, formed by ex-Doors drummer John Densmore and guitarist Robby Krieger, in 1973,  playing on their eponymous debut that year. Chen's association with former Doors members continued for decades, as he joined Manzarek–Krieger in 2004 and performed with the duo until 2013.
Chen's other high-profile collaborations include Brian May's Star Fleet Project (which also featured Eddie Van Halen), Pete Townshend, Eric Clapton and Bob Marley. Source: Ultimate Classic Rock
– Leonard Nelson "Hub" Hubbard, a former bassist and early member of the hip-hop troupe The Roots, died on Dec. 16, of multiple myeloma. at 62.
Hubbard played on a string of early Roots albums, including 1994's Do You Want More?!!!??!, 1996's Illadelph Halflife, 2004's The Tipping Point, and more. His final recording with the group appeared on 2006's Game Theory. Hub left The Roots following his 2007 cancer diagnosis. In 2008, he briefly reunited with the band onstage at the annual Roots Picnic.
In addition to recording with the group, Hub co-wrote and arranged a number of Roots compositions, and performed as a member of the live band during his 15-year tenure. One particularly notable performance occurred in 2001 when The Roots supported Jay-Z during his MTV Unplugged concert, which was later released as a live album. Sources: The Daily Beast, Pitchfork
– Wanda LaFaye Young, singer in Motown Girl Group the Marvelettes, died on Dec. 16, age 78.
Young sang backup on the classic Please Mr. Postman and lead on hits like Don't Mess With Bill and The Hunter Gets Captured by the Game.
"Please Mr. Postman, later covered by the Beatles and The Carpenters, became Motown's first No. 1 Pop single in late 1961—it also held the top slot for seven weeks on Billboard's R&B chart.
In 1970 the group disbanded, and Young recorded a solo album with Smokey Robinson serving as her producer. It did not sell well and she left the label in 1972.
The Marvelettes were nominated for induction into the Rock & Roll Hall Of Fame in 2013 and again in 2015. Sources: Rolling Stone, Wikipedia