FYI
Music News Digest, Dec. 2, 2021
Mother Mother (pictured) will go deluxe to coincide with international touring, The Damn Truth is writing a success story, and Canadian artists raise the alarm of a climate emergency. Also in the news are Apple Music, The Weeknd, Anne Murray, AM to FM Promotions, Cotton Factory, MusicNL, Jim Payne, Andy Kim Day, CIMA, Jeffrey Remedios, Suzie Ungerleider, and MMF Canada.
Dec 01, 2021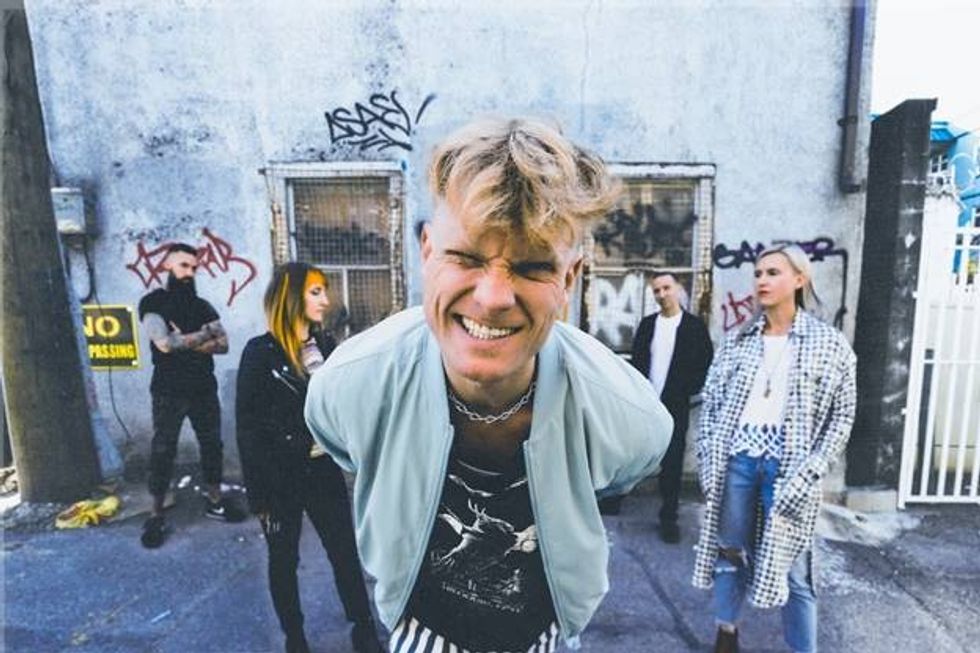 By Kerry Doole
Modern rock hitmakers Mother Mother releases a deluxe version of its album Inside on Jan. 28, on Warner Music Canada. The updated edition will feature seven new recordings, including the new single Life and Hayloft II, a follow-up to their breakout hit Hayloft which exploded in 2020, and is closing in on 1M uses as a sound on the TikTok app. That phenomenon is explored in a short doc directed by Ryan Guldemond and Rich Smith. 
---
This week (Dec. 2-5), the band plays five sold-out shows at Vancouver's Commodore Ballroom. Jan. 2022 dates in the US are sold out, and an extensive Euro-trek begins in late Feb.
– Under the guiding hand of industry veteran Ralph Alfonso, hard-working Montreal rock band The Damn Truth is now making a splash on both sides of the pond. A slot opening for The Sheepdogs in Toronto made more converts, and the UK and European music press is vociferous in support. This week, TDT head back to Europe for more shows, beginning in Lille, France, on Dec. 5, through to Oberhausen, Germany on Dec. 16. Four planned dates in Holland and Belgium have been postponed over omicron fears. An extensive UK tour follows in Feb. Itinerary here.
– On the heels of the Throne Speech, more than 50 prominent Canadian musicians, issued an open letter demanding Prime Minister Justin Trudeau take urgent action to address the climate emergency. Notable signatories include Raffi, Fred Penner, Bram Morrison, Amy Millan, Melissa McClelland, Sarah Harmer, Joel Plaskett, Shad, Hall of Famer Sylvia Tyson, Scott Helman, Moscow Apartment, and more. The letter states:  "As Canadian musicians and supporters of Music Declares Emergency Canada, we are raising our voices: we declare a climate emergency. With Parliament now in session, we urge Prime Minister Trudeau to step up and become the climate leader we need." View the letter and the full list of signatories here.  
– Apple has announced the third annual Apple Music Award Winners, and The Weeknd earns the Global Award for Artist of the Year. The global superstar's 2020 album After Hours quickly surpassed 1M pre-adds on Apple Music, becoming the most pre-added album of all time by a male artist on the platform. Olivia Rodrigo and H.E.R. also won trophies. The Awards celebration kicks off Dec. 7, with interviews and original content, streaming worldwide on Apple Music and the Apple TV app.
– Today (Dec. 2) sees the national release (via Cineplex) of Anne Murray: Full Circle, a full-length, fully authorized documentary featuring an original, in-depth interview with the Canadian pop legend, plus 19 familiar hit songs, archival footage. Interviewees include Shania Twain, k.d. lang, Bonnie Raitt, Jann Arden, Kenny Loggins, Gordon Lightfoot, and Bruce Allen. Tickets here 
– Toronto music company AM to FM Promotions is kicking off the holiday season with another musical advent calendar that features seasonal songs in a wide range of genres posted daily up until Christmas. Last year's calendar received a positive international response. Here's one of the new original songs to be featured.
– The historic Cotton Factory complex is a vital hub in Hamilton's music and arts scene. On Dec. 4, a free multi-media event, Light The Night, takes place, from 5-10 pm. Highlights include performances by acclaimed classical group Quartetto Gelato, Brandon Agnew & Joe Stracuzzi, and DJ Alysha Main, and the open studio of artist/musician/author Tom Wilson. More info here.
– Presented by MusicNL, this year's Denis Parker Industry Builder Award goes to Jim Payne, a folk singer/songwriter, producer, and industry professional from Notre Dame Bay, NF. Payne owns and operates Newfoundland and Labrador's largest traditional music label, Singsong Inc., and is a major producer of live programming. Payne received the honour on Nov. 30 at Music NL's Industry Awards Reception, where eight industry awards and one other honorary award were handed out. See the full list here.  
– The Canadian Music Therapy Fund has announced that its latest fundraising campaign brought in $50.6K for its worthy work.
– Toronto Mayor John Tory has announced that Dec. 8 will be proclaimed Andy Kim Day in the city. This coincides with the 17th edition of the star-studded Andy Kim Christmas Show, one that has raised more than $2M in support of CAMH's Gifts of Light. Our congrats to the deserving recipient.
–In a Zoom webinar set for Dec. 7 (1 pm ET), CIMA is partnering with beatBread for a 30-minute session dedicated to beatBread's alternative funding services for Artists and Labels. Register here 
– TIFF (the Toronto International Film Festival) has named Jeffrey Remedios, chairman and CEO of Universal Music Canada, its new chair of the board, replacing Jennifer Tory. Cameron Bailey, previously TIFF's artistic director, has been appointed the org's CEO.
– Three ace singer/songwriters, Suzie Ungerleider, Sarah Jane Scouten, and Leeroy Stagger, perform for Songwriters In-The-Round live at Victoria Event Centre, Victoria BC, on Dec. 8. Tix here.
– MMF Canada members and friends are invited to celebrate the festive season with a casual (and virtual) holiday party, Dec. 16, 4-6 pm ET. Register here.