FYI
Music News Digest, Dec. 19, 2018
Lindsay Ell (pictured) and Tenille Townes to tour Down Under via a CMA series, Teenage Head hosts a vinyl pressing session, and a Tegan and Sara memoir is coming. Others in the news include Shotty Horroh, Jeremy Dutcher, Pigeon Row, The Elwins, Shawn Mendes, Bernice, Sound Central, and farewell to Anca Pop and Joe Osborn.
Dec 19, 2018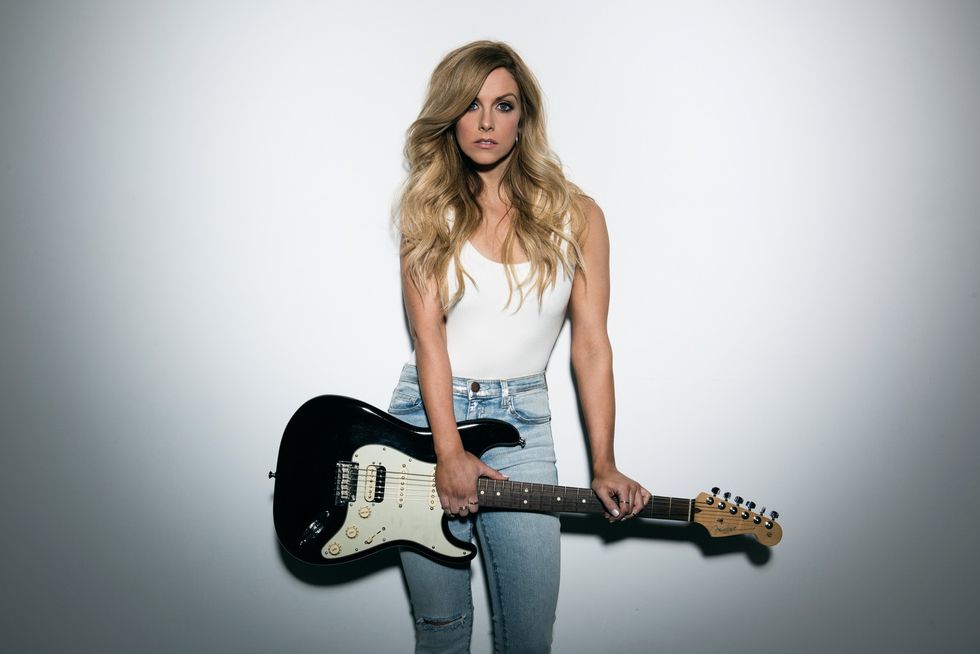 By Kerry Doole
The Country Music Association (CMA)  has announced its new international artist-focused touring series, Introducing Nashville, launching in March with a six-city tour of Australia and New Zealand. The initiative provides a career boost for two Nashville-based Canadian artists, Lindsay Ell and Tenille Townes, both featured on the bill alongside Brandy Clark and Devin Dawson. Source: Broadway World
---
– As interest in vinyl and its creation continues to grow, Toronto manufacturer Viryl has come up with a new initiative, the Vinyl Pressing Experience. This half-day session gives the curious hands-on experience mastering, plating, labelling and packaging a vinyl record. The second such session takes place at the Viryl plant on Jan. 12, hosted by Canadian punk legends Teenage Head. It features a Q&A, live performance, and the pressing of a limited edition 40th anniversary copy of Teenage Head's first single, "Picture My Face/Tearin' Me Apart," on coloured vinyl. Guests will walk away a custom vinyl record, craft beer from Henderson Brewing Company, and a visit to the Bay Bloor Radio pop-up shop. Additional sponsorship provided by League of Rock and Technics. Tix here
– Hit sibling duo Tegan and Sara will release a memoir, High School, on Sept. 24, 2019, via Simon & Schuster in Canada, MCD × FSG in the US., and Virago in the UK. It s described as "a unique coming-of-age story of the twins from Calgary, growing up at the height of grunge and rave culture in the '90s, before they became celebrated musicians and LGBTQ icons." Source: Words & Music
– Fast-rising Toronto rising singer-songwriter Shotty Horroh has announced a short UK tour in February, comprising club shows in London, Birmingham, and Manchester. His album,  Salt Of the Earth was released in the fall via Sony Music Canada. He recently released a live performance version of his song "Stay For The Ride," as part of his YouTube Toronto series.
– The Stan Rogers Folk Festival has announced 2018 Polaris Music Prize winner Jeremy Dutcher as the first headliner of its 2019 edition. Early-bird tickets are now available. 
– Pigeon Row & Forward Music in Halifax have put together a food drive in support of the Parker Street Food Bank. It closes at 5 pm today (Dec. 19). You're invited to leave non-perishable (or monetary) donations at their office, at 2085 Maitland Street, Suite 201. All donations will be delivered to Parker Street on Thursday morning.
– Popular indie rockers The Elwins have just released an original holiday tune, "With All Your Friends." Check it out here
–  Shawn Mendes recently sold out his first ever stadium show in his hometown of Toronto in just minutes. The Sept. 6 concert will be Mendes' first headlining appearance at Rogers Centre. In a label press release, the young star states "This really was a dream come true to play the Rogers Centre in my home town. And now to have sold it out is just incredible and something I could have only ever imagined." The T.O. show comes at the end of his North American arena tour next summer.
– Toronto indie-pop combo Bernice has announced North American dates in January in support of the album Puff LP : in the air without a shape (out on Arts & Crafts) The tour starts at Chicago's Tomorrow Never Knows Festival on Jan. 18,  concluding in LA at the Bootleg Theater on Feb. 5. There are Canadian shows in Winnipeg, Saskatoon, Calgary, Vancouver, and Victoria.    Itinerary here
Bernice has just released a special holiday song, "Leonardo," for Sing Me A Story, an American organization serving children in need to write stories about anything they want. They then ask songwriters to set the stories to music and sell them to raise money for programs.
– Montreal record store Sound Central is the subject of a crowdfunding campaign started by a fan, Adam Reider, in an attempt to keep its doors open. In five days, $2.6K of a $10K goal has been raised. Sound Central has been at its current location, on Colonial Ave. just off Mont-Royal, for almost 12 years, after five years split between two other locales. Source: Montreal Gazette
RIP
Anca Pop, a Romanian-Canadian singer-songwriter, has died after her car plunged into the Danube River on Dec. 16. She was 34.
Pop's style was a fusion of Balkan and mainstream pop, and it earned her a big following in Japan. She also collaborated with Bosnian musician Goran Bregovic on his Champagne for Gypsies album. In 1987, Pop fled communist Romania with her family, and they emigrated to Canada.
After communism ended, she returned to Romania. This year she caused a stir by revealing she was in a same-sex relationship, in a society which can be intolerant of homosexuality. Source: AP
Joe Osborn, an American bassist and member of the famed Wrecking Crew, died on Dec. 14, at age 81, following a long battle with pancreatic cancer.
Osborn and the Crew are credited with hundreds of sessions, including appearances on Simon & Garfunkel's "Bridge Over Troubled Water," the Mamas & the Papas' "California Dreamin'," America's "Ventura Highway," the Carpenters' "Close to You," the Partridge Family's "I Think I Love You," and Richard Harris' "MacArthur Park") as well as dozens of albums by country stars Kenny Rogers, Merle Haggard and Reba McEntire, among many others.
Osborn is also credited with being the first person to record a teenage Karen and Richard Carpenter.
The Louisiana-born Osborn switched from electric guitar to bass early in his career, playing bass for Dale Hawkins on his recording of Susie-Q in 1957. He joined Ricky Nelson's band in 1960 for a four-year stint that led to steady session work in his adopted hometown of Los Angeles, through to the mid-'70s.
In 1974, Osborn moved back to his southern roots, setting up in Nashville, where he played on albums by Hank Williams Jr., Chet Atkins and Mel Tillis.
According to the Louisiana Music Hall of Fame, Osborn, an inductee, played on more than 400 top 40 country hits and more than 200 top 40 pop hits, 20 of which were No. 1 songs.
The bassist's final release was the just-released Carpenters With The Royal Philharmonic Orchestra, which paired Osborn's classic playing and the Carpenters' original vocals with new orchestral arrangements by Richard Carpenter. Sources: Billboard, Rolling Stone