FYI
Music News Digest, Dec. 17, 2018
Marie-Mai is honoured by SOCAN (pictured), Chris Blackwell attends ole's party, and Walk Off The Earth announced a world tour . Also in the news are Wacken fest, Music NL, TD Markham Jazz Festival, Garth Brooks, Music PEI, and farewell Nancy Wilson. Videos added for your enjoyment.
Dec 17, 2018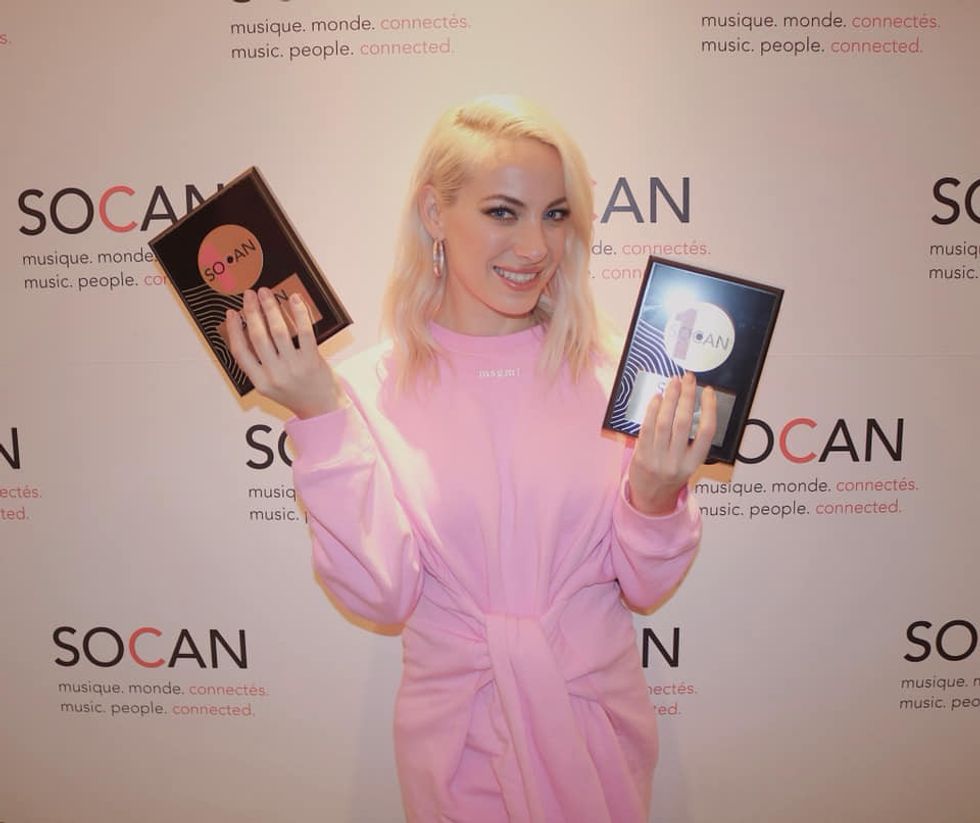 By Kerry Doole
Last week, the SOCAN Montréal office hosted Marie-Mai, presenting the pop star with two SOCAN No. 1 Song Awards, for her hits "Empire"and "Je décolle," both No. 1 on the BDS and ADISQ Correspondants charts over the past few months. "Empire" was co-written with Thomas "Tawgs" Salter, while Olivier Epsom co-wrote "Je décolle". Next month Marie-Mai will share the spotlight with Scott Borchetta as an official judge for the popular CTV program The Launch.
---
– The ole holiday party in Toronto on Friday night drew a large and convivial gathering of music business heavy-hitters. One notable surprise guest was record industry legend Chris Blackwell, founder of Island Records. He told FYI that he has no business links with ole, but flew in at the invitation of his friend Helen Murphy, who last month assumed the role of Chief Executive Officer of the global rights company. Others spied enjoying proceedings included Frank Davies, Jake Gold, Margaret McGuffin, Tony Tobias, Iain Taylor, SOCAN's Eric Baptiste and Stan Meissner, Leonard Glickman, Steve Coady, Ivar Hamilton, Pegi Cecconi, Dave Rave, and David Steinberg.
– Walk Off The Earth has announced an upcoming world tour and a new full-length album, to be released in early summer. Tickets went on sale on Friday, the same day the band performed on GMA Day on US television. Before the tour beginning in February, WOTE has a New Year's Eve show in Niagara Falls, ON. Walk Off The Earth's most recent original single, "Fifth Avenue," was added to Spotify's "New Music Friday" playlists in over a dozen countries and garnered more than a million streams in the first week after the release. Tour dates here
– The TD Markham Jazz Festival hosts its AGM on Jan. 6 at 1 pm at Markham Civic Centre, The meeting will include the presentation of the 2018 Financial Statements and election of 2019 Directors. It will also feature a "Year in Review" overview and highlights of the 2018 Festival and other concerts and activities. The fest is also seeking volunteers.
– A deadline reminder that Dec. 21 is the final date for submissions for the Wacken Metal Battle Canada contest. One unsigned Canadian act will play the Wacken Open Air 2019 fest, receiving $2K for travel. Info here
– Come one, come all. The annual MusicNL Christmas party is tonight (Dec. 17) at The Ship in St. John's. Hosted by Scott Gilbert, there will be food, drink and an open mic.
– Anglophone music publishers are invited to submit their nominations for the third annual SOCAN Publisher of the Year Award. The deadline is Jan. 18. Details here
– Garth Brooks' primetime television special Garth: Live at Notre Dame will be rebroadcast Dec. 28 ,from 8-10 pm ET/PT on the CBS Television Network. The special captures Brooks while he performs the first live concert ever held at the legendary Notre Dame Stadium, at the University of Notre Dame in Notre Dame, IN, on Oct. 20. Source: The Music Network
– A reminder that Wednesday for the annual Music PEI Holiday Mixer is on Wed Dec. 19, from 7-9 PM in The Gallery at The Guild. RSVP here
RIP
Nancy Wilson, the Grammy-winning "song stylist" and torch singer whose polished pop-jazz vocals made her a platinum artist and top concert performer, died on Nov. 13, age 81. Wilson, who retired from touring in 2011, died after a long illness at her home in Pioneertown, a California desert community near Joshua Tree National Park.
 Influenced by Dinah Washington, Nat "King" Cole and other stars, the eclectic vocalist covered everything from jazz standards to "Little Green Apples" and in the 1960s alone released eight albums that reached the top 20 on Billboard's pop charts. he was best known for such songs as her breakthrough "Guess Who I Saw Today" and the 1964 hit "(You Don't Know) How Glad I Am," which drew upon Broadway, pop and jazz.
She resisted being identified with a single category, especially jazz, and referred to herself as a "song stylist." "The music that I sing today was the pop music of the 1960s," she told The SanFrancisco Chronicle in 2010. "I just never considered myself a jazz singer. I do not do runs and — you know. I take a lyric and make it mine. I consider myself an interpreter of the lyric."
Wilson's dozens of albums included a celebrated collaboration with Cannonball Adderley, Nancy Wilson/Cannonball Adderley, a small group setting which understandably could be called jazz; Broadway — My Way; Lush Life; and The Nancy Wilson Show! a best-selling concert recording.
"How Glad I Am" brought her a Grammy in 1965 for best R&B performance, and she later won Grammys for best jazz vocal album in 2005 for R.S.V.P (Rare Songs, Very Personal) and in 2007 for Turned to Blue.
The  National Endowment for the Arts awarded her a "Jazz Masters Fellowship" in 2004 for lifetime achievement.
Wilson also had a busy career on television, film and radio, her credits including Hawaii Five-O, Police Story, the Robert Townshend spoof Meteor Man and years hosting NPR's Jazz Profiles series. Active in the civil rights movement, including the Selma march of 1965, she received an NAACP Image Award in 1998. Sources: AP, CNN