FYI
Music News Digest, Dec. 14, 2018
New life for the Victory Burlesque, Shad hosts an art exhibition, and new Rock Hall of Fame inductees are announced. Also in the news are CIMA, the Junos, Jessie Reyez, FACTOR, Taylor Swift, Doug Paisley, Serena Ryder, Ladybird Animal Sanctuary, and Matt Dusk. Videos added for your enjoyment.
Dec 14, 2018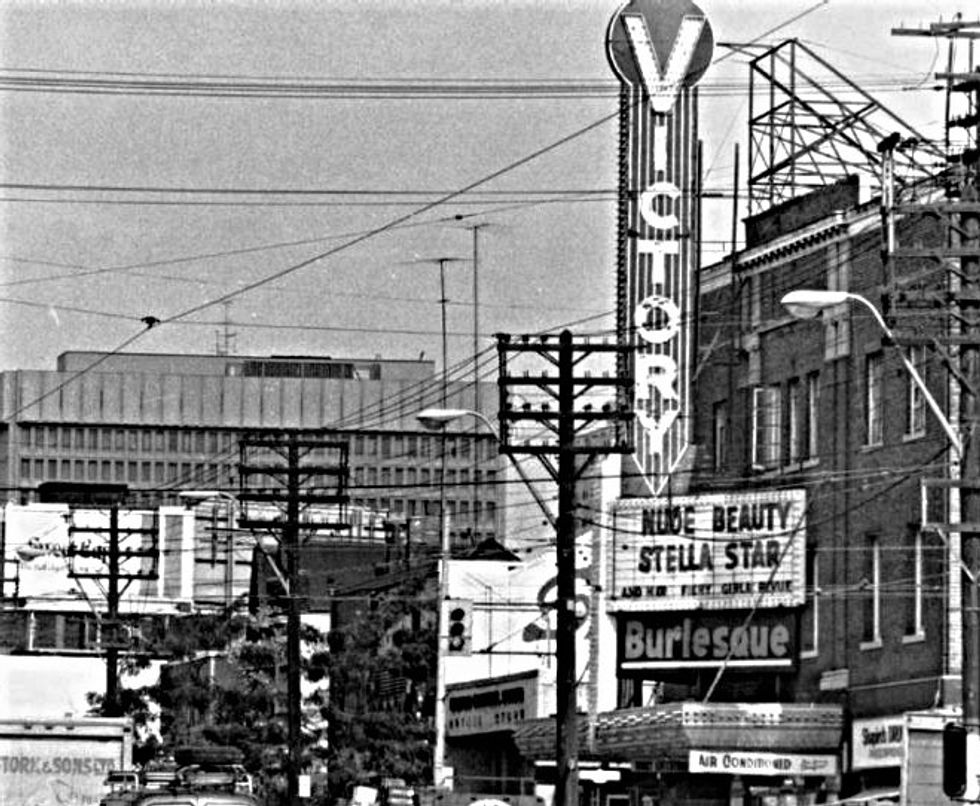 By FYI Staff
The Victory Burlesque, once Toronto's premier spot for viewing pasties and G-strings, has been mothballed and hidden behind a drug store on Spadina Avenue for decades, but a new property owner has plans to rejuvenate the house of sin. Toronto club owner Rony Hitti has signed a 20-year-lease with the building's new owners in 2015 and pledged $10 million toward renovating the space. The venue has been used variously over the years for a variety of purposes, including a concert hall where Kiss and Buddy Rich, among others, were booked by the team of Ray Danniels and Vic Wilson, and famously was the site for the McKenna Mendelson's Bump & Grind Revue.  BlogTO and The Globe and Mail have the scoop.
---
– In advance of his two sold-out shows at The Great Hall in Toronto this weekend, Shad has opened an art exhibition with local curator and artist Just John at The Tell. It is entitled "A Short Story About A War" (the same title as his current album), and Shad describes the show's theme as "violence, fear, and what it might take to overcome these forces in our hearts and in our world." The show continues Friday and Saturday, 12-5 pm, with a closing reception on Sunday, 4-7 pm.
– CIMA's latest Canada Top 20 albums chart ending the week of Dec. 6 again has Montrealer Alex Henry Foster at No. 1. All told, 14 of the acts in the countdown hail from Quebec. Others include Serena Ryder, Walk Off the Earth (both with Christmas albums), Arkells, the Glorious Sons, and Killy.
The CIMA 20 chart combines sales, downloads and streams in the Canadian market. BuzzAngle provides data collection. To view the CIMA 40 chart that includes all independent label projects, Canadian or otherwise, link here.
– Juno fever will heat up on Jan. 29, when the Nominees Press Conference is held at CBC Toronto's HQ, at 11 am.
– The new Inductees to theRock & Roll Hall of Fame are The Cure, Def Leppard, Janet Jackson, Stevie Nicks, Radiohead, Roxy Music, and The Zombies. The Induction Ceremony is on March 29 at the Barclays Center in Brooklyn, NY.  
– Kobalt's recording company AWAL is opening a new office in Toronto, in early 2019, with additional new location announcements 'planned in the coming months.' The company has also announced open roles in marketing, client relations, A&R and more to be based in the new office.
The news of the Toronto office follows the acquisition of radio promotion and music marketing company, In2une Music in June.
– Following a sold-out two-night run at the Danforth Music Hall in her  hometown, Jessie Reyez received a Double Platinum plaque by UMC staff for her breakthrough hit, "Figures." Initially released as a single also featuring Daniel Caesar in 2016, the song was included on her 2017 debut EP Kiddo.  Reyez's performance with Caesar was a Juno broadcast standout.
– The deadline for FACTOR's next round of Artist Development and Juried Sound Recording grants is Jan. 31. More info here
– Taylor Swift fans take note. The pop superstar releases a concert film of the last show of the U.S. leg of the Taylor Swift Reputation Stadium Tour on Netflix. It streams globally on Dec. 31.
– CIMA is hosting an information session entitled Spotlight on Streaming (YouTube Music) on Jan. 22 at A rray Space in Toronto. Andrew Lindsay (Manager, Music & Label Partnerships at YouTube and Google Play) explains the ins and outs of one of the newest players on the scene, YouTube Music. RSVP here
– CIMA's first ever Showcase and Business mission to Portugal for the 2019 edition of Westway LAB takes place in Guimarães, Portugal from April 10-13. The mission will include a showcase for Canadian artists, a country focus panel, a Meet the Canadians B2B session and more. CIMA is seeking applications from export-ready Canadian independent companies with international experience. Deadline is Jan. 15.
– Toronto folk songsmith Doug Paisley is highly regarded locally but seemingly undervalued elsewhere. He got a big boost this week when his current album Starter Home made New Yorker music critic Amanda Petrusich's list of Ten Best Albums of 2018. She wrote that "Paisley seems to know something about heartbreak, regret, and the cold. His songs are quiet and contemplative, laments for everything he wanted but just couldn't keep."
– The FME, the Fondation Musicaction and FACTOR, in collaboration with the Festival d'été de Québec and Le Printemps de Bourges present Specimens Canadiens, an inclusive initiative inviting European music industry professionals to discover Canadian music trends live on stage, and behind the scenes. Attracting 50K spectators, 600 delegates, and more than 500 French and foreign journalists annually, Printemps de Bourges is a major musical event. Three to six artists will be chosen to showcase, and the submissions deadline is today (Dec. 14).
– CD Baby has announced the 2019 DIY Musician Conference, which will take place for the first time in Austin, TX from Aug. 16-18. The conference promises "three days of intensive, celebratory interaction and learning, designed not to give a platform to industry talking heads, but to give artists the tools they need to leave the ballroom and change their creative lives and careers." More info here 
– A recent feature in Rolling Stone is good news for Serena Ryder and her holiday album, Christmas Kisses. The piece reviewed 40 major new Christmas releases and gave Ryder's a positive critique. "Track two [the title cut] is an original, and I like it a lot. She rhymes "rainbow dolphin" with "Mary Poppins" and I am SOLD," writes Connor Ratliff. The verdict: " Stream it!  Add the title track to your Christmas playlist."
– Hamilton's Ladybird Animal Sanctuary is run by Melissa McClelland (Whitehorse), Lisa Winn, and Janine Stoll. Tonight (Dec. 14), This Ain't Hollywood hosts a fundraiser, featuring Matty Simpson, Willow River, Carissa Kimbel, and more.
– For their holiday card this year, Ontario Creates used an original seasonal tune by Matt Dusk, "Snowed In With You" (co-written by Dusk and Jenson Vaughan).