FYI
Music News Digest, Aug. 31, 2020
POP Montreal (pictured) is forging ahead with a hybrid festival, The Weeknd comes up big at The VMAs, and Big Wreck will help relaunch The El Mocambo. Others in the news include Leonard Cohen, Madeline Merlo, Meghan Patrick, the New Rebel Westerners, T. Thomason, SUUNS, The Orchard, Madisyn Whajne, MusicNL, ECMA podcast, and farewell Riley Gale.
Aug 31, 2020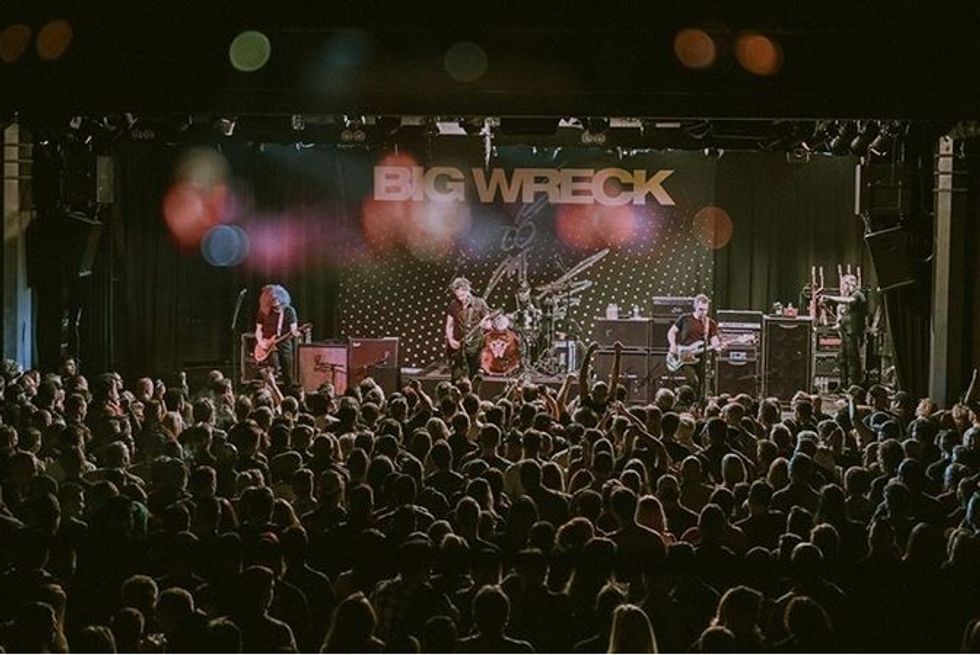 By Kerry Doole
Undeterred by the pandemic, POP Montreal is forging ahead with its 19th edition next month, albeit in a revised hybrid form. The fest announces that "There will be fewer shows in socially distanced venues and outdoor locations, and most of the shows will be streamed and available via our website for those who cannot attend in person." It will run Sept. 23-27, and the impressive lineup includes Polaris contender Backxwash, Polaris winner Lido Pimienta, Plants & Animals, SoCalled, Land of Talk, Tyleen, Antoine Corriveau, and more. All show listings and tickets available here.
---
– Canadian artists featured prominently at last night's annual MTV Video Music Awards, held in New York City. Leading that list was The Weeknd, who won two awards, for Video of the Year and Best R&B Video, both for his smash Blinding Lights. Justin Bieber won in the new Best Music Video from Home category for his collaboration with Ariana Grande for Stuck with U. Canadians performing on the show were The Weeknd, young Calgary singer Tate McRae, and JP Saxe (with US singer Julia Michaels). The night's biggest winner was Lady Gaga, with five. See the full list of winners here. Source: Billboard
– Just about the most regularly repeated story in the music biz is the outrage by artists when a political campaign uses their work without approval. This happened yet again at the Republican National Convention, with the unauthorized use of Leonard Cohen's (overcovered) Hallelujah during two performances. We do like this response from Michelle L. Rice, Legal Representative of the Cohen Estate, however: "We are surprised and dismayed that the RNC would proceed, knowing that the Cohen Estate had specifically declined the RNC's use request, and their rather brazen attempt to politicize and exploit in such an egregious manner Hallelujah, one of the most important songs in the Cohen song catalogue. We are exploring our legal options. Had the RNC requested another song, You Want it Darker, for which Leonard won a posthumous Grammy in 2017, we might have considered approval of that song."
– Dance music hitmaker Calvin Harris and The Weeknd have joined forces on a new track, Over Now (via Columbia Records). The video is directed by Harris's longtime creative collaborator, Emil Nava. 
– On Saturday, Powell Park in Port Dover hosted a Pinup Picnic retro concert, organised by Suzie's Bombshell Boutique. It featured the Hellbent Rockers and the New Rebel Westerners, performing on the bandshell for an appreciative and socially distanced crowd. We caught NRW, and the Hamilton combo impressed with its retro country sound. A fun event that makes one wonder why more such events aren't being organised across the country. A preferred option to drive-in shows.
– On the heels of receiving her first official Music Canada-certified Gold record with the single Neon Love, country artist Madeline Merlo has released an acoustic version of her song If You Never Broke My Heart. Stream it here. A video will follow soon. Merlo grabbed US attention when she won the season premiere of NBC's Songland season two - during which her song Champagne Night was chosen by Lady A, who recorded and released the song digitally and to country radio. Champagne Night is currently at Top 30 on the Media Base and Billboard Country Airplay charts.
– Famed Toronto venue The El Mocambo has announced it will officially reopen its doors to the public on Sept. 10, with a live concert event headlined by Big Wreck. The performance will be streamed live from the second floor of the Elmo via streaming partner Nugs.net. Fans will be able to purchase access to stream the event in standard or 4k definition. Tickets here
– East Coast singer/songwriter T. Thomason has released a new single, Birdsong Part II, featuring noted Yukon writer and storyteller Ivan Coyote. Here's the lyric video. 
– Continuing their 2020 remix project, Montreal band SUUNS has shared five new versions of the critically acclaimed track. This round features re-workings from Welsh musician and producer Cate Le Bon; jazz singer, composer and clarinetist Angel Bat Dawid; Kristopher Bowering, drummer of Canadian indie rock band Frigs; musician/vocalist Julianna Barwick; and multi-instrumentalist singer-songwriter Sasami. All proceeds go to the NAACP. These remixes are available now via Bandcamp on a Pay-What-You-Want basis. Here's the original SUUNS version.
– Edmonton roots-rock band The Orchard is announcing the departure of lead vocalist and founding member Kasha Anne. The trio, which also includes Mitch Smith and Andreas Wegner, stresses that the split is amicable and will result in new musical endeavours from both camps. Over the course of its career, the band earned 18 Alberta Country Music Association Award nominations, and multiple Edmonton Music Awards and nominations, while touring coast-to-coast and working with several high profile producers in Nashville and Canada.
– In a live-stream on Friday, Canadian country star Meghan Patrick premiered her new music video, Girls Like Me, and chatted with fans. "This one's for all the girls like me and the guys who love them," she says of the new tune. The track is a follow up to her Juno Award-winning EP Wild As Me. 
– Indigenous Ontario singer/songwriter Madisyn Whajne is preparing to release her debut solo album, Our Hearts, and its first single and video, Summer Love, is now out. For the album, Whajne worked with noted Montreal engineers Howard Bilerman (Arcade Fire, The Barr Brothers) and Shae Brossard (Bahamas, The Dears).
– MusicNL and Equinor are presenting this year's NewFound Talent Contest as a part of the Newfoundland & Labrador Folk Festival: 2020 Digital Edition. Young musicians aged 19 and under have already performed for a panel of industry judges, with winners TBA. The contest videos will be available for viewing on MusicNL's YouTube channel, website, and Facebook page on Sept. 2. The winner's performance will premiere on the Newfoundland and Labrador Folks Arts Society website on Sept. 3 as part of the Digital Festival's weekly episodes.
– The East Coast Music Association (ECMA) has launched a new podcast, one profiling Atlantic Canada artists. Episode 1 is entitled From Kingston to Here...The Story of Jah'Mila, and it profiles the local reggae ambassador. Check it out here
Obit
Riley Gale, the vocalist for the Texas-based metal band Power Trip, died Aug. 24 of unspecified causes. He was 34.
His death was announced in a Facebook post by his bandmates.
With Gale at the helm, Power Trip offered "heavy hopelessness that thrashes with punk immediacy and metal intricacy," NPR Music contributor Maria Sherman wrote of Firing Squad in 2016. Gale's lyrics often dealt with destruction, but also social inequity.
Started in 2008, the Dallas metal band quickly ascended in the scene's ranks with its hardcore-heavy thrash and intense live show. Power Trip released two albums, 2013's Manifest Decimation and 2017's Nightmare Logic, plus a compilation of early tracks and two live albums. Read a Rolling Stone tribute here  Sources: Rolling Stone, NPR