FYI
Music Biz Headlines, Sept. 4, 2019
A look back at the Town Pump (pictured), the Tysons reflect on the Hall of Fame, and Dave Brubeck's groovy pad. Also in the headlines are The Shangs, Ken Burns, Peloton, CD sales, song fade-outs, BMG, Kanye West, Roger Waters, Nick Cave, Lana Del Rey, Lenny Kravitz, Allen Toussaint, Linda Ronstadt, and Tool.
Sep 04, 2019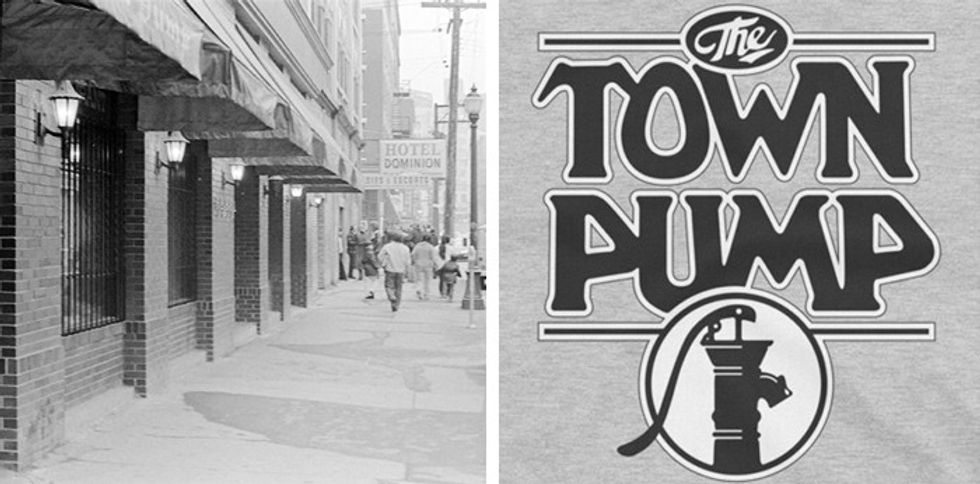 By FYI Staff
If you loved live music you loved the Town Pump because every genre of music played its stage too. For a time it was the spindle that drove the wheel of the Vancouver music scene. – Aaron Chapman,VancouverIsAwesome
---
So Sylvia hopes the release of Ian & Sylvia The Lost Tapes on Sept. 6 will reclaim some of the duo's legacy. It certainly shows that they were comfortable incorporating various strains of roots music during their career, which ran from 1959 until the couple's personal and professional split in 1975. – Eric Volmers, Calgary Herald
Ian Tyson is typically blunt when congratulated about his induction into the Canadian Songwriters Hall of Fame. Tyson, who will turn 86 a few weeks after his Sept. 5 induction, has been writing songs since 1962. –  Eric Volmers, Calgary Herald
Once again, the inspiration of 60s girl groups – specifically The Shangri-Las and The Feminine Complex – figures prominently in the songwriting but David Byers found time to pen a few tributes to his cult film heroines. – The Perlich Post
If you're not already addicted to the Jamaica-born, Halifax-based artist's distinctive, roots-y reggae, her Halifax Urban Folk Festival showcase will have you hooked. – Jonathan Briggins, the Coast
Bricks-and-mortar and the performing arts – the two have long had an uneasy relationship in Canada. Theatre troupes, dance companies and orchestras generally need buildings to perform in, but their real estate has often ended up getting in the way of the art that they create. A look at two of Canada's major performing-arts organizations now gives a good snapshot of the continuing complexity of the issue. –  JK Nestruck, Globe and Mail
International 
In the early 1960s, the bandleader moved from California to a modernist masterpiece in the woods of Connecticut.  – Wendy Goodman, Town and Country
The filmmaker's new documentary is a journey into the nation's rowdy, sentimental, multicultural soul. – Will Hermes,Rolling Stone
That figure is revealed in a new prospectus SEC filing which signals Peloton's imminent IPO – and it's a document which also presents some intriguing information for the music industry. – Tim Ingham, MBW
Music marketplace Discogs has released its Marketplace Analysis & Database report for the first half of 2019 and it revealed some surprising data about online music retail. it suggests that the demise of the compact disc has perhaps been exaggerated with the format seeing growth of 23.6% for the first half of the year. – Bruce Houghton, Hypebot.
Pop songs can end in a variety of ways, but the two most common are the cold ending, where the music ends abruptly, and the fade-out, where the volume of the music slowly decreases until silence is reached. But who first came up with the fade-out approach in music? – Karl Christenson, MPR
The Berlin-based exec acknowledges that "a [$1bn turnover] is definitely a target we set ourselves over the next three to five years", but notes that a number of market factors – including a "big crisis" in industry valuations – could affect BMG's fiscal journey. – Tim Ingham, MBW
You know when Kanye West is coming. His matte-black Lamborghini SUV rumbles up his gated driveway on the outskirts of Los Angeles like an earthquake, and when he steps out, in a white T-shirt and dark sweats, the obsessiveness kicks in immediately. – Zack O'Malley Greenburg, Forbes 
The Pink Floyd co-founder dedicated the song to the Wikileaks founder, who resides in a British prison as he awaits an extradition hearing.  Andy Greene, Rolling Stone
He has returned to his fan-led forum, The Red Hand Files, in order to answer yet more deeply personal questions from his supporters. This time, he moves on to a time in his life when PJ Harvey ended their relationship. – Lee Thomas-Mason,  Far Out
Straight Life was published in 1979. There's a good chance that today, in the #MeToo era, the book would never have found a publisher. If it had, there's a good chance that no nightclub would book Art Pepper, nor any record label sign him to a deal. – T.J. English, Jazz Times
Drifting through L.A. looking for love and meaning, she shifts her kitschy patriotism, dropping her flag-draped persona and making peace with a more complex, dystopian reality. – Kristel Jax, NOW 
Across 11 albums, Kravitz has remained uncompromising and all-embracing. "I don't wanna paint with one colour," he says as he prepares to return to Montreal after a long absence. "The song gets whatever the song requires." – Mark LePage, Montreal Gazette
His vivid imagery, hypersexualized and full of futuristic themes, helped create the mythology of George Clinton's groundbreaking group. – Neil Genzlinger, New York Times
Rock music isn't dead, but it's barely hanging on. This is true in at least two senses. Rock barely registers on the charts, and there's another sense in which rock is very nearly dead: Just about every rock legend you can think of is going to die within the next decade or so. – Damon Linker, The Week
A treasure trove of tapes produced by New Orleans legend Allen Toussaint turns up at an LA flea market. – Sam Sweet, LA Times
The resale fee imposed to thwart touts has made it almost impossible to get rid of unused tickets. – Rob Davies, The Guardian
The singer on living with Parkinson's, the perils of stardom, and mourning what the border has become. – Michael Schulman, New Yorker
Rap star Vic Mensa, now heading the band 93PUNX wants to "Rock for children's rights." – Kyle Cullen, music.mxdwn
Los Angeles–based band Rival Sons is that rarest of things in the pop-cultural climate of 2019: a rock 'n' roll outfit making a decent living with its music. – Mike Usinger, Georgia Straight
CAA, UTA, ICM Partners are among agencies being sued by Fyre Festival trustee for a collective $1.75m. He demands a return of fees paid to artists they represented to play in the failed event. –  Anna Grace, IQ
How will Maynard James Keenan and Co. fare against pop's reigning queen? Let's break down their prospects to see who should emerge victorious on the Billboard 200 next week.  – Bryan Rolli, Forbes
Promoter Prones 1SL laments "regrettable" incident as Spanish performer Joana Sainz Garcia dies following rogue firework accident. – Anna Grace, IQ