FYI
Music Biz Headlines, June 1, 2020
The romanticism of Ali Gatie (pictured) is profiled, the astonishing output of Daniel Romano, and Grimes sells her soul. Others in the headlines include the ESO, Kristen Martell, drive-ins, Tencent, Guy Oseary, Apple Music, TikTok, Taylor Swift, Billy Bragg, Billie Eilish, Killer Mike, Chrissy Teigen, London venues, and Neil Finn.
Jun 01, 2020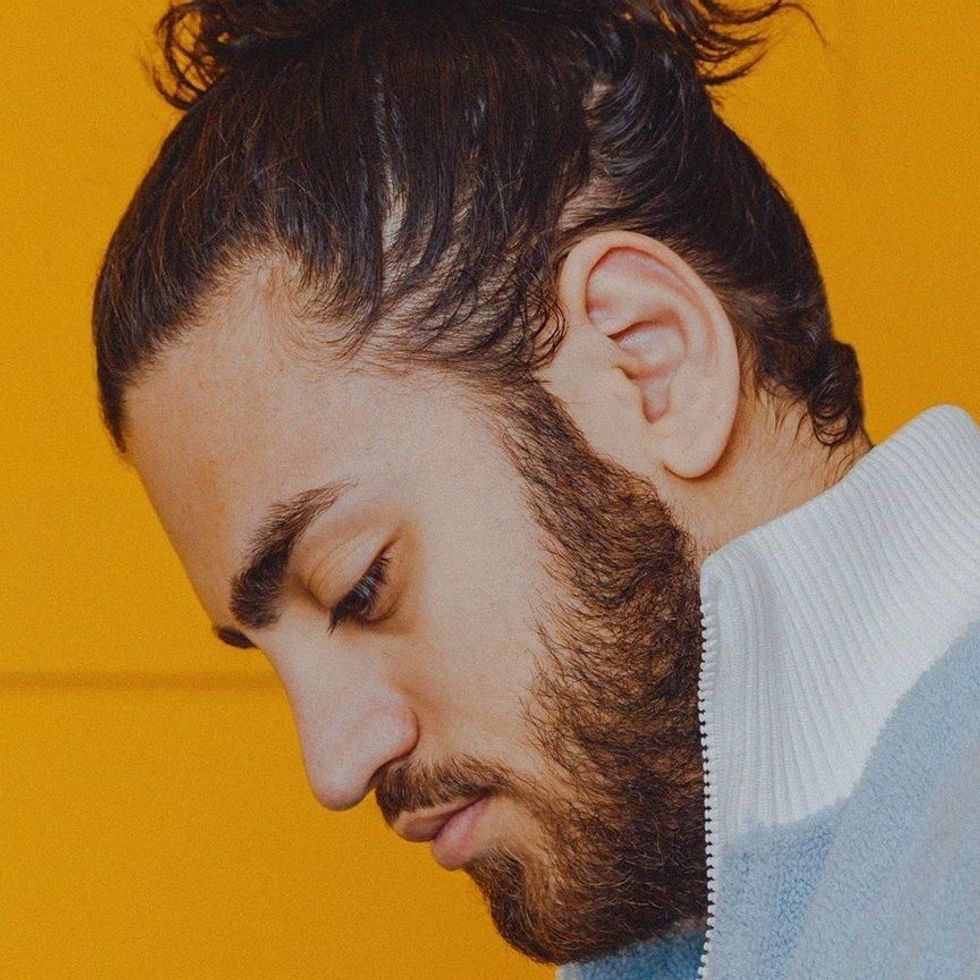 By FYI Staff
Inside the chest of Ali Gatie beats the heart of a hopeless romantic. And the Yemen-born R&B singer and songwriter, who calls both Mississauga and Los Angeles home, is the last to disagree with that assessment. – Nick Krewen, The Toronto Star
---
Since the March 15 arrival of Visions of the Higher Dream, Daniel Romano has released six more albums. Who is Daniel Romano, and why is he breaking land-speed records for releasing albums? – Brad Wheeler, Globe and Mail
As the world implodes, Grimes has dreamed up an explosive stunt: she is selling her soul. Personally, I thought she already sold her soul to the Beelzebub of Bad Baby Names after she and boyfriend Elon Musk recently welcomed their first child. – Vinay Menon, Toronto Star
It was a deep sense of personal isolation that led Canadian bassoonist and sexual-assault survivor Katelin Coleman to create her classical music ensemble. Now, with much of the world in lockdown, Coleman is turning a different kind of isolation into an opportunity for collaboration. – Marsha Lederman, Globe and Mail
A new study shows that even after social distancing restrictions are lifted Canadians wouldn't feel comfortable going to a music event while some may never return. Lindsay Dunn looks at the struggle venues and artists could face going forward. – City News Toronto
We're going to examine the practices of some of the most captivating music output the city has been delivering online during the pandemic, and what lessons these institutions might pass on to our festivals, as they move to experiment with broadcasting on their given dates. I'd say Starlite Room and the Edmonton Symphony Orchestra rose to the top in both production value and ease of access. – Fish Griwkowsky, Edmonton Journal
The Mahone Bay singer-songwriter's debut album brings the mellow. – Sam Gillett, The Coast
The province says existing outdoor big screens are now allowed to resume business starting on Sunday. Drive-in theatres have been operating in other parts of the country, though Ontario health officials were concerned about the potential spread of covid-19 without sufficient physical distancing. – CP
In exciting news for music lovers and concert-goers, the City of Hamilton has approved an initiative that will see the top level of the York Boulevard Parkade – across from the Hamilton Farmers' Market – turned into a temporary open-air music venue. – Urbanicity
International
According to a new story in the WSJ, Tencent is now indeed in talks to buy a minority stake in WMG, worth $200m. "Hang on a second," you might understandably say. "Isn't Warner heading for an IPO?" Yes, it is, and Tencent, reports the WSJ, is getting in there early, as one of a number of institutional parties kicking the tires of WMG before it goes public. – Tim Ingham, MBW
Oseary, a highly influential name in the US entertainment business, is leaving the artist management collective he founded at Live Nation in 2014. He will continue to have a relationship with the events company as manager of Madonna and U2. – MBW
Apple Music is launching its first radio show in Africa. The streaming platform announced Thursday that "Africa Now Radio with Cuppy" will debut Sunday and will feature a mix of contemporary and traditional popular African sounds, including genres like Afrobeat, rap, house, kuduro and more.  – Mesfin Fekadu, Philly Trib
We recently learned that TikTok parent Bytedance generated more than $17bn in gross revenues last year (according to Bloomberg), alongside a $3bn+ net profit. Now we know where some of that money's getting spent. Last week, Bytedance reportedly agreed a 10-year lease for 232,000 square feet of New York office space in Manhattan's Times Square. – Tim Ingham, MBW
Björn Ulvaeus, a co-founder of ABBA who wrote the group's hits with his bandmate Benny Andersson, has been named the president of CISAC, the global confederation of authors societies. He is known for his business-savvy, as well as his interest in technology. – Robert Levine, Billboard
Lockdown bans on live performance have left many British musicians on the breadline, fuelling a campaign for them to get a bigger share of the profits from streaming their songs online. – Reuters
The music industry has already begun a shift towards consolidation, and covid-19 will likely accelerate this trend. Investment in music catalogues, distribution and technology have substantially increased in recent years. –  Brian Penick, Forbes
During a week in which President Trump's war with Twitter was at the center of the national conversation, it might actually be a Tweet by a pop star that changes the outcome of the 2020 presidential campaign. On Friday morning, Taylor Swift shared a 38-word Tweet admonishing President Trump for his provocative comments about the riots in Minneapolis. – Seth Cohen, Forbes
"I have a lot of respect for her," says the activist Anglo troubadour.  – Elizabeth Aubrey, NME
Following the killing of George Floyd in Minneapolis, many celebrities have taken to social media to use their platform to shed light on the issues surrounding police brutality, white privilege and racism in America.  On Saturday, Billie Eilish shared a powerful message to her Instagram followers outlining her outrage and slamming the All Lives Matter movement. – Pamela Avila, E!
Violence has hit its streets following the death of George Floyd. – Will Richards, NME
Social media is blowing up over a tweet from Madonna. It shows her son David dancing to a Michael Jackson song to pay tribute to George Floyd, an unarmed African American who was killed by police in Minnesota. Most of the commenters felt it was extremely insensitive, given what happened to Floyd. – Charlie Smith, Georgia Straight
The famed model and wife of John Legend is supporting the alleged "rioters and criminals" who have been arrested in protests springing up in the aftermath of the death of George Floyd.  – Adam Schrader, Page Six
Some are now shops, some are churches – but each had a role in musical history. Photographer Paul Talling has documented the story of 150 of them.  – Henry McDonald, The Observer
The Kiwi star has recruited his Fleetwood Mac bandmates Stevie Nicks and Christine McVie for a new song called Find Your Way Back Home. Sales will benefit the Auckland City Mission. – Noah Yoo, Pitchfork