FYI
Music Biz Headlines, Dec. 31, 2020
Indigenous music star William Prince (pictured) reflects upon his career choice, Calgary musicians rose above Covid, and a profile of Polaris winner Haviah Mighty. Also in the headlines are NYE concert options, Amazon Music, lost Toronto venues, Shawn Mendes, holiday songs, the Beatles, the year in dance music, Led Zeppelin, and Peter Jackson.
Dec 30, 2020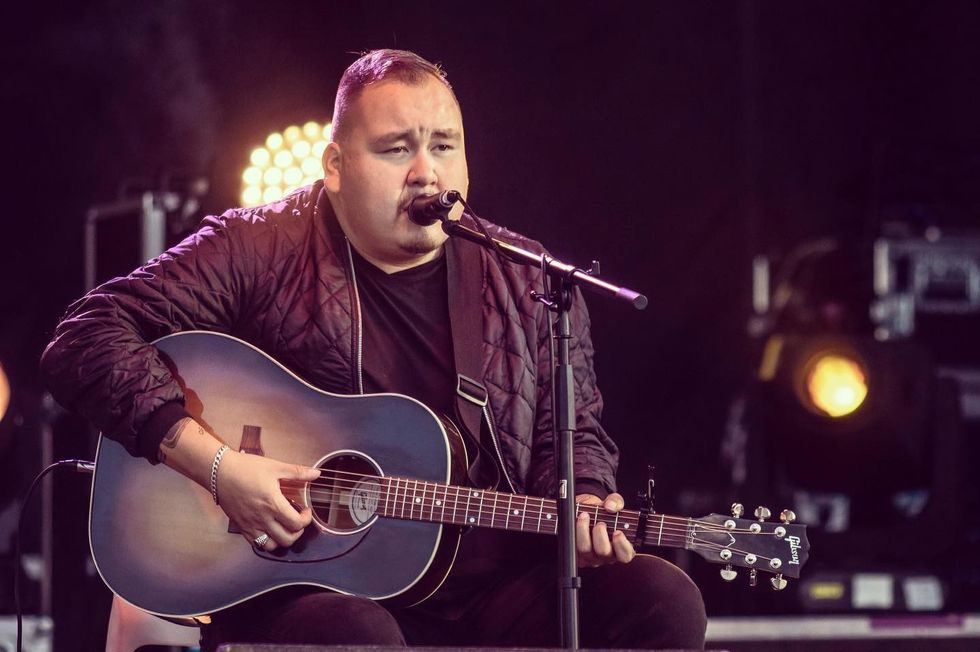 By Kerry Doole
The Indigenous music star says the best thing First Nations people can do is survive in the face of intergenerational trauma. William won a Juno Award in 2017 but had the early goal of becoming a doctor. William tells The Globe's Jana G. Pruden he saw being a doctor as a way to challenge negative preconceptions of him as an Indigenous man and help his community. – The Globe and Mail
---
The two-fisted power of Haviah Mighty's soulful singing and superior rhymes should propel this rising Canadian rapper to worldwide wonders. – Michael Hollett, Next
Amid the uncertainty 2021 brings, there are a few things we're looking forward to watching, reading and listening to. We also take a look back at 2020, a year when artists and institutions were forced to make a pandemic pivot. – Staff, the Globe and Mail
In Calgary, artists responded directly or indirectly to the pandemic and the lockdowns with creativity and focus, whether it be in the themes they tackled or how their recording process was altered. – Eric Volmers, Calgary Herald
New Year's Eve 2020 online concerts: Broken Social Scene dines in, Justin Bieber rocks out, and Kiss says bye-bye in Dubai. – Brad Wheeler, Globe and Mail
Music venues we lost in Toronto this past year hurt more than usual, as many spots that were already struggling to survive in a hostile landscape were unable to weather being closed for almost an entire 12 months. While these places may be gone, the memories of great shows there will live on forever. Here are the music venues we lost in Toronto this past year. – Blog TO
Despite everything—including the odds—some amazing music was made in 2020. Here, we look at some of the best.  – Morgan Mullin, Seyitan Moritiwon and Alec Martin, The Coast
All our music listening habits changed this year, but a few trends still emerged: comfort food, realness and the return of disco. – Richard Trapunski, Kevin Ritchie and Kelsey Adams, NOW
Shawn Mendes grew up in Justin Bieber's shadow, always the other cute Canadian kid who struck gold posting charming Top 40 covers online. But Monster, the pair's first single and music video together, marks the moment Mendes levels the playing field. Against sparse percussion that crescendos to a rapturous radio-pop refrain, the velvet-voiced hunks stand back to back as equals, trading fame-wary verses that ask whether they're flying too close to the sun. – Luc Rinaldi,  Next
International
Tis the season to be jolly: A record 39 holiday songs have dominated the Billboard Hot 100 chart, including nine holiday tunes in the Top 10. Mariah Carey's ubiquitous hit, "All I Want for Christmas Is You," leads the pack at No. 1 — marking the tune's fifth time at the top spot. Carey's original holiday classic, released in 1994, reached the No. 1 spot last year 25 years after its release. –  Mesfin Fekadu, AP.
Spotify has set the trend of music streaming platforms acquiring podcast companies in the past two years. Now another music streaming heavyweight has moved into this territory, with its own headline-grabbing buyout. Amazon Music has announced an agreement to acquire Los Angeles-based Wondery at a valuation for the podcast firm of over $300m. – Tim Ingham, MBW
My father, Alan Smyth, was a viola player. When I was young, in the 1980s, he mentioned a couple of times that he'd played with the Beatles. He wasn't very interested in them; growing up, I wasn't either. Years later, now that I've become very interested in them, I think often about his casual aside. – Adam Smyth, LRB
With no clubs or gigs to go to and pandemic anxiety to quell, ambient music chimed more strongly in a year when artists reconsidered their sense of purpose. – Kate Hutchinson, The Guardian 
Many popular mainstream artists continue being pampered during the pandemic, while independent musicians go broke, hungry and ignored. – Digital Journal
As New Year's Eve beckons, many of us would ordinarily be out raving. But this year, dance music has morphed to offer soulful escapism and cathartic euphoria that makes more sense at home, its creators such as Romy xx and The Blessed Madonna tell Sean Griffiths. – The Independent
Ryan Seacrest will have a special pair of guests alongside the music stars at this year's New Year's Eve celebration on ABC — the president-elect and the future first lady. Joe Biden and Dr. Jill Biden are scheduled to give "their last interview of the year" in New York's Times Square on "Dick Clark's New Year's Rockin' Eve with Ryan Seacrest 2021." – Mark Kennedy, AP
Robot rockstars in disguise, The Cybertronic Spree pay tribute to all-time greats, Led Zeppelin and their Immigrant Song.  That Eric Alper
Delson Stokes just wants to see his people "shine" and has dedicated the past 20 years, alongside his brother Boyd, to encouraging them to do so through music. Yabu Band is an Australian desert rock-reggae band formed by the brothers. – ABC
Peter Jackson gave Beatles fans an early Christmas present recently when he shared some pretty nifty footage of the famed U.K. band for his upcoming documentary. The long-awaited film was supposed to have debuted by now, but was pushed back to 2021 due to the coronavirus pandemic. It is now set to open in U.K. theatres on August 27, 2021. – Tim Baysinger, The Wrap