FYI
Music Biz Headlines, April 29, 2021
Alex Henry Foster (pictured) confronts grief with art, Canadian honkytonker Whitney Rose is eager to get back onstage, and Cadence Weapon discusses his new album. Others in the headlines include Hot Docs, Spotify, Bay City Rollers, Concord, Downtown, Napster, Mandolin, Jon Batiste, Michael Rapino, Al Schmitt, Van Morrison, Stephen Lipson, Britney Spears, Billie Eilish, The Who, Tunefind, and Burning Man.
Apr 28, 2021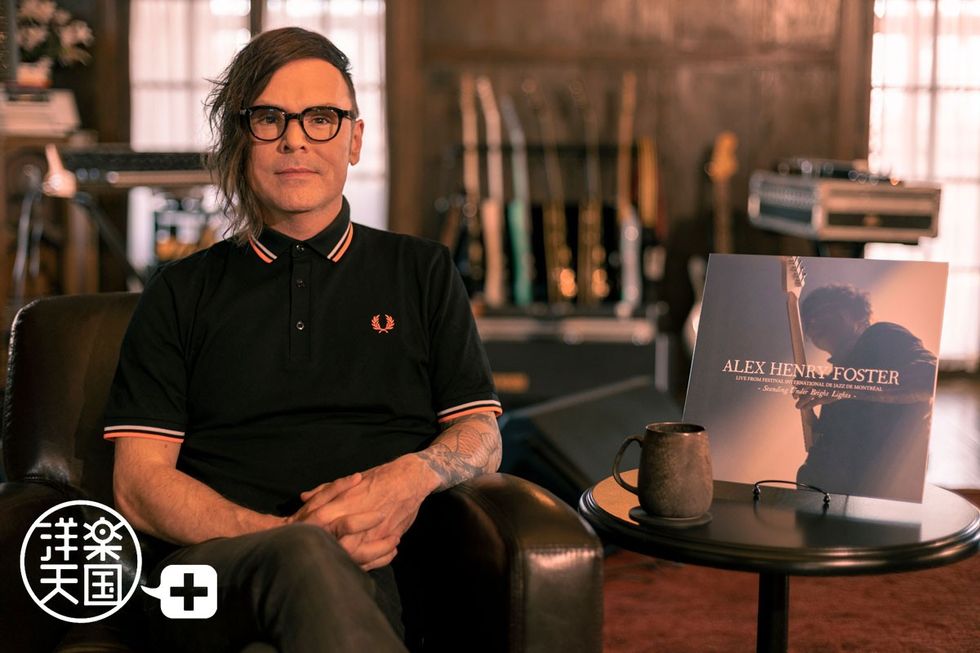 By Kerry Doole
---
If the Covid epidemic has produced any kind of silver lining for organizers behind the 28th annual Hot Docs documentary film festival, it's this: people stuck at home, and even those working the frontlines, have ample discretionary time. This year's edition has a strong lineup of music-themed docs. – Original Cin
Music has always been a kind of blanket for Foster, and it served him even better as a public figure dealing with such loss. Being hidden in a sea of music and other band members, offered the protection he sought to be vulnerable on stage to be able to release his pain as well as preserve the delicacy of the songs. – Macie Bennett, American Songwriter
His fifth album, Parallel World, comes out tomorrow, and the Toronto-based hip-hop artist describes it, his passion for Ayrton Senna, and much more. – Rob Duguay, FLOOD Magazine
Just a year ago Canadian transplant and Austin sweetheart Whitney Rose was celebrating the release of her fourth album, We Still Go To Rodeos with a busy touring schedule opening up for Mavericks front man, Raul Malo when all things came to a halt, including rodeos.  Rose herself was scheduled to play one in Dallas. –  Gladys Fuentes, Houston Press
For a minute there, the Toronto Star directly experienced Tartan Terrors. Actually, it was Peter Goddard — the Star's rock critic at the time — who bore the wrath of the placard-bearing Bay City Rollers fans known as the "Tartan Terrors." A bunch of them showed up at the Star parking lot in 1976 after he gave their band something of a dismissive review during a Maple Leaf Gardens tour kickoff the night before. – Nick Krewen, Toronto Star
International
On April 26 it was confirmed that a Concord affiliate has acquired 145,000 copyrights from New York-headquartered Downtown. The catalog includes hits and works performed by the likes of Adele, Aretha Franklin, Beyoncé, Bruno Mars, Carrie Underwood, David Bowie, Jay-Z, Lady Gaga, Marvin Gaye, Ray Charles, Sam Smith, Stevie Wonder, and The 1975. – Tim Ingham, MBW
 After selling 145K copyrights to Concord, Downtown Music Holdings will focus exclusively on the music services sector – i.e. being a partner to copyright holders large and small, rather than owning copyrights itself. This is no small ambition: Downtown projects it will generate over $600 million from its music services businesses, across both records and publishing, in 2021 alone. – Murray Stassen, MBW
London-based Napster Group is preparing to debut a new Napster-branded platform which will be a merger of the two currently still standalone businesses MelodyVR and streaming platform Napster. – Emmanuel Legrand, Hypebot
Concert live streaming and marketing platform Mandolin has inked an exclusive livestream deal with the noted booking agency Ground Control Touring. Under the terms of the agreement, Mandolin will stream and market select shows featuring clients on Ground Control's artist roster. The partnership kicked off last month with a an anniversary show featuring Waxahatchee and an album release livestream with Ani DiFranco. – Celebrity Access
While multiple outlets, including Variety, reported last April that Live Nation CEO Rapino was foregoing his $3 million salary for all of 2020 due to the pandemic and its devastating effect on the live-entertainment industry and the company, according to SEC filings, he did so for less than two months. His salary was reinstated at 50% as of June 1, and boosted to 60% on Sept. 16.– Jem Aswad, Variety
The trio of composers behind Disney-Pixar's "Soul" won the Oscar for best original score Sunday. It was the first Academy Award for jazz artist Jon Batiste and the second for Nine Inch Nail rock writers-turned-film composers Trent Reznor and Atticus Ross. Batiste becomes only the second Black composer to clinch the original score award in the 86-year history of the category. Herbie Hancock was the first, for 1986's "Round Midnight. – Jon Burlingame, Variety
On Monday (April 26), Spotify announced small price increases for various subscription products in 12 additional markets, including the US (Family Plan), and the UK (Student, Family, and Duo Plans). Fresh figures released by Spotify as part of its Q1 2021 results reveal the full extent of the price erosion that has hit Spotify's premium ARPU (Average Revenue Per User) in the past few years. In April 2021, the average Spotify subscriber around the world is paying less than $5 US per month. – MBW
The recording industry pays its respects to the legendary record-maker. – MusicTech
U.K. collecting society predicts royalty distributions to songwriters, composers and music publishers will fall by at least 10% in 2021. – Richard Smirke, Billboard
Accepting on Zoom during the Grammy pre-show for Best Song Written for Visual Media, Billie Eilish thanked No Time to Die film personnel: Daniel Craig; score composer, and producer Hans Zimmer; producer Barbara Broccoli; and Stephen Lipson for co-producing and co-mixing the track with her brother, and co-writer, Finneas. This marked the first time in Grammy history that the prize had been awarded to a song from a film still unreleased. Learn more about Lipson here. – Larry LeBlanc, Celebrity Access
After years of silence, Britney Spears will speak to the probate court in June regarding her long-standing legal conservatorship. At a hearing on Tuesday, Los Angeles Superior Court Judge Brenda Penny scheduled a hearing on June 23 to allow Spears to speak on the "status of the conservatorship." – Gene Maddaus, Variety
There have been mixed results here for musicians trying to, firstly, make money from NFTs and, secondly, testing the creative possibilities of NFTs. – Eamonn Forde, Forbes
Vinyl record sales are on the rise. We explore why people are buying this old school music format. – Quina Baterna, makeuseof.com
Long-haul truckers were once country music's heroes. Estelle Caswell breaks down the golden era of trucker country with country and folk music scholars Travis Stimeling and Nate Gibson. – Estelle Caswell and Antonella Crescimbeni, Vox
Filled with product placement and advertising, the band's newly reissued 1967 album put the pop in pop art, by showing how closely music was entwined with capital. – Alexis Petridis, The Guardian
It was a year like no other—and it left viewers more divided than ever. Here, event professionals around the country review the Academy Awards' socially distanced ceremony. – Claire Hoffman, BizBash
Tunefind, described as "the world's most comprehensive database and online source of information for music in television, film and video games", partners with over 250 music supervisors worldwide to source song data directly from the executives responsible for selecting music featured in TV shows, movies, and video games. – Murray Stassen, MBW
Van Morrison has spent the better part of the pandemic writing and recording truly awful protest songs best described as Covid-truther anthems. Now, the 75-year-old is complaining about the public's reaction to his new tunes, suggesting the reception is an attack on free speech. – Allie Gregory, Exclaim!
Burning Man organizers announced Tuesday they are cancelling this summer's annual counter-culture festival in the Nevada desert for the second year in a row because of the Covid-19 pandemic. – Scott Sonner, AP
After Billie Eilish's long pandemic year of a James Bond theme with no Bond movie, a Grammy for record of the year and a candid documentary about the 19-year-old's rise to pop's top tier, on Tuesday the singer announced the imminent release of her second LP. – August Brown, LA Times
George Gershwin, the renowned composer of jazz and popular music in the 1920s and '30s, will be the inspiration for a new film co-produced by Martin Scorsese and directed by John Carney. Fascinating Rhythm, named after one of Gershwin's best-known works, will be a musical drama influenced by the life and music of the celebrated composer. – Adam Feibel, JazzFM