FYI
The Halluci Nation: Remember 01
Spoken word, hard beats, and chants feature on this musical mission statement.
May 26, 2021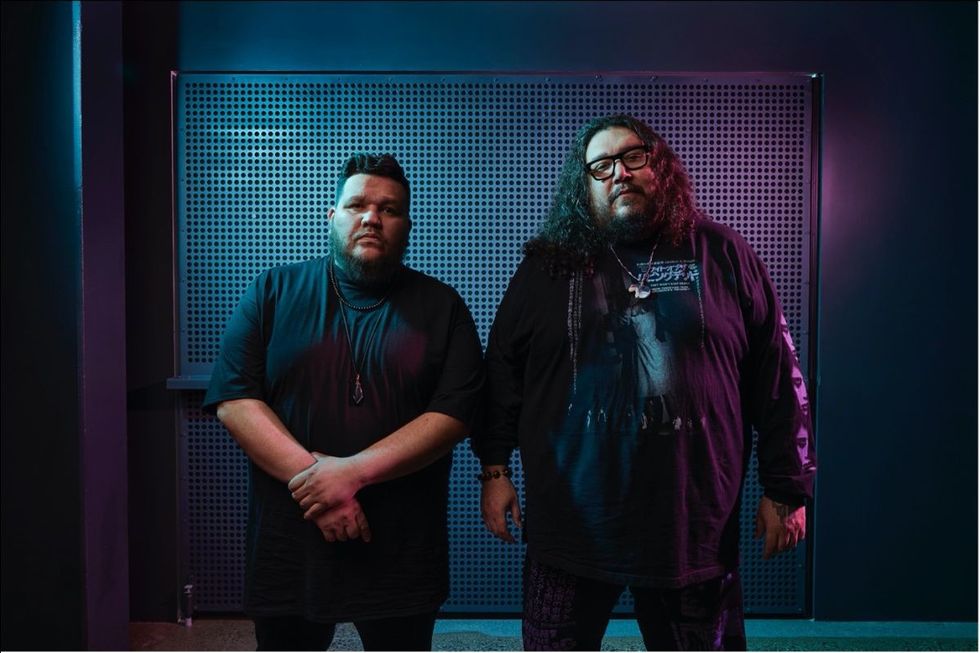 By Kerry Doole
The Halluci Nation - Remember 01 (Independent): The Halluci Nation is the new incarnation of groundbreaking and multiple Juno-winning Indigenous group A Tribe Called Red, comprising ATCR members Bear Witness and Tim "2oolman" Hill. A debut album under the new name, One More Saturday Night, is set for release on July 30.
---
It is preceded by this single and video, featuring noted US poet/activist John Trudell and Black Bear. A press release explains that 'the track is an ode to remembering the eve of August 21, 2014 when The Halluci Nation was born after first meeting Trudell." He died in 2015, but remains a role model for ATCR, and is featured on arguably that band's finest work, the 2016 album We Are The Halluci Nation.
Bear Witness shares, "He (John) was on a mission to set us on a course that continues to guide and inform our actions. Remembering our past is key to seeing our way into the future and revisiting the words John spoke about us that first night are exactly that. Like a beacon showing us that we are still on the path he sowed for us. John's words confirm that we are still moving forward in the right direction. This is why it is so important for us to share his voice with everyone and once again, let John set the tone for our first album as The Halluci Nation."
 
"Creating this song was one of the most powerful moments to ever happen to me professionally. Hearing John's words reverberate in the room over meaningful chords felt like we were wrapping up our entire journey as a group, a sort of reflection piece. To bring it all back one more time by using an introductory speech he gave us back in 2014 when we first met, and he told us in that moment what we must do going forward," adds 2oolman.
Remember 01 is built around Trudell's eloquent spoken word, while hard beats and the chanting of Black Bear add texture, and the Toronto-filmed video provides atmosphere.
 
The upcoming album is described in a press release as "a love letter to the Electric Pow Wow gatherings launched at Ottawa's Babylon nightclub in 2007 by the gang of DJs who would swiftly – and quite unexpectedly – become known to critics, tastemakers and festival crowds worldwide as A Tribe Called Red. It represents an imagined denouement to the biweekly Saturday-night parties that ended abruptly in 2017, without ever getting the proper send-off."
 Bear Witness adds, "We just wanted to make a party record, as well, one that people could dance to while still having the strong message we are known for." 
A Tribe Called Red was always known for its collaborations with a diverse range of musical artists, and that penchant continues on the upcoming album. Guests featured include Texan "electro-cumbia" star, El Dusty, First Nations singers Chippewa Travellers, Māori artist Rob Ruha, Inuk avant-garde throat singer Tanya Tagaq, round-dance/R&B fusionist Antoine Edwards Jr., dub poet Lilian Allen, R&B firebrand SATE, Odario, and Haviah Mighty.. Can't wait to hear more.
Links
Publicity: Joanne Setterington, Indoor Recess
Management: Guillaume Decouflet, Valeo Arts Management
Booking (North America): Adam Countryman