FYI
Five Questions With ... Celeigh Cardinal
Hot on the heels of her first Juno award win, the Edmonton singer-songwriter and radio host reflects upon that honour, the very personal album that earned it, her future plans, and hopes for more diversity in Canadian music and media.
Jul 05, 2020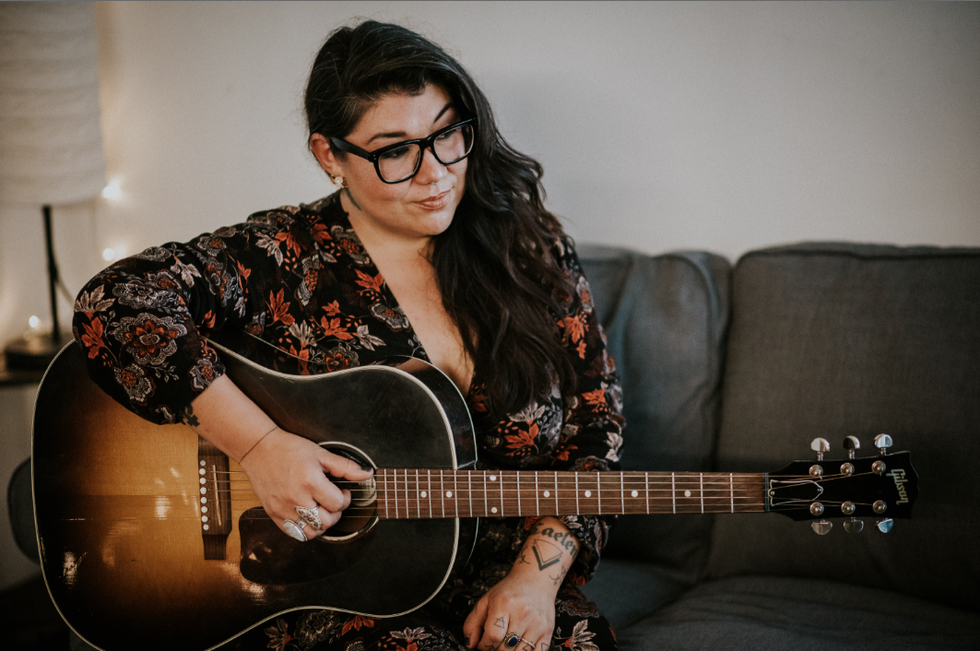 By Jason Schneider
The 2020 Juno Award winners were finally announced last week, and along with the usual suspects being recognized, there were several relatively new names honoured that Canadians should get to know.
---
One is Edmonton-based singer-songwriter Celeigh Cardinal whose sophomore album Stories From A Downtown Apartment was named Indigenous Music Album of the Year. An unflinching collection of soulful songs that describe the end of a relationship, Cardinal's writing process was also aided in no small measure by the time she spent at a Manitoba Music-sponsored Indigenous Music residency where she was inspired by other artists finding ways to speak their truth.
Pure, honest expression is something that Cardinal has been pursuing since she released her debut album Everything And Nothing At All in 2017. Since then, she has also become a tireless supporter of other artists doing the same as an arts columnist on CBC Radio Edmonton and as host of her own show, Full Circle, on CKUA.
Now with her Juno win, Cardinal appears poised to raise her national profile significantly. We were fortunate to catch up with her on the day after the broadcast, and for more information, go to celeighcardinal.com
Congratulations on winning your first Juno! What was your reaction, and how did you celebrate?
I watched the awards with my family and a few of my closest friends, and when my name was announced, the reaction was a sudden uproar of screaming and crying—so much so, that we had to calm three very terrified dogs. Then we popped some champagne and spent the night laughing, crying and basking in that great feeling. Though I didn't get to have the award show experience, being surrounded by the people who love and support me through thick and thin was actually perfect. It was a win for all of us.
Did you feel you were creating something special when you were making Stories From A Downtown Apartment? 
The album is a pretty raw and very authentic compilation of the true stories of my life. Every song has a deep meaning for me. Once the album was finished, I stepped back and saw that the album was exactly what I wanted it to be and it felt genuine, it felt right. That's what felt special about it.
Are there any songs on it that you feel are specifically relevant to the moment we're living in now?
This album, if it were to be summarized kind of generically, is a break-up album. The songs talk about love, grief, loving the wrong person, desire, and letting go. These are the stories of humans. I think the songs are relevant in an intrinsic way. Folks are feeling anxious and scared. Yet, while we are experiencing a global pandemic and uncertain times, life has just continued on. People have passed, babies have been born, hearts have been broken, love has blossomed. We may have had to slow down, but we are still living that human experience.
You've also become a powerful Indigenous voice on Alberta radio. Are you hopeful that Canadian media will begin embracing more diversity?
Yes! I love having the opportunity to showcase the vast diversity of music from Indigenous artists. On a larger scale, music has a way of connecting people, and when you feel yourself in someone's music, you feel a connection with them. The more music I can share with non-Indigenous audiences, the more connection they will feel with Indigenous people. On a smaller scale, I travel and meet extraordinary Indigenous artists all the time, and I'm so happy to have a platform to show off my incredibly talented community.
What are your plans for when things start returning to normal and do you have any live-streaming events coming up? 
Well, luckily my next move is to record another album, so right now I'm grateful to slow down and focus on writing. I have started doing some bookings; I'll be performing for the Canmore Folk Festival, Hillside Festival, and a few more here and there, which I'll announce on my social media platforms as they are scheduled. My next show will go live on July 9 for the Alberta Spotlight Video Series at 4:30 pm MDT at ckua.com/albertaspotlight