FYI
Five Questions With… Suzie Vinnick
The highly-decorated blues veteran returns with a new album, Shake The Love Around. Here she explains that it showcases her different voices, discusses some favourite songs, and recalls a memorable gig with Bryan Adams.
Dec 05, 2018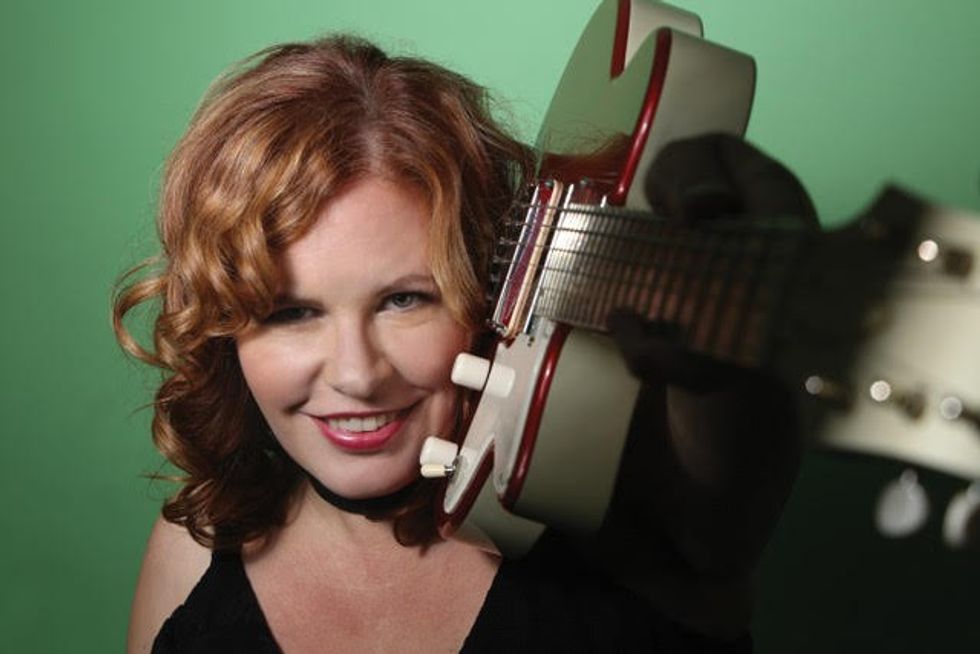 By Jason Schneider
Coming off her previous album, 2012's acoustic Me 'N Mabel, Canadian blues scene fixture Suzie Vinnick turns up the volume on her latest effort Shake The Love Around. Working again with her longtime co-producer Mark Lalama, Vinnick has crafted a full-band roots and blues extravaganza showcasing her powerful voice, prodigious guitar and bass chops, and an engagingly candid performance style.
---
Often compared to Bonnie Raitt, Vinnick was most recently nominated for a 2018 Canadian Folk Music Award for Producer of the Year along with Lalama. She has also won 10 Maple Blues Awards in her career, along with earning three Juno nominations and countless other accolades.
However, she remains as passionate about touring as making records, and she already has plans to crisscross North America in the new year. Before that, you can catch her with Matt Andersen at the National Arts Centre in Ottawa on Dec. 20 and at Hugh's Room Live in Toronto on Dec. 29 for her annual Holiday Show. For more info go to suzievinnick.com.
What makes Shake The Love Around stand apart from your previous work?
I wanted to focus on voices on this album—my voice as a singer, and also as a musician and songwriter. I played all of the guitars on this album, electric, acoustic, bass and lap steel, which I haven't done before—although I brought in Kevin Breit and Colin Linden, a couple of my guitar heroes, to each play a solo. I challenged myself a lot more on this album by playing instruments I haven't played in my previous recordings.
What songs on the record are you most proud of and why?
I'm basically playing the album live, which I haven't done with my other albums and it shows how much I love all of these songs. I specifically wanted to include a song called "Drift Away" that I co-wrote with Matt Andersen for his album Weightless. It's a sweet song about remembering to breathe when you are going through a hard time. I've had quite a few people come up to me after shows and say how the song resonates with them, and they'll often open up about the things they are going through. A couple of fans have even made the song a kind of mantra as they go through cancer treatment. As a songwriter, that response makes me feel like I'm doing my job. 
What song in your catalogue means the most to you and why?
I often cover a song called "I Need A Cowboy" that was written by Ottawa songwriters Sherwood Lumsden and Al Bragg. I used to sing it at shows when I went back home to Saskatoon. My Dad used to do a call and response on a couple of lines, and it was always a hoot.
In early 2000 my Dad was in palliative care in Saskatoon. I flew home to see him and brought my guitar so I could sing a few songs in the hospital room. Dad was on heavy painkillers at that point, and I didn't think he'd even hear me, but I played anyway. I sang the first verse of "I Need A Cowboy" and noticed his toe-tapping to the beat. I sang the second verse, and when it came to the part he usually sang, his arm shot straight up in the air. It was bittersweet, but more sweet than bitter, knowing he was right there with me and listening to the music. I love it that one of our last connections was through music and that song.
What song by another artist do you wish you had written?
I've been performing Lonnie Mack and Mike Wilkerson's song "Oreo Cookie Blues" since I was 20 years old. My friend Dave in Saskatoon suggested I give it a listen and I promptly learned it. I've got a bit of sweet tooth and related to it in a big way. I later heard that Lonnie Mack was a diabetic and that was why he and Mike wrote the song. It always makes people laugh. 
What's your best touring story?
In the early '90s, Tony Diteodoro of Monkeyjunk and I had a project together called Tony D and His Cool Band. We were touring across Canada and booked to perform a few nights at the King Eddy in Calgary. On the Friday afternoon, we were told we would only perform one set because there was going to be a private party that night. It turned out to be Bryan Adams rewarding a fan who won a "Waking Up Your Neighborhood" prize. I had a connection to Bryan's tour manager who arranged for Tony and me to get up and jam with Bryan and the band on "Roadhouse Blues." They were amazing that night and played for almost three hours straight. It was such a treat to get to see him play up close and to be so kind in giving Tony and me a chance to rock out with him.