FYI
Five Questions With… Corin Raymond
The much-loved storytelling troubadour returns with a new album, one accompanied by a coffee table-style book. Here he describes the record, the healing power of one of its songs, the benefits of therapy, and a love of Ned Washington.
Oct 25, 2019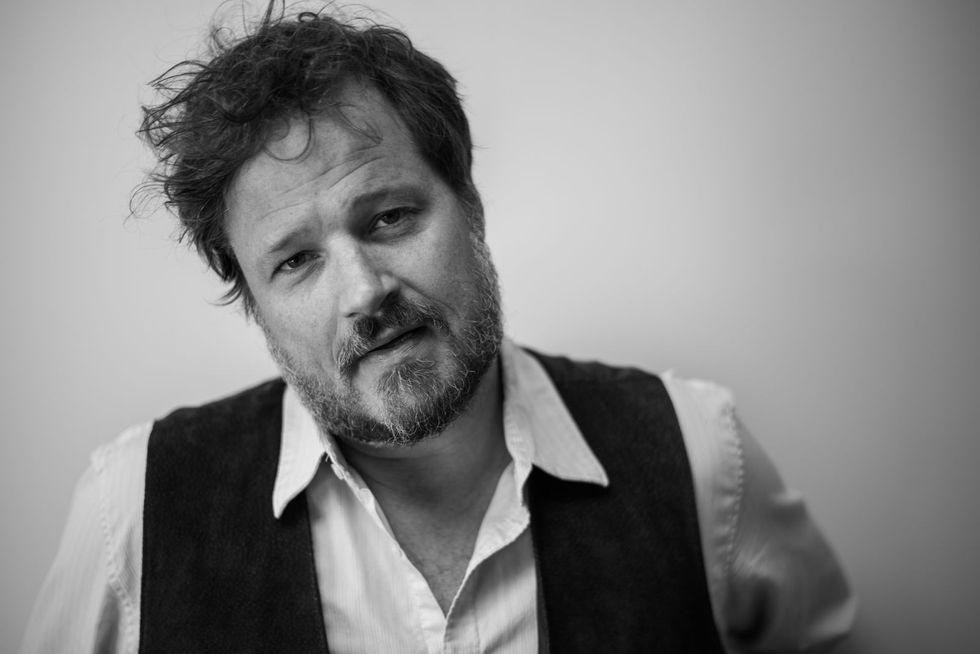 By Jason Schneider
It's been over three years since Hamilton singer-songwriter Corin Raymond released the Juno-nominated Hobo Jungle Fever Dreams, and his new album Dirty Mansions, out Oct. 25, shows that he was hardly idle for much of that time. Along with containing 10 new songs in his trademark poetic style, the CD package comes as a coffee table-style book containing 20,000 words of musings and other goodies that his fans have come to expect.
---
Raymond's career has been built on ambitious and unconventional ideas from the beginning, and indeed, it may be more accurate to call him a raconteur, since storytelling is as much a part of his performances as the songs. That trait famously gained him international attention in 2013 after his song Don't Spend It Honey—which mentioned Canadian Tire money—led to listeners spontaneously donating our country's "other" currency to the point where Raymond amassed over $6,000, enough to pay for the production of his aptly titled live album Paper Nickels.
Dirty Mansions shows that Raymond continues to push his creative boundaries, while honing his songwriting skills, as on the poignant ballad, Hamilton. Recorded over a number of sessions in Winnipeg over the past two years with producer Scott Nolan, the album features a host of notable players including Treasa Levasseur, Julie Penner, Jaxon Haldane and Alexa Dirks (Begonia).
Raymond performs at the Cameron House in Toronto on Oct. 31 before heading out across Ontario for dates throughout November. The tour caps off with a show at Winnipeg's West End Cultural Centre on Dec. 8. For more information go to corinraymond.com.
What makes Dirty Mansions stand apart from your past work?
It's moodier, and older. The songwriting's better, and more conscious of mortality. A lot of good friends have died these past few years, and they're in there too. Sonically, it definitely stands apart from the previous records—the main characters are the piano and cello, and the one guitar solo on the record is four bars long. One thing Scott Nolan was after was getting different kinds of performances from me. He wanted to showcase more of my storytelling side, and he definitely did. Plus, there's bagpipes! Another thing that sets Dirty Mansions apart, not just from my past catalogue but probably from any previous album ever, is the 264-page CD package. It's hard to describe until you've got it in your hands.
What songs on the record are you most proud of and why?
I like Half Past Remembered for the writing, and because I was able to hold on to it for 14 years until my recording acumen caught up to the quality of the song. I'm also proud of it because it had a healing effect on my relationship with my father. It's amazing that songs can even do that, so more than being proud of that song, I'm grateful for it too.
What's been the biggest change in your life over the past year?
Shifting out of a really scary mental place and back into a space in which I'm no longer being assaulted by my every steel-toed thought. A lot of 2018, during a good chunk of the time I was working on this record, I was having a lot of difficulty with simple day-to-day stuff. Thank God for therapy and friends, who helped me get back to focusing on my work. And Citalopram. God bless Citalopram.
What are your fondest musical memories as you were growing up?
My Dad's Saturday morning records, which included a lot of Gordon Lightfoot, The Weavers, The Kingston Trio and Cleo Laine, all of whom will always sound like bacon to me. My Dad also took me to see Oscar Peterson, and to many musicals. My favourites were Guys & Dolls, Annie, and South Pacific.
I also remember seeing Little Shop of Horrors when I was 10, but my strongest memory of that was witnessing a drunk man sprawled across several seats on our subway car on the way home. I'd never seen anyone drunk in such a public place before, and it was exciting. He was singing Swing Low Sweet Chariot in a rich, open-throated baritone. I was enthralled by this louche bohemian who lived in the mysterious city and obviously didn't give a fuck about freely emoting in this homogenized public space. I wasn't aware of any of these things then, but I can hear his voice to this day.
Another strong memory is getting into the El Mocambo to see The Phantoms one night when I was 17. It was one of the before-and-after nights of my life—seeing [singer/harmonica player] Jerome Godboo that night, I knew I could do this. I didn't know how, but after seeing that show I knew that I had it in me.
What song by another artist do you wish you had written?
I wish I'd brought When You Wish Upon a Star into the world. I can't think of a more perfect song. It's romantic, and wise, and optimistic; it's grand and lush, sophisticated, and as simple as can be.  It's pure show biz, but it's intimate and truthful and somehow it contains the very power of wishing itself. It kind of does everything. Plus, the lyric is by Ned Washington, one of the most unsung lyricists from the Golden Age of songs in cinema. He also wrote Wild is the Wind, as well as the theme to High Noon—either of which would also have been career-makers for any of the rest of us.
Facebook: @ CorinRaymondMusic
Twitter: @ corinraymond
Publicity: Mavis Harris / Nice Marmot PR