FYI
Five Questions With… Carlo
The Toronto instrumental combo's sound draws upon Link Wray, Morricone, surf rock, and Booker T & The MGs. Keyboardist Kelsey McNulty discusses the band's creative process, the origins of the name, and the sugary treats at his first gig.
May 24, 2018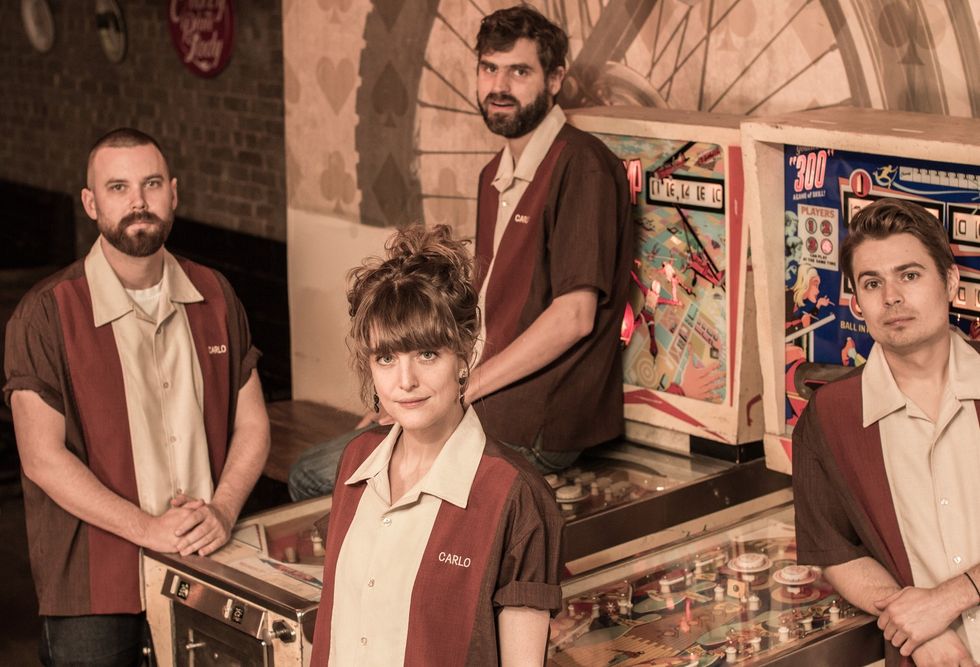 By Jason Schneider
Drawing equally from surf rock, Link Wray, Ennio Morricone and Booker T & The MGs, the all-original Toronto instrumental combo Carlo has firmly embedded itself on the scene with a new self-titled album guaranteed to make any situation you're in a lot cooler.
---
Carlo is comprised of guitarist James Taylor, keyboardist Kelsey McNulty, bassist Scott McCannell, and current drummer Justin Rupple. Since releasing a debut EP in 2015, the band members have consistently developed their distinctive approach to well-established sounds. Carlo, the album, boldly displays the fruits of that evolution over the past two years.
Recorded live at Magnephonic Records in Toronto, using analogue tape and vintage microphones for the highest possible fidelity reproduction, Carlo was then mastered for vinyl by Precision Pressing using state of the art technology. Such attention to detail is a crucial part of Carlo's aesthetic although, as evidenced by the band's enigmatic name, they don't follow the rulebook to the letter.
That's certainly the feeling conveyed by the album's opening track, "Carlo's Crush," with Taylor's stinging Steve Cropper-esque lines interweaving with McNulty's haunting Acetone organ melodies and a tight groove befitting anything in the Daptone Records catalogue. That track, in particular, features a special appearance by Pascal Delaquis on drums, on loan from Ottawa's beloved collective, Hilotrons.
It could be said that all great rock instrumentals originate from a simple riff that's fleshed out into a mini two or three-minute opus with a specific theme. That's evident as soon as the needle drops on Carlo, with each track telling its own unique story. Kelsey McNulty took some time to offer more insights ahead of Carlo's CD launch show at Toronto's Burdock on Thursday, May 24. For more info, go to carlosurf.bandcamp.com.
How has the band's sound evolved on the new album?
One of the main conceptual pillars of the band is to track everything live off the floor and to tape. This time around 1/2 inch tape was used instead of 1/4 inch which was used on our first EP, Casse-croûte. This changed the sound a bit as it allowed for slightly higher fidelity while maintaining some of the grit that is part of the band's sound. The new album also features more keyboards in the foreground—Acetone and Hammond organs can be found scattered all over the tracks. The songs are still rooted in surf, but some have a distinct soul/Stax influence à la Booker T and the MGs.
How does the songwriting process work within the band?
The band ran out of ideas a long time ago, so whenever we need a song we have to buy seeds from the idea farm, plant them and hope that they flourish. We lucked out on this album with some good seeds that sprouted within a few sessions.
How did the band originally form around playing this style of music, and is there a story behind the name Carlo that you can share?
Scott had been up holed up in a cabin in Quebec for almost a year working on his analogue recording skills when he decided he wanted some live musicians to test them out. He got in touch with James and me in Toronto, and we wrote a few song ideas and grooves, invited an old friend in Ottawa who was a drummer to join us, packed some gear and headed to Gatineau.
Unfortunately, the day we arrived Scott called and said that the cabin had been ransacked by opossums and that we needed a new location to record as the cute little monsters had broken some windows and attacked some power outlets. Luckily my best friend lived in a mansion nearby that looked like something out of that movie The Secret Garden, and she offered the basement to set up as a studio. On the way home, we were starving and, like a mirage, we spotted the bright lights of "Patate à Carlo." It was a chip stand in an old bus and the woman running it was just so welcoming. The poutine was incredible, and after we finished eating, we no longer doubted anything; we knew that we were now a band, and that band would be called Carlo.
What are your fondest musical memories as you were growing up?
Probably my first paid gig. I was 8 or 9 and my dad's brother, Uncle Bill, hired me to play "The Entertainer" on his family's old Kimball organ for their Christmas party.  None of the other McNulty kids except his were invited, which made me feel very special. I could eat as many of Aunt Bonnie's delicious desserts as I wanted as payment, which seemed like a dream. I will admit that a year later I was diagnosed with diabetes, but I like to believe these things weren't connected. I warned my uncle that I only had five songs in my repertoire but he said that was fine, I could make some stuff up, or play those five songs all night. That precisely is what I did and how I cut my teeth gigging!
If you could fix anything about the music business, what would it be?
We would have the music industry revolve around us. We would be everyone's backing band, and it would be an economy of Carlo. Our faces would be on banknotes all over the world.