FYI
Essentials… with The Lucky Ones
Each week, Essentials allows Canadian music industry figures to share the things that have helped get them through the pandemic, and why they still can't live without them. Here are the choices of members of a rootsy band from the Yukon.
Mar 09, 2022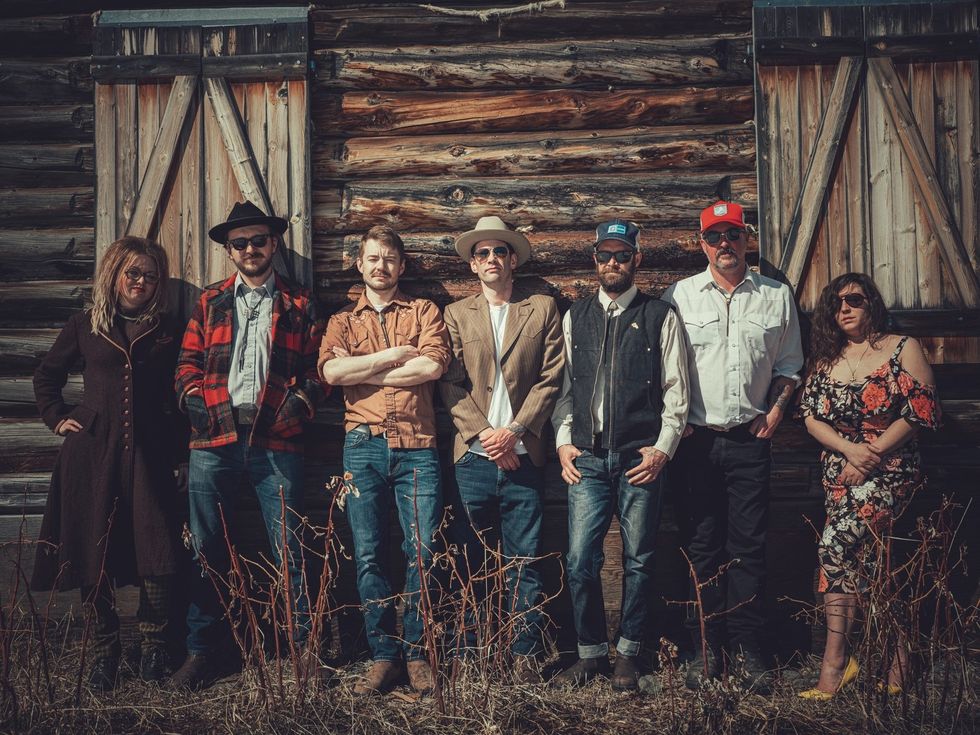 By Jason Schneider
Each week, Essentials allows Canadian music industry figures to share the things that have helped get them through the pandemic, and why they still can't live without them.
---
Since releasing their self-titled debut album in 2020, The Lucky Ones have quickly come to be regarded as one of Canada's finest roots music ensembles. Hailing from the Yukon, the group's sound is built on a foundation of traditional bluegrass and honky tonk, but expressed through the distinctive songwriting of its core members, singer/guitarist Ian Smith, singer/guitarist JD McCallen, singer/mandolinist Ryan James West, singer/fiddler Kieran Poile, upright bassist Jeff Dinely and banjo/pedal steel player Ryan McNally.
The Lucky Ones' recently released sophomore album Slow Dance, Square Dance, Barn Dance continues to see that sound evolve on nine new original tunes that showcase the band's wide-ranging musical chops and unique personalities who are able to convey all the atmosphere of an intimate live performance, or a raucous night out on the tiles.
As on The Lucky Ones' debut, nearly all of the songs on Slow Dance, Square Dance, Barn Dance are drawn from real life in the Far North, with a loose storyline connecting them, Although the group doesn't go as far as describing Slow Dance, Square Dance, Barn Dance as a concept album on par with Willie Nelson's Red Headed Stranger, they say their collective creative mindset has become much more focused.
The Lucky Ones have also dedicated Slow Dance, Square Dance, Barn Dance to their friend and mentor Joe Loutchan, aka The Fiddler on the Loose, who passed away in 2021. It was a big blow to the band personally, as Loutchan held court at the famous 98 Hotel in Whitehorse, hosting "Fiddle Night" every Thursday since 1982. Since his passing, the band has fully assumed Loutchan's residency and has done their best to honour his memory by adding more traditional fiddle tunes to their repertoire.
It's another shining example of how the tight-knit Yukon music community spans generations, with The Lucky Ones, in many ways, being at the centre of it. The band is fully preparing to return to the road as soon as it's safe to do so, but until then they're grateful to be able to play at home and keep nurturing their music through their immediate surroundings.
Get Slow Dance, Square Dance, Barn Dance now from theluckyonesmusic.bandcamp.com.
Essential Album: Bruce Springsteen, Born To Run (Columbia, 1975)
JD McCallen: This answer changes on a weekly basis, but there's one record that always does it for me, regardless of my state of mind: Born To Run. I mean, it's Born To Run! It's Springsteen and the E Street Band at the pinnacle of their rock and roll power and it plays like a series of vignettes. I picture these songs as short films in my head while listening; sepia-toned American triumph and tragedy. Springsteen's lyrics are just that good. It's raw, real, and cuts right to the bone. There are only eight songs on the album, but that's all it really needs, it floors me every single time.
Ryan James West: The Sadies, Stories Often Told (Outside Music, 2002)
It's a difficult task to pick just one album from The Sadies, they were prolific in every sense of the word—Canadian music royalty begat of Canadian music royalty. However, if I had to pick just one, Stories Often Told would be it. If anything, simply because it was the first Sadies album I heard. I was raised on the records of Neil Young, The Band, and thanks to my dad, Anne Murray. I was steeped in good ol' fashioned Canadiana. But, as youngins often do, I ventured away from that stuff as I grew into my early teens, likely just as a way of separating myself from my parents. In high school, I think I spent more time at my local record shop than in my afternoon classes. I remember one afternoon in Grade 10 or 11, fingering through some records when the store's owner put on Stories Often Told. I remember being absolutely floored by what I heard. It was country, but so edgy, something I hadn't really ever heard before, like some kinda cosmic spaghetti western. I asked the store owner who we were listening to, and he said The Sadies. I stayed in the shop for the duration of the record, just listening, and left completely changed. It was both the music of my parents and the sound of my rebellion. One line really stuck with me for a long time from the track Within A Stone: "Sometimes we're kinder to strangers than family." It just hit me over the head like a hammer and that line rang in my ears for the days, weeks, and years to come. Personally, I owe a great deal to The Sadies' music. It changed my perspective on what was possible and, in a sense, brought me back to my roots and reconnected me with my family and country music.
Essential Book: Alistair MacLeod, No Great Mischief (McClelland & Stewart, 1999)
Ryan James West: Alistair Macleod should be a household name. He's one of the best writers our country has ever produced, and although No Great Mischief is his only novel, his short stories have everything you might find in a novel compressed into 10 or 20 pages—that kind of writing takes serious skill, and likely a whole lot of patience. His stories are like diamonds, there are facets to them. I've read and re-read them so many times I've lost count. But every time I do, I find something I missed or some connection or meaning I neglected to discover the first time around. In my opinion, he stands toe-to-toe with the greats like Hemingway, Cheever, and Carver. 
No Great Mischief tells the story of a Cape Breton family of Scottish descent whose ancestry remains prominent in their blood, relationships, and family ties. The novel is set in the 1970s and is told by its protagonist, Alexander MacDonald, whose narration jumps back and forth between the present day as an adult and his childhood memories with his large family. Alex and his sister were raised by their grandparents and referred to by their cousins as "the lucky ones," because they grew up in the home of the two caring elders that loved and, from their perspective, spoiled them. However, what we know lies beneath this name and close relationship with their grandparents is that the siblings were forced to grow up without their mother and father, who had perished falling through the ice when trying to cross a frozen bay. Utterly tragic stuff. The double meaning of that moniker, the lucky ones, is something I really like. Ya know, from the naive perspective of their cousins, they are lucky, but behind it all is a world of hard luck and trauma. That kind of two-sidedness, or more-than-meets-the-eye, is a prominent feature in MacLeod's writing, he's just so damn good at it. That's also where the band got its name from, The Lucky Ones. There's certainly a lot beneath the surface that our audience doesn't really have a perspective of, and though a lot of our songs are upbeat and happy sounding, if you're paying attention to the lyrics there's a lot of heartbreak, struggle, and sorrow between the lines.
In the end, I just think Macleod captures part of the Canadian identity in a way that is relatable for us, and tugs at our heartstrings pretty darn good. In the band, we all seem to be the black sheep of our families, yet family and brotherhood are really important to us. MacLeod has a way of describing that struggle in a powerful and poignant way. Relationships are really at the forefront of the novel: relationships with our family, relationships with ourselves, relationships with our jobs, relationships with our ancestors, our culture, and the land around us. On top of that, it's got all the authentic ingredients of real life: addiction, running from the cops, brawls and fights, and a whole lot of love and understanding. If you haven't read anything by Macleod and are a fan of Canadian literature, or just good literature in general, you'd be doing yourself a favour if you got out to your local bookstore and picked up something by him. 
Essential TV: Deadwood (HBO, 2004-2006)
Ian Smith: When I first got into Deadwood I was expecting a standard western; good guys with guns, bad guys with guns, whiskey, horses and cowboy hats. While the show has plenty of that stuff, what you're really watching is one of the most detailed, insightful and fully realized fictional universes ever captured on screen. As a songwriter, I love a good line, and the show delivers more memorable and meaningful passages of dialogue than any other I can think of. To put a point on it, Deadwood makes you feel like you're there like you know the place and the people living in it. To me, that's the gold standard of narrative art and if any of our songs make people feel the same way then we're doing a good job.
Essential Movie: It's A Wonderful Life (1946)
JD McCallen: A little nostalgic cliche cheese, yes. It's romantic and funny and sad and heartwarming. Sure, I typically watch it when I'm half drunk on holiday cheer and leftover charcuterie, but I wouldn't have it any other way. It always does the trick for me. "Every time a bell rings an angel gets its wings." Doesn't get much better than that!