FYI
Essentials… with Georgia Harmer
Each week, Essentials allows Canadian musicians to share the things that have helped them get through the pandemic, and why they still can't live without them. Here are the choices of an emerging singer/songwriter with a notable surname.
Jan 12, 2022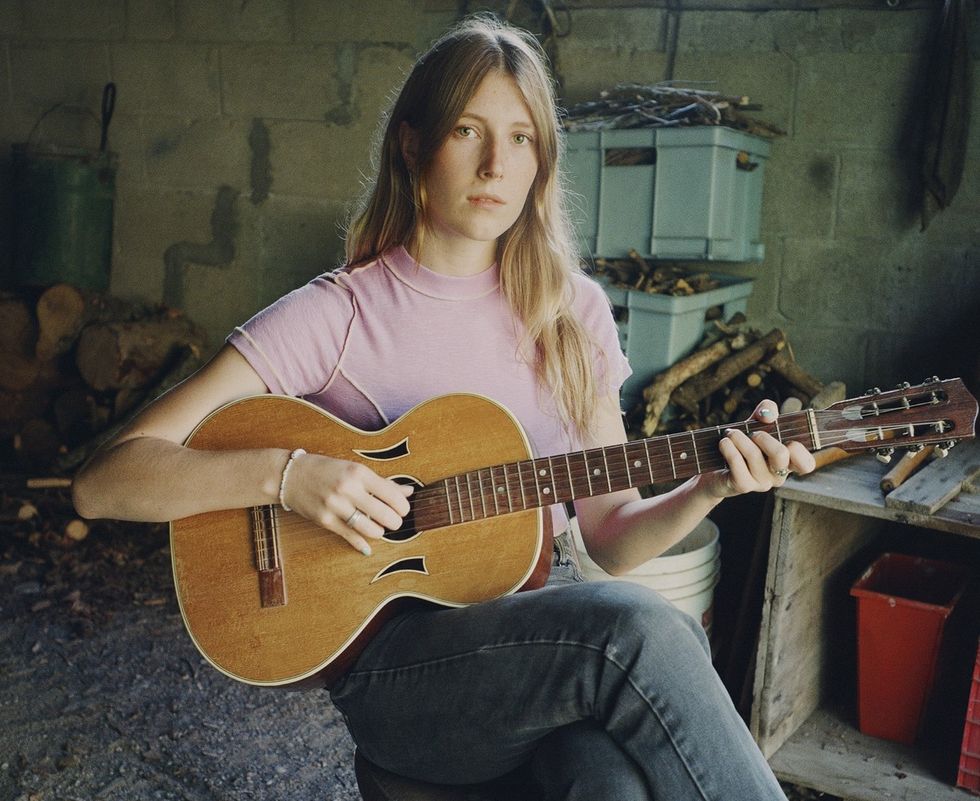 By Jason Schneider
Each week, Essentials allows Canadian musicians to share the things that have helped get them through the pandemic, and why they still can't live without them.
---
She may have a leg up in Canada because of her recognizable surname, but Toronto-based singer/songwriter Georgia Harmer is quickly establishing her own identity on the basis of her debut single for Arts & Crafts, Headrush.
Although the song contains elements of her aunt Sarah's melodic folk-rock, Georgia's atmospheric vocals and the overall slow-building pulse give off some contemporary indie rock vibes. That's a clear reflection of Headrush being recorded live off the floor in a West Toronto garage where, presumably, more tracks were laid down that will soon see the light of day.
Harmer already has experience within the industry, having sung live back-ups for Alessia Cara in 2019. Just before the arrival of omicron, she also completed a run of Canadian dates opening for Dan Mangan, which expanded her fan base substantially.
There are undoubtedly more touring plans in the works, along with new music, but for now Headrush is serving as a fine introduction to an artist with a long and diverse career ahead of them. Georgia Harmer's Headrush can be streamed or purchased here.
Essential Album: Feist, Pleasure (UMC, 2017)
I first heard the title track from this album in my friend's basement during band practice in my last year of high school. We all were familiar with Feist and had grown up with her music. I learned 1,2,3,4 on guitar when I was 11 and I listened to Let It Die during my first heartbreak. But this album struck something in me. It became my soundtrack for that year and for years to follow. There's something about the rawness of her delivery that pierces right through. It's a good example of music that helped me understand something I felt in my core but didn't have the tools to translate. I still feel really connected to the emotional map of these songs.
Essential Book: Claudia Dey, Stunt (Coach House, 2008)
Claudia Dey is one of my favourite writers ever and the way she tells this story is heartbreaking and beautiful. There are so many scenes in this book that I'll never forget. I was so inspired by one of the lines that I wrote a song about it. I love when I find writing that makes me feel like I'm learning a secret language. She does it better than anyone. 
Essential TV:The Bachelorette (ABC, 2003-present)
I know, I know. At first, I made fun of my sister for watching it, and then she got me, my mom, and my boyfriend all hooked. It's awesome to watch someone date a group of people all at once on reality TV. I only watch light-hearted, feel-good stuff right now. I don't watch much TV so when I do, I just want to be entertained. I loved Michelle's season—I wish her and Nayte the very best.
Essential Movie:King Richard (2021)
I just watched King Richard and it was one of the best movies I've seen in a long time. The story was so inspiring and made me want to play tennis. Serena and Venus Williams are badasses. The film is mostly based on their experiences growing up, the way their family believed in and supported them unconditionally, how hard they worked, and how much it took for them to get as far as they did. That's what I wanna see!