FYI
Diana Krall, The World Series And Meyer's Deli
What do the Blue Jays' triumph, an aspiring jazz singer/pianist, and a Toronto delicatessen have in common? Bill King connects the dots, recalling one memorable night, and reprising this with a fascinating interview.
Oct 26, 2018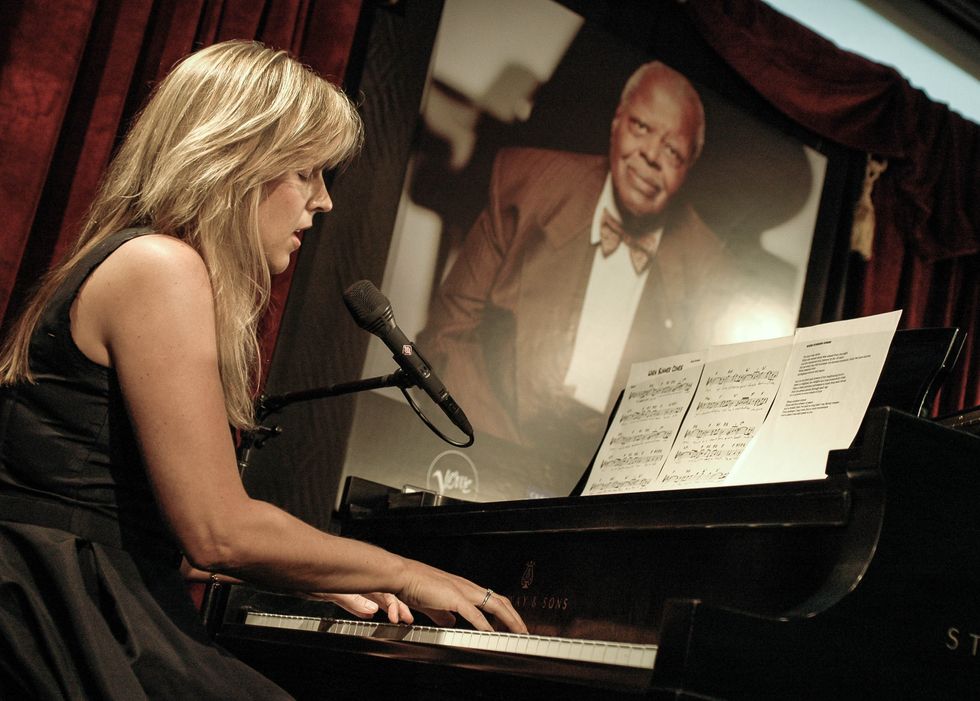 By Bill King
How does one correlate the emergence of an aspiring jazz singer/pianist with the anniversary of Joe Carter's walk-off home run, October 23, 1993, that gave the Toronto Blue Jays their second World Series trophy? Meyer's Deli, a once popular delicatessen at 69 Yorkville Avenue.
---
Meyer's, in its day, had a late-night jazz policy, one embraced by the local jazz establishment and booked by the late Dave Caplan, known to many as the "jazz tailor." Caplan did business from the trunk of his car. He'd show samples, then take your measurements, return to his apartment and sew to a 'not so perfect' fit.
Caplan had booked me and my piano jazz trio for the 9:30 set up against the Blue Jays and Philadelphia Phillies. The trio arrives to find every seat filled and crowd focused on the big screen – that early version of flat screen – the projection kind. 9:30 nears when a floor manager walks over and informs me, "no need to play until the game is over." Nothing sweeter resonated to the ears of three baseball fanatics.
Corn beef is flowing, beers hoisted, a young crowd of university/college students are in for the big bang, and its all settled in one earth-shattering swing. Carter smacks a Mitch 'Wild Thing' Williams pitch over the seats then takes a 'fist-pumping' victory lap around the bases. The house explodes in celebration. Pandemonium breaks out. In one mad rush to the streets and victory lap, Meyer's empties and left behind uneaten portions of fries and beef and coleslaw. Most revellers fail to pay, leaving staff looking as if the soles of their shoes had been nailed to the floor. Moments later, the floor manager returns and releases us from a night's work, brings the band check and thanks us for dropping by.
Back in 1988, Caplan invited me to drop in for the 1:00 a.m. set to catch a newly certified 'star -in-waiting' and former student of local jazz legend, Don Thompson – Diana Krall. As much as I loathed catching a group after midnight, I made the date. I'm certainly glad I did. This was my first view of a promising newcomer, Diana Krall. Krall was all inside her jazz self. No singing, just her, a Fender Rhodes piano - bass and drums. Krall played a mix of originals and jazz standards. It was heady stuff and a chance for her to play Toronto. The late-night crowd of jazz chasers bought in - this coming on the doorsteps of the release of her debut recording, Stepping Out, recorded with jazz greats John Clayton bass and Jeff Hamilton drums.
Then came the showcase at the Underground Railroad, a soul food restaurant that underwent several incarnations over the years. That occasion sealed the deal and Krall's future. The room was jammed with anyone and everyone that could advance her career.
Five years later, the spring of 1998 I would interview Krall and get a chance to hear in her own words about the slow, carefully planned arc to her career. It has been a magnificent journey. Eight albums debuting top of the Billboard Jazz Albums chart and over 15 million albums sold worldwide and currently riding high with 92-year-old Tony Bennett, Love Is Here toStay. There are also three Grammy awards and eight Juno Awards in the mix.
I've photographed Krall on several occasions – the first being in 1998 at Molson Place, so memorable Krall asked for a 11X14 to be framed for her home. The occasion, Oscar Peterson's 80th birthday celebration at HMV, August 2005. Also, on hand, Bell Media's Randy Lennox –to present Oscar with a citation commemorating his newly minted image on the Canadian 50-cent postal stamp, and soon-to-be husband, Elvis Costello. Here's that conversation from twenty years back and photos.
Bill King: Can you pinpoint the moment when everything just seemed to fall in place for you?
Diana Krall: It was when I realized I had the creative freedom to be the artist I wanted to be without worrying about compromising what I had to do. I worked hard commuting to a gig in Boston while living in New York for about four years. Even with a recording out, I was still doing it.
As a new artist, I was struggling to make a living, but it was an opportunity to keep learning and playing especially since it was a seven-hour gig per night. It was hard schlepping through the snow and the long train rides, but I wanted to stay in New York.
I was talking with someone the other night who was congratulating me on my success. I told them one of the most important things about success is that it allows you to be a creative artist and to grow faster.
B.K: Like so many Canadian musicians, you suffered through weekend gigs like Meyer's Deli, in Yorkville, where orders for corned beef sandwiches and Hockey Night In Canada drowned out the music at the other end of the room. Soon you were able to move downtown to the Underground Railroad where you attracted a listening audience. Did these experiences help clarify the need to bypass gigs that didn't advance your career?
D.K: The Underground Railroad was about two people. John Henry and his wife. They believed in what I wanted to do and gave me an opportunity. I was talking with John Clayton about this at the International Association of Jazz Educators' conference. We were discussing the importance of recognizing an individual's ability and giving them a good environment in which to grow.
I look at the situation at the Underground Railroad like that. John and his wife were kind of like a mom and dad to me. I wasn't thinking about career advancement at the time. I'm never one to put down any genre of music because I listen to all kinds. I realize that many other people are just as serious about their music as I am about mine. Just because you are playing in a band in a hotel lobby doesn't mean you are not serious about your music.
I also believe you should want to make people happy with what you are doing. Rather than by-pass certain gigs, I created the kind of work that would help me grow as an artist even though at times I was compelled to eat in a cafeteria and not fraternize with the guests. I was directed to go downstairs and drink my cup of coffee with the hired help. That wasn't respectful to me as an artist, but I've always decided to make each place my own and hire the best musicians possible.
B.K: Canadian women have had an unprecedented impact on the international music scene. There's Anne Murray, K.D. Lang, Shania Twain, Celine Dion, Sarah McLachlan, Amanda Marshall, Jann Arden, Renee Rosnes, Jane Bunnett, Ingrid Jensen and yourself. Why do you think the masses find these artists so alluring?
D.K: I don't know. I've been reading Karen Kain's autobiography, which is completely inspiring to me. I look at her as a woman who went through similar experiences to me but in a different art form.
I'm inspired by Joni Mitchell and many other Canadian women who I see as my mentors. Besides Karen Kain, there's Renee Rosnes. She moved to New York and was just fine. It's like the comedians. Why are there so many great Canadian comedians? I don't know the answer to that.
We're close to the U.S., but we have our own culture. I could have accomplished whatever I wanted because of the drive in me, but it would have been very difficult without a Canada Council grant. Early on, I was able to study with Jimmy Rowles and Ray Brown for three years in Los Angeles. That was a goal I had to apply for. I had to plan out my project. It made me think about what I wanted to do as an artist.
B.K: Canadians are often skeptical of their own. Do you feel you've received the same enthusiastic reception in Canada as you have internationally?
D.K: Yes. The only receptions that I think are kind of funny are during interviews for television. For example, I always get asked if I came back to Canada and if I was doing this or that. It bothers me. Canada scrutinizes it more in a media setting, but definitely not in a concert setting. We sold out Massey Hall. I think that's enthusiasm.
B.K: I have people outside the music world walk up to me with your latest album inquiring if I have heard it yet. There's something to be said for that kind of reaction.
D.K: I was in New York with Russell Malone yesterday when we met a couple of guys, and one of them says to me, "You look like Diana Krall." Another of them agrees and says, "She does look like Diana Krall. You could be her twin, but she's taller. We heard her at the Algonquin and she was really good." Russell Malone, my guitarist says, "Was she really good?' I heard she's really built." The guy says, "Yeah, she's really built." Russell was egging him on. They were talking about the music when Russell says he knows the guitar player and that he's a real show off. Suddenly, the guys start to look a bit uncomfortable and decide that I am Diana Krall.
It's embarrassing, but you know you've made a lot of people very happy. The metaphor I like to use is, I've just made dinner for a whole bunch of people, and I hope they like it because I've prepared it with a lot of heart.
B.K: Do you ever get nervous before a performance?
D.K: No, I'm very excited to get on the bandstand. If I feel nervous, it's more to do with mixing words up or tripping and falling. They talk about positive visualization, but I do just the opposite. I visualize tripping and falling, picking myself up and going back to Nanaimo. But it's never happened yet.
I now feel like a different person, and there are many things I wish I could do again. I'd love to go back to study with Jimmy Rowles, but I can't. I can only go through his records, thoughts and that which he taught me.
I want to go back to Allan Broadbent and Don Thompson and ask more about structures and stuff. During the time I was with them, I wasn't mature enough to realize the subtleties of the music. I was just trying to play fast. Actually, I am going to go back to Don because I've been listening hard to George Shearing's solo piano and want to ask him some questions. The most important thing though is that I'm loving the music. I'm excited about it and not trying to prove myself anymore.
B.K: You came through a good music program in Nanaimo, British Columbia. How detailed was your instruction?
D.K: It was great. It's also the same program that Ingrid Jensen came through. Bryan Stovell was our instructor, therapist, an inspirer and a bebop lover. He was a working jazz musician before becoming a teacher, so he was able to relate those experiences to us. He played bass with me, taught me to write charts and shared his love of music with me. I saw him recently at Massey Hall and got tears in my eyes. He looked at me, winked and said, "Don't trip, kid."
B.K: How difficult is it finding material which excites both the singer and player in you?
D.K; I don't think about it like that. When I hear something I like, I begin wondering about the tune's possibilities – instrumentation, textures and harmonies. I need to sing lyrics that are timeless, so I tend to be drawn to classical material – tunes that were written when great composers worked with great lyricists. But, basically, I pick songs I like.