FYI
The Covid Chronicles… Matt Weidinger
Matt Weidinger is a bit of a throwback these days, someone who, from early on in high school, has doggedly carved out a full-time music career.
May 08, 2020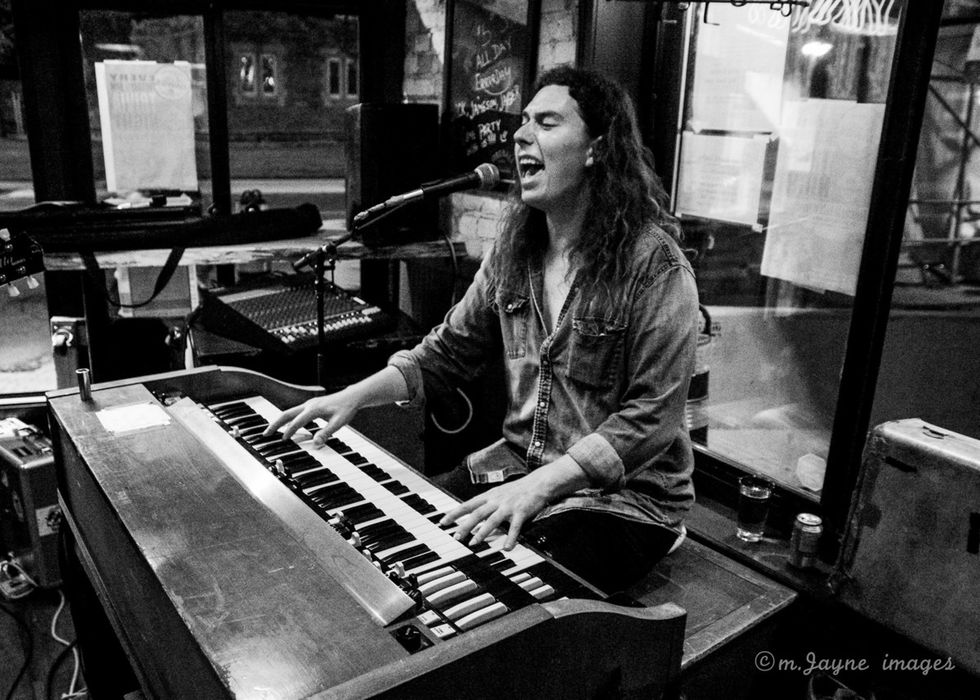 By Jason Schneider
Matt Weidinger is a bit of a throwback these days, someone who, from early on in high school, has doggedly carved out a full-time music career. Relying on his primary instrument, the Hammond B-3 organ, and his powerfully soulful voice, the native of Waterloo, Ontario has maintained a busy schedule of gigs for the past several years, from playing original music with his own band to being a member of the 12-piece R&B ensemble Matchedash Parish to his tribute show to one of his primary influences, Van Morrison.
---
Weidinger seemed to have everything in place for the summer, focused around the release of his sophomore full-length album Breakage, when the pandemic hit. Like thousands of workers in other sectors of the Canadian economy, Weidinger suddenly found his income cut off, on top of finding an album he'd poured his heart into now in limbo.
Breakage is available to purchase through Bandcamp, but it will hopefully receive the full-fledged roll out it deserves once Weidinger is allowed to get back on stage again. The album is basically a live document in itself, recorded over a three-day span at Toronto's Union Sound with Weidinger backed by just his longtime rhythm section, bassist Mark McIntyre and drummer Ben Rollo.
The organic energy is palpable on tracks like Morning Comfort and It's OK, along with an inventive cover of Led Zeppelin's Going To California. While many artists are beginning to think smaller in this age of self-isolation, Matt Weidinger continues to think in terms of big stages. We caught up with him to find out how he's been adapting, and to hear more, go to mattweidinger1.bandcamp.com.
How are you coping with self-isolation personally?
I'm doing all right for the most part. To be honest, there have been aspects of the self-isolation that suit me, but I do miss playing shows quite a bit. There's something about having shows and gigs throughout the week that make you feel like you're accomplishing something every day. I have to make sure I've got things lined up to work on throughout the week or I find myself getting out of sorts. I'm lucky that I have a simple studio set up in the basement which allows me to work on getting better at recording as well as keeping up with practicing instruments and writing songs. In some ways having this time now is a blessing to work on these things. I always craved this kind of time when I have a full schedule of gigs.
Your new album Breakage really displays the full range of your abilities as a singer/songwriter and musician. Are there any aspects of the record that you feel might be appropriate to these times we're currently living in?
In some ways, this time reminds me of the time I spent writing this album. Last year I decided that I would make a songwriting schedule for myself. Every Monday and Tuesday I would shut my phone down and dive into being creative. I would spend those days writing, recording, learning new songs, practicing, or doing anything to get me feeling creative. Looking back after finishing this album I can see how important that time was and I'm trying to use the time I have now as wisely as I can.
At the start of the self-quarantine period, I went a bit overboard with this concept and found myself lost in it. I wasn't able to tell if I was doing good work or just forcing myself into a schedule. I found that having a variety of things to work on is important. If I'm beating my head against the wall trying to finish a song and get good sounds in my studio, I try to do some cleaning around the house or mow the lawn, anything to give me some perspective. I'm really excited to hear all of the great music that will be coming out during this time. I think a lot of people keep a busy schedule and often aren't able to afford the time to work on their craft as much as they would like to. 
What sorts of things are you doing to engage with your audience at the moment?
One thing has been sharing the new videos I've recorded over this past year. I had an idea to record a number of "live off the floor" videos, which basically means my band sets up as we would for a normal show, we bring in a camera crew and a recording engineer, play the song a number of times and pick the best take. I love watching the old videos of bands playing live on the BBC or on the Midnight Special and I wanted to try and capture that feel with a video that looked great as well. So with the help of The Waterloo Arts Fund, I was able to record a number of these videos before the pandemic, and I've been slowly releasing them to help promote the new album.
I've looked into different ways to live stream shows but it's something that I've struggled with. A big part of playing music for me is being in the same room as people and I'm having a hard time trying to capture that feeling over the Internet. I'm still working at it though and I'm hoping I can find a way to do it in a manner I'm comfortable with. 
How has the inability to play live affected you overall?
For one, I really miss connecting with an audience as well as connecting with my bandmates. I find playing music with other people is like having a great conversation. You get to express yourself as well as learn new things, and if it goes well you leave feeling very fulfilled. And there's nothing better than hearing from someone that the music you've played, whether it be an original of a cover, moved them in a certain way. That's the biggest payoff of them all. 
But not being able to play live has pretty much crippled me financially. I'm not going hungry, but I did take out a line of credit to help me finish paying for my album. I had planned to make a lot of that money back playing album release shows throughout April and May. I had an average of 3-6 shows per week booked throughout the summer as well. In the long term I know I'm going to be able to figure it out but it did give me a lot of insight on how I've been making my money. 
On the plus side, I have been able to spend a lot of time working out things in my studio. I hope to be able to record my next album at home, which would save me a lot of money and let me have a larger hand in creating my own sound. I love learning anything to do with music and how it's made so I am grateful for the opportunity to dive into this work.  
What do you believe the longterm effects of the pandemic will be on the music industry?
I'm not quite sure, to be honest. I hope people will come out of this with a new appreciation for things we take for granted such as seeing live music or connecting with people in a social manner. I suspect it will take a while for things to get back to what they were, or maybe there will be a new version of what's normal. I really applaud the people who have figured out a way to play music on live streams or ticketed virtual shows but I really can't wait to get back to a time where we can move some air with amps and speakers and share a feeling in the same room with people.
To me, that has felt like the way I can express myself best and the way I have felt music the most. I feel like some people like myself who count on live shows to make their money will have to figure out a way in the meantime to pay the bills as well as connect with their audience the best way they can. It feels like a new start in some ways.