FYI
The Covid Chronicles… Lynn Jackson
The acoustic troubadour releases a new album today, but the pandemic has forced changes in her plans to promote it. She discusses the record and her reaction to self-isolation here.
May 22, 2020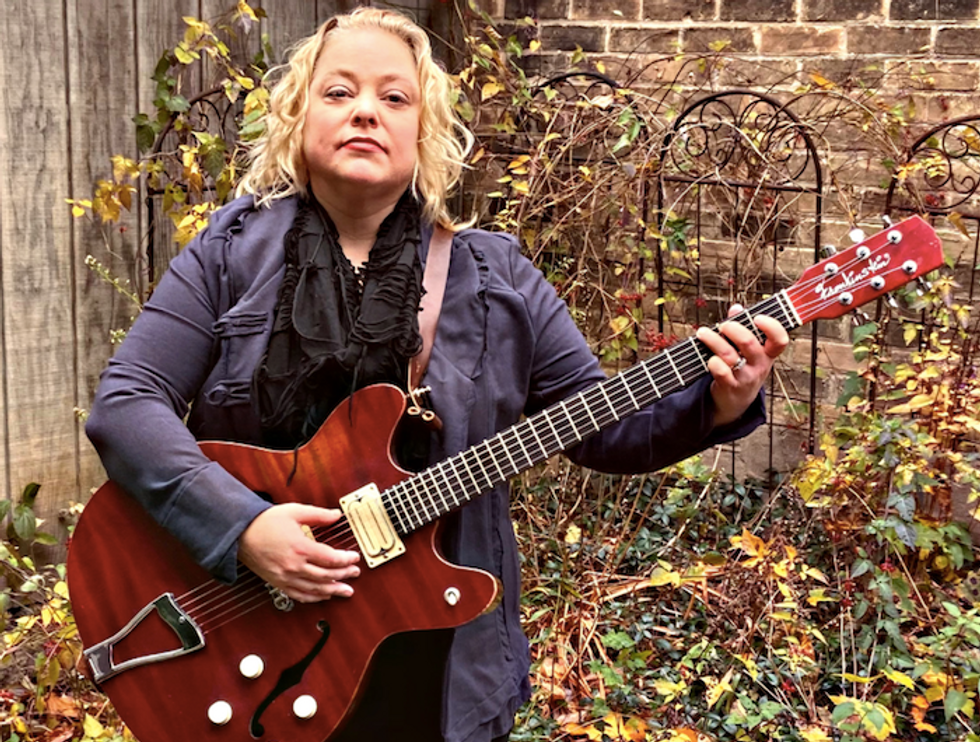 By Jason Schneider
So, you're an artist primarily known as an acoustic troubadour, but your new album is a departure, exploring different musical approaches with a wide range of collaborators. Then the Covid-19 pandemic hits, you can't recreate the album live as you intended, and suddenly every artist in the world is an acoustic troubadour.
---
That's the situation singer/songwriter Lynn Jackson finds herself in with her latest effort Lionheart, released May 22 on Busted Flat Records. After making its predecessor, 2017's Follow That Fire, with producer Michael Timmins of Cowboy Junkies and earning some of the best reviews of her 15-year recording career, Jackson chose to take full control of Lionheart in the studio, enhancing various writing styles she employed on the new material. This includes the traditional folk of Stormy Eyes and melodic Americana of Running It Down, to the sultry blues of Outcast and the hard-edged rock of Cobwebs.
It became almost a community project for the Kitchener, Ontario native as she enlisted the talents of many local players. However, plans to bring everyone together again for an album launch show were scuttled, forcing Jackson— and singer/songwriters everywhere—to quickly reassess their goals and patiently wait for a time when they can make music on their own terms again.
We caught up with Jackson to see how she's been adapting, and for more info on Lionheart, go to Lynnjackson.net.
https://lynnjackson.bandcamp.com/track/cobwebs-cln-2
How have you been handling self-isolation personally?
I've been alright. I actually like my alone time, to write, or play music or listen or read. Maybe being an only child is part of that. Besides working to release the new album, I do work from home part-time, so it's mostly been the live gigging and outings with friends that I've been missing. The rest of my schedule has mostly stayed the same.
Your new album Lionheart is your most diverse collection to date. Listening to it now, are there any songs you feel might capture this moment in time we're currently living in?
I can't really say that for this album. Themes of isolation and just the daily struggles of being human often get woven into my songs regularly. I don't think anything specifically relates to what we're going through now. Most of the songs were written more than a year ago.
What kinds of things are you doing to engage with your audience—or your own creativity—right now?
I find myself recording live videos of me playing solo to share on social media, either stripped-down versions of original songs or fun or obscure cover songs that I love. I've been posting a batch about once a week. It definitely doesn't even compare to playing live, but sharing online and getting feedback has been really great. It's helping me feel connected to others musically.
I am also working on a few videos for the new album. They've been delayed, obviously, since we haven't been able to gather people. Some footage was shot in February that I'm working with and other footage I'm being creative with and trying to have fun with. I expect a couple of them to be finished within a couple of weeks and at least one more shortly thereafter.
How has the inability to play live affected you overall?
I miss the stage and performing. I had to cancel an Ottawa show with my pal Slo Tom [Stewart] in early May. We're planning to make it up this fall—hopefully. And I had shows planned in Calgary and Edmonton that, again, I hope to make up later on this year. And of course, Lionheart's release show with everyone was planned for the Starlight club in Waterloo and that had to be cancelled. I still hope to eventually do that show to properly present the album with all the fantastic players who contributed.
What do you believe the longterm effects of the pandemic will be on the music industry?
One positive thing is that I think music fans are gaining a better understanding of how indie musicians make their money, and it's great to see people generously paying for live-streamed shows and all that.
As for the music industry at large—I'm not even sure I understand how it works myself, much less how it's affected! And that's after 20 years of touring and releasing albums. That's the most honest answer I can give.