FYI
A Conversation With ..Honey Jam's Ebonnie Rowe
This year marks the 25th anniversary of the Toronto org dedicated to promoting local female artists. Here the founder explains the challenges of hosting a celebration amidst the pandemic, and how the El Mocambo and loyal sponsors came to her rescue.
Sep 30, 2020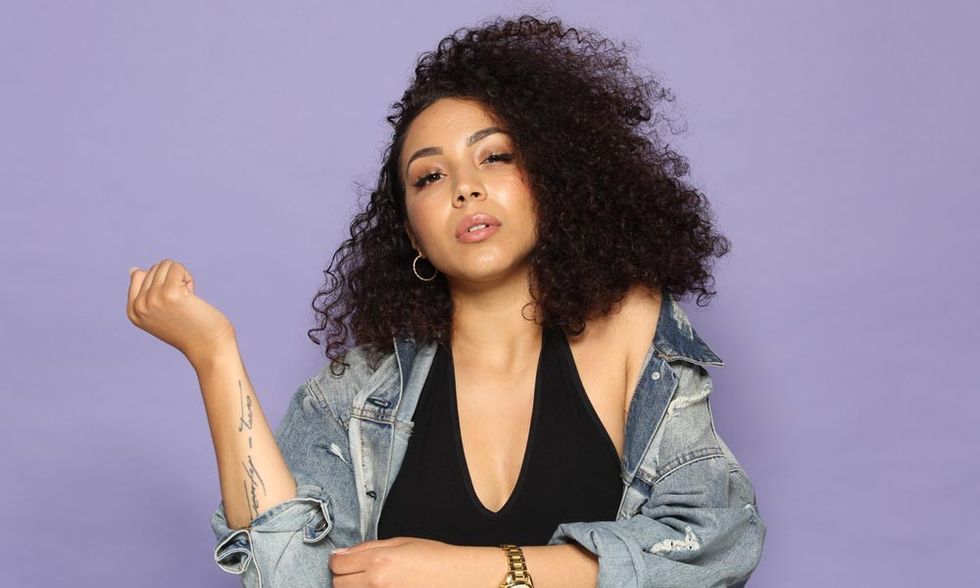 By Bill King
The past few weeks I've spoken to numerous artists and those from the business side of the arts who've found a unique way to avoid falling through the cracks or tumbling into despair. Festivals and long-running events have been the lifeblood of the music industry and day to day operations are running mostly on fumes. Fortunately, sponsors like Slaight Music, TD Bank, FACTOR and government entities like Ontario Creates have contributed mightily keeping these year-round happenings in play. Tonight, it's all about the 25th anniversary of Honey Jam. I spoke with event founder Ebonnie Rowe – but first this background.
---
"In 1994, while running a mentoring programme called Each One, Teach One, Ebonnie Rowe approached DJX of the Power Move Show to talk about misogynist lyrics in Hip-Hop at the time that were having a negative effect on the way young men were behaving towards women. He offered her an opportunity to explore these issues and she produced a 3-hour radio special Power Move show to discuss how women were portrayed in Hip-Hop lyrics and videos. As a result of being heard on the radio show by the magazine's editors, she was asked to edit an all-female edition of the now-defunct Mic Check entertainment magazine. The celebration party for that issue in May 1995, intended to be a one-off show, was called "Honey Jam." The success of the show pointed to a void in the artistic community.
Necessity is the mother of invention, and in 1995, after recognizing the need to do something about the lack of exposure and promotion given to local female artists, as well as the lack of female representation on the business side of the industry, particularly in Urban music, we came up with ideas on how to provide a safe space for, give exposure to and encourage more women in their careers in the music industry. The first show was supposed to be the only show, a celebration of the publishing of an all-female special edition of an entertainment magazine, but the enthusiastic audience wanted more."
Bill King: 25th anniversary of Honey Jam – what times we live in.
Ebonnie Rowe: Indeed, and we are excited we are still able to have a concert in a beautifully renovated legendary venue, The El Mocambo. Our spirits are definitely up.
B.K: When you say live – is it live virtual or in-person?
E.R: It's going to be live-streamed.
B.K: The Elmo is fantastic for this.
E.R: It is and totally set up for that. The protocols allow fifty people inside because businesses aren't affected by the recent reductions, but it is going to be virtual.
B.K: Mainstage, main floor?
E.R: Yes, the main floor.
B.K: You are gifted with 4K video, superb audio – how did you land this?
E.R: It would have never crossed my mind, but someone suggested it to me. I saw what they did for the city's Canada Day Celebrations and I thought I should reach out and I did, and we got a deal.
B.K: You would need a serious deal for this space.
E.R: I would never be able to do it. I almost fell over when I heard what the regular fee was. But with it being our 25th anniversary, with us being a non-profit, the history of Honey Jam and this historic occasion, they were willing to work with us. They believe in emerging talent and we feel very, very blessed.
B.K: It's good for the Elmo too, the place has been mostly vacant. To have something artistically exciting in place is a chance for them to utilize all the hi-tech equipment and on-site talent. They have a technical advantage over most facilities.
E.R: It's getting a ton of buzz as well and that's a good thing.
B.K: Did you audition talent online?
E.R: I decided from last year we were not holding auditions this year. This year was just going to be about celebrating this amazing milestone and doing amazing things we've never done before. The artists thing all came crashing down because of the Covid-19 and because it all involved travel, either international artists coming to Toronto or us sending artists outside of Toronto. None of that is going to happen this year. The concert was always going to be - not here is a new artist but the anniversary party and celebration of iconic women in music in all genres. Each of the alums who are performing – 21 alums and 15 performances all chose artists that had some meaning to them and inspired them in some way or influenced them.
B.K: Who are some of the most prominent alumni performing?
E.R: All are emerging artists. The most well-known out of Honey Jam are Nelly Furtado, Jully Black, Melanie Fiona. Last year it was our hope to have some of them grace the stage again but with travel that wasn't possible. We have alums like Haviah Mighty, Chatta, Jordan Alexander, who got tapped for the lead in Gossip Girl and has now moved to New York. Those performing – Elise Mariah, Emily Schultz, Chole Jene, Malaika Khadijaa, Jet Lyse and others.
B.K: Will all activities centre around the El Mocambo?
E.R: All around the El Mocambo. If we had time, we could have done more. What would normally take me a year of planning had to be done in a matter of weeks. I'm just trying to get through in fifteen-minute segments. It's a lot. I feel like I'm in a pressure cooker.
B.K: Did you have any blow-back from sponsors who decided to sit this season out?
E.R: One sponsor who committed last year said they couldn't, they just didn't have the money. Another sent out a note saying what we committed to you we will do even if you can't do what you asked for the money to do. Even if you just need the money for your organization's survival, we have your back. That was amazing to hear. I went aggressively trying to find other money because we missed a bunch of deadlines. They would have been in March and April when nobody knew if we'd be able to go outside. I had to really pull on people's heartstrings and ask for some grace. We couldn't submit for something we were uncertain could occur. We didn't know until August.
B.K: Most all events have been virtual and for sponsors is was something new. I think now most see the value of ad placement within the event on-line. Especially, for you and that connection with the Elmo.
E.R: There was also time for them to put something together. It all had to come together quickly. I would have loved to have arranged "watch parties," so people can still have a small gathering and have a big screen where they could watch it and sing along. Hopefully, we won't ever have this issue again. We are not able to do everything, but we are doing the best that we can. I was very clear I wasn't doing a Zoom Honey Jam. I'd get one of those big Caribana trucks and load it up and drive down the street before I did that.
B.K: This calls for being very creative.
E.R: Yes, it does. Too many people have given up I find. I was like no, I work too hard. People would say "just celebrate your 25th next year." No, that would be so inauthentic.
B.K: You've got to keep your event alive and breathing.
E.R: You have too. We did some in-person live events and it was mentally helpful to the artists. As soon as we moved into stage three, we got the three in-person workshops. All socially distanced and all safe. People were fatigued by the virtual space and everything through a screen. Even for the live concert, it's important that the artists play for people in the room even if it is the other musicians. I want them to connect with human beings as well as the broader livestream audience.